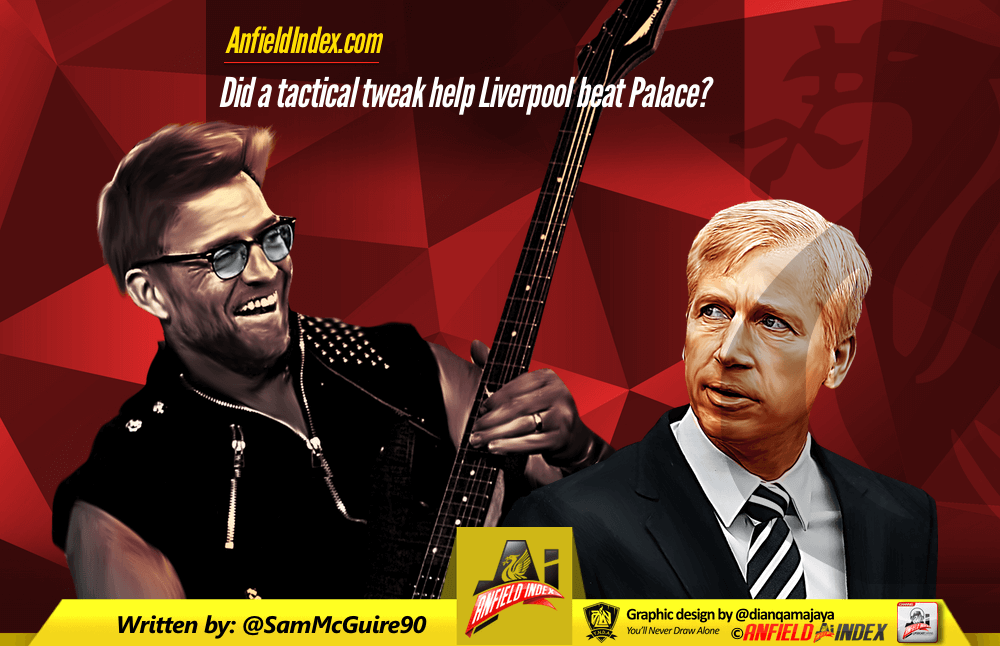 Did a tactical tweak help Liverpool beat Palace?
Liverpool's victory over Crystal Palace on Saturday evening was a bit of a whirlwind performance. It highlighted the very best of Jurgen Klopp's revamped Reds side whilst simultaneously exposing to the world their glaring frailties. At times it almost felt like Liverpool's attack versus their defence. It had a 2013/14 sort of feel to it.
The aftermath of such a performance has rightly been centred around Liverpool picking up yet another 3 points. They kept pace with Manchester City and Arsenal while extending their undefeated streak to 11 matches in all competitions. However, in all the post match analysis in the media Liverpool's subtle tweak in formation seems to have been overlooked.
As Jurgen Klopp pointed out on Sky Sports' Monday Night Football formations are nothing more than starting positions. The end game is always to get certain players into certain areas, the areas these players can have the biggest influence. So even though Liverpool looked like they were starting with their usual 433 system with Adam Lallana alongside Emre Can and Jordan Henderson they didn't seem to materialise in the way Liverpool fans had come to expect – the usual 1-2 triangle was replaced with a 2-1 triangle and there were clear examples of this throughout the match.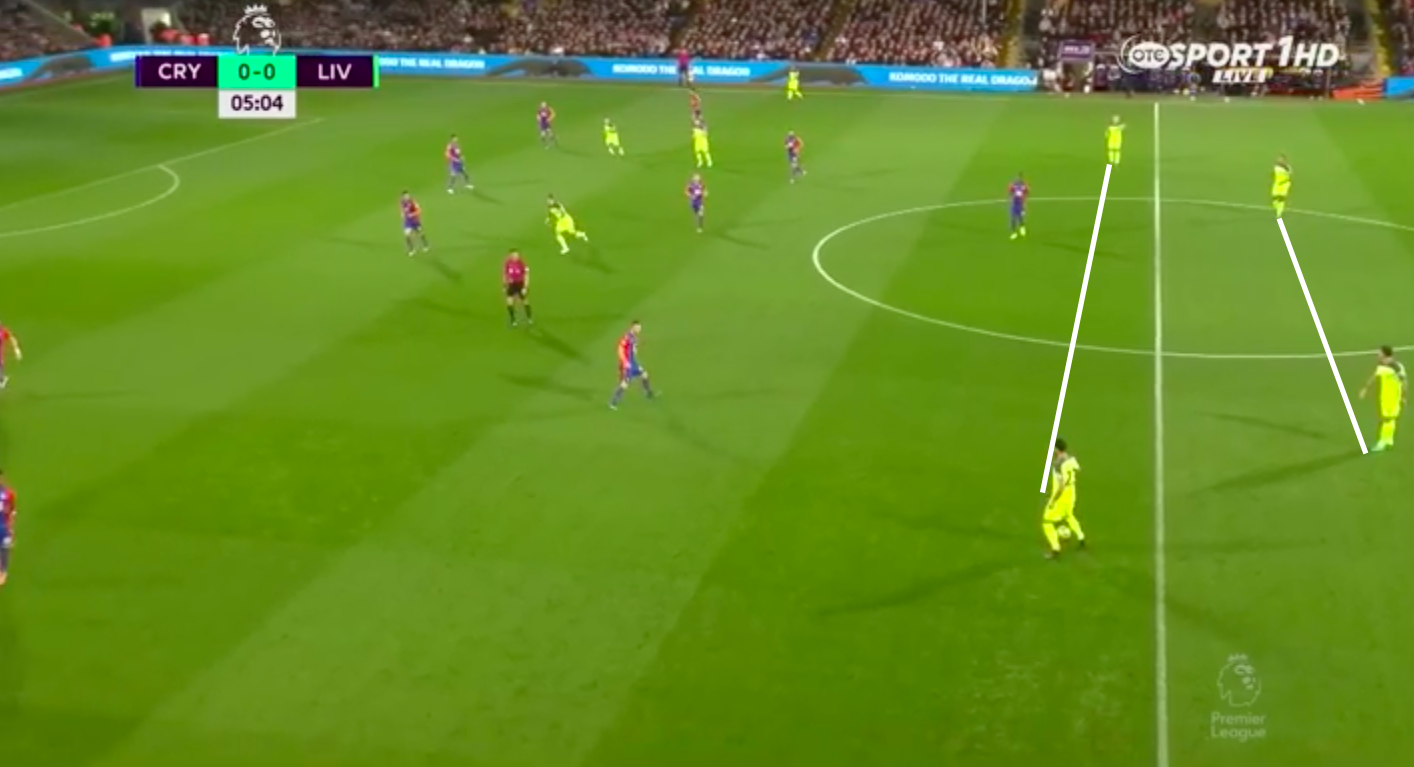 In the example above you can clearly see that as Liverpool are building out from the back Emre Can is in line with Jordan Henderson. The Liverpool midfielders are in positions to fill in as full-back's, with both Moreno and Clyne pushing on to offer the width, if Palace win back possession.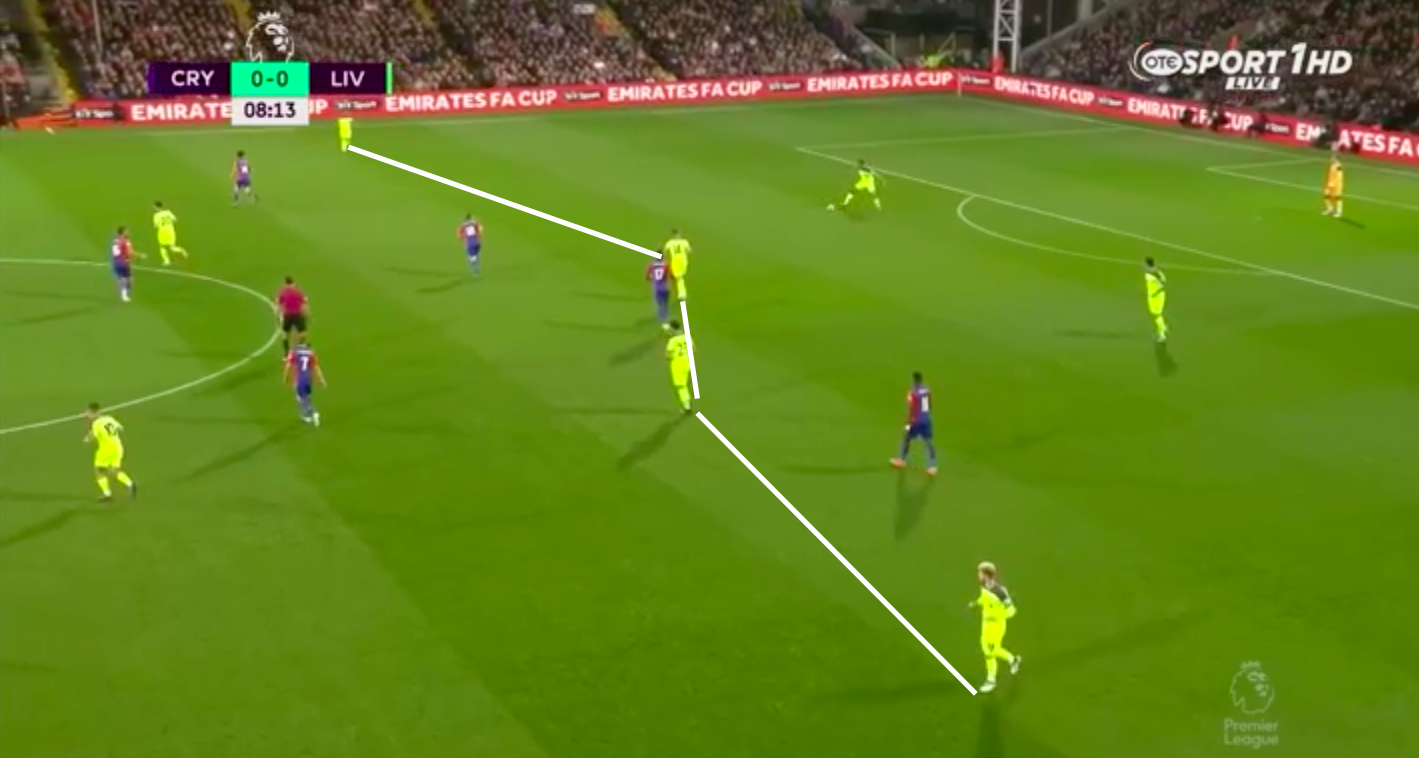 In this instance Liverpool are a little deeper as they look to start play from the back. Again you can clearly something that's been worked on in training. The Reds have found it difficult lately when pressed deep in their own half so to combat that Klopp has simply instructed Can to drop alongside Henderson so it's almost like there is four passing options for the two centre-backs. Or alternatively you can look at it as though Matip, Clyne and Henderson make one triangle and Lovren, Can and Moreno make another.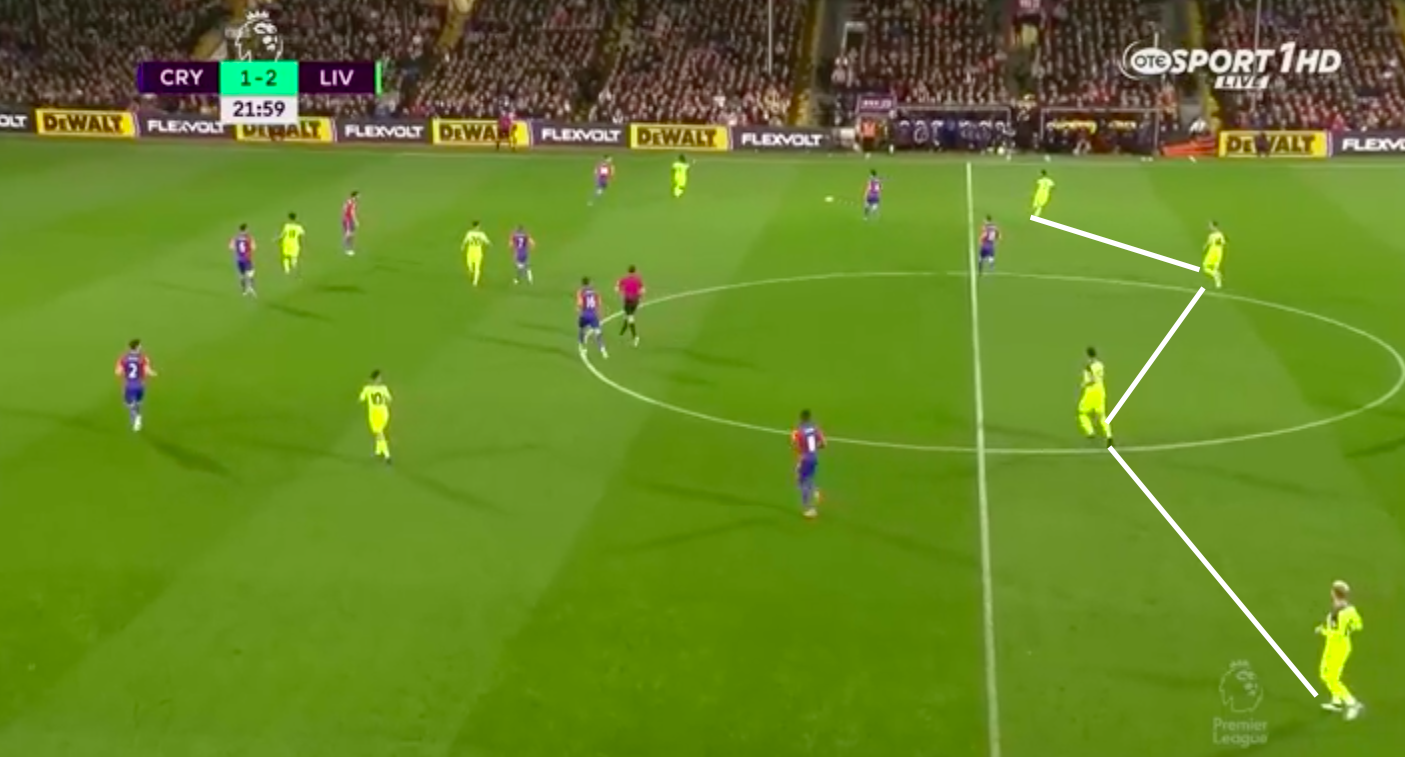 The picture shows the makings of a 4231 of sorts with Lallana really advanced and supporting Firmino. Once again it's a staggered four ahead of the Liverpool centre-back's. Why? Perhaps Klopp was aware of Palace's threat on the counter so wanted to nullify it.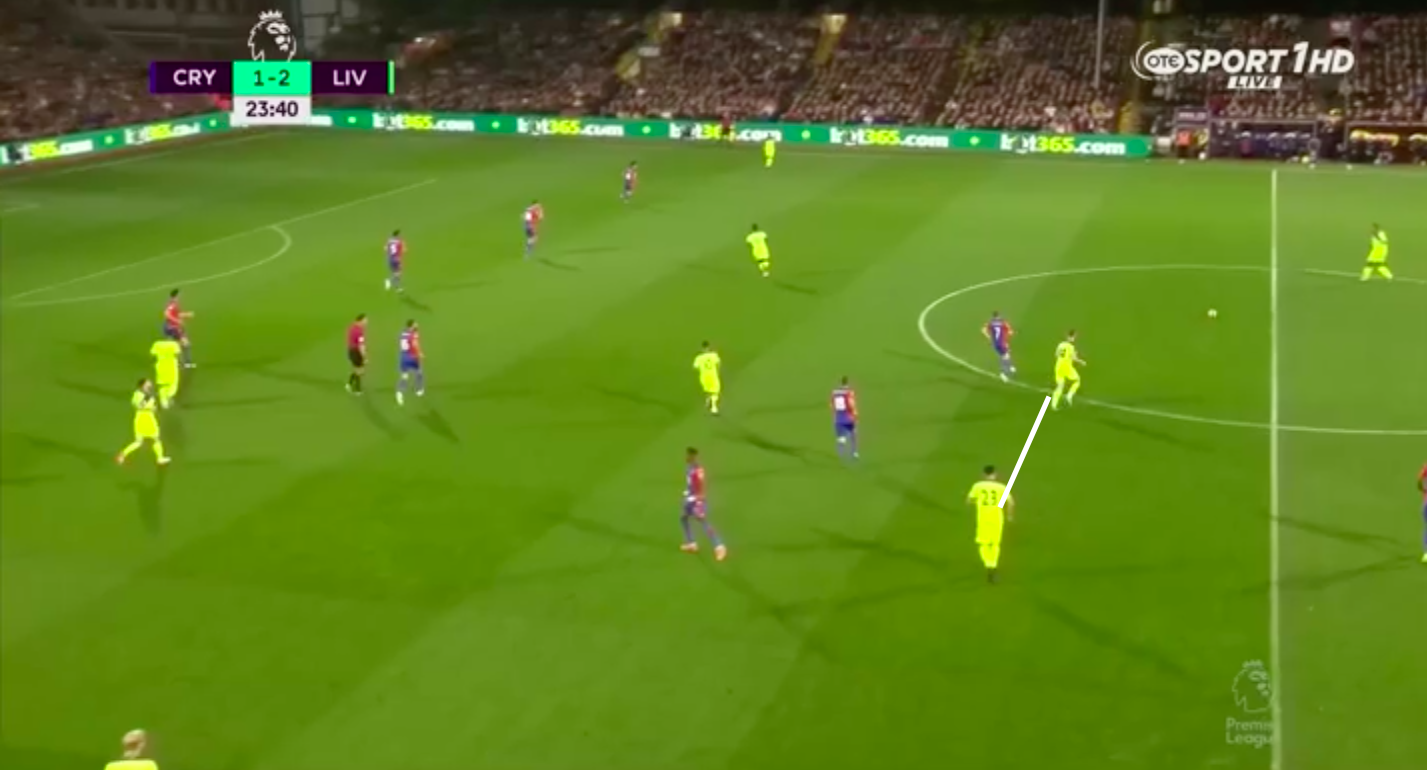 Just like the first screenshot. The full-backs are high up the pitch and Henderson, Can, Lovren and Matip make up a strong four man core centrally.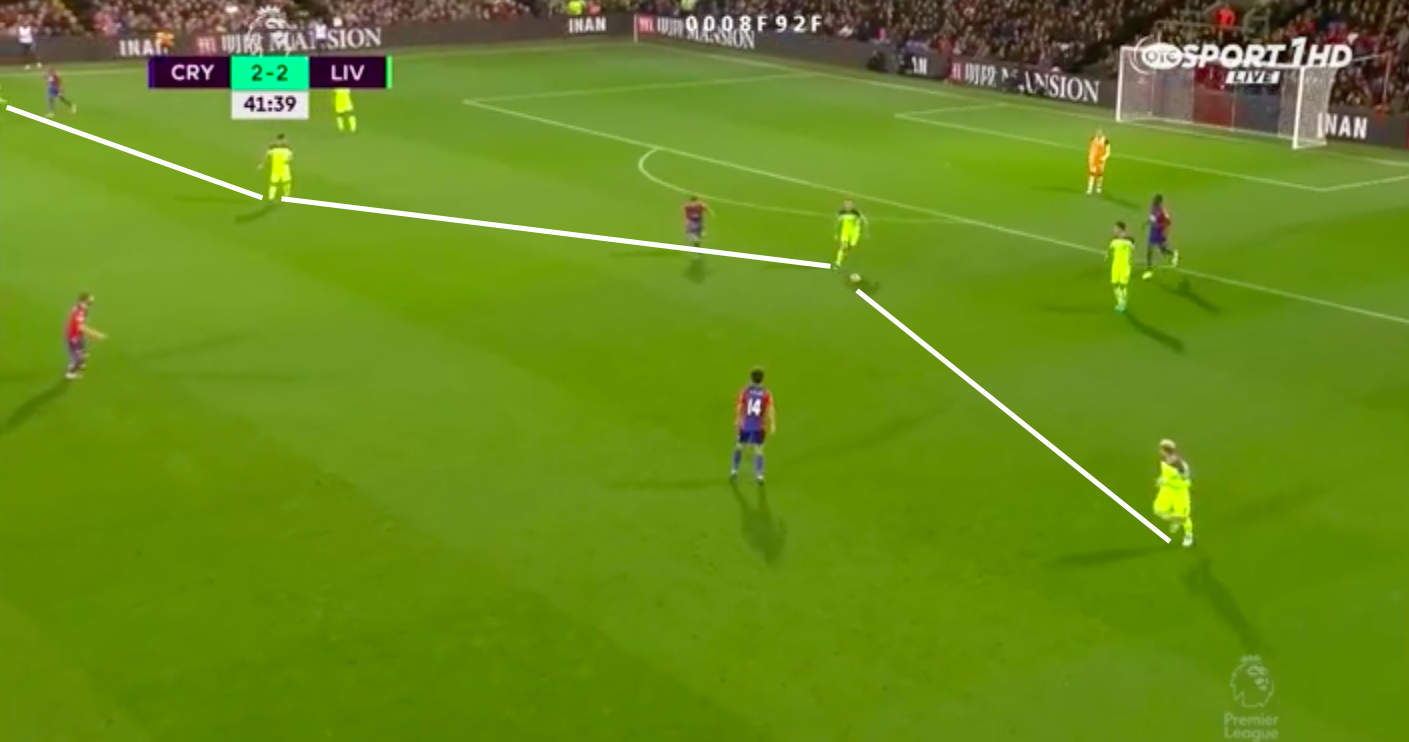 Similar to the second picture. Liverpool are looking to play out from the back and Palace have committed men to the press. However Liverpool are able to play out from this because of the extra man Liverpool have more time to play out. In this instance Henderson plays a great ball into Moreno who makes the run forward. Henderson was afforded the extra time on the ball because the Palace midfielder couldn't just go and press him because he didn't know who out of Henderson and Can Karius would pass to.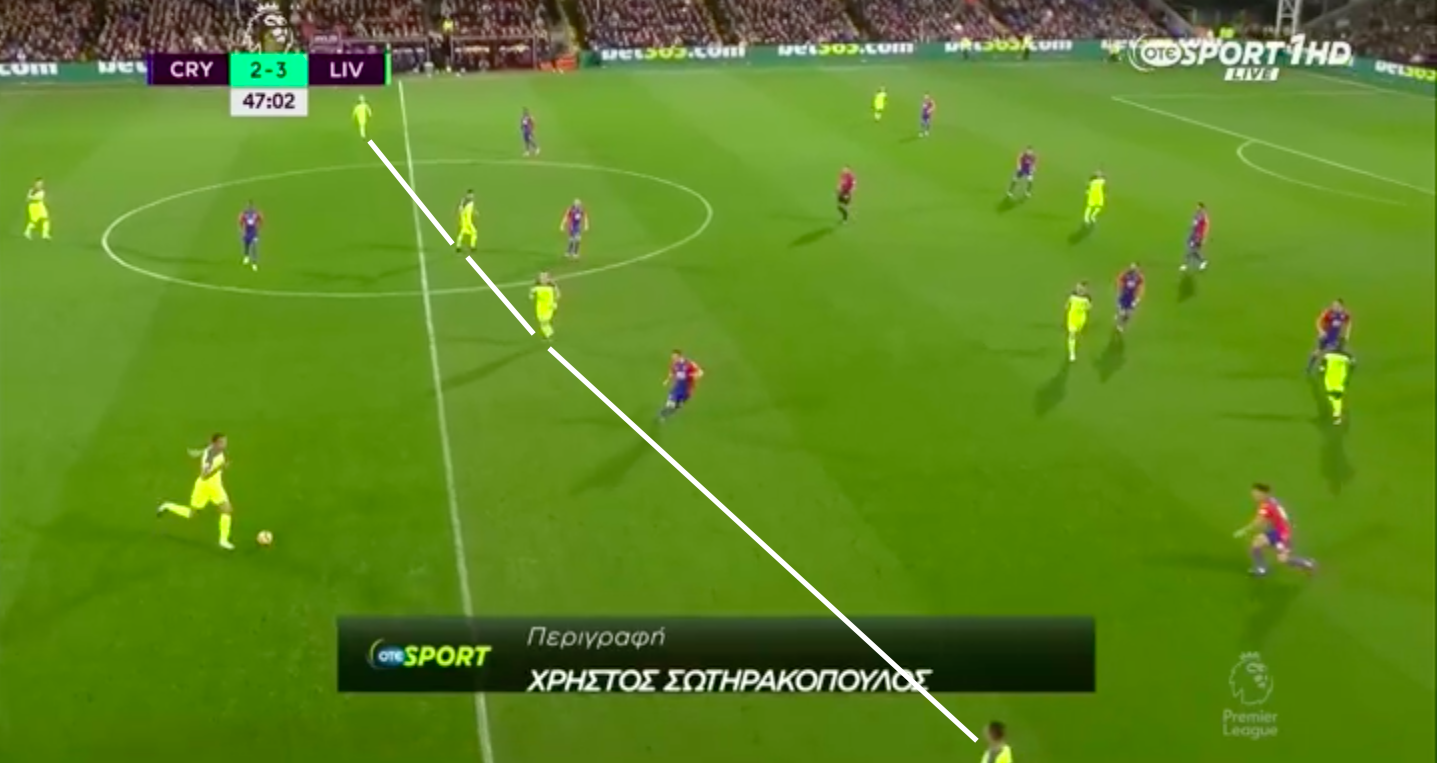 Another example of the four in front of the two as the Reds look to build out from the back. It just gives Matip, who is in possession, more options to pass to centrally and means, in theory at least, Liverpool are able to retain possession but progress further up the pitch.
What was interesting is how this tactic seemed to be a half pitch instruction because when Liverpool where in the final third Can unshackled himself and got into attacking positions. It was only when play was around the half way line or deeper than Liverpool used the 2-4 sort of tactic.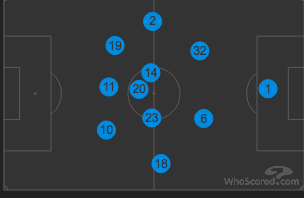 The average position stat isn't the best way to judge where players have been throughout the match but the one above is from Liverpool's match against Palace and it clearly shows Lallana in a more advanced position with Moreno, Can, Henderson and Clyne making up a four in front of Matip and Lovren.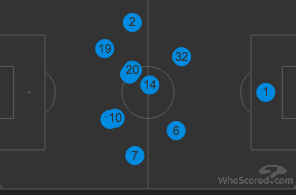 This average positions map is taken from Liverpool's win against Swansea. I've picked this match because it was similar to the Palace match with both sides having chances and it being a fairly open affair. In this match Henderson is deep on his own, Wijnaldum and Lallana are almost on top of each other as are Firmino and Coutinho. Against Palace there were clear defined roles and it will be interesting to see whether It's something Klopp sticks with or whether the triangle will yet again be reversed.
Was Klopp simply giving Liverpool more security defensively because of the inclusion of Moreno? As the Spaniard supported the play offensively Can filled in and covered like he did at times last season. Klopp's team is forever organically evolving.