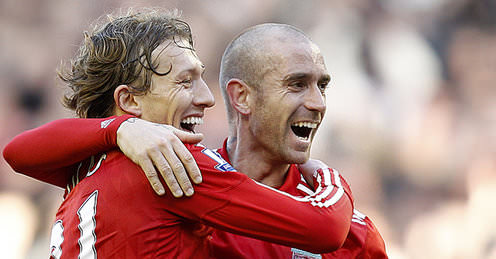 Raul Meireles: Midfield Gem
Raul Meireles is arguably Roy Hodgson's best signing. Well we never would have said that in December 2010 but since the return of the King he has been exceptional especially with Gerrard was out injured.
No one will argue that Roy Hodgson made a lot of poor decisions during his six month tenure at Anfield but I for one am glad we got Meireles. Sure he had a poor start at Liverpool and I remember seeing him score for Portugal in Euro qualifiers and wondering where this guy was when playing for us? But he has since showed us time and again that he is indeed a quality attacking midfielder that scores some pretty awe inspiring goals when he gets the chance.
Let's look at his stats shall we? I'll use the stats from both Wolves games to give a fair reflection of his performances under both Roy and King Kenny.

In the first match against Wolves on the 29th of December 2010 at Anfield we lost 1-0 in what would be one of Roy's last matches. In this match Raul got off a grand total of 1 shot. Yes you read correctly 1! At least we could say that it was one of our 3 shots on target. The main reason for this was that Roy's strategy was very negative and defensive play and I think it really shackled one of best attacking midfielders in the game. In addition to this he only made 40 passes in the game, with only 28 of them being accurate leaving him with a 70% pass completion rate, which isn't bad but it is to be expected with the lower number of passes. In the 73 minutes he was on the pitch, Raul only made 3 tackles and only 2 of them were successful. Surely for the defensive-minded style of play you would expect more tackles to be made and a high number of those to be successful.
In contrast to that, the second match at Molineux stadium was the perfect example of how to play attacking football. The final result was 3-0 with Raul scoring a magnificent volley from outside the box and even an underperforming Torres getting a brace on the day. This time Raul managed to get away 5 shots, only two of them on target, but one them being a goal. In addition to this he also got an assist in a Torres goal. There is also an improvement in the number of passes made with 57 being made and 39 of them being accurate. His pass completion rate is down to 68% but I think overall his performance was vastly improved.
Looking at Raul's season stats you wouldn't say that he had such a disappointing start to the season. A pass completion percentage of 73% having had a total of 1082 accurate passes out of 1473. 5 goals with a total of 60 shots attempted, 5 assists and being the origin of a chance on 58 occasion with 28 from set-plays and 30 from open play. He also won a total of 53 tackles and 127 50/50s (possession duels) and made 67 interceptions. He has started 31 league matches, came on as a sub in 1 and played a total of 2,454 minutes in premier league matches.
These stats show what a class player Raul is and how much he contributes to the team. You could really see how much we missed him in the Spurs match last weekend especially with Spearing and co struggling to control the tempo of the match and I think Raul and Gerrard's experience would have seen us coming away with more on the day. Hopefully we'll see Raul on the team sheet for the final game of the season against Aston Villa on Sunday. I also hope that Kenny and co will give honour the promise given to Raul to improve his contract and I'm sure they will.
YNWA