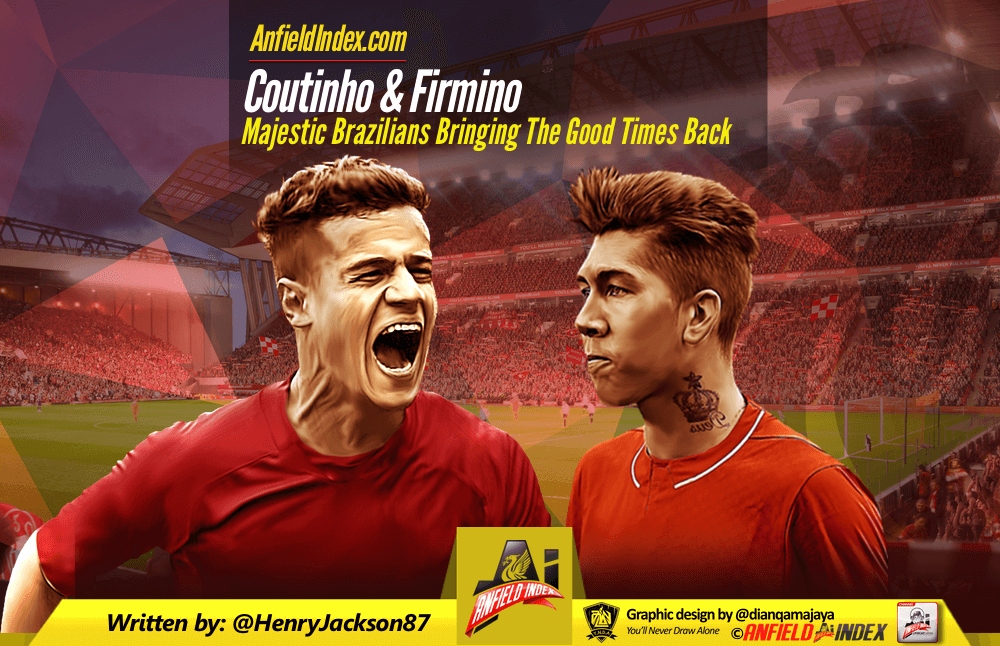 Coutinho & Firmino: Majestic Brazilians Bringing The Good Times Back
There was a time during the Roy Hodgson era when the thought of Liverpool having two dazzling Brazilians in their ranks felt little more than a pipe dream. Any flair that once existed at the club had ebbed away.
We were having to put up with a years-past-his-peak Joe Cole, the dullest footballer in history in Christian Poulsen, and Milan Jovanovic, who I'm still convinced was someone pretending to be a professional footballer.
Brendan Rodgers takes plenty of stick for his time as Liverpool manager  – a lot of it is completely unreasonable, even if things ended terribly – but taking a gamble on Philippe Coutinho in January 2013 has proved to be a masterstoke.

The 24-year-old is approaching four years at Anfield, and during that time, he has gone from being a potential waste of money – he was struggling to fulfil his potential at Inter Milan – to on the brink of being a truly world-class footballer. There is not a more in-form player in the Premier League on current form, and also quite possibly not a more talented one either. He now all but has a seat at the top table, alongside the likes of Sergio Aguero, Kevin De Bruyne, Mesut Ozil and Alexis Sanchez.
The technical brilliance that Coutinho possesses is sensational, and there is an effortless swagger about him that says he knows he is the best player on the pitch. There were some doubts about his consistency at the start of the season, but as each match passes, that becomes a thing of the past.
Two and a half years after Coutinho made the trip from Inter to Liverpool, it was Roberto Firmino's turn to join the Reds, moving for £29million in a move from Hoffenheim in the summer of 2015.
A slow start to life in England had some supporters writing him off in embarrassing knee-jerk fashion – Rodgers playing him on the right wing didn't help – but as soon as Jurgen Klopp arrived, the 25-year-old became a different animal entirely. His off-the-ball work is perfectly suited to his manager's style – Klopp admitted to trying to sign him from Hoffenheim during his Borussia Dortmund days – and his seemingly endless time on the ball, majestic trickery and coolness in front of goal have seen him become a firm favourite at Anfield.
Roberto Soldado is still having nightmares about the piece of skill Firmino bewildered him with against Villarreal last season. If it's any consolation to the Spaniard, he won't be the last player that encounters such a moment of genius by the silky forward.
To have one of Coutinho or Firmino in your side is a pleasure to watch, but for Liverpool to have the two in tandem really is special, and something we should not take for granted. Brazilian players may have become a little more one-dimensional and less flamboyant in the 21st century, in comparison to eras prior to it, but Liverpool's magical duo play with all the freedom that Pele, Jairzinho, Zico and Socrates did during the 1970s and 1980s. They are both tactically-astute and defensively-sound – a must in the modern game – but they are a throwback to years gone by, in many ways. They are not show pony footballers lacking substance, however, and the numbers they are delivering on the pitch this season are magnificent.
In a combined 22 appearances so far in 2016/17, Coutinho and Firmino have a total of 15 goals and assists between them, wreaking havoc as Liverpool have torn apart the majority of teams who have stood in their way.
Coutinho, in particular, has taken his game to new heights in the final third – something people believed he needed to do to reach the next level – averaging a goal or an assist every 72 minutes.
Should he continue in this same vein, he is a strong contender to win the PFA Player of the Year award at the end of the season.
Along with Adam Lallana and Sadio Mane, the Reds' South American pair have forged a wonderful attacking unit  – arguably the most exciting Liverpool have produced since John Barnes, Peter Beardsley and their supporting cast in the late 1980s.
The current Liverpool attack look an absolute nightmare to play against, with each player bringing their own key attributes to the table. For all of Lallana's class and Mane's pace and movement, it is Coutinho and Firmino who are making Liverpool the unstoppable force they currently look, as well as Klopp, of course. They have a telepathic understanding that the great players always have – their link-up play for Coutinho's goal against Derby County in the League Cup was perfect proof of this – and watching them week in, week out is a delight.
At 24 and 25, respectively, they should also only get better in the coming years, as both strive to become world-class players. They both have everything in their armoury to do just that.
Sadly, keeping hold of Liverpool's two most prized assets is going to be difficult, with constant rumours already clouding Coutinho's future. It would be hard to begrudge either player a move to one of Europe's powerhouses, as was the case with Xabi Alonso, Javier Mascherano and Luis Suarez. For now, we should make the very most of both Coutinho and Firmino being in a Reds shirt together, before it potentially becomes a thing of the past.
Just think back to those aforementioned sleep-inducing days of Poulsen and Jovanovic, and remember what a special time this is to be supporting Liverpool.
There are many key factors behind the Reds' magnificent resurgence, but Coutinho and Firmino strutting their stuff alongside one another is pivotal to the team's success.