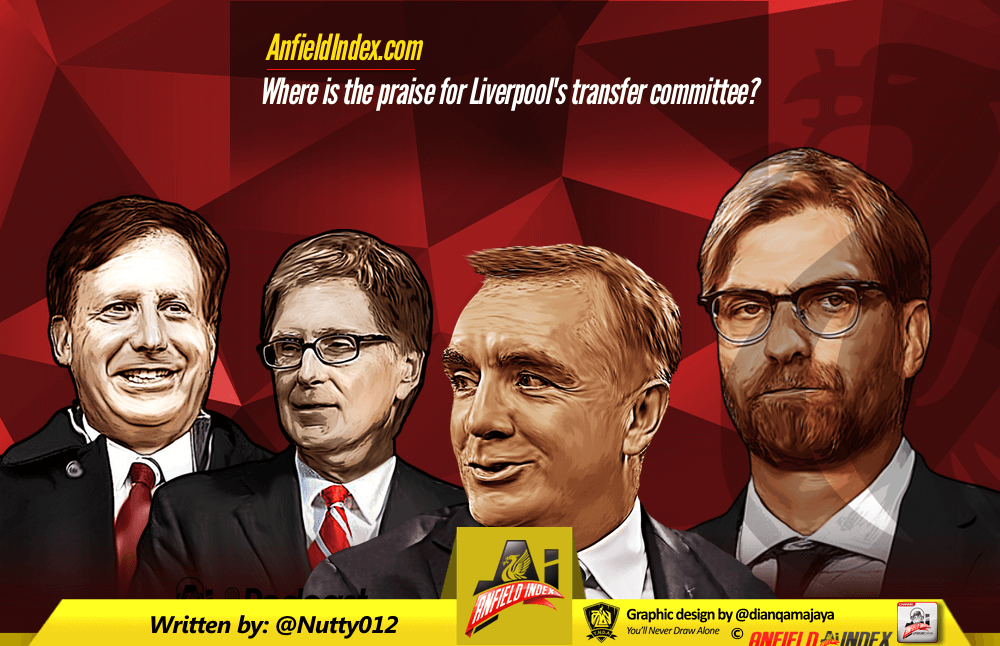 Where is the praise for Liverpool's transfer committee?
In English football there has always been an aversion to 'the continental model' of football management. The likes of Sir Alex Ferguson, Arsene Wenger and Bill Shankley were such enduring individuals at their clubs that the successes of their teams have been attributed to the all powerful men that ruled them. The great managers of English football dominated every facet of their club, and so, unsurprisingly, the attitude in this country has been sympathetic towards managers who want utter control of their clubs, because we have seen it work so well.
At Liverpool that meant that Rodgers' complaints about the structure of FSG's 'transfer committee' often appeared as preaching to the converted, no more than when you saw him on the sofa of Goals on Sunday. Aftter FSG's initial strategy to target British youngsters under Comolli and Dalglish completely misfired, largely because British players are very expensive and not very good, Rodgers signed on condition that he would have final say in all transfers. Despite that, the presence of other people in the decision making process never sat well with Rodgers, and his denigrating moans to the media since his sacking have done a lot to muddy the reputation of Liverpool's transfer committee.
Rodgers' own eye for transfers was always pretty rubbish  – look at some of the awful strikers he wanted to lead his ostensibly attacking technical football, like Borini, Benteke, Lambert – but no one has perfect 20/20 hindsight on transfers at the time of purchase so I can excuse Rodgers to some extent. What really damned Rodgers though was that he brought his own ego into team selection. 'Committee' players like Sakho and Firmino, who he may not have wanted, were often sacrificed for underperforming 'Rodgers' players like Lovren and Benteke. Rodgers also seemed content with his own dissatisfaction with the committee leaking into the public sphere, often at the expense of the very players he was paid to manage.

The transfer committee under FSG has made mistakes, but unlike Rodgers – and a lot of people in football carrying a bit too big head – they were open to admitting and learning from them. The committee has grown and morphed, not just with new personnel, but with new methods and approaches to transfers and squad-building. Their endeavours have crystallised into positive results this season, propelled by both new recruits and also by earlier acquisitions who have been persisted with.
In terms of the new recruits, this summer the committee identified seven players that Liverpool managed to buy. Whilst it was disappointing at the time to miss out on talents like Ousmane Dembele and Mario Gotze, it was positive being linked with high-quality players at realistic prices, and the players we did sign all seem a great fit to a man. How many times, three months into the season, has it seemed like Liverpool managed a whole Summer transfer window without signing one dud? Mane and Matip look particularly inspired business for the club.
But as I mentioned, it is not just new purchases that are paying off. Lots of people said that Klopp was going to do massive surgery on the Liverpool squad in his first Summer window as he had done at Dortmund. It was not a 'Klopp team' people said, but once he had shipped out half the squad and bought himself a new team, finally Liverpool would have a Klopp team. That was the logic, but it did not materialise, partly because Jurgen Klopp is a wonderful coach, but also because the German arrived at Liverpool with a 'Klopp team' already waiting for him.
Adam Lallana, Roberto Firmino and Phillipe Coutinho look like they were selectively bred, genetically enhanced, and conditioned from a young age to play the Kloppian-way, yet all were brought in by the committee before Klopp arrived. Liverpool's transfer team has been consistently identifying attacking players of a very certain profile, who are all able to play multiple positions, and who all work as hard as a centre-back or defensive midfielder. It has meant that Klopp only needed to a slight tweak personnel in his first transfer window, rather than perform drastic surgery.
It is not just who the committee are buying that is reason for their success, but how as well. Emre Can, Phillipe Coutinho, Joel Matip, James Milner and Divock Origi are all examples of Liverpool buying a player at the perfect moment in order to get maximum value for them. Clearly the managers have been heavily involved in a couple of these transfers, but the point is that is helpful having dedicated staff who can investigate players around the world who may be available for good value, especially because most scouting takes place during the season when the managers are busiest managing. And this may not seem like a massive point, as every club wants good value, but just look at Manchester United's current transfer record, or Liverpool's five years ago, to see how value is not easy to find for the top English clubs, who everyone knows are inundated with TV and sponsorship money.
Mistakes in the committee's methods of recruitment have clearly been learnt from, and nowhere is this better shown than in the purchase of Roberto Firmino. With leaks to the press plugged, Ayre flew out to South America and wrapped up a deal for a high demand Brazillian attacking-midfielder, for a sensible performance-linked transfer fee to boot. Before any fan or journalist had a clue what was going on, pictures were surfacing of Firmino in a Liverpool shirt. It was utterly ruthless, masterfully done, and all without the help of a manager. Instead it was execute purely through thorough scouting and effective negotiations.
One final point on the success of the transfer committee is that it has provided a more stable route to the first team for our youngsters. With 99% of managers – even the successful ones – not lasting more than three or four seasons, it is incredibly hard to guarantee chances to young players over a long period. They inevitably have to work incredibly hard to earn the trust of any one manager in order to be picked ahead of experienced older team-mates, and so in periods of transition it is often the kids who lose out. However, the committee's long term planning means that no player will be signed who a young player could not surpass. With staff beyond the manager invested in the process of building the right squad for the long-run, Liverpool now has the optimum structure for integrating youth for the future.
So when will the transfer committee get their overdue praise? For some people who are heavily invested in their own opinion that a manager should be the be-all and end-all of a football club, perhaps never. However, the success of the committee has shown that a division of labour amongst Liverpool's backroom staff is the way forward. Jurgen Klopp has a great eye for talent, and arguably the most important position in the committee too, but his primary job is to manage the playing staff, to get the most out of the personnel he has available. In that regard, Klopp is the best elite manager in the league, so it makes sense, at least during the playing season when matches come thick and fast, to excuse him from time-intensive duties like scouting. Fortunately, the rest of the committee have shown that they are no mugs either when it comes to buying the best talent to bring Liverpool forward.