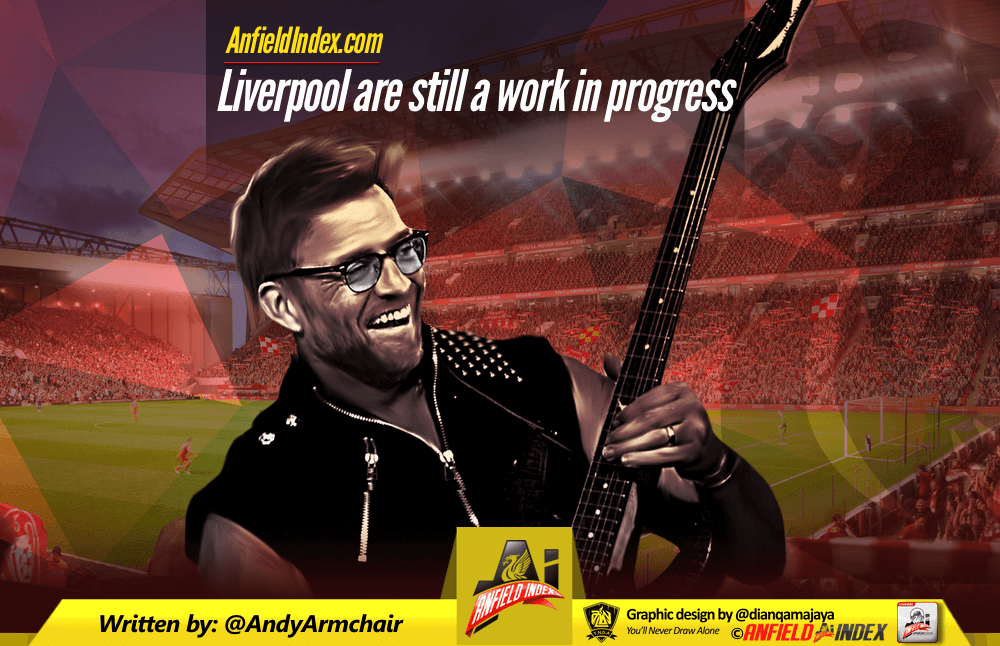 Liverpool are still a work in progress
The start to this season has been very positive for Liverpool – Jürgen Klopp's men are level on points with Manchester City and Arsenal at the top of the Premier League; the football is entertaining and confidence is high. It's too early to get over excited, but things are looking up at Anfield and belief is growing amongst supporters. Klopp's intention of turning doubters into believers is bearing fruit. However, it should be remembered that this is still a work in progress.
Some may see that as a negative comment, others as something to get even more excited at. However you wish to interoperate it is your personal preference, but it is the truth. This is only season 2 in Klopp's job of building and moulding HIS team to play HIS style. That's not to say I expect another large turnover of playing staff next summer, just that in order to shape the team that he wants, this season will be as much of a test as last season was.
Klopp made a point of giving opportunity to every player in his inaugural campaign. He wanted to understand exactly what tools he had at his disposal; which players had the right attributes, attitude and ability to be a part of his plan going forward. The initial result was a summer casualty list with most names expected, but one or two that were perhaps a surprise. The flip side was a few names that many fans expected to be on their way out, remaining a part of his plans for the time being.

That first year of adaptation was more about implementing the high pressing game in the structured manner in which Klopp and his coaching staff have developed and with the aggression and intensity that he desires. This was the primary task at hand, the base, the foundation from which his Dortmund side so successfully imposed themselves on opponents with. The breath-taking 'heavy metal' attacking football could not happen without that defensive structure and plan of how and where to win the ball.
The next stage and logical step from having that organised pressing structure in place is what do when in possession. That quick transition from defending to attacking is partly what brought Klopp's Dortmund team so many plaudits and is what we are beginning to see at Anfield this season. The attacking threat of Liverpool has increased massively over the past six months with mostly the same players. Proof, if required, that sometimes underperformance is about a system and style, rather than just players.
That being said, every player has a ceiling and there will be a stage where some individual upgrades will be required for the team to progress further. For all the hugs, smiles and laughter, Klopp will be ruthless if he has to be, Mamadou Sakho can testify to that. Make no mistake, he wants to win trophies and there will be no room for sentiment in the pursuit of success. His methods to attaining it are in coaching and built over time, he is not a short-term, quick fix manager. That's not to criticise those who are, it's just important to differentiate. This systemic approach can be easily traced in his time at Dortmund – it took time and player turn-over to implement his style and he then tweaked and improved that team.
That is likely to be the glimpse into the future for Liverpool fans. Klopp has now established his methods, his style, his way of running things and as exciting as things currently are, this is not the end product. There is still room for improvement in this Liverpool team and squad that go beyond any player upgrades. Consistency was an issue last season and it's far too early yet to say that it is an issue that has been resolved. Defensively, particularly from crosses and set pieces, is a high profile area of concern that will not have gone unnoticed by Klopp.
So, as well as things look presently because confidence is flowing and the attack is firing, there will be no resting of laurels at Melwood. With pressing and attacking transitions and movement now taking effect on the pitch, further improvements to both them and addressing weaknesses will be next, but not necessarily immediately. Evaluating how players cope and perform this season will likely influence what business will be done next summer, as Klopp's vision of Liverpool continues to take shape. In essence, enjoy the highs, but don't get too dismayed with any downs this campaign because this is very much still a work in progress.