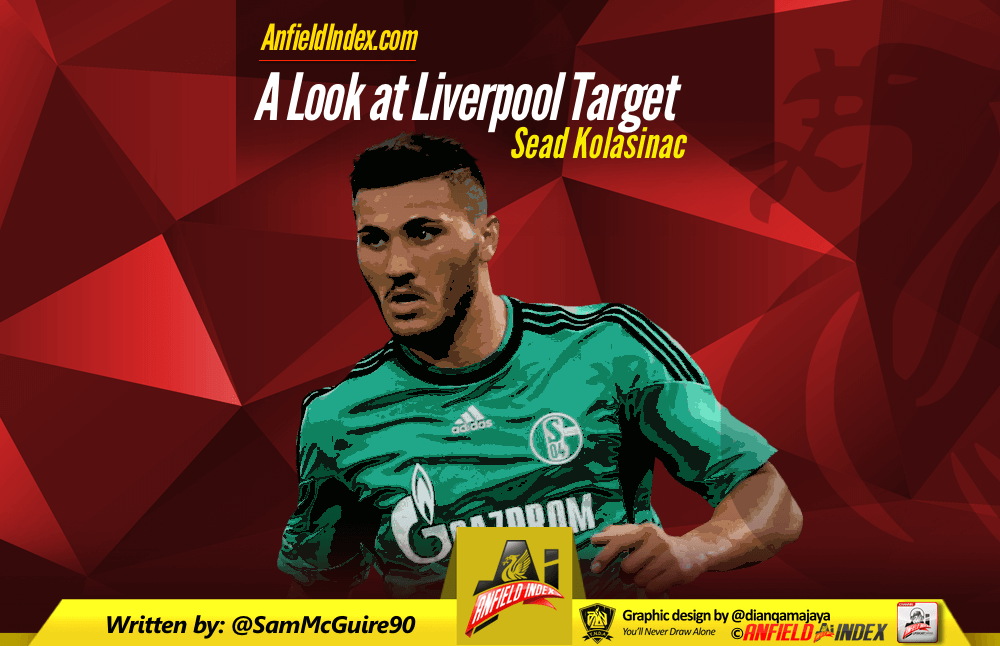 A Look at Liverpool Target Sead Kolasinac
According to German publication Bild, Liverpool have reignited their interest in left-back Sead Kolasinac with a view to signing the Schalke player on a pre-contract deal in January. Kolasinac was linked with a move to Anfield last season at various stages but nothing materialised. However, with the player's contract status he now looks like an appealing proposition.
Reds boss Jurgen Klopp has, to the surprise of many, turned James Milner into a marauding left-back this season. He's impressed in Liverpool's charge to the top of the Premier League and already has four goals to his name, albeit they have all been penalties. Milner is 31 in January and can't be viewed as a long-term left-back for the club.
Milner's current understudy is the much maligned Alberto Moreno. The Spaniard replaced Milner in Liverpool's win against Palace and after an impressive performance left many wondering whether maybe, just maybe, the Liverpool no.18 may have a long-term future at the club. But if Kolasinac really is a target it may spell the end for Moreno as a Liverpool player.
So who is Sead Kolasinac?
Kolasinac is a 23-year-old German-born Bosnian international who has been playing for Schalke since 2012. He was a product of the Karlsruher SC academy and played there between 2001-2009 before moving to Hoffenheim. He's a versatile player who is capable of playing as a left-back, left-midfield and as a defensive midfielder.
Standing at 6ft he's on the tall side for a full-back and he puts his height to good use. So far this season he's won 60% of his aerial duels compared to James Milner's 41.9%. Such a stat is dependant on how many times the opposition play aerial balls into parts of the pitch these players are in but it does show Kolasinac wins a fair share of his headers.
While it's not the best to read into stats when looking at defenders you can compare their stats to the players Liverpool currently have on their books. Kolasinac, on average, wins 1.8 tackles and makes 2.2 interceptions per game. Milner averages 2 tackles and 1.9 interceptions and Moreno comes in with 2 tackles and 1 Interception. So the Schalke full-back appears to be very proactive in his reading of the game and manages to read the game and stop attacks with interceptions.
The Bosnian appears to fall short when it comes to his ability on the ball, at least when you look at the stats. His pass success rate for the season currently stands at 73.1% and he attempts 21 passes per 90. Milner, on average, attempts 59.1 passes and successfully completes 85.8%. Moreno completes 85.5% of the 41 passes per 90 he attempts. It's safe to say the left-back in a Klopp system sees a lot of the ball so it would definitely be an area for Kolasinac to improve.
Something that works in the Schalke left-backs favour is the fact the German club, in recent weeks, have been using a 3421 system meaning Kolasinac has been playing in a midfield role and is tasked with keeping the width, similarly to what's expected from the Liverpool full-backs.
Kolasinac's assists this season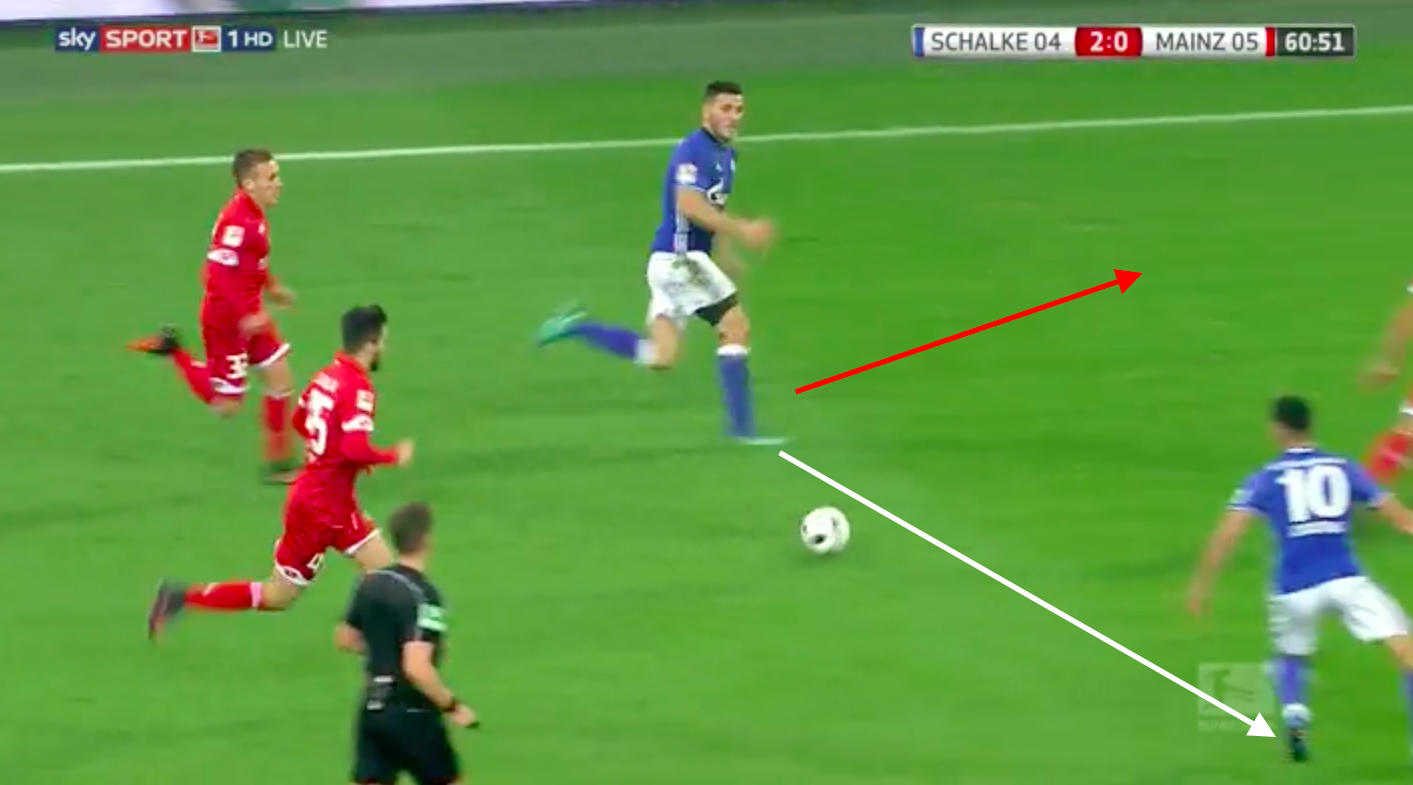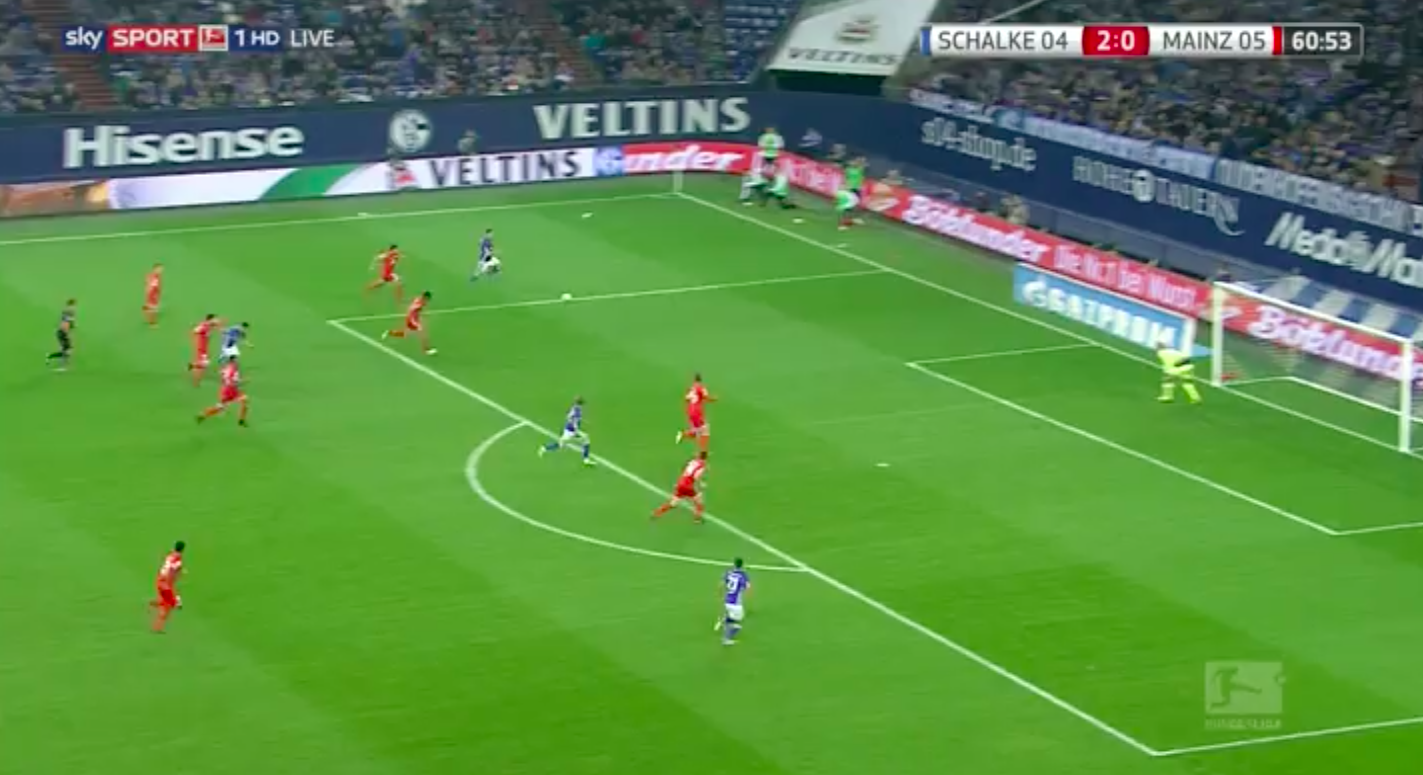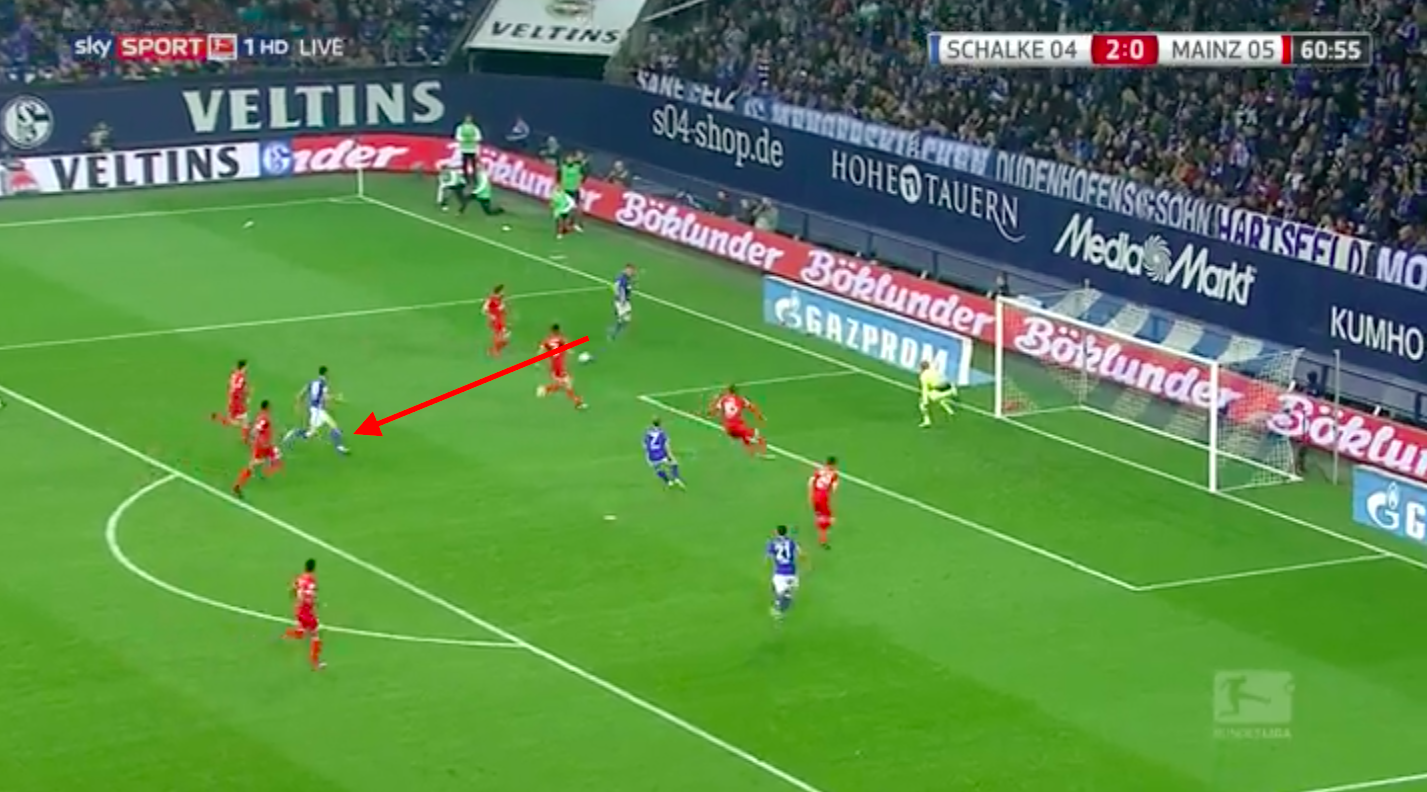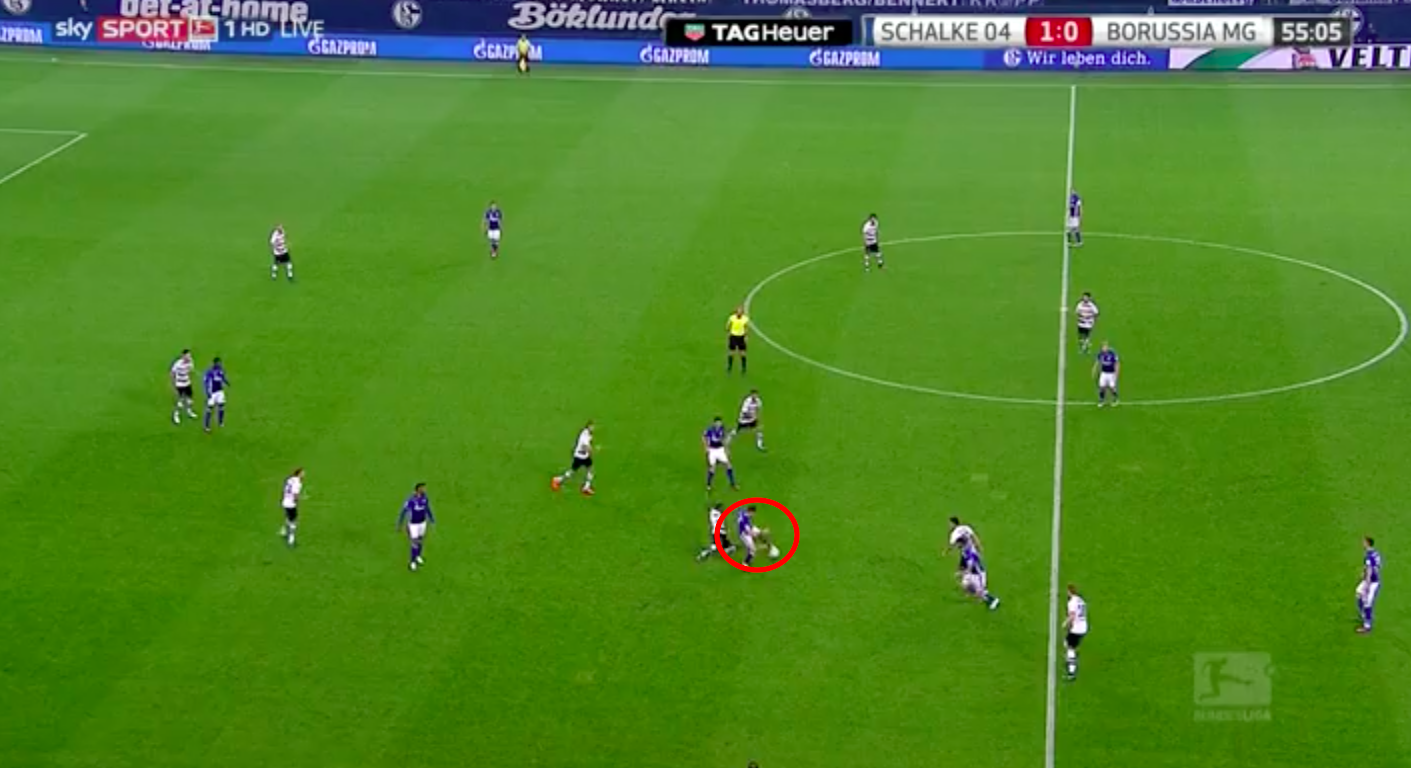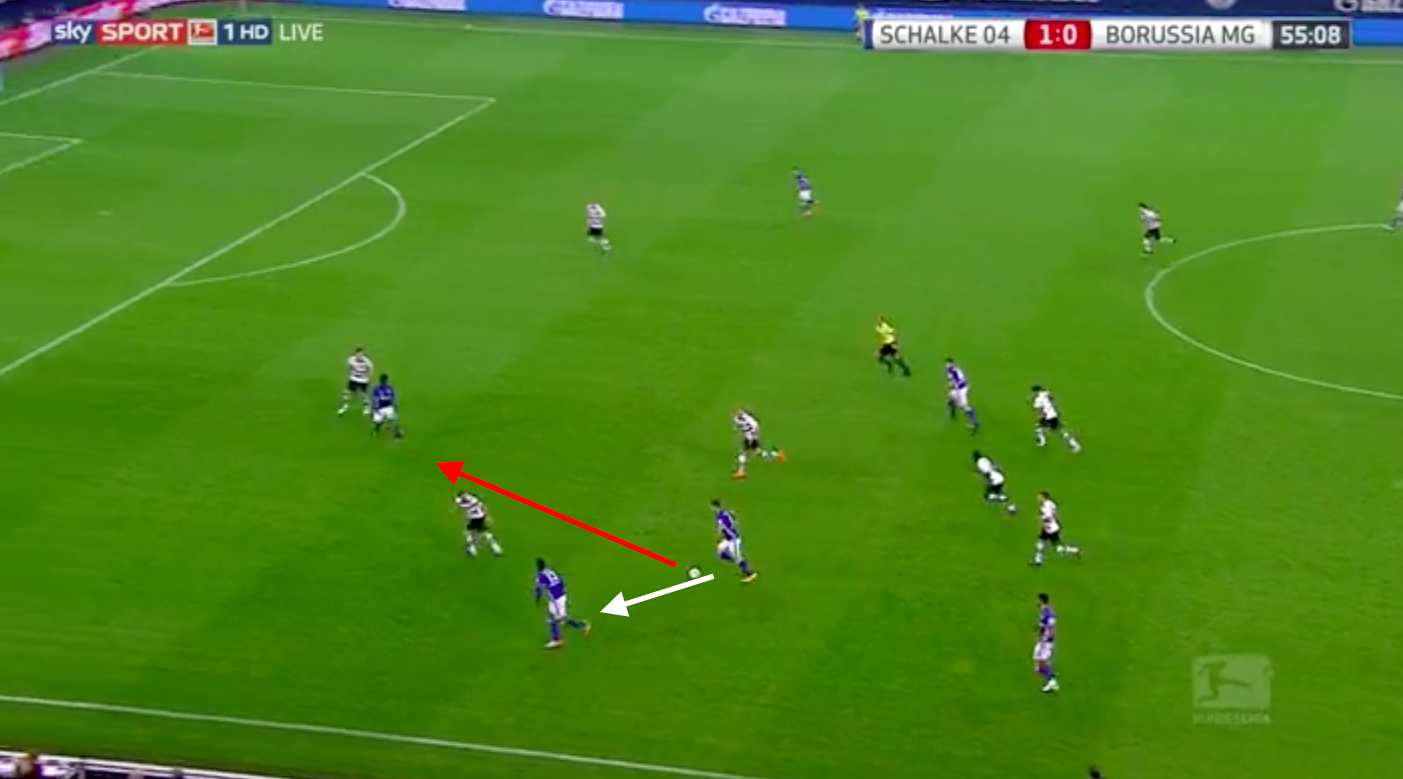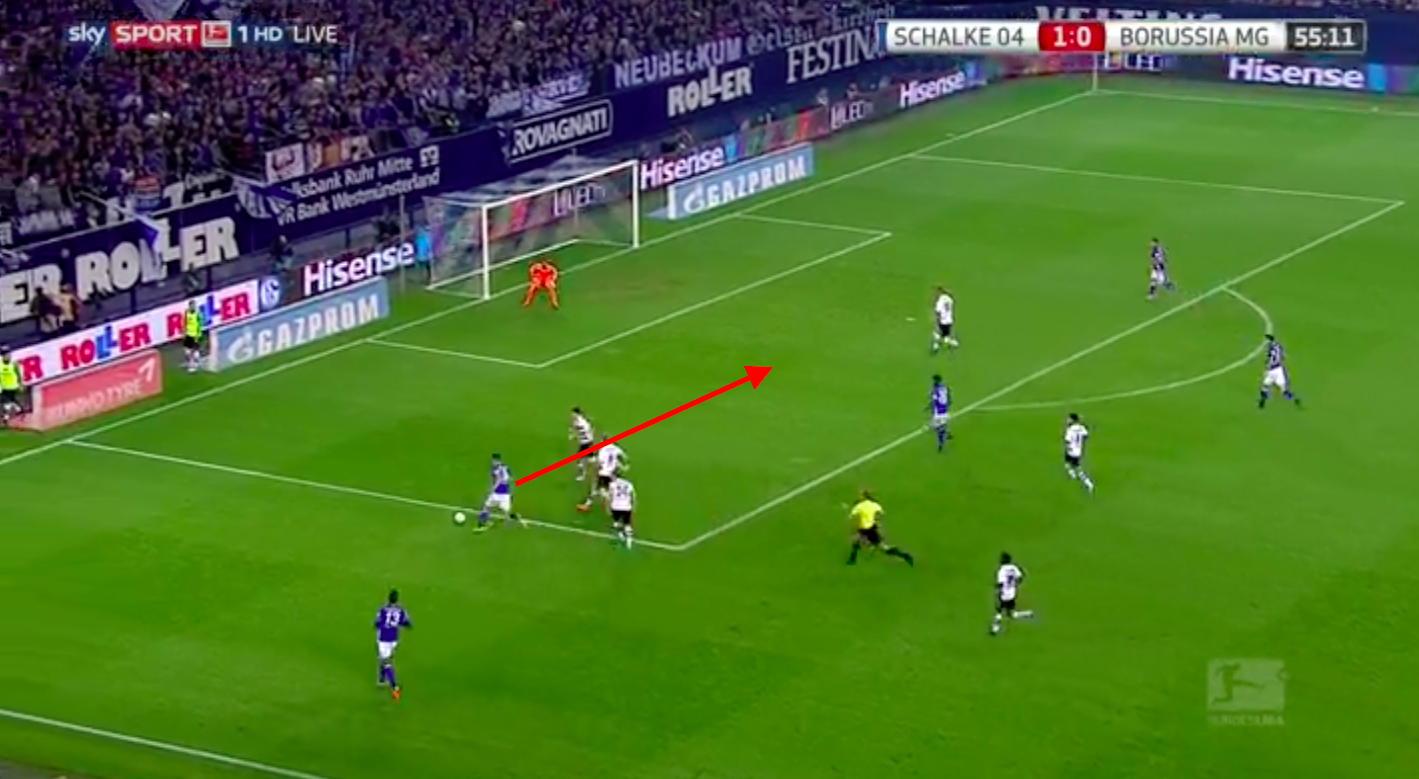 The first three screenshots show Kolasinac's assist against Mainz and the latter three screenshots show his assist against Gladbach.
They're similar in many ways. Both are a result of the full-back's direct play. In the first assist he plays a one two with Bentaleb before driving on into space and pulling it back for Bentaleb to sweep home. In the second assist he wins the ball centrally, ignores the easy pass (highlighted by the white arrow) and drives into space (highlighted by the red arrow) before pulling the ball back for Breel Embolo to finish off the move.
Both times Kolasinac attacked the space and both times he picked out a pass instead of just smashing the ball across goal and hoping for the best.
Examples of Kolasinac's aggressive style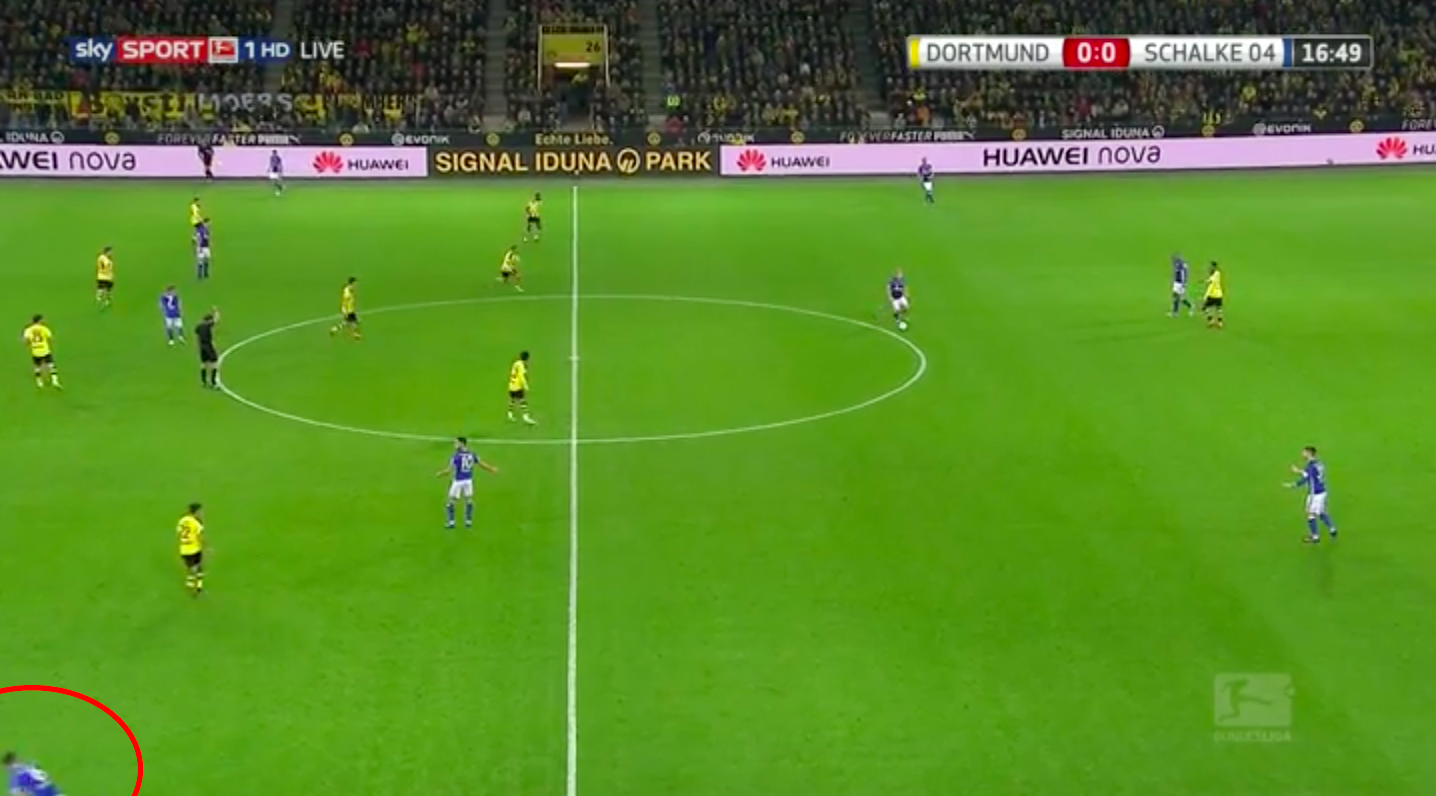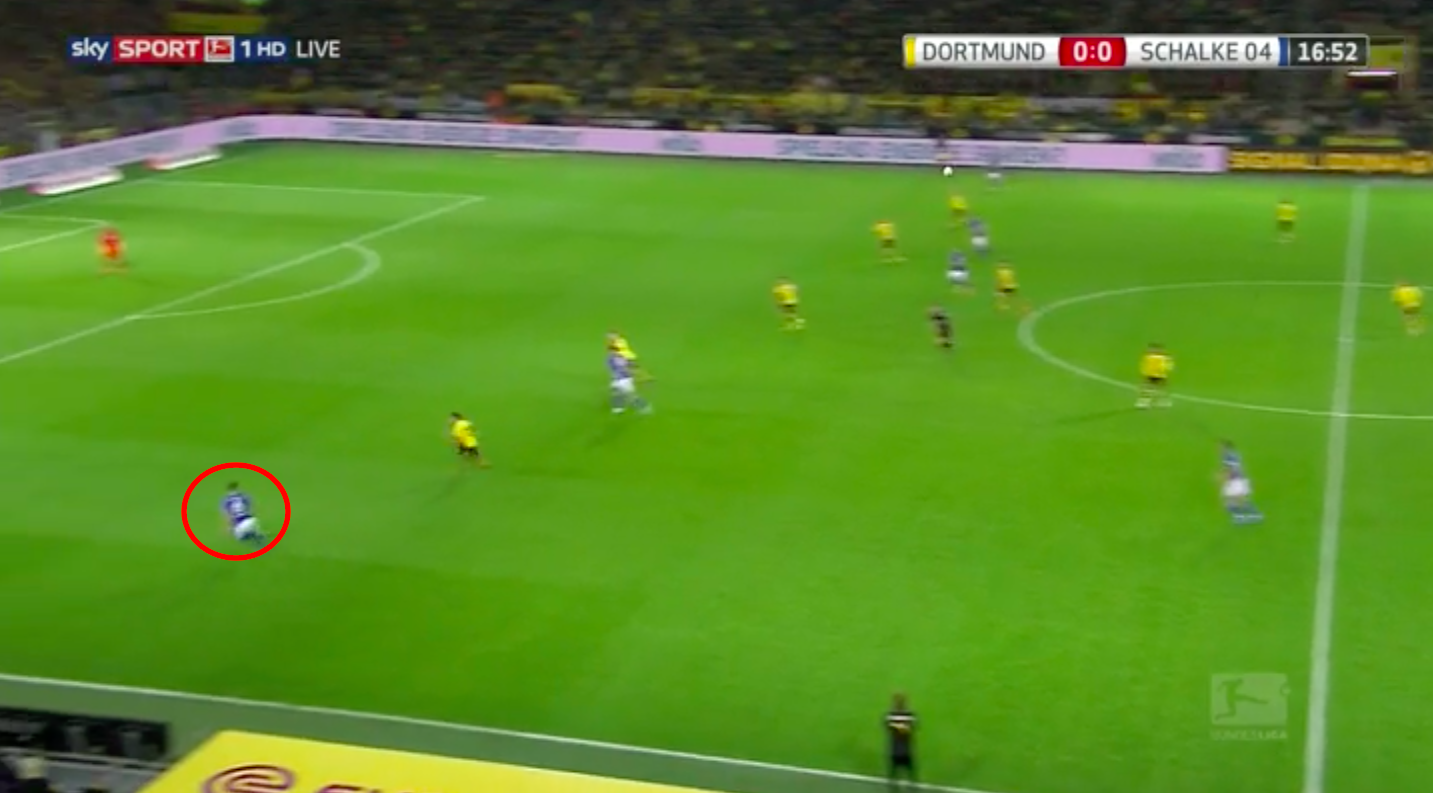 The two screenshots, taken from Schalke's draw against Dortmund, show a glimpse of the sort of player the full-back is. Not content with just keeping the width he looks to exploit the space and pin the Dortmund winger back. Sometimes you need that from your full-back to unlock a defence. It's a good weapon to have in your arsenal.
Examples of Kolasinac's reading of the game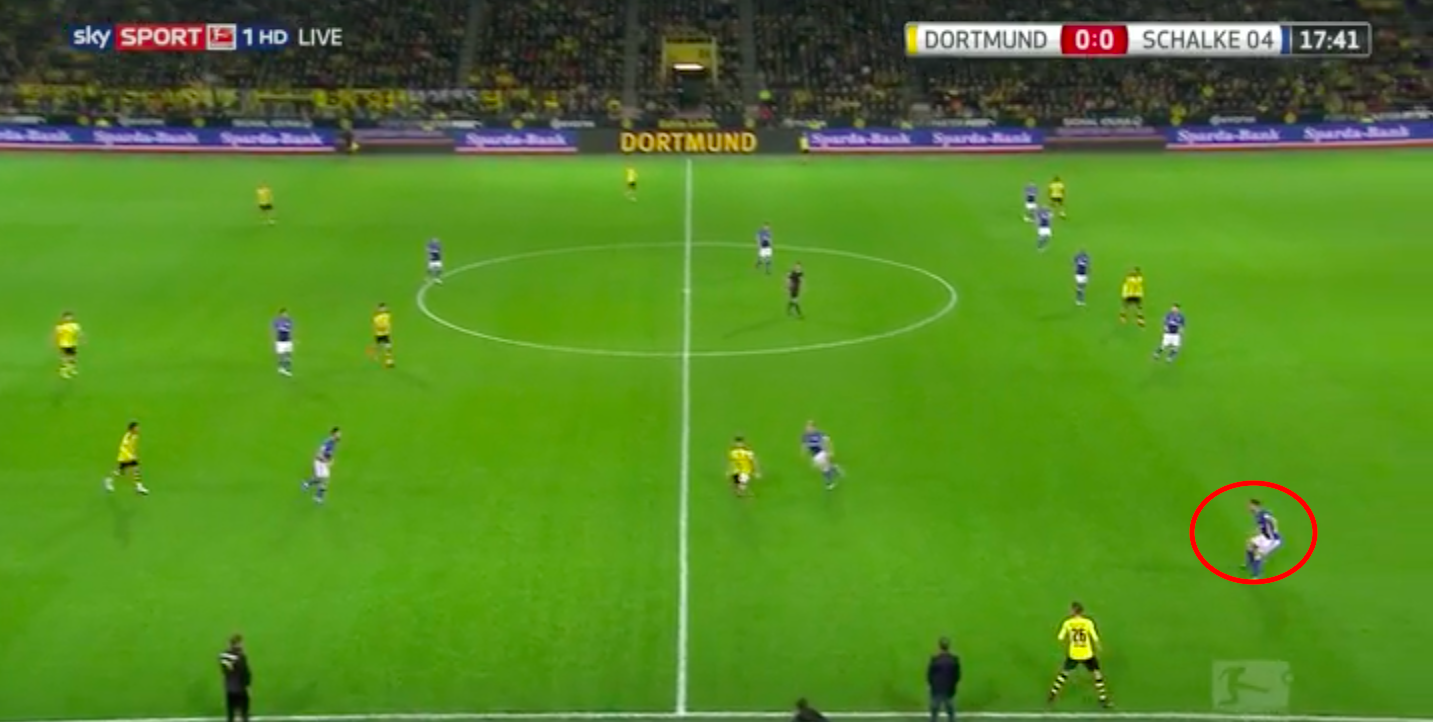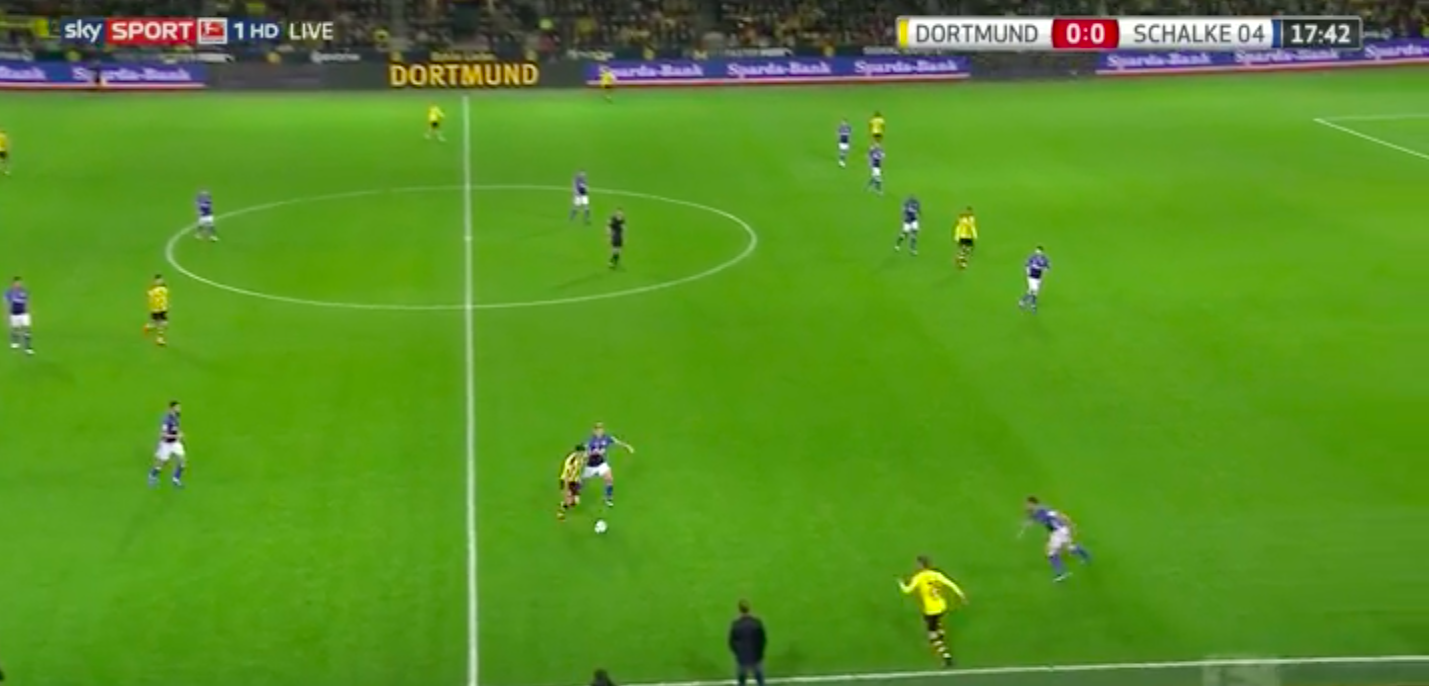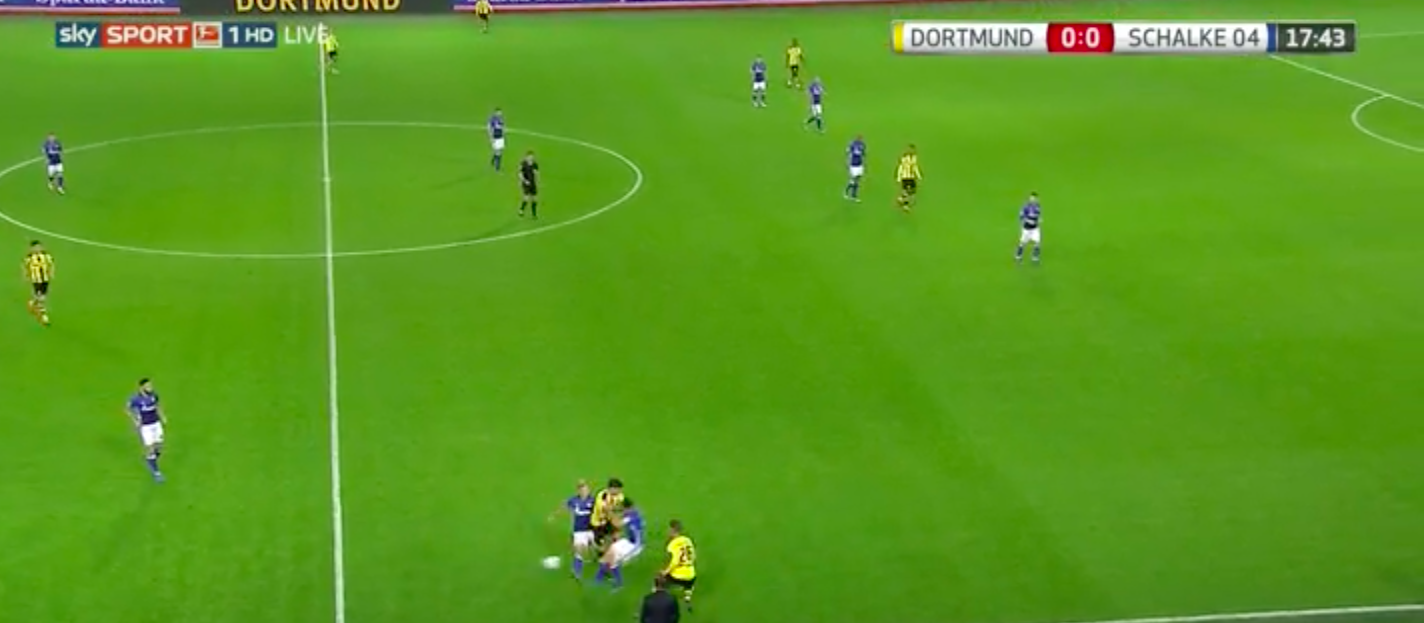 This series of screenshots highlights Kolasinac's reading of the game. He holds his position originally as Dortmund regain possession in midfield. As soon as Geis engages the Dortmund player and the Dortmund right-back looks to drift inside to double up Kolasinac is on the move. He ends up intercepting the ball and Schalke turn defence into attack.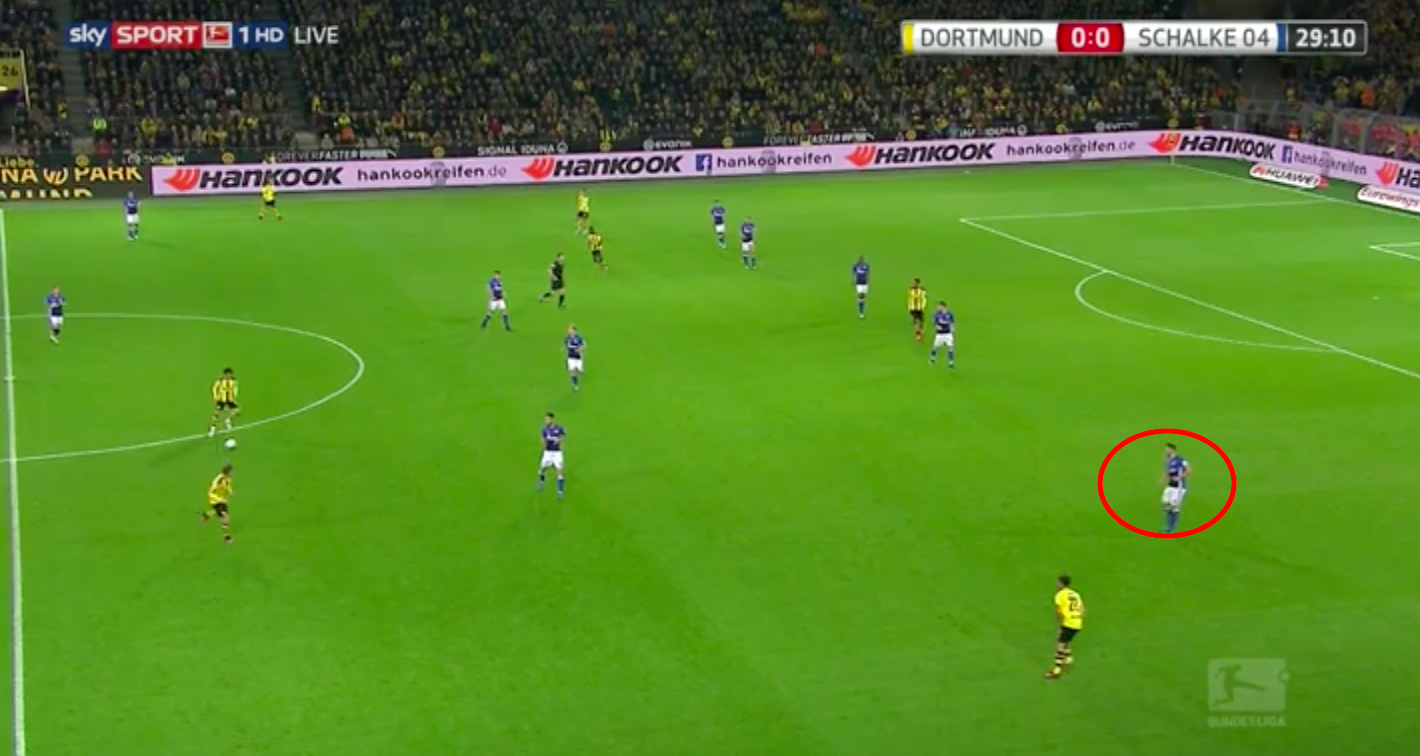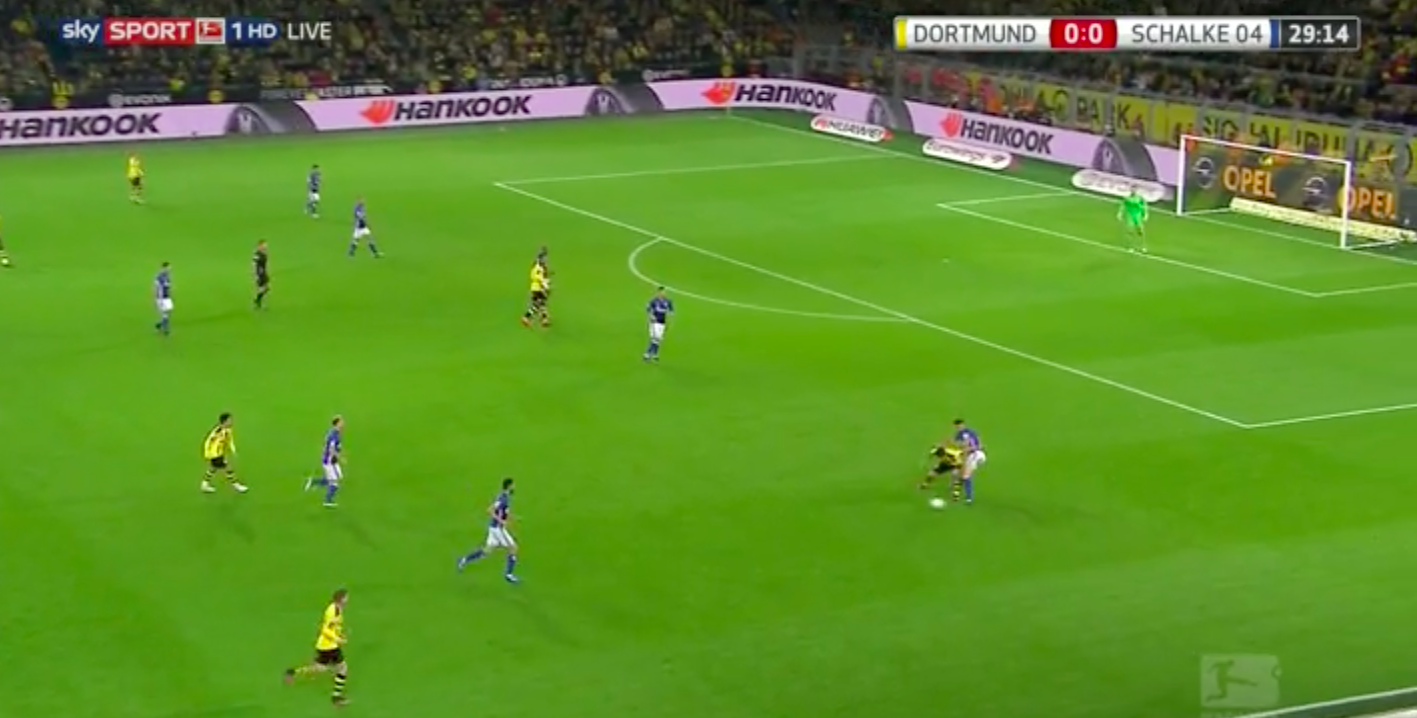 Once again the full-back holds his position until the ball is played to the man nearest to him. As soon as that ball comes Kolasinac he gets close to the player and ends up tackling him. He doesn't stand off Pulisic because the American has the ability to exploit the space in behind him. He's proactive in his approach and Schalke benefitted from it.
He's by no means perfect and there are areas that could be improved but there are signs there that he's the sort of signing Klopp could mould to suit his system. A free transfer would mean he's effectively a risk free signing.