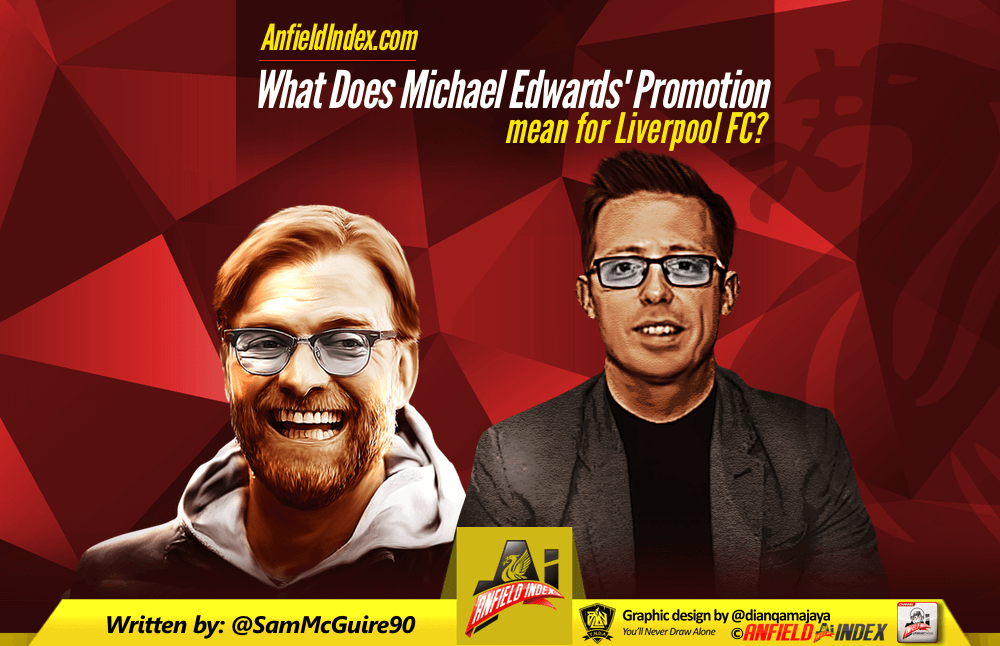 What Does Michael Edwards' Promotion mean for Liverpool FC?
Just over a year ago, not long after Brendan Rodgers was sacked, the Daily Mail published an article hatchet job depicting Liverpool FC's head of performance analysis Michael Edwards as a kiss-arse who basically set Rodgers up to fail.
There was mention of a cosy relationship between Edwards and the owners and how they'd regularly share emails throughout the day. I mean, how dare an employee share videos of cats with his boss..
Eddie, as he liked the staff at Melwood to call him, was the man tasked with bringing FSG's Moneyball idea to life. The article goes on to say that Edwards would use a 'statistical model designed to extract minimum value in the transfers market'. The author of the piece went on to say the process needing refinement because the club were guilty of paying up to three times the going rate for players. That before going on to write

'The committee have yet to explain how they came up with the figure of £29million to sign Brazilian forward Roberto Firmino from Hoffenheim, who finished eighth in the Bundesliga last season.
Divock Origi, billed as 'a world-class talent' by Rodgers when he was signed from Lille, could not even come off the bench in the club's last two league games. There are countless other errors.'
Just before this piece was published a few journalists with supposed ties to Liverpool made it known that Jurgen Klopp wouldn't work with somebody like Michael Edwards and Edwards was warning FSG away from appointing Klopp as manager.
Fast forward a year and the laptop guru now has an even bigger air-conditioned office after being appointed as Liverpool's first ever Sporting Director. Roberto Firmino, at £29 million with add-ons, looks like a bargain especially with how the new TV deal sent the prices loopy this summer. Big Div is, well, he's just big Div. He not only got off the bench he was instrumental in Liverpool beating Dortmund in the Europa League. The countless other errors isn't in fact just the one. The error was taking a risk on Mario Balotelli.
I know in the past every single one of us has looked silly when we have prematurely labelled a player shit and a few months down the line he's scoring for fun. But has anybody, ever, been as ridiculously wrong like Neil Ashton was when he wrote off Firmino, who at the time had played as right wing-back under Rodgers, and confidence deprived Divock Origi? There's being controversial and then there's being downright ignorant. This, without doubt, falls into the latter category.
The much-maligned Liverpool transfer committee which, if you believe the many stories in the press, was responsible for everything bad that happened during the 14/15 season wasn't that bad after all. Who would've thought it? That when you buy players with potential they need time to bed in and it's very much so a long-term project. The team that currently sits joint top of the Premier League is made up of transfer committee finds. However, the real key to unlocking their talent though was hiring a manager who bought into the process and Klopp had this to say on Edwards' promotion.
"It's no secret I like the concept of a sporting director and having worked under this model previously I have found it to be nothing but positive and forward thinking. Michael is absolutely the right person for this. He has the knowledge, expertise and personality to flourish in the role and I was delighted when he told me he would be accepting the position. Importantly, he also has a fantastic team of people around him, who have all played a significant role in putting together the talent we currently have in the first team, development squad and at even younger age levels."
To be successful you need a clear vision as a club and a contingency plan in place. Not just in terms of player recruitment but managerial recruitment too. Michael Edwards will now be tasked with lining up targets to replace Jurgen Klopp. It's not something Liverpool fans want to think about but managers don't last a life-time these days. Even if Klopp sees out his deal at Liverpool Edwards will no doubt be identifying potential managers for when that time comes because it will need to be a seamless transition. Not like the likes of Manchester United and Chelsea, two clubs who change their style more often than some people change their socks. Edwards will be looking at managers who will be able to get the best out of the players Liverpool plan to sign. Moving forward Liverpool will have an identity from top to bottom. It's unlikely we'll see the Reds switch from this fluid attack to signing a Christian Benteke type player without at least a transitional period. Fans should get used to the sort of football Liverpool are playing because it looks like it's here to stay.
FSG are finally realising their vision, it just took a little longer than they anticipated. The vision they had when they first bought the club before Brendan Rodgers vetoed the idea. Back then they wanted a big name to help sell the project. Louis Van Gaal and the late Johan Cruyff were linked. Now there's no need for a big name behind the scenes because there's a certain Jurgen Klopp in charge and It's possibly the easiest sell in the world. Who wouldn't want to play for him? It's the perfect storm for the owners who now have their man in charge and their system in place.