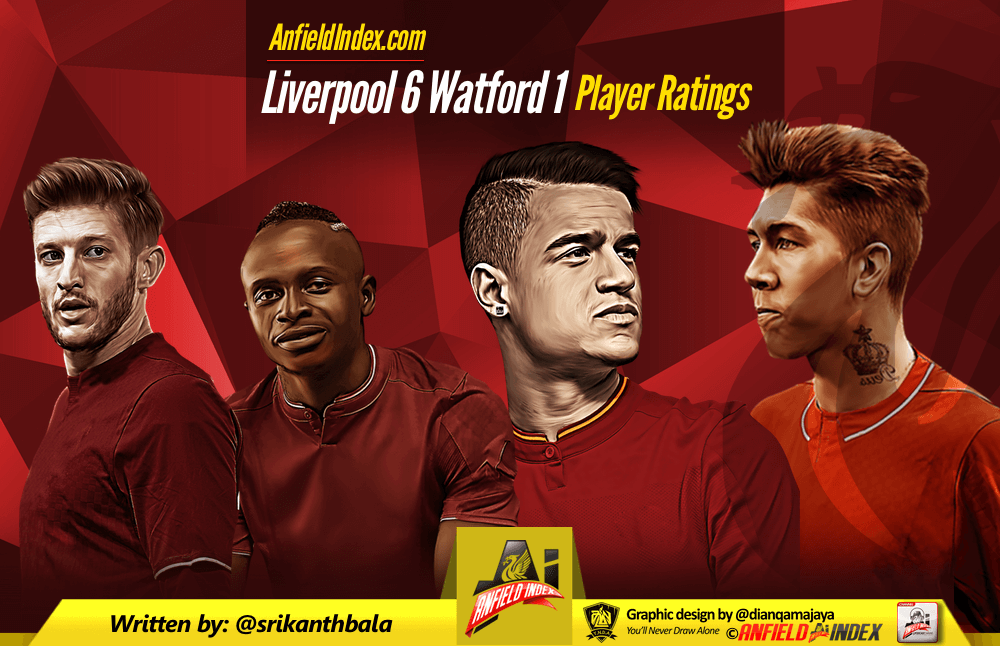 Liverpool 6 Watford 1: Player Ratings

LIVERPOOL
TOP OF THE LEAGUE
POETRY IN MOTION
WE SCORE WHEN WE WANT
I HAVE NOTHING (MORE) TO SAY
Loris Karius (7.5) – Pretty much trouble free first half for the German as Watford struggled to create any threatening chances. He looked eager to initiate quick counter-attacks whenever possible. Karius was far more involved in the second half and pulled off three excellent saves to ensure Liverpool did not concede more than one. His catching and punching was far more confident than what we have seen till now.

Nathaniel Clyne (7.5) – Solid first half from the right-back as Liverpool were on the ascendancy from the beginning. Facing a 3-5-2 formation allowed him to go past his opposite wing-back and participate in the attacking moves whenever possible. Had more defending to do in the latter part of the second half as Watford created a few decent chances. He created a great chance for Coutinho which the Brazilian should have scored easily.

Lucas Leiva (7.5)- Lucas was brought into the lineup as Dejan Lovren was ruled out due to a virus and he put in a competent performance as Liverpool dominated. He had a glorious chance to put Liverpool ahead in the first half, but considering  his scoring record, it was not surprising to see him fluff up the opportunity. He was solid in the second half as Watford got into the ascendancy after the 65 minute mark.

Joel Matip (8) – Matip used his aerial ability to the fullest to deal with any high balls directed towards the front two from Watford. He was equally good in dealing with any threat on the floor as he frequently stepped out to intercept passes from the Watford defenders. As we have seen before, he was not shy to make occasional forays into the opposition box with his unheralded ability on the ball.

James Milner (7) – Milner was back in the starting XI after an enforced absence due to injury and he put in the sort of tireless shift that we have come to expect from him. His ability to push up nullified the tactical superiority of Watford in the midfield. He struggled at times dealing with the direct running from Amrabat on the left hand side. His set-piece delivery was generally excellent which was typified by his great free-kick in added time in the first half which was well saved by Pantilimon.

Jordan Henderson (7) – The Captain was the better of the deeper midfielders today as he was astute in identifying potential dangers and was simple with his passing to get Liverpool into the attacking half. His performance was better in the second half from an attacking point of view, once Wijnaldum came on, as Henderson made a number of runs into the box to overload the Watford defence. He made a great pass to Firmino whose pass created Liverpool's 5th goal. Henderson was also partly to blame for Watford's goal as he totally left his man unmarked.

Emre Can (7.5) – Struggled in the first half as he turned the ball over a couple of times with his careless passing. He also put the defence under pressure when he carried the ball from midfield to his own keeper but better sense prevailed and Liverpool got away without conceding a goal from yet another error. He justified his inclusion though with a well taken Lampard-esque goal late in the first half to make it two goals in two games for the German. In the second half we saw the true capabilities of Can as he exhibited his ability to carry the ball box-to-box. The competition between Can and Wijnaldum is surely hotting up.

Adam Lallana (7.5) – Outstanding first half from Lallana as he was alert to any loose ball or loose touch from the Watford midfield and was quick to initiate attacks with his excellent ball carrying ability between the attacking lines of play. Delivered an outstanding cross for Can to slot in Liverpool's 3rd goal. He was taken off in the second half to a rousing ovation after a great performance yet again.

Sadio Mane (8) – Hard working performance from Mane as the interchanging of positions with Firmino and Coutinho totally befuddled the Watford 3 man defence who met their match in the Liverpool front three. He exhibited yet another facet in his fledgling Liverpool career with the precise manner in which he directed his header to score the first of Liverpool's goals for the day. He scored yet another goal in the second half to cap off an excellent display.

Roberto Firmino (8.5) – Firmino continues to be the less in-focus Brazilian and he was very much involved in almost every attacking play. He dropped deep to drag the Watford defence out which opened up the space for Mane to exploit. He delivered the assist for Coutinho's goal. He got his just rewards in the second half as he scored and setup another goal. It surely looks like Firmino is un-droppable as the #9.

Phil Coutinho (9) – What can we say about the Little Magician? Every epithet has been written, every ode has been directed in the online universe and yet he continues to leave us open-mouthed with his skill-set. It looked at times like he was controlling the ball with an invisible thread tied to his boots as the ball moved at will on his beckoning. A couple of his first touches were outstanding and he delivered a teasing ball for Mane's header. He was duly rewarded with a well taken goal as he buried a great chance for Liverpool's second. Legitimate claims to be the best player in the league in this form.

Substitutes
Daniel Sturridge (8) – It was quite clear that all the Liverpool players were looking to setup Sturridge and he could have had a hat trick if luck was on his side. Rattled the bar on a couple of chances. A sharp cameo.
Giorginio Wijnaldum (8) – Excellent cameo as he was sharp on the ball and allowed Henderson to foray into attack. Scored his first goal for Liverpool
Ovie Ejaria (N/A) – A great moment for the 18 year old as he made his Premier League debut.