One of our twitter followers gave us an idea of a blog post earlier on today when they asked how many points Liverpool had achieved from the three football clubs that were relegated from the Premier League this year. To take it a step further we've drawn up some stats for our readers to show where Liverpool picked up points this year and pointed out a few trends too.
Liverpool completed the double over Chelsea & Fulham this season, as shown below. However the majority of the time they've shared the spoils with one win each. There were a couple of teams that managed to do the double of Liverpool this season too, including Blackpool which was a real kick in the teeth for all Liverpool supporters. The table showing where the points were won or lost is show below: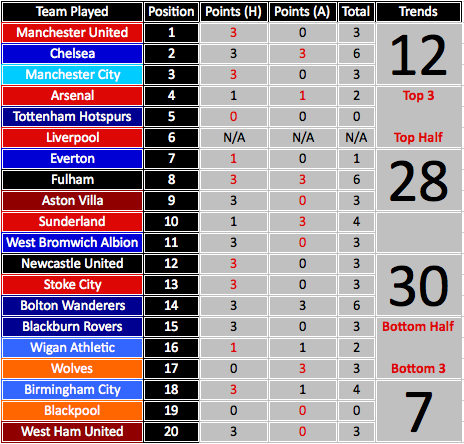 The points in RED are points that Kenny has won for Liverpool and the ones in BLACK are the ones Roy Hodgson won. Roy managed to attain 25 points in 20 games whilst Kenny achieved 33 in 18. Roy averaged 1.25 points per game whilst Kenny has averaged 1.83 points per game.

Spurs and Blackpool were the two teams that Liverpool didn't manage to win any points off of this season. Pretty disappointing as we'd expect to beat Blackpool and we outplayed Spurs for the majority of the game at White Hart Lane only to go on to lose in the last few minutes.
The biggest shock from the table is the fact that Liverpool only managed to win 7 points out of a possible 18 against the teams that were relegated. That is a shocking statistic. One that really shows that had we improved whilst playing these teams we'd have been in a totally different position. The blame cannot even be placed, solely, on Hodgson's shoulders as he managed 4 points out of 9 whilst Kenny only managed 3 out of 9 against the bottom three. Kenny's losses coming to Blackpool and West Ham away, whilst Roy drew with Birmingham away and lost to Blackpool at home.
Liverpool faired much better against the top three securing 12 out of 18 points. A double against Chelsea and home wins against United and City were the games that clinched the points. Roy's record here was dubious to say the least. A win at home against Chelsea was the highlight result of his reign, it was a back to the walls affair with Chelsea having the majority of possession (over 60%) and Liverpool holding on and winning 2-0 thanks to two stunning Fernando Torres strikes (who?). So Hodgson managed 3 out of 9 points against the top three however Kenny had a 100% record against them.
Kenny Dalglish's side managed to beat United, Chelsea and City, scoring 7 and conceding 1 in the process. A points tally of 9 out of 9 points was very impressive indeed.
As a whole Liverpool got more points against teams in the bottom half, quite surprising after they faired so well against the top 3 and so badly against the bottom 3. The points total against the rest of the top half (positions 4 – 10) was 16 points. The points total against the rest of the bottom half (positions 11-17) was 23. Interesting that Liverpool did much better against the weaker teams in that bracket (positions 11-17) and poorer against the teams in and around them (position 4-10) .
So where do Liverpool need to improve next year? Definitely against teams in the bottom three and those teams that are fighting just beneath them in the upper mid table of the league. A 100% record against the relegated sides would have seen Liverpool pip Arsenal to 4th place with 69 points. Similarly wins against Wolves, Wigan & Sunderland at home and draws at Newcastle, West Brom, Blackburn & Stoke away would have also got us 4th place. Kenny's points tally of 33 in 18 was the shining light of the season, even though the season ended with two losses in a row it doesn't take away from the sterling job that Kenny has done. We look forward to a further improve set of results next year!