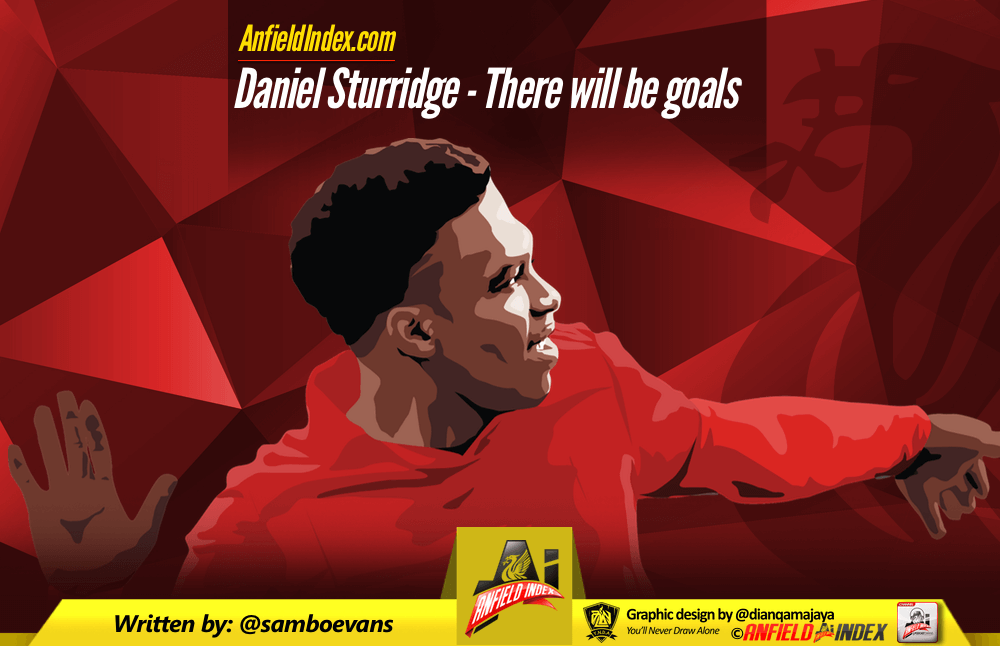 Daniel Sturridge - There will be goals
We are 11 games in to the Premier League season. Daniel Sturridge has no Premier League goals.
"We should sell him in January"
"He's past it"

"He's not a team player"
This is how many Liverpool fans speak about Daniel Sturridge. The man who has 43 goals in just 77 league appearances for Liverpool FC. He has scored 57 goals in 102 matches in all competitions for the club. And the fans still don't sing his name. I have never understood this.
One of Liverpool's best goal scorers in the last five years doesn't get his name sung. Even Mario Balotelli had his name sung more than Daniel Sturridge and he had ONE league goal for the club. So why do the fans not sing Sturridge's name?
Is it because he dances when he scores? Is it because he looks grumpy from time to time? Is it because he comes across as cocky? For me he has all of the ingredients to be a fans favourite. He scores goals. LOTS of goals. He is entertaining to watch and has a personality (don't forget that dance!). And when it comes to his perceived cockiness, there is nothing wrong with being supremely confident in your ability. In fact, it is a hugely desirable trait in a striker.
Let's put things in to perspective.
This is the man who scored 21 league goals in just 29 league appearances in the 2013-14 season. It's safe to say that Daniel Sturridge was the second best striker in the Premier League that season. The best was quite possibly the greatest player to ever wear the red shirt – Luis Suarez. Not a bad player to come second to.
Some might say that he hasn't come close to the kind of goal return he had in the 2013-14 season. But people seem to forget that Daniel Sturridge has since suffered 2 years of horrendous injury problems.
Since Jurgen Klopp came in, the manager has taken Sturridge out of the spotlight and given him time to finally get over the niggling injuries which have hampered him for so long. The acquisition of Roberto Firmino and Sadio Mane has given the manager the luxury of not feeling pressure to play a striker who isn't 100% fit. This is in stark contrast to the final 18 months of Brendan Rodgers' tenure where he had no choice but to play a 70% fit Daniel Sturridge when the alternatives were players such as Balotelli, Borini and Aspas.
But this is a different Liverpool side. This is Jurgen Klopp's Liverpool side.
Gone are the days where Liverpool need to rely on one or two players to provide the goals. We are 11 games in to the league season and Liverpool already have 10 different goal scorers. 11 games, TEN goal scorers!
Of the ten outfield players who started against Watford, EIGHT of them have already scored league goals this season. If Lovren was fit to play instead of Lucas, it would have been nine.
Sharing the goal burden amongst the whole team should help safeguard against a couple of injuries derailing Liverpool's season. Just look at Tottenham so far this season. One injury to Harry Kane and Spurs suddenly struggled to find the net. Similar to Liverpool in the 2014-15 season when Sturridge was injured. Hopefully this is a thing of the past for Liverpool. Gone are the days where Liverpool are a "one man team".
When Liverpool do suffer the inevitable injury, suspension or when Sadio Mane will leave for the African Cup of Nations, Daniel Sturridge will be ready to take his chance.
Despite failing to notch for his club in the league so far this season, Sturridge is starting to show more and more indications that goals are coming.
For me, it started in the game versus Swansea City. Sturridge replaced the injured Adam Lallana with the team 1-0 down and struggling to get a foothold in the game. Although Sturridge's performance wasn't exceptional by any means, his introduction undoubtedly coincided with a vast improvement in Liverpool's attacking play. With the injection of Sturridge's attacking flair, Liverpool went on to dominate the second half and could have scored more.
Fast forward to the EFL cup match against Tottenham Hotspur and Sturridge got a much needed place in the starting line-up. He rewarded the manager's faith in him with a man of the match display, scoring a brace and left the field feeling extremely unlucky not to have  notched at least four goals.
He was given a well earned rest against Crystal Palace as the game came just 4 days after his blistering display against Spurs in midweek. Understandable given his previous injury problems. A clear indication that the manager is learning from mistakes made by former Liverpool and England managers in the past.
Sturridge got his most recent opportunity to impress in his substitute appearance in the 6-1 demolition of Watford. He was sharp, lively and in my opinion, the best player on the pitch for the 20 minutes that he played. He played like a man with a point to prove. His movement was excellent, his touch assured and came away from match extremely unlucky not to have scored at least 2 goals in his 20 minute cameo. He twice struck the woodwork and had an assist for Wijnaldum's late goal as his effort on goal was parried to the former Newcastle man who tapped in
After 2 tough years in the career of Daniel Sturridge, the future is looking very bright again.
Liverpool are flying right now after scoring 30 goals in their opening 11 games. But it's a very long season. Sturridge's time WILL come. We know this. Especially with the upcoming absence of Sadio Mane when he joins up with his country for the African Cup of Nations. And when his chance comes, I'm certain he will take it. Once he scores his first league goal of the season, don't be surprised if that day he makes it a hat trick. Once Sturridge gets off the mark, expect more goals to follow.
He has shown time and time again that he is a big game player. Look at the goals he has scored against Manchester United over the years. Look at the sublime goal he scored in the Europa League final last May. In a match where the pressure was at its absolute highest, Sturridge came up with a finish of the highest quality. It wasn't his fault that the team collapsed in the second half.
So let's stop the negativity. We really need to be positive this season if we are going to win things. Let's put any previous grudges behind us. Let's all start to get behind Daniel Sturridge. Sing his name. Cheer him on. Do the dance. SUPPORT HIM. Because I can guarantee you that there will come a time this season where we will need him.
And I for one will be singing his name at the top of my voice. I will be doing the dance when he scores. I will be cheering him on. Because scoring a goal is the hardest thing to do on the football pitch and Daniel Sturridge is bloody brilliant at it.