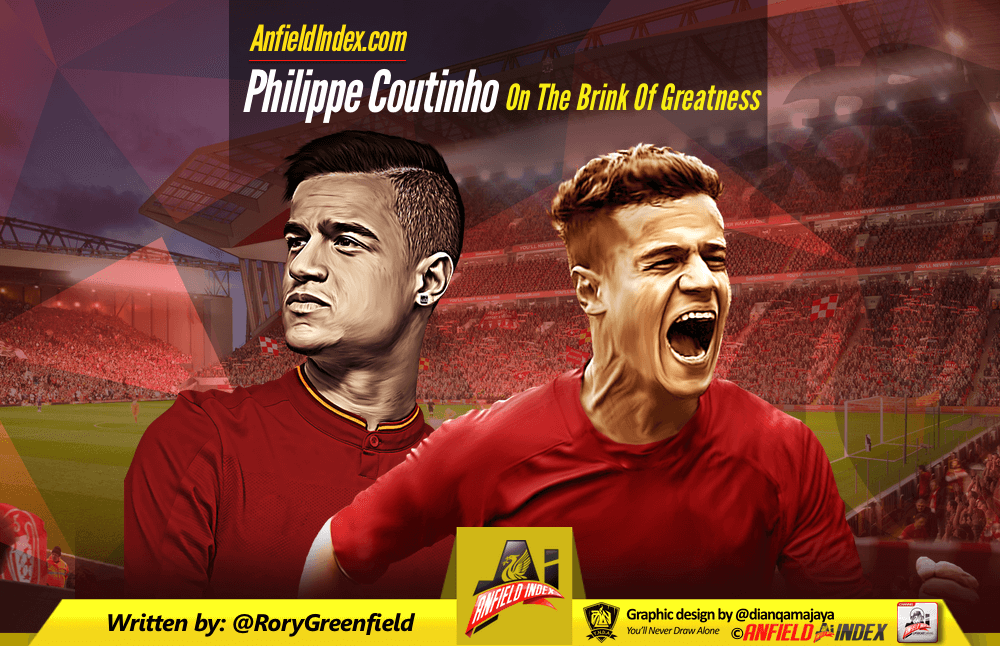 Philippe Coutinho - On The Brink Of Greatness
Liverpool supporters are experiencing something very special this season, the realisation of world class potential in front of their very eyes. Ladies and gentleman, this is the season that Philippe Coutinho has decided to remove the gloves and raise the stakes. To become the player supporters all hoped he could be and not just produce game changing moments, but season defining performances.
For years Philippe Coutinho has shown flashes of brilliance, that you must applaud. A moment of sublime skill, a gravity defying through ball, or a thunderbolt of a strike from 30 yards, into the top corner. Game changing moments, which have rightly earned the player many personal accolades. From supporters and players, player of the season two years running, to being in the Premier League and Europe league teams of the season. It's clear his ability hasn't gone unnoticed, but question marks have remained over whether he could ever reach and maintain a consistently high level of performance.
Upon arrival from Inter Milan in January 2013, for what remains an absolute snip of just £8.5 million. Any initial doubts over Coutinho's ability didn't last long, as Liverpool supporters soon realised they'd acquired a precocious talent. His successful partnership with Daniel Sturridge, was almost instant, both adding a dynamic largely missing from Liverpool's attack. They played with a telepathic ability on the pitch, carving teams open with consummate ease. I vividly remember being surprised by his game intelligence and confidence, which far outweighed his fledgling age.

A player whose comfortable of playing in attack, but also deeper in midfield. Coutinho is a more rounded player, than I'd anticipated. Despite his diminutive stature, he's not one to back out of a physical battle. When moved to a number 8 role in the highly praised diamond formation of the 2013/14 season, Liverpool fans saw how industrious the Brazilian was. His pressing and energy were and remain, prominent facets to his game. Whilst he's not always tracked diligently, he does work very hard off the ball, which sets him apart from other conventional attackers, the likes of which you'll no longer witness under Jürgen Klopp's tenure.
There are far more contributing factors to an attacking players performance than just the goals they score and assists they create. But I can't not highlight that Coutinho currently averages a goal or assist, every 84 minutes in the Premier League this season, scoring 6 and assisting 6 in the 11 games played. That regular final product is something Coutinho hadn't offered, until this season. It's a clear sign to me, that he's stepped up his game and is no longer settling as !being solely a creative force.
The end product he has started to regularly provide however, is only a small part of what makes Coutinho a special talent. His movement off the ball is so subtle you'd barely notice it. He can always find and create space in between the opposition midfield and defence, but it's what he does when he receives the ball that sets him apart. His touch is sublime, his anticipation of movement unparalleled in this side and his skill is a joy to behold. A drop of the shoulder, an intuitive flick or turn, can open opportunities in an instant.
A criticism often levelled at Coutinho is his inability to create for everyone, that he has selective footballing relationships. It's clear he enjoy's playing with certain individuals, like all players do. Roberto Firmino, like Daniel Sturridge is a player Phil's built a wonderful partnership with, one which is flourishing this season. I feel it's completely natural that he'd synchronise more with a player of excellent movement, than ones which are static. He struggled when playing with strikers such as Rickie Lambert and Mario Balotelli, but let's be fair anyone would given their form, during their brief time with the club.
This season he isn't selective, he's working in tandem with each individual in attack. Adam Lallana and Sadio Mane are both benefiting from his passing and creativity, as is the whole team. He's the one who progresses the teams play, who sets the tempo of the game and exploits any gaps our attackers expose. His vision and game intelligence is on another level in the Premier League right now. He makes it all looks so effortless and easy, he's simply becoming an elite player.
It honestly feels like a switch has been triggered, something in Phil's head that finally told him "you're the best player on this pitch, now show everyone why". Every movement, every pass and touch is done with such purpose and intention of starting, developing or finishing an attack. Right now there isn't a single other player in the league directly influential matches like Philippe Coutinho, he epitomises the term 'game changer'. He's a key catalyst for Liverpool's excellent form this season and if he maintains this level of performance throughout the campaign, he'll likely receive some club honours, to add to his own personal collection.
Supporters fear his eventual exit, with Barcelona players already inciting inception techniques, whilst he's away lighting up the Brazilian national team. To me, Phil looks extremely settled. He has a young family, friends at the club on and off the pitch and is clearly enjoying his football. Liverpool are at a point under Jürgen Klopp's tenure, where they want to enhance the squad they have, not replace key components. They want to become a real force both domestically and internationally, competing for major honours, each and every season.
It's an extremely exciting time to be a Liverpool supporter, let alone a player. Jürgen Klopp is building something special at this football club and I honestly believe that players will want to stay, play and reap the rewards of his unique man management, which has already developed individuals to level's they may not have dreamed possible. Philippe Coutinho has improved almost beyond measure since Klopp arrived, he's gone up a level, maybe two.
Despite what's gone before, it feels like the start of an incredible journey for Coutinho at this club, one which has set him on path towards real greatness and I am relishing each and every minute.