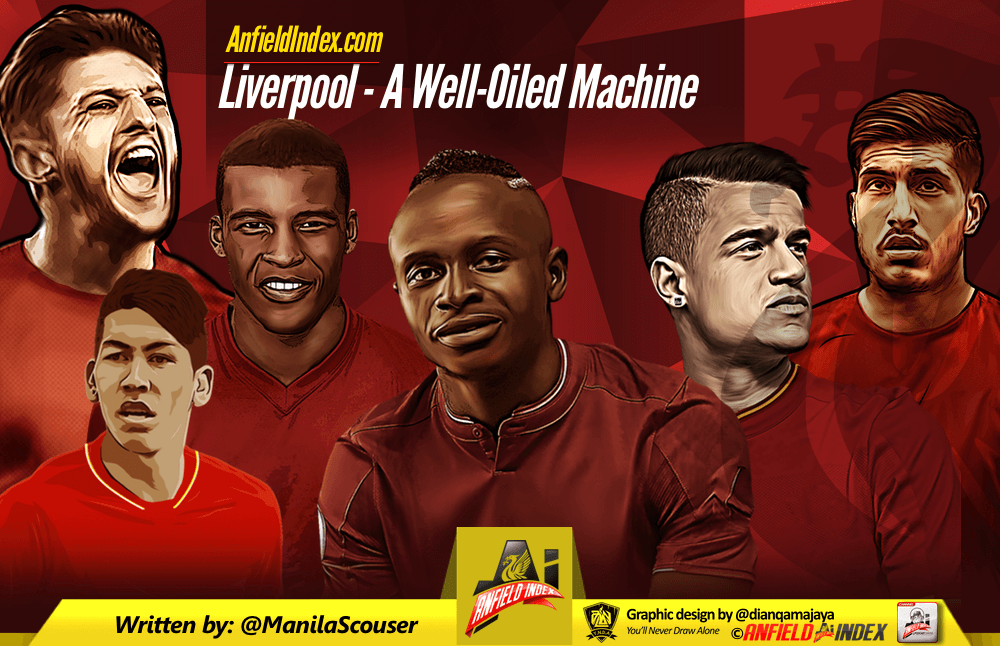 Liverpool - A Well-Oiled Machine
It seems so long ago when we had to rely on Rickie Lambert and Mario Balotelli to lead the line for Liverpool Football Club; but it was only a couple of years ago.
The transformation has been staggering. What was once a toothless attack has transformed into a group of players that were vicious and ruthless attacking, and scoring is an inevitability.
Liverpool's style of play is suffocating their opponent, causing them to make errors that would turn the ball over once again and prompt another counter attack from the Reds.

The big German at the helm of the club has mentioned his team are always angry because their opponents want their points, and the performances on the pitch show nothing short of his words.
Liverpool's pressing game is scintillating, and when you watch each Red shirt hunt down to win back possession, it looks like chaos. But organised chaos is what it really is. They swarm in packs like a group of angry hornets wreaking havoc to everyone that stands in their way, but it looks like it's well organised, similar to when eight pistons in an engine pump one after the other in synchronicity. When it starts, whoever is the trigger, be it Firmino, Mane, Coutinho, or Adam Lallana, there will be more to follow. It's an incredible performance to witness whether you're at Anfield, or thousands of miles away in your local pub.
Opposition managers are consistently saying the same things during their post match interviews. From Antonio Conte saying it's not the best time to play Liverpool, Claudio Ranieri tipping the Reds to win the league, to Walter Mazzarri and even Alan Pardew impressed with Liverpool so far, dubbing them as the most toughest opponents they've all faced by far.
They're simply shredding the opposition to pieces and tiring them out, all thanks to how fit these players are. Liverpool's front three are so good, in fact, that they're putting up numbers similar to Barcelona's MSN in their respective leagues.
We're the team any neutral fan would come to see. It's incredible and really difficult to put into words how impressive the team has become since Klopp took over, likewise scary what we would be a couple of years from now.
Liverpool's bench is quite astonishing as well, as good as it's probably ever been, and there's finally depth on that bench, players who can enter and impact the game in our favour. It's crazy to think we have those types of players considering how many players the club has sold over the summer.
The team is currently the most, if not one of the most in-form teams across Europe this season, and rightly so after exhilarating performance after performance.
It's the international break once again, and Liverpool are sitting pretty at the top of the table. Granted it's only by a single point, but it is a much-deserved position we're in at the moment given the performances the team has displayed by far.
Jurgen Klopp is playing down title talks so far, and rightly so, because he wants his team to be consistently hungry and angry at any team who wants to take points off his side. But that doesn't mean we don't have to be happy.
We can enjoy where we are at the moment and we can definitely enjoy each performance Liverpool are portraying every week. But if there's one thing to be specifically excited about, it's that this Liverpool side have so much more room for improvement. Players are growing and learning every minute. And as I previously said, it's really frightening to imagine what this team would be two or three years down the line.
This Liverpool team is a well-oiled machine.