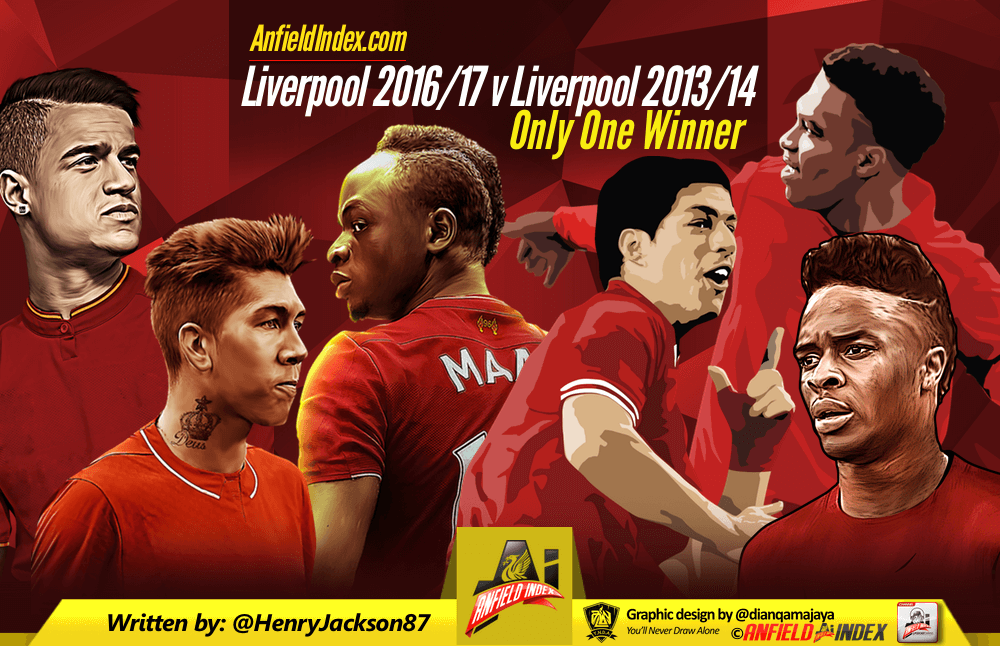 Liverpool 2016/17 v Liverpool 2013/14: Only One Winner
Back in the summer, who really expected to be this happy about Liverpool by the time early November arrived? Come on, be honest.
We all saw that daunting run of early fixtures, and when the joy of beating Arsenal was soured by the woeful result at Burnley, even a top-four challenge felt a long way off. Jurgen Klopp's Reds have been a revelation since their Turf Moor woes, though, going unbeaten in all competitions and topping the Premier League in the process.
Second-place Chelsea have been dispatched of at Stamford Bridge, champions Leicester were annihilated at Anfield, as were Hull City and Watford, while potential banana skins at Swansea City and Crystal Palace have been passed with flying colours. Even the draws against Tottenham and Manchester United saw Liverpool outplay both of their rivals, and deserve all three points.

The quality of the Reds' football has been breathtaking at times, with 30 goals scored in 11 league games, and four or more scored in five of those matches. There are goals everywhere you look in the team, with 13 different scorers already this season. Sadio Mane, Philippe Coutinho and Roberto Firmino have 16 between them, Adam Lallana and Emre Can are chipping in from midfield, James Milner is scoring penalties and Joel Matip and Dejan Lovren have also scored three combined.
Incredibly, Daniel Sturridge and Divock Origi haven't even registered a league goal yet.
Liverpool are blowing teams away with their attacking brilliance, and it is no surprise to see comparisons being drawn with Brendan Rodgers' near title-winners of 2013/14.
That side was absolutely devastating to watch, and in Luis Suarez they had arguably Liverpool's most talented player of all time, but this current crop feel on another level to them. After 11 games in 2013/14, they only had five different scorers, outlining just how dependent they were on certain individuals, most notably the incomparable Suarez. While both sides are famed for something of a gung-ho approach, they key difference is the word "chaos".
The Reds' class of 2013/14 was complete chaos, in terms of balance and the way they scored and shifted goals in equal measure. Rodgers was not an astute defensive manager, and that team had nowhere near the solidity of the current crop.
It really was a case of "we don't care how many we let in, we're just going to score more than you", which was refreshing but ultimately flawed.
Klopp's side may produce chaos, but it is organised chaos. Everybody knows exactly what they are doing, and although the number of goals they concede has to improve, that is more of a set-piece issue than an open play one.
Teams aren't running through Liverpool's current midfield like they did three years ago, when an ageing Steven Gerrard could be exploited defensively. In fact, plenty of teams have struggled to even force Loris Karius into a meaningful save, which goes to show that they are nowhere near as susceptible as some claim.
Another key difference between these two hugely entertaining Liverpool sides is squad depth. Rodgers had a fantastic starting eleven during the second-half of 2013/14 – it should always be remembered that they never really got going until the 5-1 win over Norwich City in December, despite some good results before that – but he had appalling options from the substitutes' bench. The likes of Aly Cissokho, Victor Moses and Iago Aspas were the men he had to rely on, and in the long run, it may have cost Rodgers a league title. When they had run out of ideas against Chelsea on that depressing afternoon in April 2014, Rodgers had nobody to call upon with any real substance, barring a striker incapable of even taking a corner.
Klopp, on the other hand, has built a formidable squad with options everywhere you look. An injury to a key attacker would be a blow, but Sturridge and Origi are waiting in the wings. Georginio Wijnaldum and Emre Can are battling for a starting berth, even though both would walk into most Premier League teams, while Simon Mignolet, Ragnar Klavan, Lucas Leiva and Alberto Moreno are decent back-up options. Trent Alexander-Arnold, Kevin Stewart and Ovie Ejaria are also genuinely decent options if called upon, which hasn't often been the case with Liverpool youngsters down the years.
You don't feel the absence of one player will be fatal – Liverpool made do without Coutinho in the 4-1 win over Leicester and Firmino was missing in the victory at Chelsea, for example – which is a wonderful position to be in.
Something else that is becoming more apparent by the week is that Klopp has instilled a steely edge to Liverpool. They might not show it in the obvious way a Jose Mourinho or Diego Simeone side does, but it is there for all to see. There have been occasions already this season when past Liverpool teams would have crumbled, but they have dug deep and sealed victories. Recovering from 1-0 down at Swansea, seeing off a second-half onslaught from Palace and killing time against Arsenal and West Brom all spring to mind. Even against United, past Reds teams would have allowed their bitter rivals to sneak the most undeserved of 1-0 wins, while at Spurs, 1-1 could easily have turned into a 2-1 loss.
On the flip side, that 2013/14 team could never be depended upon as much. The final three or four months of the season were unbelievably enjoyable, but much like Newcastle in the mid 1990s, you couldn't help but feel that disaster was never too far away. The meltdown at Palace showed that, and Klopp would simply not have allowed it to happen.
It should be stressed that winning 11 straight games was an amazing achievement that year, before I am accused of being overly-harsh on a team I adored watching.
It was always a given that Klopp's table-topping class of 2016/17 would be compared to Rodgers' Suarez-inspired side, but as an all-round team, there is only one winner.
In attack, there is not a lot in it – it is easy to forget just how remarkable Suarez, Daniel Sturridge, Raheem Sterling and Philippe Coutinho were in tandem – but there is so much more quality across the pitch these days.
Jordan Henderson now looks a more experienced, dominant midfielder to the one who shone in 2013/14 but was less of a leader, while Karius, Nathaniel Clyne, Matip and Milner are clear upgrades on Mignolet, Glen Johnson, Martin Skrtel and Jon Flanagan, respectively.
Then there's the managers.
I was far more fond of Rodgers than many Liverpool supporters, but he was limited in a number of facets of his management. His didn't deal well with the media, and if Plan A didn't work on the pitch, a Plan B would often be non-existent.
Klopp is doing a superb job, however, and it is almost impossible to fault him at the moment. He has united the fanbase, is a world-class motivator and he has got his team playing the most expansive football in the country.
2013/14 was a wonderful ride that should always be remembered fondly, but that Liverpool side would be picked apart by Klopp's outfit that currently lead the way in the Premier League. They are leading from the front, whereas nobody even tipped Rodgers' men until Christmas at the earliest.
We are witnessing the start of something special under Klopp, and even if the Premier League title once again evades Liverpool this season, great days lie ahead with the German at the helm.
Few would have predicted we'd see a better Reds side than 2013/14 so soon, but that is exactly what has happened. Sit back and enjoy every second of it.