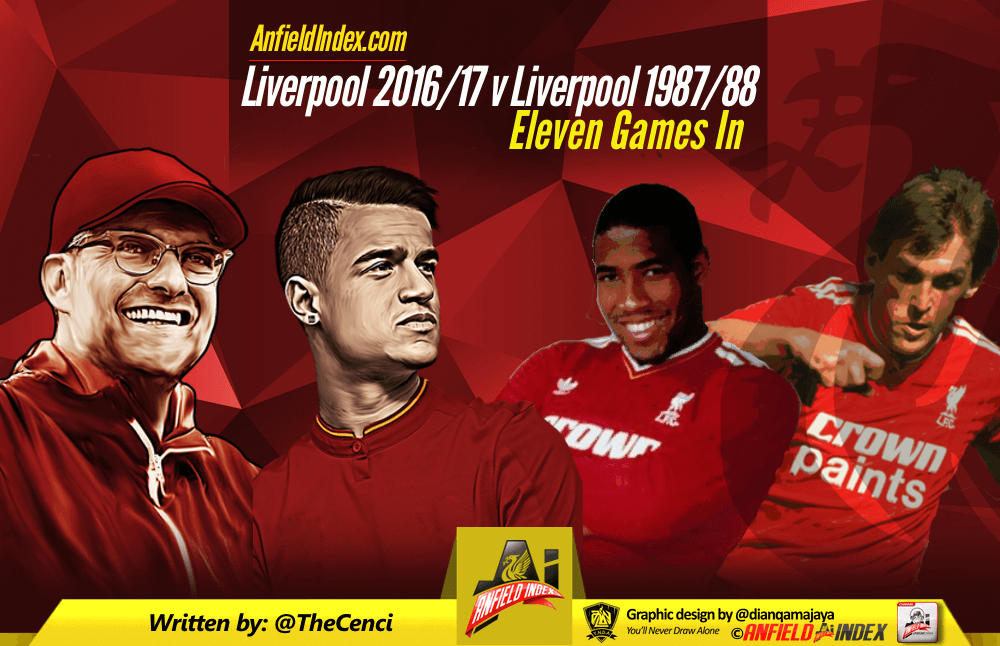 Eleven Games In for Liverpool: 2016-17 vs. 1987-88
If you were fortunate enough to be at Anfield on Sunday, you probably left the ground with conflicting emotions. Watching the league leaders take the seventh place team apart while our rivals stutter was a joy to behold, but there's a voice somewhere reminding us of false hope. Hubris kills.
Title challenges come rare to Liverpool – 2002, 2009 and 2014 being probably the last three – but as the Chelsea and Palace games were only a couple of years ago, we still bear the scars and, as a result, are less than keen to thrust our hands back into the threshing machine just yet.
On the other hand, how can you not look at that side, that performance, and look to May with anything but mindless and reckless optimism. One emotion must ultimately give away to the other. You either keep a lid on it or climb the tallest building, take your top off and whirl it over your head in joy, proclaiming 'And now you're gonna beliiiiiieeeeeeeve ussssssssssssssssss. WE'RE GONNA WIN THE LEAGUE.'

P 11 W 8 D 2 L 1 F 30 A 16 Pts 26
Pos. 1st
I'm considering getting that made as a tattoo. I don't care how many games we've played.
A few people are drawing comparisons between this season and 2013-14. Due to the proximity of that season this is easily done, but I'd like to go further back – to the 1987-88 season. This was probably the last time a Reds side regularly dismissed teams with a frightening ease at the beginning of a campaign rather than building a run after Christmas. For example, the opening league games of 2013-14 were nothing like as impressive.
P11 W7 D2 L2 F 20 A 10 Pts 23
Pos. 2
Still good points wise, but not as all-conquering as ours.
The 1987-88 side didn't so much take the piss as extract it in boatfuls. We had defenders scoring hatricks away from home, for Christ sake! We loved a bit of needle. The current side doesn't do that so much though I think Klopp sending Gini on was purely to get his goal as everyone else was having a go. It duly arrived.
Younger readers may turn up their noses at the idea that 1988 is comparable. After all, we'd won the Double in 1986 and were used to winning trophies while our lads lack that pedigree at the moment. Winning leagues becomes a lot easier when you can draw on experience and muscle memory as continuity takes care of lot of things. If you can hit on a plan and it works, you can more or less stick to it and wait for suited nobility to hand over trophies.
However, in the summer of 1987 all was not rosy. We were not League Champions and had had a pretty miserable campaign in 1986-87. Okay, we finished 2nd and lost a League Cup final so that doesn't seem too bad, but we had the Blue menace from across the park flicking our ears. What's more Ian Rush had announced his intention to move to Juventus at the start of that season so we had a lot of time to worry about what the hell you do without the greatest goalscorer in the club's history. If you're looking for a modern example, look at what happened when we lost Suarez. Now imagine living with that news for a whole year while Everton are webbing people all over the place. Quite.
On the Easter bank holiday 1987, Watford came to Anfield for our last home game of the season and Ian Rush's first farewell. Everton were at Norwich knowing that a win would give them the title – the one we snatched from under their very noses a year earlier.
The crowd was only 40,000, but the Kop was sweltering. Afterwards, my mates and I were buying two pints at a time so we could down the first in one go before a standard sipping etiquette took over for the second. I'd never known dehydration like it.
That low attendance was due to the turnout in the away as the standing Kop as I did a tour of it, being shoved from pillar to cliché. You had to be in the ground that day. Just had to. You owed it to him.
Rush was made captain for the day and the players did that trick of staying behind in the tunnel as he ran out so he'd be embarrassed at coming out alone. He was having none of it, stopped dead, laughed and dragged them onto the pitch with him. Strange how I remember every second of that incident despite it being nearly thirty years ago.
We sang his name and no other as we struggled to break down the Vicarage Road side. Finally, with eight minutes remaining on the clock, Rush found space and slotted home. 1-0. Another win, another Ian Rush goal. His 207th at that point.
I mention this as just before his lap of honour George Septhon gave the scores over the tannoy and announced that Everton had won 1-0 at Carrow Road. The Blue had taken their second title in three years.
I'll never forget what happened next. The ground went quiet while it took in the news, shrugged and sang 'Ian Rush' for the umpteenth time that day. We got on with it, but we all knew that next year would be even trickier without Rushie.
Of course, Kenny brought in Beardsley, Barnes and, later, Houghton to add to John Aldridge and history was made. We still started that season as marginal second favourites to Everton while Arsenal – the League Cup winners – and Nottingham Forest were hardly going to be a cakewalk. Aldridge was viewed to many as nothing more than a strong lower league player and his CV of Oxford United and Newport County was less than impressive. Barnes too – mad as it to think now – was greeted by raised eyebrows. He'd scored one genius goal for England against Brazil three years earlier and was hardly pulling up tree in the League. In any case, he was rumoured to be keen on a move to either North London club and, frankly, if he didn't want Liverpool he could sod off. We had Beardsley though. Everyone wanted him. The most obvious Liverpool player in the division.
You don't need me to tell you what happened next. You've seen the videos. You've seen us destroy Newcastle, seen Steve Nicol (the best left back in the club's history for me) score a hatrick, seen Aldo score goal after goal after goal, you've seen what McMahon did in the Arsenal home game, seen Beardsley destroy the entire Forest midfield in the single greatest game I personally have ever been to and you've seen John Barnes be, well, John Barnes.
If you want to know the impact John Barnes had on Liverpool in 1987-88 think back to Luis Suarez scoring four against Norwich at Anfield a couple of years ago. Now imagine him doing that every game for ten months.
The Kop didn't need much reinvigoration back then, but those lads cranked everything up a notch. Instead of getting to the game at 2.30pm start, the ground would be full by 1.45pm. If you weren't prepared to queue for the Kop (you could pay on the gate), you weren't getting in. I know this as I liked to get there early. For the opening game at Oxford I was the first person on the Kop. I'm proud of that and I don't know why.
One day, before a night game, an old man turned to me, nodded at the crammed terrace which was alive with colour and song and said 'This is like the sixties again, lad. Like the fucking sixties.' He had one of those grumpy faces which looked like it hadn't smiled for a couple of decades but his face shone that night.
I've only seen Anfield like that recently at the Chelsea semi and the Juventus games. Thing is, we were like that while playing Portsmouth in the League. That's the hope they brought. If that team had met in a car park to kick a Coke can around you could still sell tickets.
The ground is nothing like that now, of course. It never can be, but let's get back to comparing the two starts. Here's the league table after the same period.
P 11 W 10 D 1 L0 F 31 A 6 Pts 31.
Pos. 1.
Obviously
Ten wins and one draw. West Ham away, if you're wondering. We led there too.
That's pretty good, isn't it.
Of course, at this point there is no real comparison to be made between the two sides as hindsight is stacked against one of them and, in any case, one won the League while the other is just on the road to it. It's also senseless to consider who would win if they were able to play each other today – so let's do that.
Sorry, 2016, they'd batter us. Just too good in both boxes I'm afraid.
What is important is that we're on the march of Jurgen's army and watching these lads take to the pitch with their mixture of steely determination, speed and sheer enthusiasm is electrifying. No one else in this league plays as we do in terms of both ability and stamina. Swansea tried and played really well until they could barely breathe.
As for keeping a lid on optimism and avoiding tempting fate, I'll just say this. I've spent 27 years watching Liverpool either miss out or not turn up at all. I don't want to sit on my hands till May when celebration seems safer. I'm tired of worry, I'm sick of doubt and I'm too old for patience.
We're gonna win the fucking league, lads and lasses. The fucking league.
Help me climb this tall building