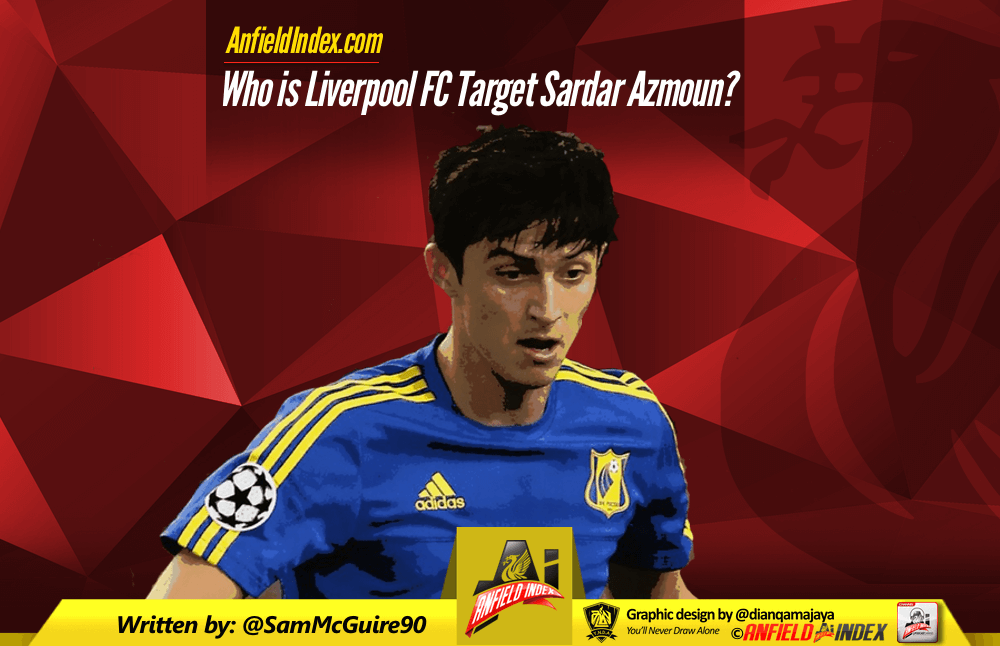 Who is Liverpool FC Target Sardar Azmoun?
I spoke with David Sansun, the man behind @RubinKazanUK, to find out more about Sardar Azmoun because let's be honest, unless you watch Russian football you're going to be going in blind here and Youtube just lies to you.
What are Azmoun's strengths? Manuel Veth compared him to Karl-Heinz Riedle which was a bit of a throw back. Are there any modern day players he's similar to? Cough*Lewandowski*Cough
A: He honestly does have a bit of everything to his game. He's got pace – not lightning, but enough to cause defenders a problem – he has technical ability, but I wouldn't call him a dribbler. He's comfortable with the ball and has the awareness to take a brilliant first touch, or the skill to beat a defender. Then of course he is 6'1, something that is often forgotten about him, but added to this, he has one of the best leaps in football, able to beat almost any player in the air, and then when he's up there, he is fantastic header of the ball, able to generate terrific power and accuracy from the weakest of deliveries. The "Iranian Messi" tag is nothing more than a hype label to big him up in the general western press, his style is nothing like that of Messi. It seems as if every country has their own Messi nowadays. Some have compared him to Lewandowski, but even his most die-hard followers have trouble comparing his style to anyone. He has the work rate of a player like Jamie Vardy, the pace of Diego Costa, and the heading ability of Didier Drogba. But unlike the latter two, he lacks the strength and aggressiveness to be a direct comparison to them.

You mentioned on Twitter than his current side Rostov play somewhat of a high press, do you think Azmoun would be able to be an effective part of a Jurgen Klopp team?
A: One thing should remain clear, Azmoun is a forward. He would probably struggle to be rotated around the front four like Liverpool currently do. However it's true that Liverpool and Rostov both operate a high press. Both executed differently, Rostov are similar to Leicester of last season in some ways. They sit very deep with a 5-3-2 formation, 8 players behind the ball almost all the time. Long balls are hoofed forward for the two forwards to chase and hassle defenders. They spend long swathes of the game sat around the half way line waiting for the chance, but when it comes, they put in all the effort they've got to cause teams trouble, and it works for them. I don't see why he wouldn't be able to transfer this skill to Liverpool's set up.
What's he like defensively? Is he more of an intelligent presser or a headless chicken when shutting down play?
A: I'd say he's probably a secondary presser, he will press, but usually his strike partner is the more aggressive and intelligent. Azmoun tends to be there to pick up the pieces and provide the option if his team-mate wins the ball back.
How good do you think he could become under Jurgen Klopp? Eventual starter or nothing more than a squad player?
A: He's still only 21, and considering how he plays now, he is already at a good level. I think there are still things he can improve on though, but really he is different to anything Liverpool have currently, as most of their attackers are quite versatile, so he would provide something different in the sense that he is just an out and out striker.
Are there question marks surrounding his attitude? He refused to play for Rubin Kazan to push through a move to Rostov didn't he? What was that all about?
A: Yes, certainly. His initial loan to Rostov in 2015 was seemingly due to lack of game time, but also motivated by the fact he was to be re-united with Kurban Berdyev, the coach who brought him to Russia initially. However this summer, he was recalled to Rubin Kazan to meet with their new coach, Javi Gracia. He turned up and trained for 3 days, before flying back to Rostov to train and play with them – something which Rostov kept a secret, despite the fact he was visible in photos published by newspapers and by other clubs. Rubin are still pursuing legal action over the contract which Rostov claim to have, showing they triggered a release clause – however Rubin's version of the contract varies. If it's found that he purposely violated his contract, he could receive a long term ban.
His social media behaviour and freedom with the press is often frowned upon by fans back in Iran, who see his comments often as career blockers rather than helping. They would prefer he gets his head down and gets on with it.
Do you think there will be work permit issues?
A: Due to Iran's place on the FIFA rankings – 27th – and the fact he turns 22 on January 1st, he will only need to meet the criteria of playing over 60% of their games in the last 2 years. As he's only missed a handful, he should be OK.