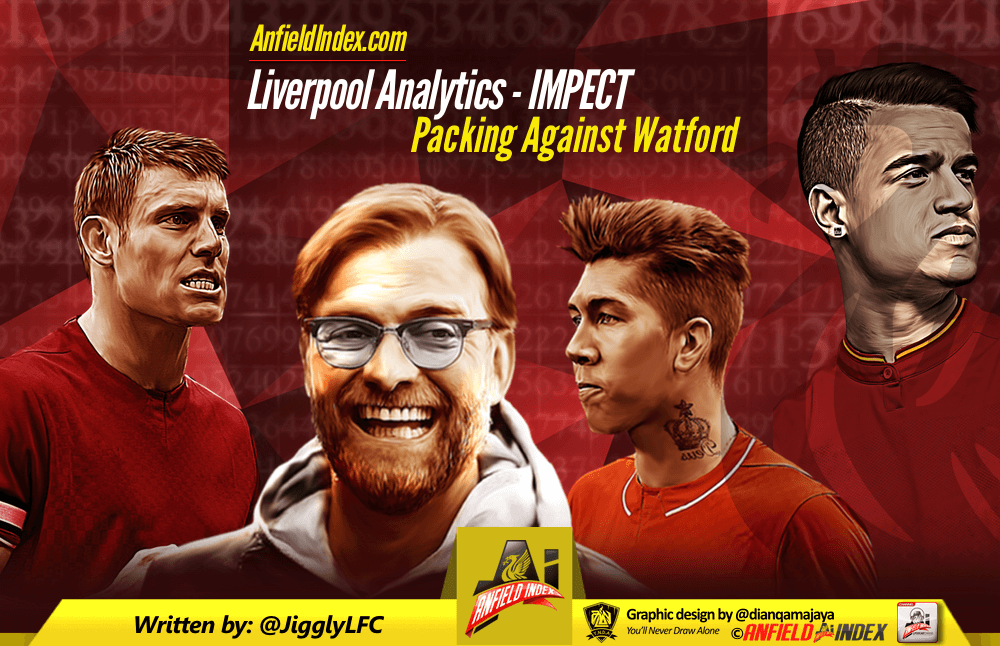 Liverpool IMPECT: Hammering the Hornets - Packing Stats

Liverpool are absolutely flying.
Beyond all expectations thought of months earlier, the Reds have fired themselves to the top of the table as we hit the early November international break. Liverpool have won a stunning 9 out of their last 10 fixtures in all competitions, and following the 6-1 dismantling of Watford, Jurgen Klopp's men find themselves unbeaten since Burnley back in mid August. The attack is firing on all cylinders, the defence are conceding few chances and conceding goals on all of them, but Liverpool, nonetheless, are looking the most dangerous side in the league.
As you'd expect, the IMPECT numbers for this weekend looked pretty amazing. For this week I've now started distinguishing between packing rate generated from passing the ball and packing rate generated from receiving the ball, and I included the substitutes in this one as well. The overall packing rate for this week should look substantially less than last week though as I've adjusted the "total" packing rate to account for the fact that Liverpool players are counted twice as many times as the opposition is. It's not really necessary to explain, but I'll just say that the numbers are scaled better now. This game was a bit awkward to count because Watford set out in a 352 but switched to a 4 at the back in the final 20 minutes. So for counting the IMPECT I counted the wing-backs as defenders only when they were in their defensive third or if they were tucked into the back line. Also I've added a column to the table called "Plus/Minus". It's a fairly American concept if you aren't familiar with it, but it's just each players packing rate minus how many times they were packed out. It's not perfect by any stretch, but it's a simple and countable general indicator of a players contribution vs what they were responsible for during the course of a game. Anyways, here's the table, and let's get into the analysis.

GK
Not related to the numbers at all, but I thought he had a terrific game. It's still worth pointing out good performances in general even if not strictly relevant. However in terms of packing he had a better game this week too. An increase of 7 to 11 from last week isn't the biggest improvement, but he got 3 IMPECT with a long kick in the first half that got in behind the Watford line. Even beyond the number changes, Karius definitely had a better game with his feet this week. He accrued his packing rate over a bunch of passes that had some intent rather than gaining high numbers from one long punt like last week. In case I haven't mentioned it before, I don't count set pieces. If I did, Karius would have about 40 more packing rate just from goal kicks alone. A bit of a breakout game overall for Loris in this one, but then again he hasn't been tested too much in any games this year.
Defence
A couple surprises in this one for the backline. Milner returns from illness and replaces Moreno, and Lucas stepped in to fill Lovren's shoes this week to give Liverpool a big change in the left side of defence. Both however, were exceptional. Much maligned Lucas had a very solid game not just defensively, but surprisingly outperformed Matip on the ball. With both better passing, receiving, and IMPECT numbers, you can easily see why Klopp does rate him there. Matip was quiet compared to last week but he did have a couple very nice passes and one run into the area in the first half. I love watching him play, he's such a smart CB. Milner however, is THE man this week. He somehow managed to outdo Moreno's stellar performance from last week, and I'm really glad we've managed to keep him in the team. Admittedly his numbers were inflated due to having the flank almost entirely to himself, but he still got in dangerous positions, moved the ball forward really well, and combined excellently with Coutinho and Can on that left side. Clyne had a tail of two halves. He really struggled in the first half to get the ball forward effectively, and you can actually see how Mane's numbers are affected by it. His second half was great though, especially when Watford moved to a back 4 and allowed us to control the game more in the second half. The first half worried me. He looks like he could be a weak link in our buildup along with Lovren. A well organised press marking out Henderson and our LB could really put a lot of pressure on our buildup. Lallana isn't as effective as combining deep as our other CM's, and that combined with Clyne's struggles could be a real area for opposing teams to target. Everyone solid and about what you'd expect defensively, but we can't keep giving away goals on the few good chances we concede.
Midfield
We have the dictionary definition of an engine room in there. Can never stops running, Henderson is always making himself available and supplying, and poor Adam Lallana's feet are going to fall off from all the pressing he sets. Henderson had a decent game. His numbers flatter him a good bit as he went on a bunch of great forward runs when Watford switched to a back 4. We controlled the game more patiently and Henderson broke forward more to boost the packing rate but prior to that it was a pretty underwhelming performance. Really looks like two striker systems could disrupt him a good bit. Still shows his defensive vulnerability too much for me, but until those goals start costing us I can't slate him too badly. Can was definitely the best of the three. He didn't push the ball forward as much since we were outnumbered in the middle for large stretches, and Milner was doing so well on the left. He was constantly available though, and he made countless quality runs beyond Watford's back line. Plus there's just something about watching him sprint through the middle with the ball that's just so satisfying to watch. Like Can, Lallana struggled in their outnumbered midfield, but unfortunately he couldn't cope as well. Dropping deep for the ball clearly isn't his game, and you can't blame him for that, but you still might wish he offered a little bit more to ease the pressure. Regardless though, Adam seemed to be always making big plays when he was getting involved. Another good game from him, and what he adds for our press is invaluable. Even if he can't combine well deeper, it's definitely worth nailing him on as a starter for his pressing and his freshly discovered ruthlessness in the final third. As a general note, I don't think our midfield offers enough cover defensively. None of them seem to cut passing lanes terribly effectively, and that's definitely displayed in their defensive numbers. The defence has been clearing up really well all season, but again it's worth keeping an eye on just in case it starts to slip.
Attack
Honestly, these numbers surprised me. You'd definitely have expected better numbers from a 6-1, but I'll take it anyway. As I've touched on already, Mane struggled to get into the game. It's odd to say about someone who scored a brace, but I really think we can get more from him. I think if we could solidify the build up on that flank and get Sadio in positions to run at defenders or draw extra men over it could help open up the rest of the pitch even more. Still though, he showed up when it mattered in this one. Coutinho on the other hand turned out yet another world class performance. He was used a little bit further forward against Watford presumably to try and draw out their back 3, and he was lethal. Combining with Milner and Can they ensured that Amrabat was always overloaded on that flank, and they caused a lot of havoc with their quicker play. As a quick side note, Daniel Sturridge was phenomenal. He didn't get his goal but he was constantly a threat and had some phenomenal involvements. I think talk of his future is way overblown, because this is an insane IMPECT for coming into a game late and cold. He really did a great job of pulling their defence around in a totally different way than Firmino. There's no doubt that Firmino fits Klopp's system better, but I definitely think Daniel still fits. It's just going to take a little bit of tactical flexibility to fit him in ideally, and it'll be really interesting to see if Sturridge gets starts when Mane leaves for AFCON. That leaves us with our national hero, Bobby Firmino. His ability to find space and pull defenders around is crucial, as he could drop all the way to the CB's or run in behind an opposition fullback. He 100% fuels this attack. His constant movement and pressing opens up so much space and creates so many opportunities that wouldn't be created by anyone else in this team. There's not much to talk about in the way of his numbers though, although the higher proportion of IMPECT ball receptions indicate he was finding more space behind the defence, and specifically behind the wing-backs.
In this one Liverpool were definitely and indisputably the superior team, but for once the scoreline flatters us a little bit. Terrific chance conversion turned this game into a runaway, and Liverpool were coasting from the first goal onwards. Now let's just hope we can bottle up this form and keep it over the international break…