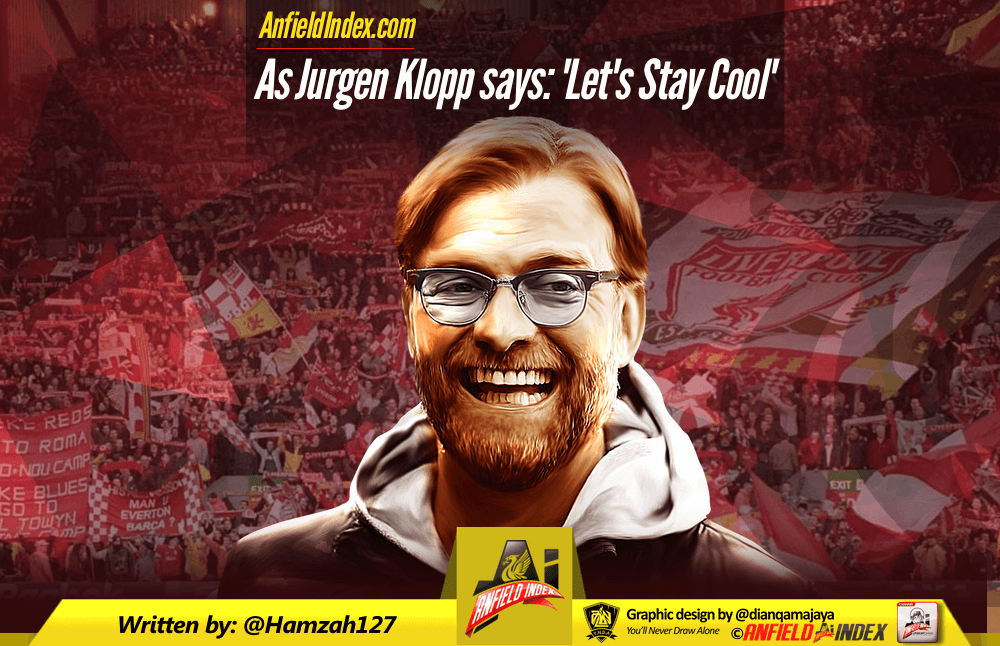 As Jurgen Klopp says: 'Let's Stay Cool'
Top of the league, Klopp at the helm, and a rampant Liverpool team, faced with a set of upcoming fixtures, that on paper, look more than winnable.
Yet Jürgen Klopp has stated clearly to cool any early title talk, and once again, he's right.
The 'feel-good' vibe around Anfield, and amongst the Liverpool FC fanbase,  which I noted as 'Klopptimism' in my most recent piece, has transcended into delirium following the brutal decimation of Watford, at home.

We need to take a step back.
"Let's stay cool."
The media has been quick to jump onto the Liverpool bandwagon, talking up title chances, and praising the undeniably wonderful and impressive performances of the frabjous foursome of Coutinho, Firmino, Mané and Lallana. However, this expectation weighs heavy on players, and heavy on managers too: José Mourinho's implosions at Chelsea and Real Madrid in his final seasons there pay testament to this, with constant pressure and expectation hard to cope with, even for a manager as experienced as Mourinho; countless other managers and players have struggled with pressure at big clubs, and we should consider the Liverpool group as no different.
"There is no pressure after 11 match days, absolutely no pressure."
Klopp acknowledges the imperative importance of playing down pressure on his team, which is especially important when we consider the relative inexperience of the team, compared to Liverpool's rivals, and to teams that have preceded the current crop.
Let us not forget, Liverpool have one of the youngest teams in the league, but also one of the most inexperienced when it comes to title challenges. The entire back line, bar Milner, is alien to the prospect of vying for the Premier League title; and it is Milner alone, who has genuine title-winning experience in the starting XI – with only Daniel Sturridge providing some of his own, albeit currently from the bench. Henderson and Coutinho have both had one title challenge under their belt from 2013/14, but even then, it was Henderson, whose composure waned at precisely the wrong moment, making a tackle in the dying minutes of Liverpool's home fixture against fellow title challengers Manchester City, that showed how much expectation and pressure can cloud, confuddle and contort the mind and judgement of any player.
Admittedly, Lallana, Wijnaldum, Mané, Can and Origi may all have international experience, and may also be very good players, but we, as fans, who are in part responsible for this delirium must take a step back and stop building needless pressure on the Liverpool players.
The media too have been responsible for the talking up of Liverpool FC and its potential title credentials, but they have missed out key points, such as the threat of Arsenal, who have gone under the radar, unnoticed, yet have remained undefeated in the league since Liverpool beat them on the opening day, and look far more robust and organised than in previous years.
The threat of Manchester City has also been downplayed and understated, in recent weeks, after a few underwhelming performances, but we should never forget that Manchester City have beaten Barcelona, and have players such as De Brunye, Gundogan and Agüero, all under the tutelage of Guardiola, who will certainly raise the level of his team far beyond that which it currently resides.
Chelsea too have been overlooked, with them, only now, after humiliating Everton in a frightening display, being recognised as genuine challengers; and with the leadership of Conte, a strong goalkeeper, a physical back-line, an efficient and organised midfield all bow-tied together with a stellar front line, they are genuinely a force to be reckoned with.
"We saw Chelsea playing – quite impressive. We saw Manchester City playing Barcelona – quite impressive. Manchester United? Never write them off. Tottenham? Good side."
Klopp is all too wary of the challenge ahead of him and the team this season.
None of this is to understate Liverpool as a team or a group, it is merely to recognise the immense challenge at hand. An injury to Coutinho or Firmino could quickly send the Liverpool fans into panic, as would an unexpected defeat to a team expected to be beaten.
"If someone thinks being one point ahead is a big sign for the rest of the season, I can't help them. We stay calm. We didn't speak one word about the possibility of being top of the table."
Now, Klopp himself may not be able to convince a person, 11 games into the Premier League season, that title talk is nonsense now, but I hope I am, and equally I hope I am stressing the importance of why talking up title hopes is counterproductive. I do not intend to be the harbinger of doom and gloom, but instead, the faithful messenger, relaying and explaining the importance of Klopp's message.
Liverpool fans should be enjoying the moment. But we should not read too much into a fantastic display, as we should not with regard to a disappointing loss. The Burnley match serves as a reminder to that, with wholly disproportionate and negative reactions bursting out, across social media, which no doubt affects the players, but also reflects on the fickle and volatile nature of football fans. This reactive nature is something that needs to be suppressed; for a club that prides itself on its respect and loyalty to players, the Liverpool fans should be a lot more sensitive to the effect of title talk on such a young and impressionable team.
Liverpool have been fortunate at times this season – take the Swansea fixture for instance, with a penalty and a dreadful squandered chance in the dying seconds was responsible for Liverpool taking the three points home. And equally so, Liverpool have also been unfortunate, with Daniel Sturridge striking the bar twice and missing out on a hatrick recently one such example. It just serves to prove that Liverpool could easily be in a better or worse position in the table, with only a late, unexpected goal denying Manchester City the opportunity to occupy the top spot over the international break. There is no need or reason to get too caught up into the league positions this early into the season.
But how can I, and why should I, expect the fans to stop getting excited about Liverpool playing well you ask?
Well, the reason is simple. Our performances so far have been impressive, but we're far too early into the season to be getting excited. It may lead to disappointment later, but more importantly it weighs very heavy on the players.
The players are all too aware of what a 19th league title means for Liverpool FC. They know how long the wait has been. They know that the 2013/14 season, our last title challenge, whilst brilliant, remains bittersweet. Precisely because of an expectation that became overwhelming, and manifested itself in that devastating collapse at Selhurst Park. Simply put, too much pressure is crushing, for any team, regardless of talent or system. So we, as fans, should do what we can to ease any pressure on the team.
Furthermore, Liverpool is unique in the way that the football team's performance affects the entire city and atmosphere of it. Currently, there's anticipation and electricity, which is fantastic, but now, there's expectation. An expectation that is only amplified by the pressure of playing for Liverpool FC, and being talked about as potential title challengers by legendary footballers, such as Henry, Neville etc. This expectation is totally unnecessary at this point in the season, and whilst it may not do harm at the moment, it certainly won't do any good – with Klopp only wanting to focus on his team's present performances for a reason. This deep-rooted desire for the club to deliver a league title, after such a long wait, and after some dire years is not easy to cope with. It no doubt weighed heavily on Steven Gerrard's shoulders, and perhaps, may have contributed to his departure, with the constant pressure too much for any player to handle for a season, let alone for as long as he did.
The Liverpool fans should enjoy themselves, enjoy watching the players, enjoy seeing the game. Each one as it comes. Enjoy the moment. But be mindful of the players and the expectation that we put on them, even if we do not intend to. We should not get too far ahead of ourselves, and be over-invested in this 19th league title, which has become an obsession of sorts. Listen to Klopp, if he says it's silly to discuss winning the league at press conferences, there's a reason why he's doing so – to protect his young, and relatively inexperienced squad.
We need to support our team in the right way, and react positively to set backs. It was only two weeks ago that Karius was deemed dubious by some, before becoming Liverpool's undisputed number one for the season following some fine saves against Watford. Liverpool fans need to be patient with the team. In my mind, I am convinced Klopp will deliver on his promise of bringing a league title eventually, but I do not know in which season he will fulfil it: be it this year, the next, or even further ahead – we should all be patient. Klopp and his team will perform, there's no need for us to force excessive pressure upon the players.
Let the pundits do the talking on the television, and let the columnists write away in the papers. We, the Liverpool fans, shouldn't get carried away, but rather, sit back, and enjoy the ride, wherever it takes us. All in the knowledge that we are in safe hands.