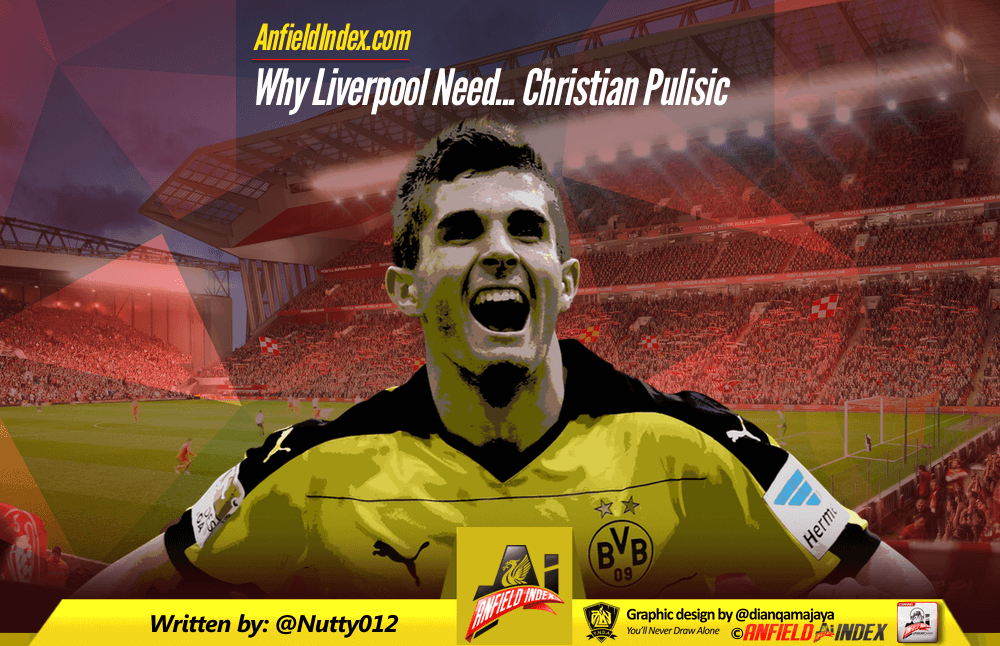 Why Liverpool Need... Christian Pulisic
The 14th April 2016 will go down as one of the great European nights in Liverpool's history. It was a remarkable comeback, typical of Liverpool, from 3-1 down to win 4-3 on the night and 5-4 on aggregate against Borussia Dortmund, the most in-form team in Europe that year. Whilst most people will understandably look back to that second half at Anfield as one of the defining moments of Jurgen Klopp's Liverpool reign, the second half one week earlier at the Signal Iduna Park may take on more significance for Liverpool's future. For that night was the first occasion that Liverpool fans will have watched the player who I believe will be Phillipe Coutinho's long term successor.
The reasons for signing Christian Pulisic this January transfer window are so numerous and persuasive that it seems that only a lack of desire on the part of Liverpool would stop any transfer happening. These reasons include the quality and potential of the 18 year old American, the suitability of the player for our club, the timing with regards Liverpool's seasons and fixtures, and the timing with regards to his own contract.
I imagine that there are very few Liverpool fans who really need convincing of Pulisic's talent, but please indulge me the joy of writing about the things this teenager can already do. As a teenager he is extremely slight of build, but his acceleration and balance in combination with his natural competitive spirit means that his lack of strength rarely counts against him. His first touch and dribbling look like they have been groomed through the streets and academies of South America. It is no surprise that his father, now a youth coach at Dortmund, was a Hall-of-Fame futsal player in USA, and that his mother was a fine player herself at college level. He combines the confidence of a youngster with the with the game intelligence of someone who has lived the game since a young age, and this allows him to put his preposterous technical ability to work.
The truth is though, Pulisic's talent would be wasted at most football clubs. Watch him play and he has the same eagerness for defensive work as Roberto Firmino or indeed any of the first choice attackers at Liverpool right now. Just like them Pulisic can also play a variety of positions, as either a RW or LW in a 4-3-3, or centrally in more of a 4-2-3-1. Pulisic's position, in combination with his incredible technique, balance and tenacity will unsurprisingly bring comparisons to Liverpool's current star Phillipe Coutinho. Pulisic was born to play in teams like his current one, and more importantly, for Liverpool.
It is clear that Klopp looks beyond style and attitude when searching for players – he demands results and effective play too. This summer Liverpool acquired Mane and Wijnaldum, two midfielders who obviously fit the system, but importantly who both scored over 10 league goals last season. Adam Lallana and Phillipe Coutinho's goal contributions have also risen under the German. Pulisic, having only turned 18 this season, has played 8 Bundesliga matches this season and already recorded 2 goals and 4 assists. Unlike many youngsters who are able to demonstrate their skill in the middle of the pitch but struggle to influence the outcomes of games, Pulisic is already a match-winner at 18, and will only improve in this area.
The American wonderkid has also indicated that he would like to play in England at some point. The signs are that Jurgen Klopp could be a massive factor in his move, having known him from his time in charge at Dortmund. Pulisic will be aware that Klopp, as his first coach in European football, and as someone who is still clearly an avid follower of German football and specifically BVB, will understand his game and his talents better than anyone else in English football. Liverpool is also a great place for young players to come and know that they will be given a fair shot, although Pulisic's immense talent already demands that he be taken seriously as a potential key member of the first team squad. The way it has been discussed in the media, it looks like Pulisic is confident that Liverpool could be the best next step for him in his career.
Not only does Pulisic seem open to playing for Liverpool and a good fit for the system, but someone in his exact mould and position will be needed for Liverpool in 2017. With Danny Ings unavailable for the rest of the season with injury, and Sadio Mane busy with Senegal at the African Cup of Nations, Klopp has talked about the need to bolster Liverpool's squad in attacking areas. Pulisic is the perfect option for Liverpool because he will not expect to start every single game for Liverpool due to his tender years, which is perfect for when Mane has returned. But Pulisic is clearly good enough to start for Liverpool, and, having been trained in the Dortmund way of football, will be as well equipped as any new signing to be immediately exposed to the rigours of Klopp's high pressing game .
I do appreciate that the likes of Sheyi Ojo and Ovie Ejaria are wonderful young talents who could be used to help bolster Liverpool's midfield for this period too. However, this January could also be the only moment Liverpool ever get to sign Pulisic. He has been stalling down on his contract, and only 18 months remain. In this fantastic VICE documentary (which you can also watch below) on Pulisic, you can see how tough he found adapting to a new culture in Germany, and it makes you wonder if as a young teenager he would prefer a more comfortable environment like in England. However, the further his contract stalls, the more he establishes himself in the minds of other clubs' scouts. Already it looks like there could be competition if Liverpool were to wait until the summer against Real Madrid or Barcelona. As such, Liverpool need to flex their financial muscle and get this deal done now, when all the positive signs from the player are there, before any other potential suitor can nip ahead of us.
The Pulisic transfer makes complete sense both long-term and short-term. Liverpool need to accept that Coutinho, like many South American players, will likely want to one day leave for Barcelona, particularly if some of his best footballing friends like Neymar and Luis Suarez are still there. As a world-class coach who has long helped develop world-class players, Klopp will be wary of any potential talent-drain from Liverpool, even if we do have a slightly better chance of retaining players than BVB, due to their ridiculous contract policies and our Premier League money. Pulisic is the player who could one-day replace Coutinho. Immediately though, Pulisic has proven he can play positions that Liverpool will need this season, and in a system as similar to Klopp's as any in the world. He can help us win titles not just in years to come, but in this season too.