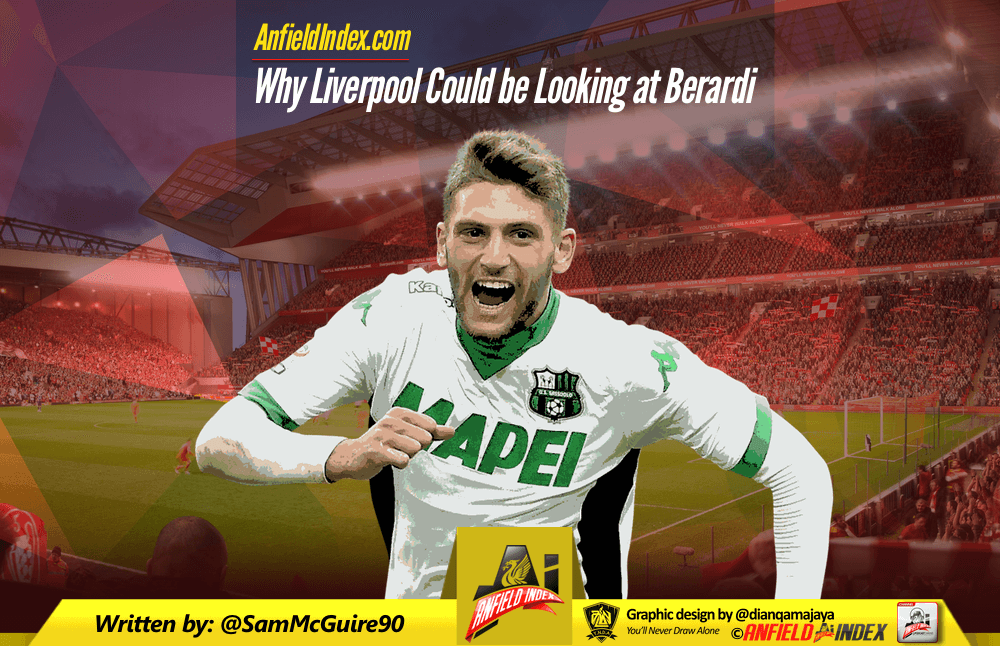 Why Liverpool Could be Looking at Berardi
"We watch the market all the time and we need to be prepared for different situations and one of them is injuries," 
"The Africa Cup of Nations we already knew about so we don't need to be influenced or surprised about that but it could be a moment when we approach the market.
"It's not about how many strikers. Three strikers is enough, I think.

"But when Sadio is away we will be without a winger. We do not have many wingers, I would say."
Klopp's words to the Guardian following on from Danny Ings' knee injury.
Klopp's comments sparked a lot of debate and there's been a lot of talk surrounding who Liverpool may turn to in January to bulk up their attacking options. Dortmund's Christian Pulisic, Rostov's Sardar Azmoun, Athletic Bilbao's Inaki Williams and Boca Juniors attacker Cristian Pavon have all been mentioned by various media outlets. But one player Liverpool could potentially have in their crosshairs is Sassuolo's Domenico Berardi.
The 22-year-old attacker is a familiar face to both Reds boss Jurgen Klopp and the Liverpool recruitment team. According to reports Klopp was keen on the Italian when he was in charge at Dortmund and Liverpool have been keeping tabs on Berardi since 2012. There was even talk he was on the list of targets for if the Daniel Sturridge didn't happen.
Berardi certainly fits the Liverpool FC profile. He's young and has an abundance of talent that just needs harnessing but he's nowhere near his prime. He's not undervalued but he's not playing for one of Serie A's top teams which makes him feasible. Juventus co-owned him but Sassuolo bought him outright and although reports link him with a return back to Juve every single summer nothing materialises. Instead the Turin outfit opted to spend €40 million on Paulo Dybala and €90 million on Gonzalo Higuain. They might feel he has potential but they're not prepared to go all-in on him.
Why Berardi?
He's not a like-for-like Sadio Mane replacement but the two do share some similarities. Both are goal threats from wide area. Both can beat a man and both look to influence play centrally.
The versatile forward can play a variety of positions. Sassuolo tend to use him on the right of a 433 system but he's capable of playing anywhere across the attack, even leading the line if required. When on the right he drifts in field onto his stronger left foot and looks to wreak havoc centrally.
He has pace but by no means compares to Sadio Mane in that sense. The Reds will miss the former Southampton man when he's away for the AFCON and many fans, myself included, thought Klopp may look to identify a player with identical strengths to Mane. But why would he? It makes more sense for Klopp to bring in someone who would supplement the attack to not only replace Mane during January but play alongside him when he returns.
Berardi, like Mane, is direct and looks to attack the space and get into the penalty area at any given opportunity.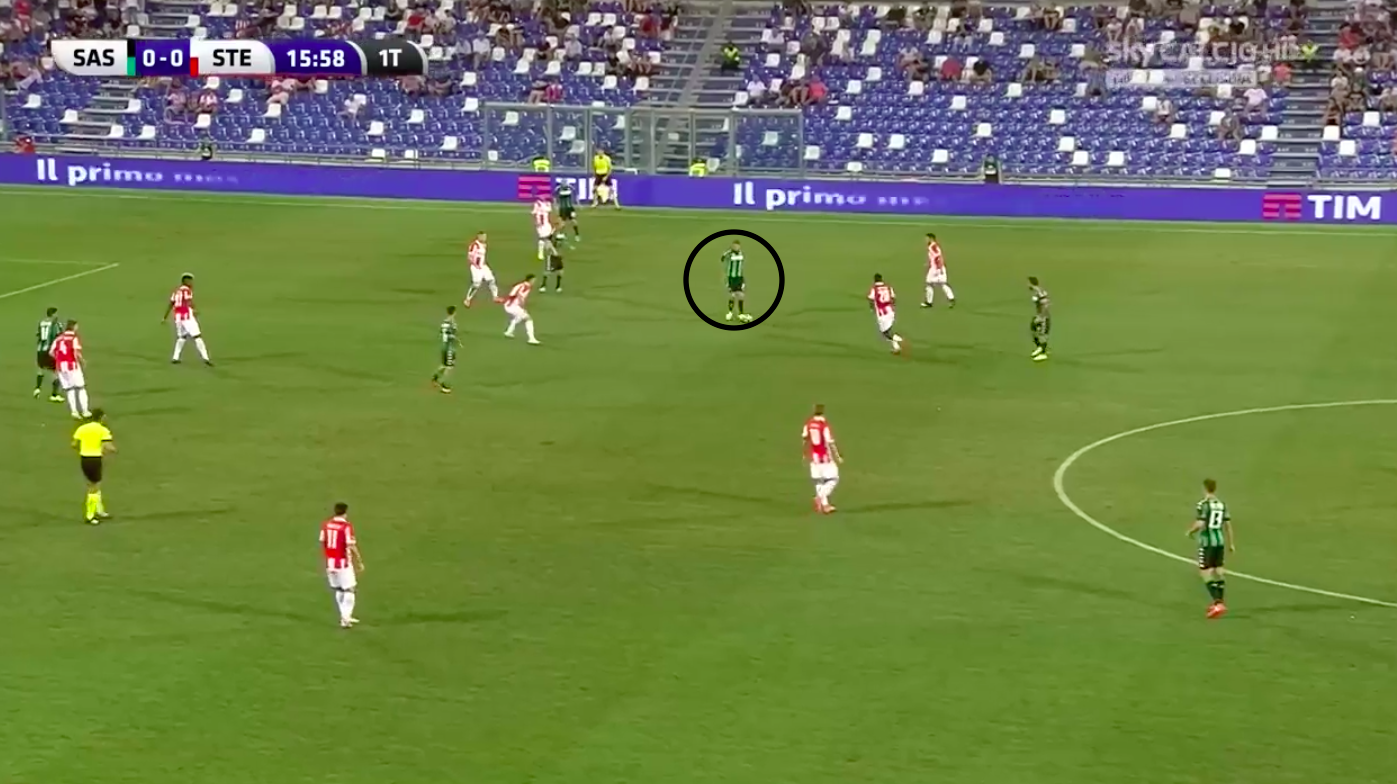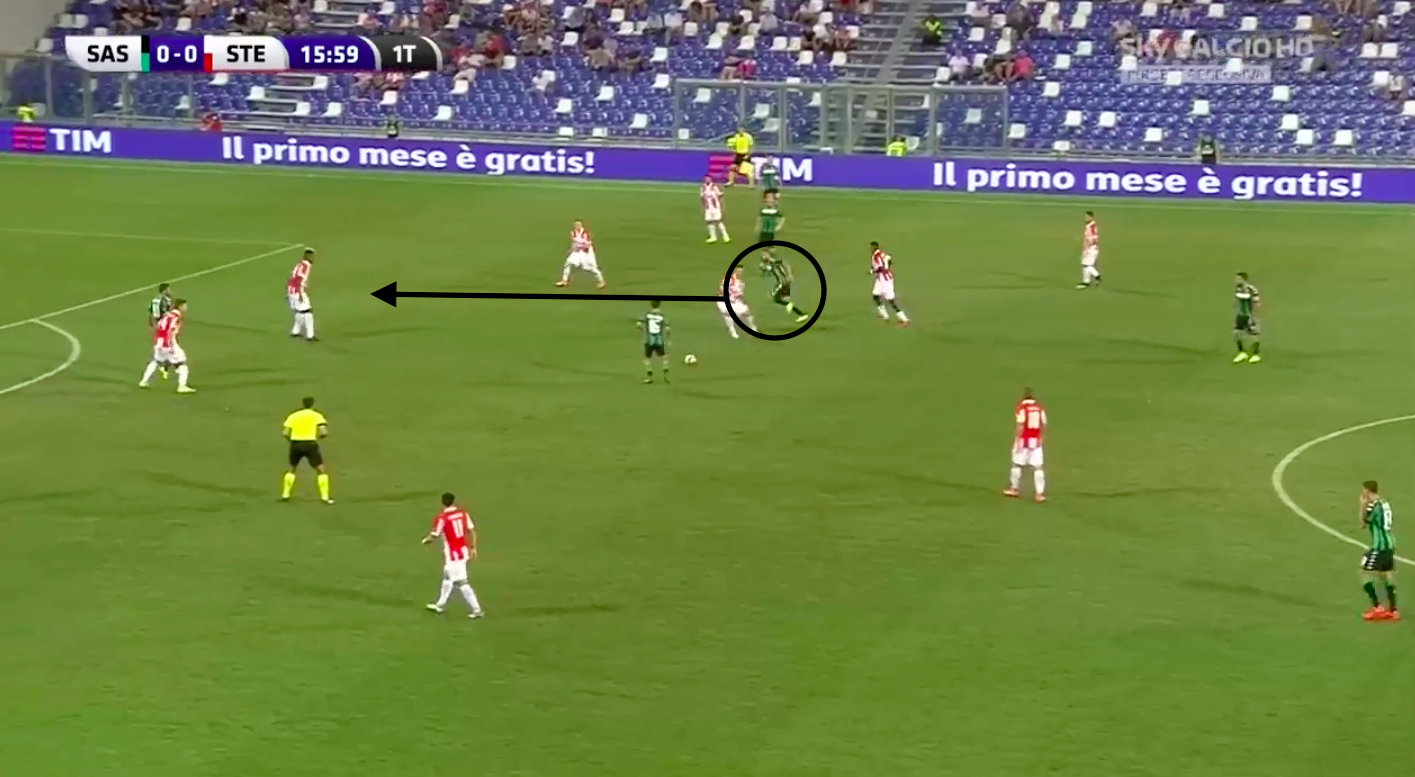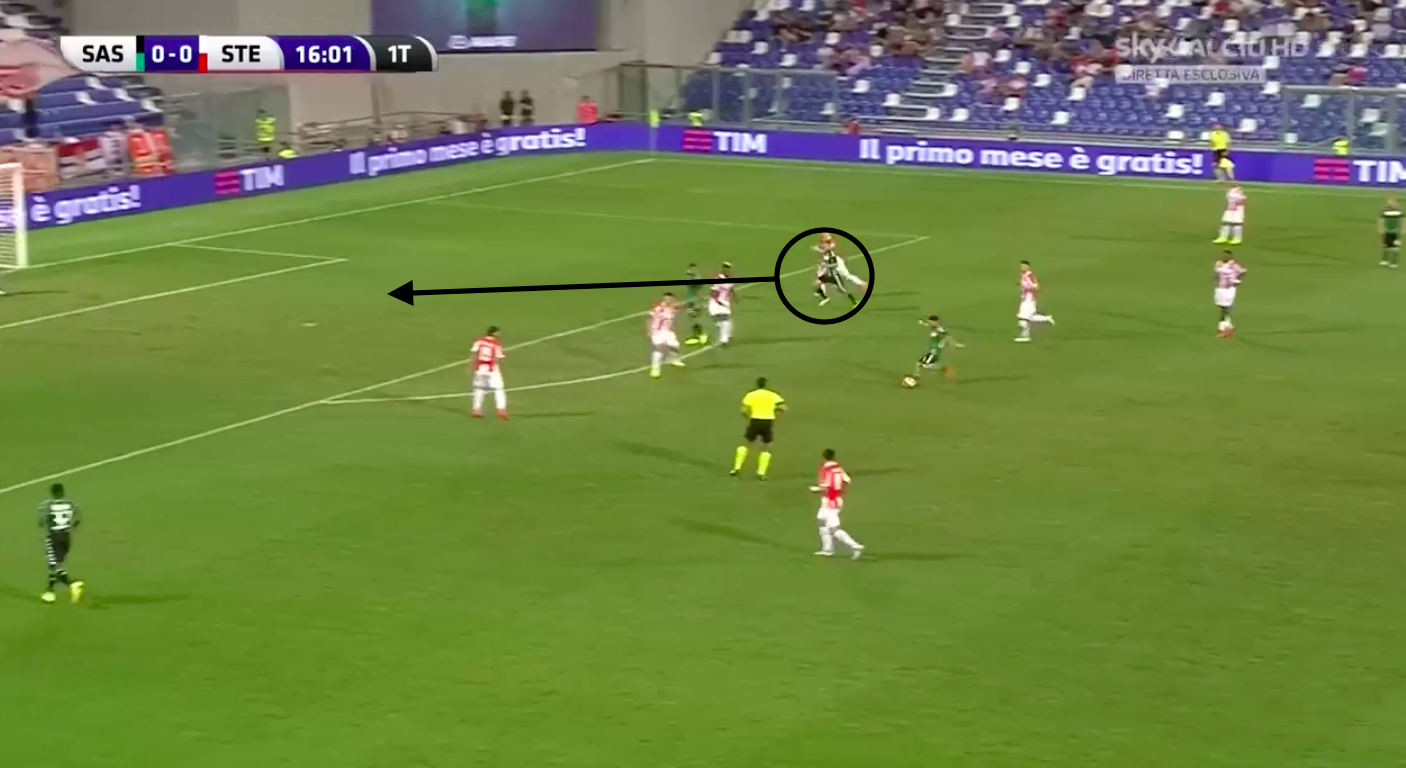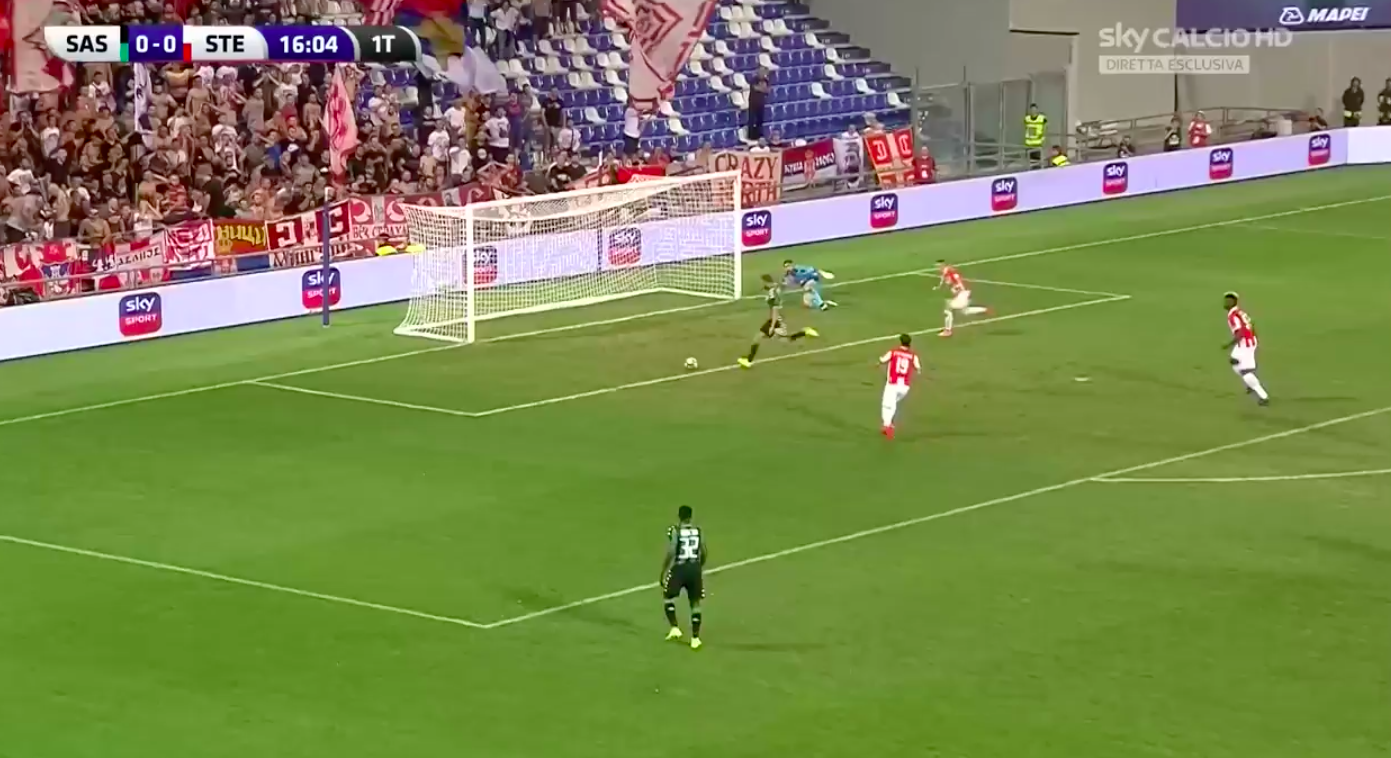 The series of screenshots above show Berardi's movement prior to his goal. In the first screenshot he drifts in from the right hand side with the right-back offering the width. He positions himself in space and is able to receive the ball under next to no pressure.
In the second screenshot he has passed the ball off and sets off to attack the penalty area to support the lone Sassuolo forward. In the third screenshot you can see Berardi continuing his run even as the Sassuolo player prepares to shoot. In the fourth picture Berardi is getting his reward for being proactive and is able to smash the ball into an empty net after the shot in picture three hits both of the posts and rebounds out.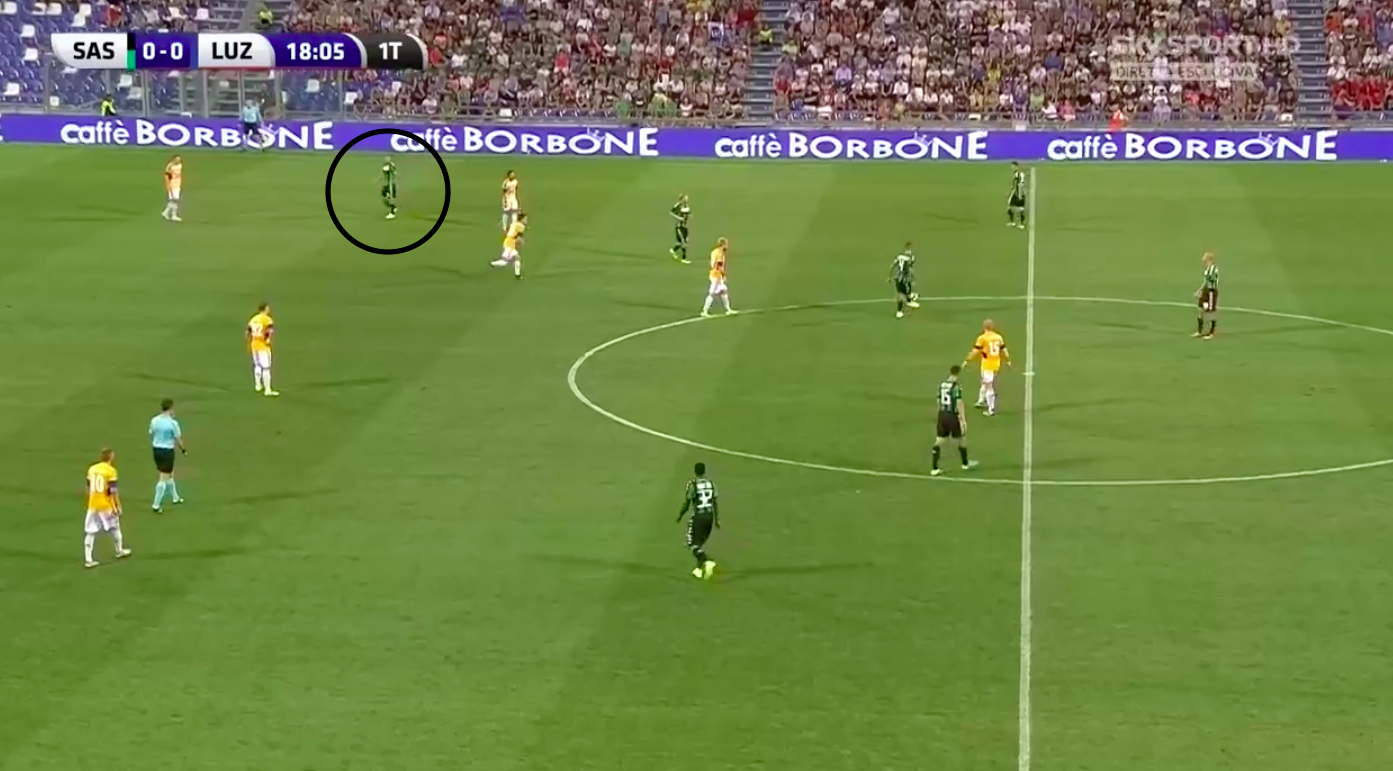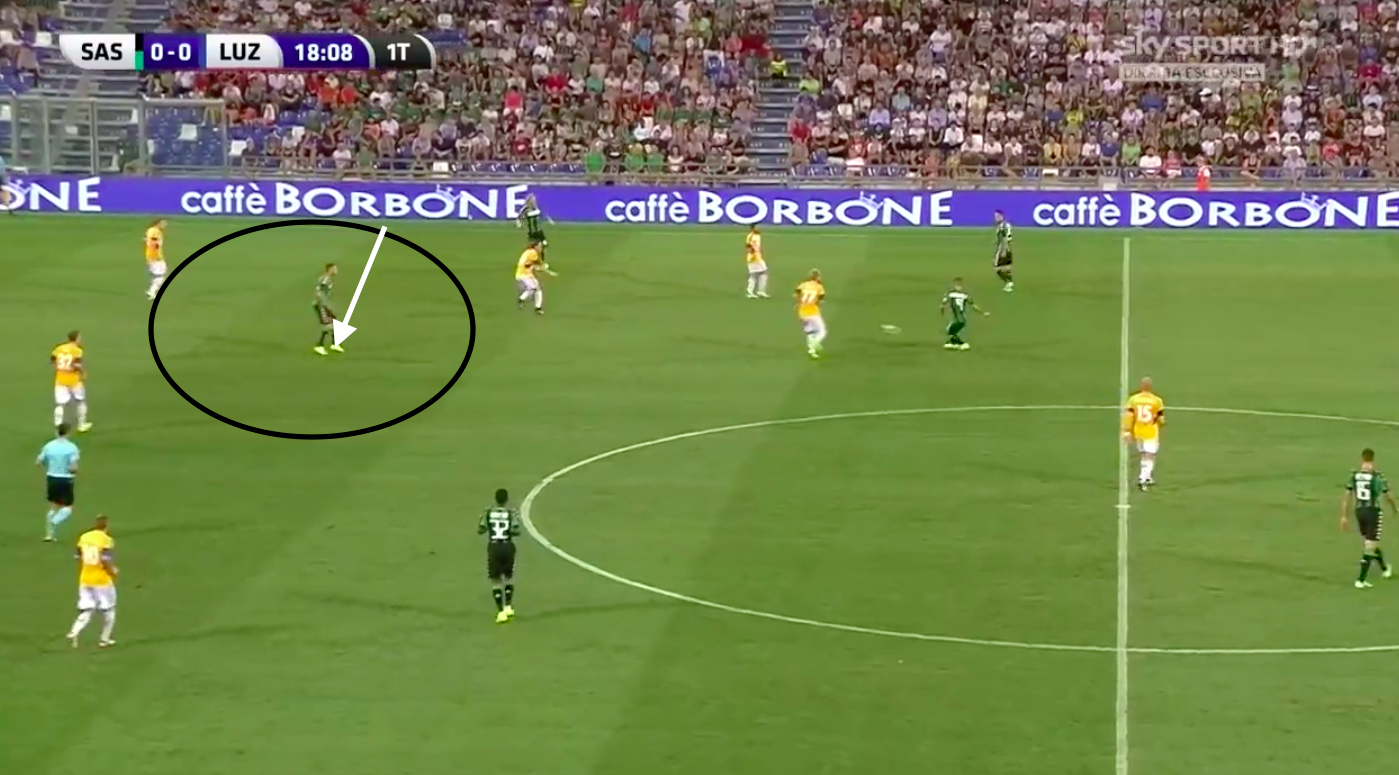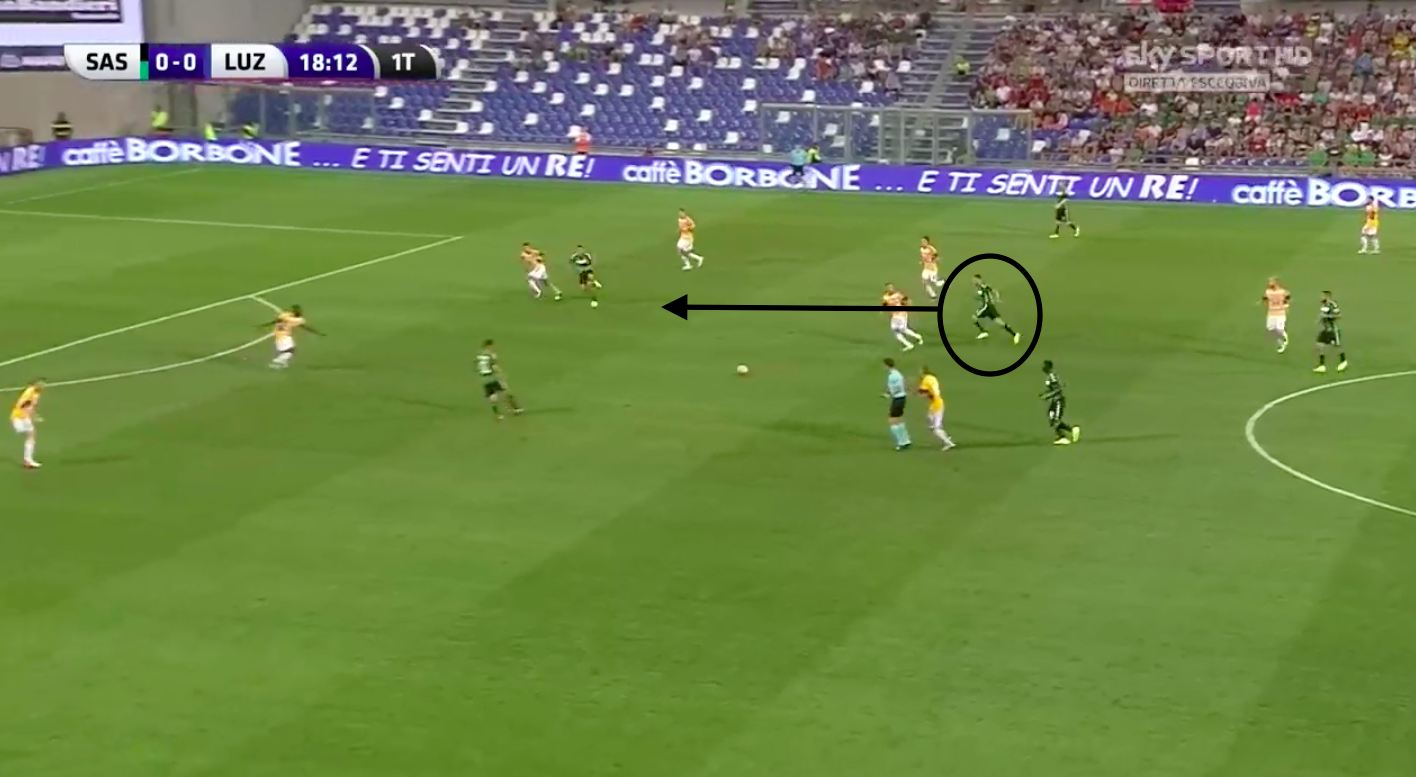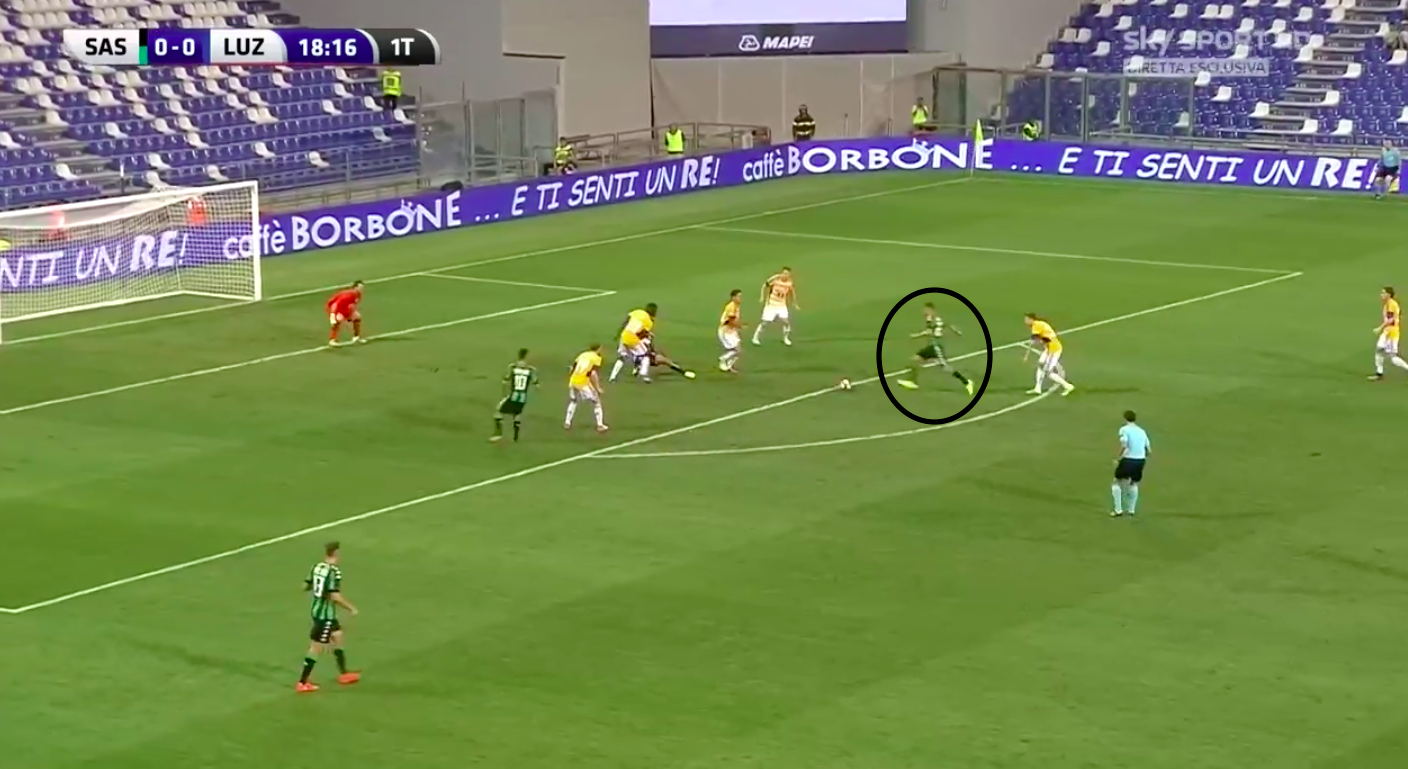 Once again the screenshots above are taken prior to a Berardi goal. It showcases his positional awareness as well as how he backs play up. He drifts in from the right flank and finds space, he then receives the ball on the half turn and plays the pass forward before continuing his run forward. The ball Sassuolo player is dispossessed, the ball is loose on the edge of the area and Berardi fires home.
The Creator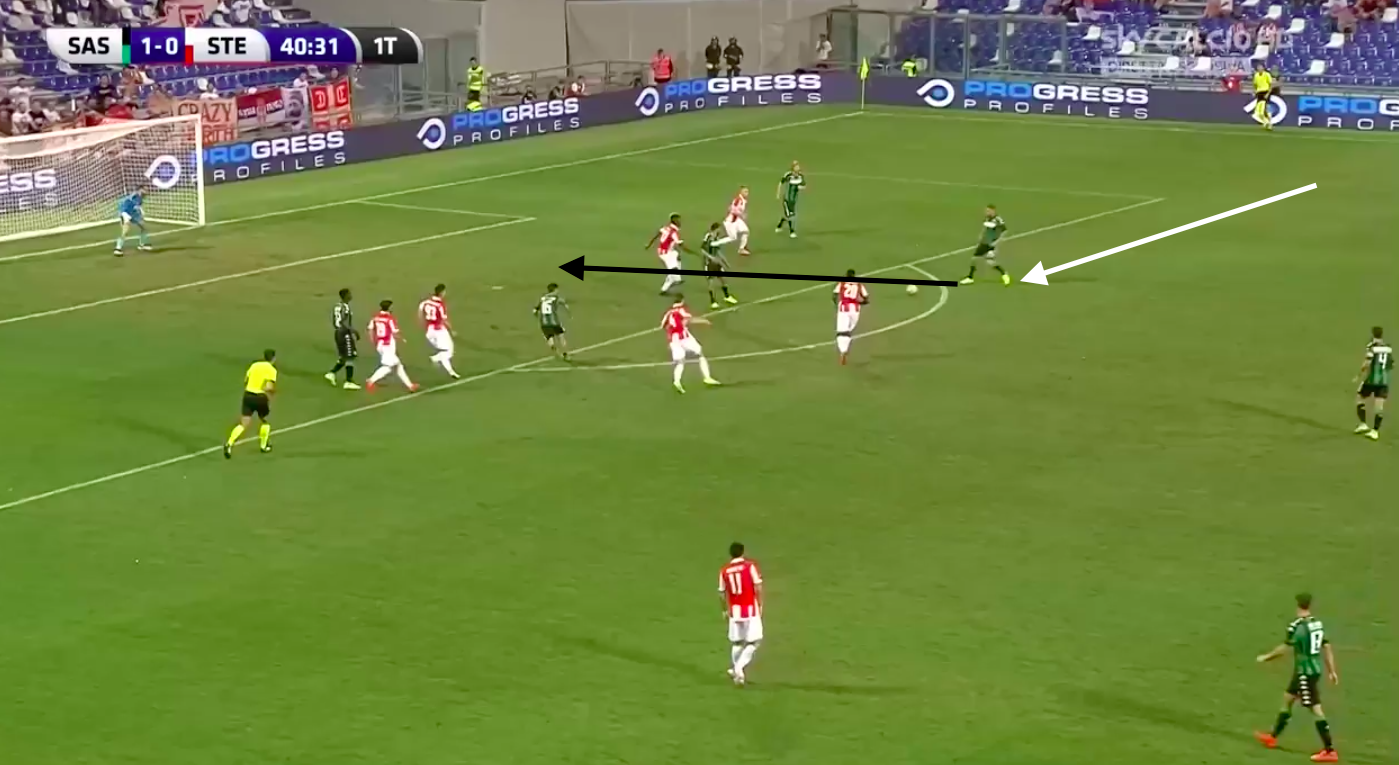 The above screenshot shows the creative side of Berardi. He's drifted in from the right hand side and into space just outside of the area. The ball arrives at his feet but instead of trying to curl one in, something he's entirely capable of, he plays the ball into the path of the Sassuolo player running into the box who brings the ball down and fires it home. It's a pass many players could spot but it's not one that's easily executed.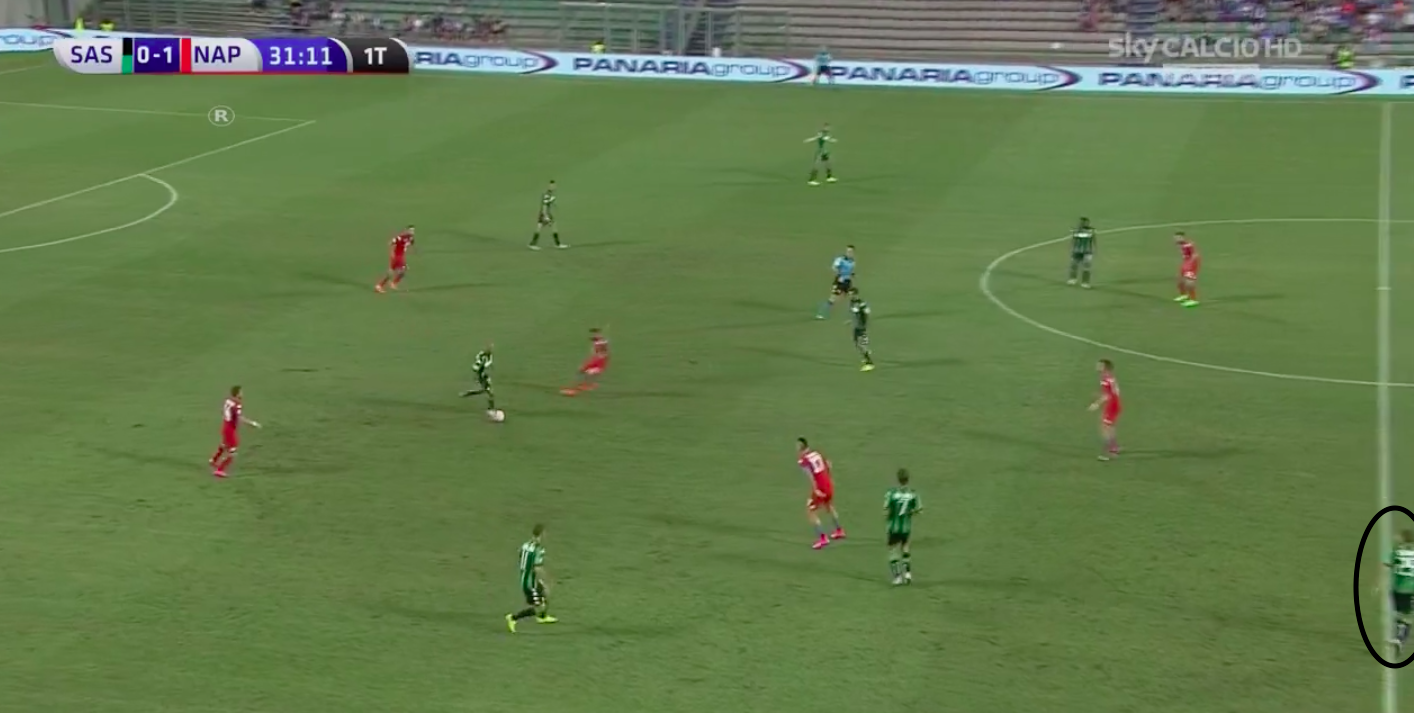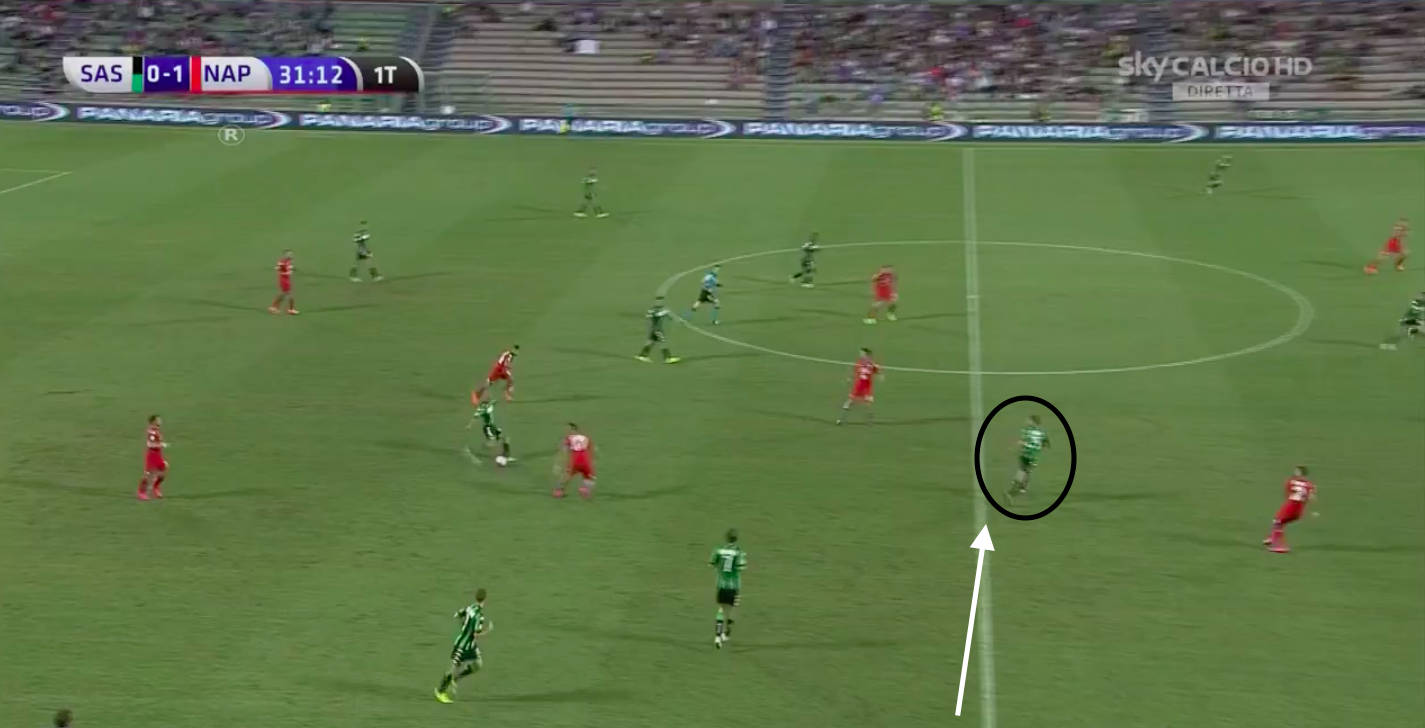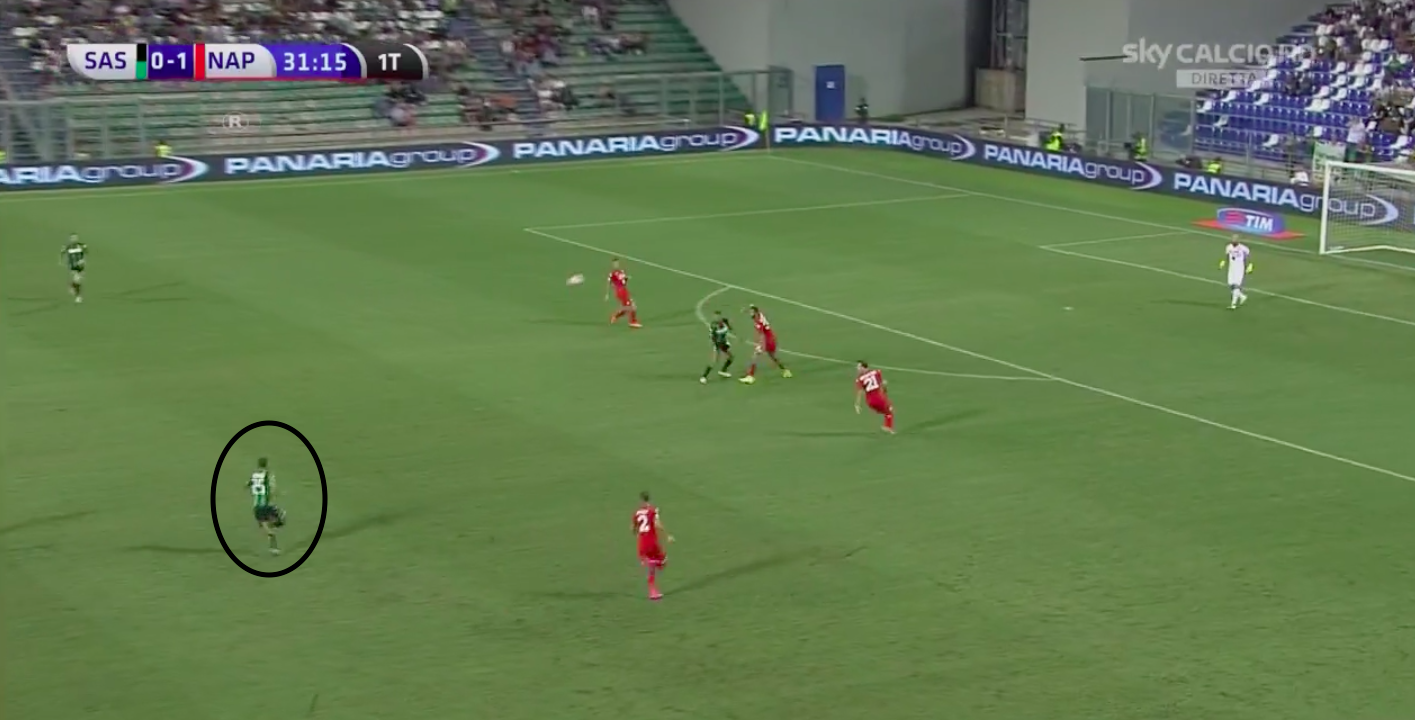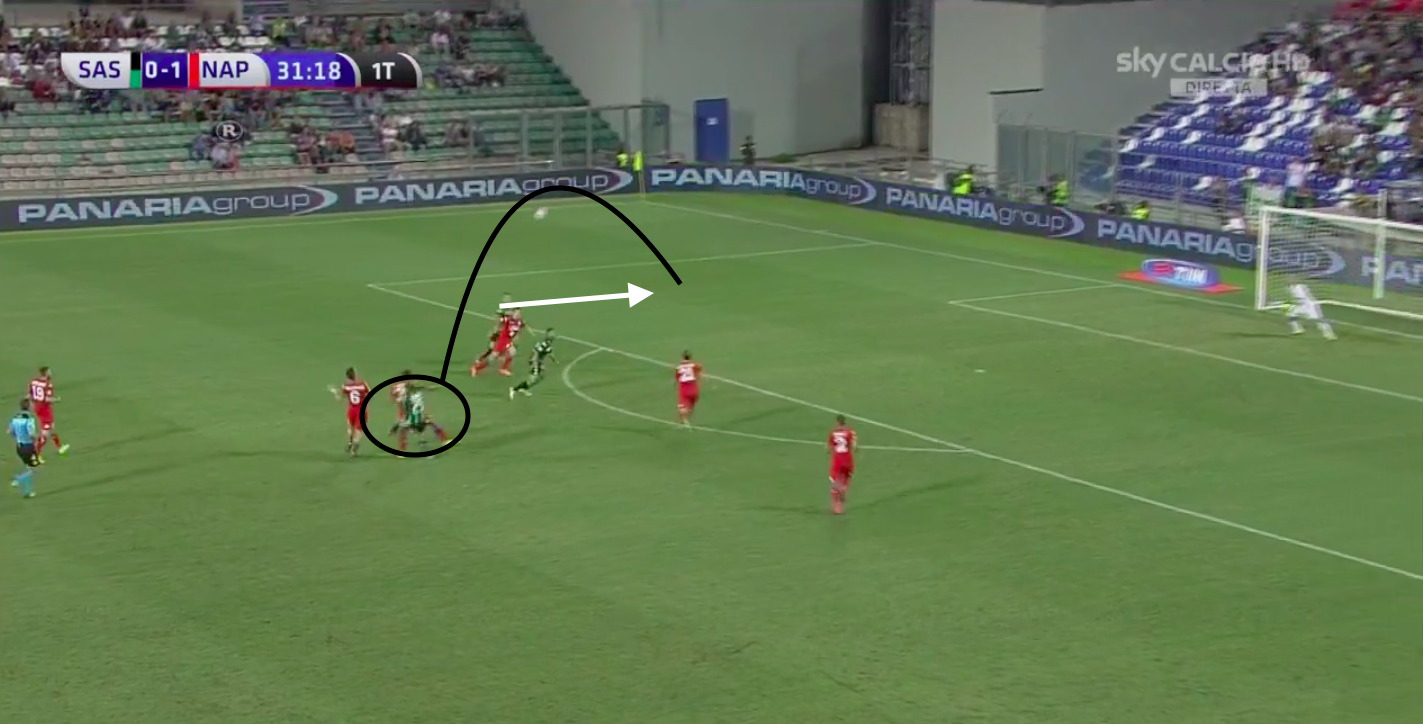 It's a bit of a theme isn't it? Berardi drifting in from the right to have an impact centrally. He starts off on the right but as the ball is played forward he drifts centrally to back the striker up. The closer Berardi gets to him the better. He's nowhere near as effective when he sticks to the right hand side. Napoli clear the first ball but Berardi is there to pick the second ball up. The Napoli players rush out to close him down but Berardi is able to lift the ball over the defenders and to the Sassuolo player who sweeps the ball home.
Berardi in the Liverpool system
First off, let's address the negatives. Berardi is returning from a knee injury so now may be the time to make a move. It's a risk but there's also potentially high reward. Secondly, he's Italian. Liverpool don't have a good track record with Italians but if anybody could break that hoodoo Jurgen Klopp can.
If Klopp did decide to bring Berardi to Anfield he'd be a perfect foil for Clyne down the right flank. Clyne would offer the width as he does already with Mane and Berardi would drift centrally looking to link up with Firmino, Coutinho, Lallana and Emre Can. He'd look to exploit the space Firmino creates and would, at times, get beyond the striker. Berardi is also a bit of a set piece expert which Liverpool currently lack.