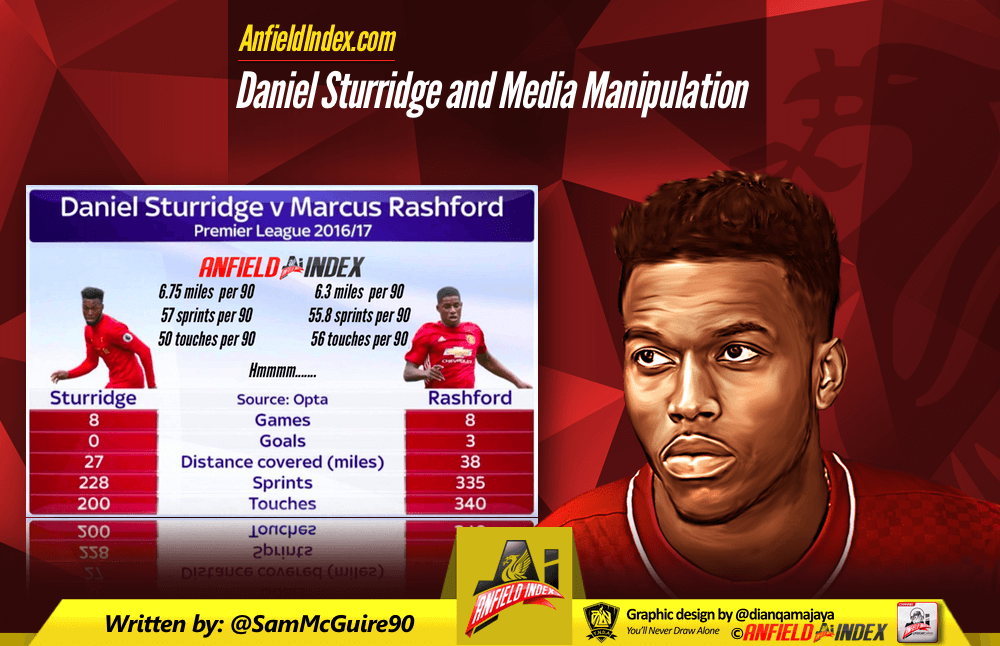 Daniel Sturridge and Media Manipulation
Daniel Sturridge is one of the elite forwards in Europe. That's not an opinion, that's an actual fact. Yet if you were to scan social media or turn on one of the sports channels people go on as if it's beyond belief he's getting into the England XI ahead of the likes of Harry Kane, Jamie Vardy and Marcus Rashford.
If all four were firing then maybe, just maybe, there would be something to talk about as in who fits the system better and who brings the best out of the team. But Jamie Vardy is having second season syndrome in his third season. Marcus Rashford is without a goal in 8 games in all competitions, is being mismanaged by Jose Mourinho and has only just turned 19. In his entire career he's scored just the 12 first-team goals. He's talented but he needs to be judged on the now as opposed to the maybe. Then there's Harry Kane. The Spurs man is just returning after injury and is nowhere near match sharp.
Based on that alone, is it really a surprise that Sturridge got the nod? Granted he's not starting for Liverpool or scoring as freely as he once was but he has scored four goals in two starts in the EFL Cup. He's unfortunate not to have opened his Premier League account after seeing two shots crash against the bar when the Reds dismantled Watford at Anfield in the last league outing.

Sturridge's has undoubted class. His technique is unnerving and his finishing is clinical. Whether he does or doesn't fit certain systems though is something that can be debated. But no matter what he does he's critiqued in the media.
During the last international break pundits and the media called him selfish but this time around he wasn't selfish enough. He wasn't showing goalscoring instincts as he drifted into wide areas.
England were 1-0 up against Scotland at half-time on Friday. ITV went to the studio for a brief analysis between the adverts and both Lee Dixon and Ian Wright took this opportunity to criticise the Liverpool forward. In a round about way they said he spent too much time outside of the area, didn't show enough killer instinct to get into the box and should do more of what he did for the opening goal by being in the area to benefit from crosses.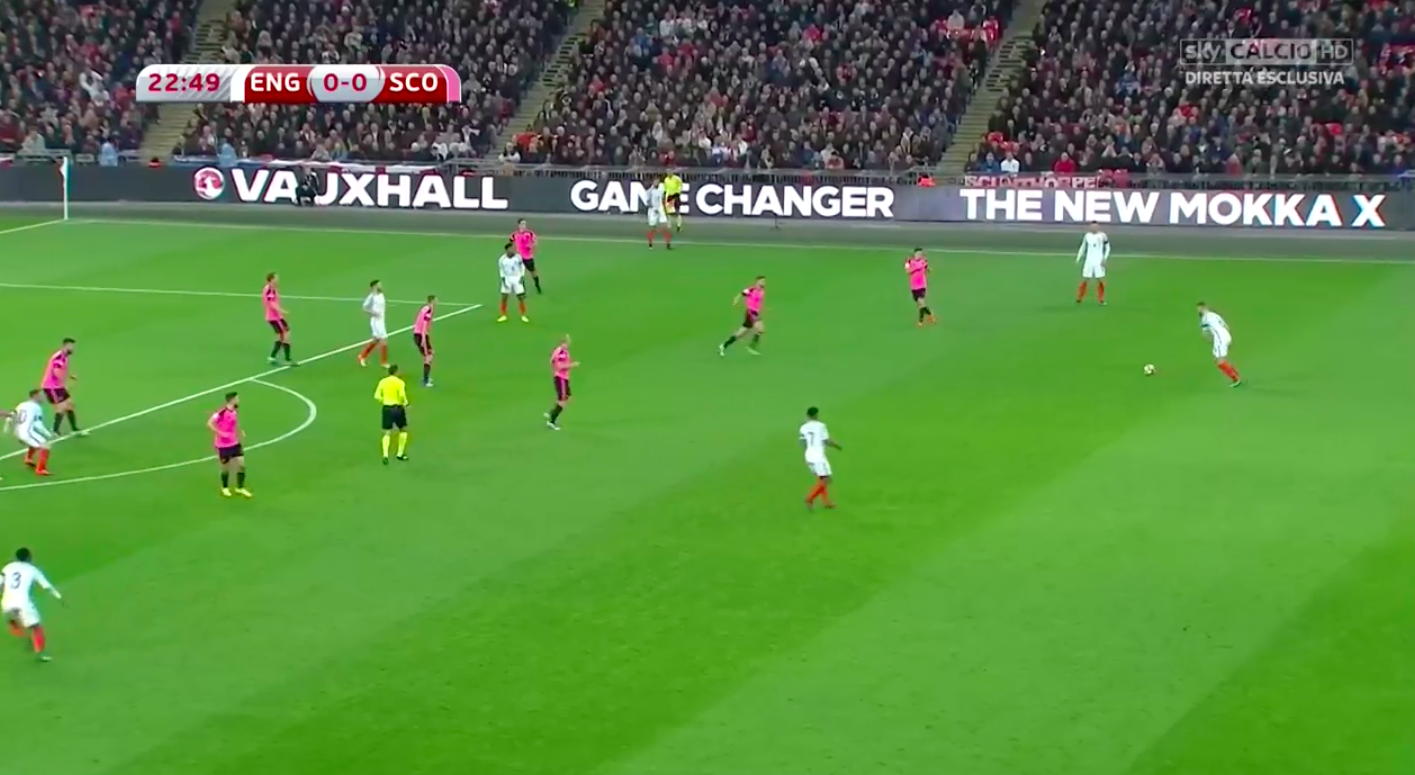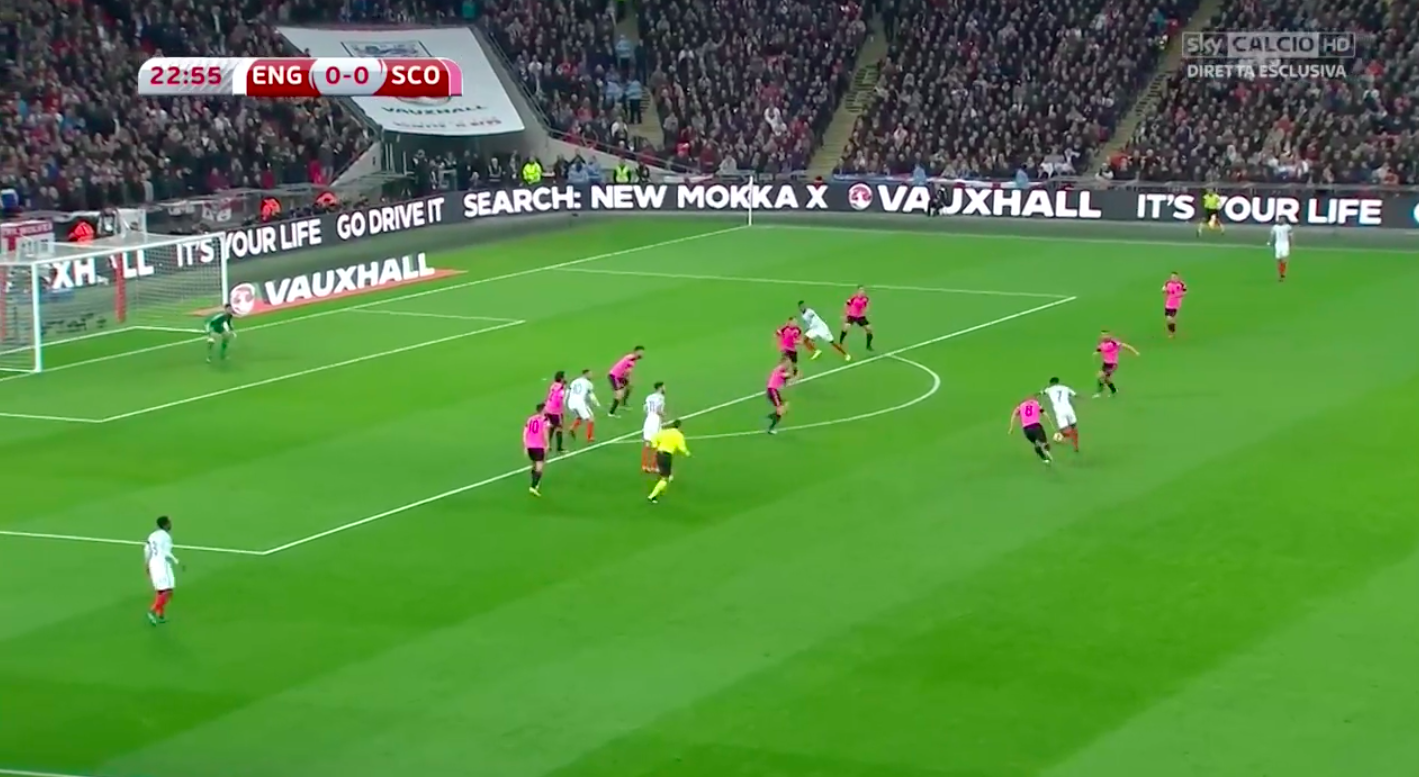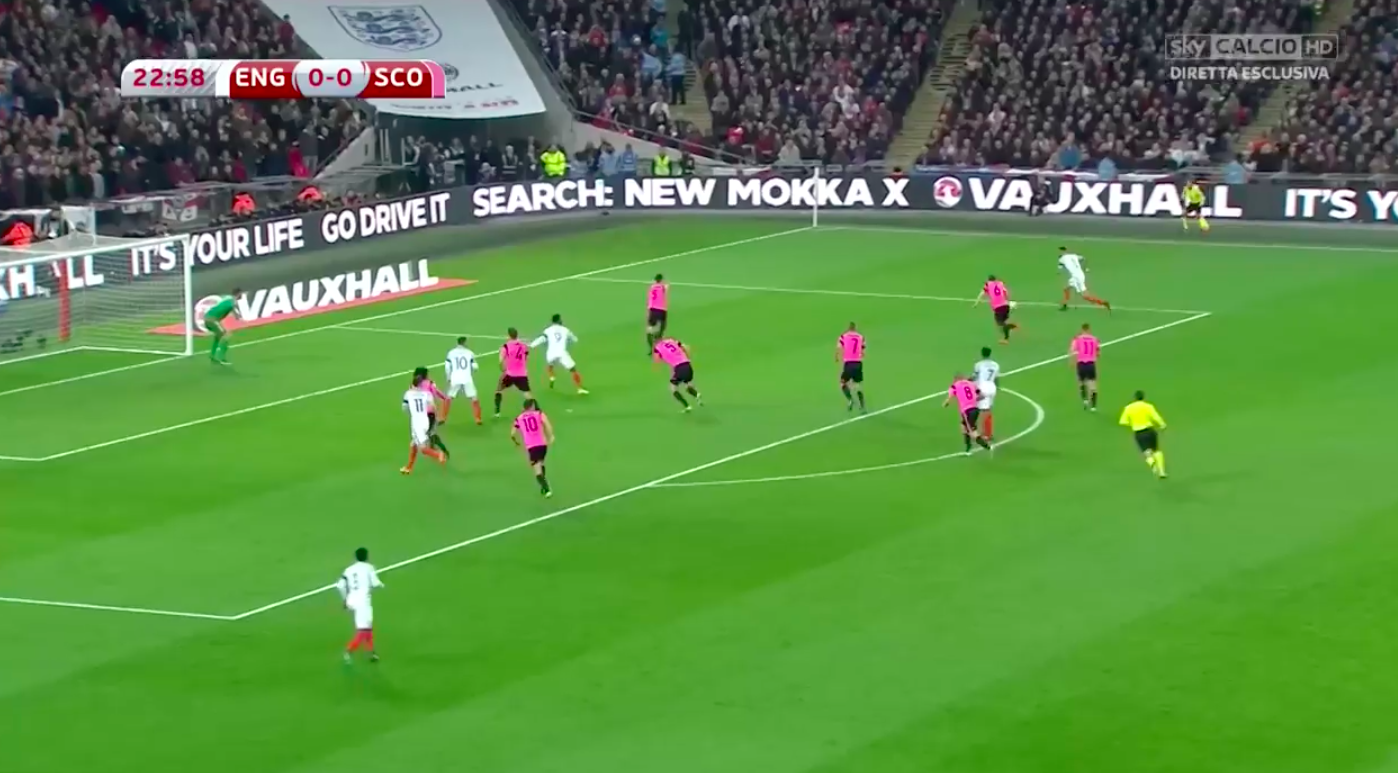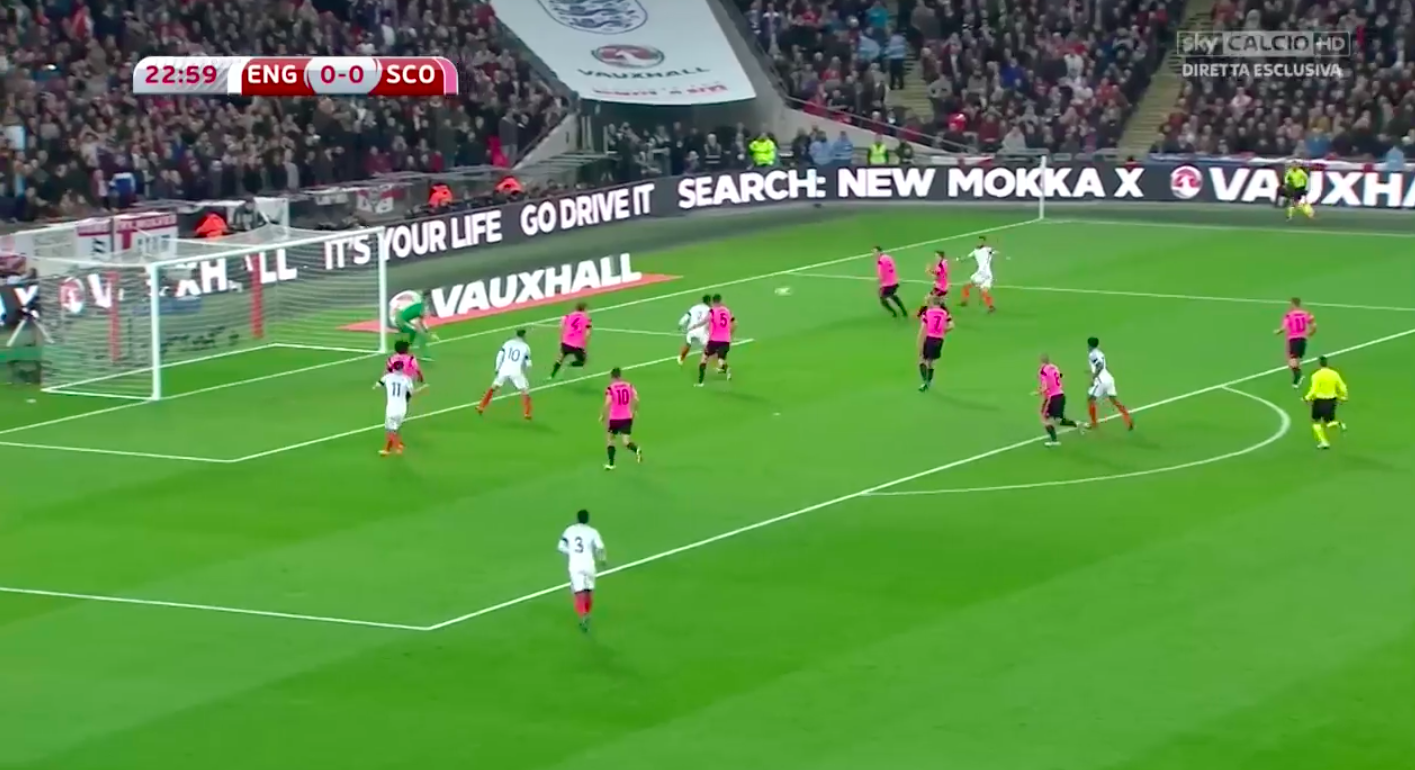 The four screenshots above show the lead-up to the opening England goal. In the first picture you can see Sturridge has positioned himself between the left-back and the left centre-back. There's a bit of an overload down the England right with Walker, Sturridge and Lallana up against just the two Scotland defenders. However, Henderson puts the cross in for Rooney to attack and Scotland clear the ball.
The second screenshot shows play as Raheem Sterling is about to strike the ball. Sturridge has drifted from his position in the first picture and has once again positioned himself intelligently between full-back and centre-back. He's running across the full-back and is the blindspot of the centre-back as he continues his run forward anticipating a rebound from the Sterling shot.
The third and fourth screenshots show Sturridge's movement to latch on to the Walker cross to head home. Like in the previous two pictures is perpetually on the move and looking to attack the space.
Form how the pundits went on it's as though Sturridge just waited for a cross into the area for the opening goal. No mention of his movement beforehand and how he worked the space on more than one occasion. He's not a stationary number 9 and if he was he'd no doubt be criticised for it. If Harry Kane or Marcus Rashford had scored the England opener in an identical manner they'd be getting praised for it. So why instead did Sturridge get a shit sandwich? Praise either side of a criticism?
Is it, maybe, pundits don't have anything to offer up when analysing the game so jump on Sturridge because it's easy to. He's effectively the punditry version of clickbait. The "we have nothing insightful to say so we'll just mention Sturridge to spark debate" movement.
Stats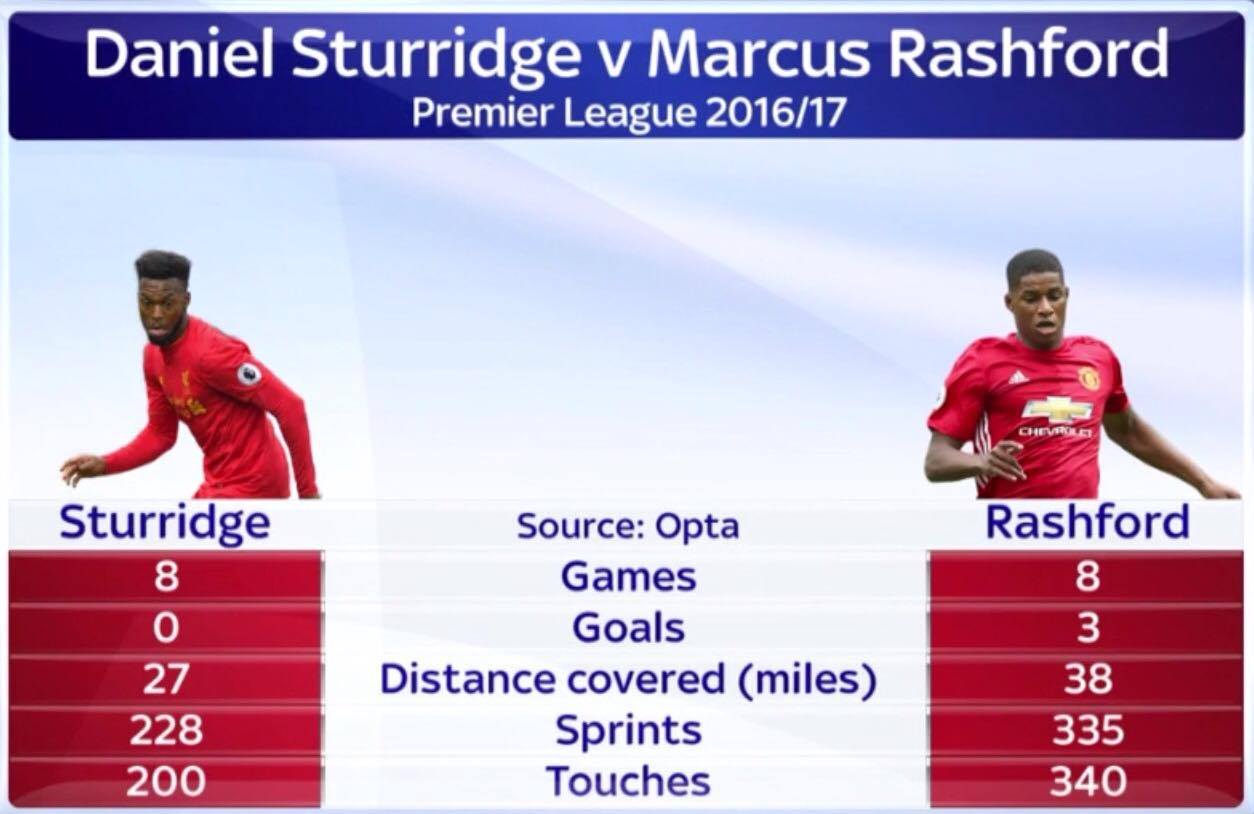 Do you know what's good? People embracing stats.
Do you know what's bad? People blatantly manipulating stats to suit an argument.
In the above image you can see Sky Sports using Opta stats to compare Rashford and Sturridge. The former has more goals, covers more miles, completes more sprints and has more touches of the ball. But why are they looking at totals as opposed to per 90 minutes? Sturridge has played 209 minutes fewer than his United counterpart this season but in the Sky graphic that wasn't taken into account. So we did it instead.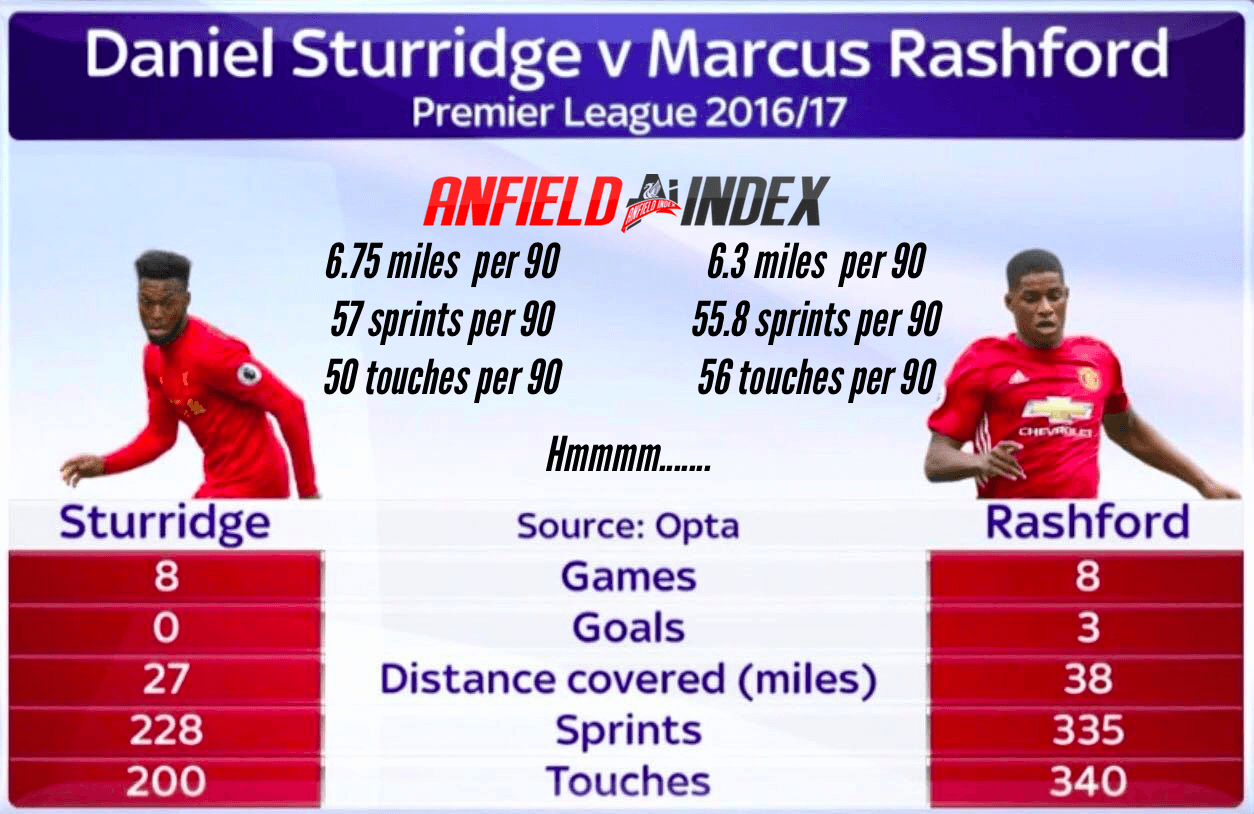 Rashford still has more Premier League goals so far this season (although in all competitions both players have 4 goals). The stats above are rough because both players haven't played the exact number of minutes to divide into 90 without anything left over. So Sturridge's minutes played equate to 4.03 90 minute matches and Rashford's total 6.4 90 minute matches. However, for these stats we rounded down – Sturridge to 4 and Rashford to 6.
Now Sturridge covers more miles than Rashford and the Liverpool player completes more sprints per 90. Rashford comes out on top in terms of touches but it's nowhere near the 140 Sky Sports' original graphic implied it was, now Rashford averages just the 6 touches more.
The stats are there as is the evidence in the build-up to England's opener yet people choose to ignore it and carry on with the Sturridge is lazy narrative, why?