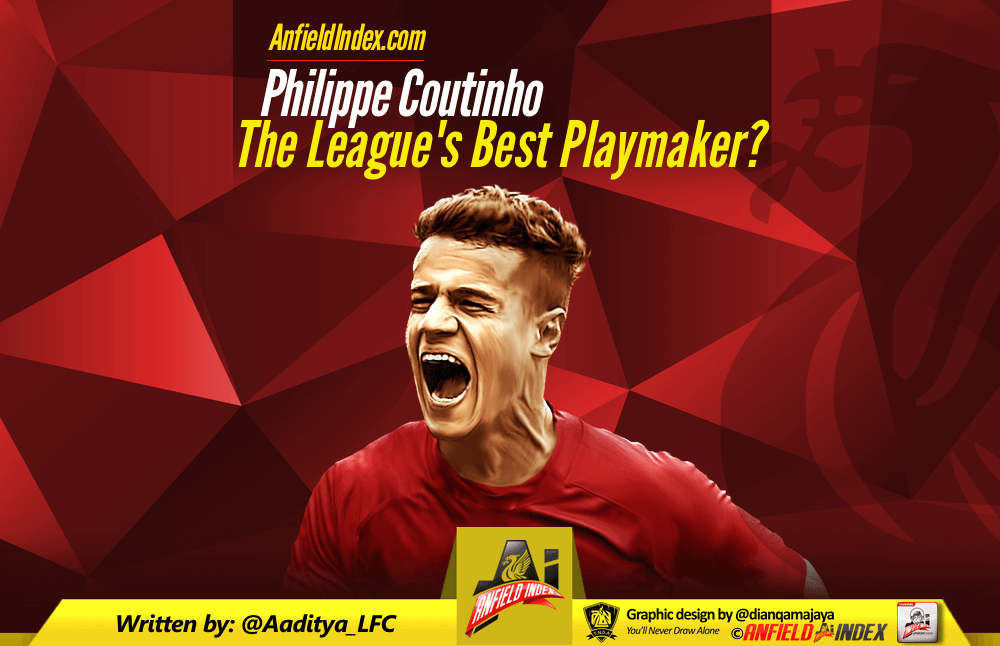 Philippe Coutinho: The League's Best Playmaker?
Jurgen Klopp's Reds are enjoying an international break looking at all the teams in the Premier League being below them on the table. Liverpool are playing some irresistible attacking football at the moment. That has led to an unbeaten run that stretches back to August 20th, when the Reds were humbled at Turf Moor.
At the heart of the Red resurrection this season has been that diminutive Brazilian magician, Philippe Coutinho. It is a much-repeated line that Liverpool are a team this season, and don't rely on a single individual.
But it is not difficult to pinpoint Coutinho as our most important player. Where Sadio Mane has his pace, Roberto Firmino his ability to find room even in the middle of the tightest defenses and Adam Lallana his trickery and skill, Coutinho has silky feet, vision and the ability to conjure up a moment of magic out of nothing.
And that is why, ahead of our trip down south to play the Saints, it will be interesting to see how we can cope without Coutinho. That is a realistic possibility, given that he has been reported to have had scans on an injury he suffered on international duty with Brazil. But, in this Liverpool team, Coutinho doesn't make the team, he only enhances the level of performance the team puts out.
One constant criticism about Coutinho has been his inability to provide consistently match-winning performances over a run of games. In the time since we have played Burnley up until now, lil' Phil has thrown that argument out of the window.
But where does Coutinho stand among the best attacking midfielders in the league? The likes of Mesut Ozil and Eden Hazard have proven over the last three or four seasons that they are the benchmark – they have set the levels that a top playmaker in the league has to achieve to be spoken of in the same breath.
And this season, Coutinho can very well be talked of in the same breath as those names. In fact, it wouldn't be an invalid argument to say that Coutinho has well and truly trumped their performances this season.
Hazard has had a season of resurrection after the nightmare that the last campaign was, and the likes of Ozil, Kevin De Bruyne and Alexis Sanchez have only carried on from where they left off last season.
But in terms of the numbers, Coutinho is in that league too, as of now. With five goals and five assists this season, the Brazilian directly contributes to a goal every 84 minutes. That roughly translates to having a hand in at least one goal per game.
The closest to Coutinho in that regard is De Bruyne who contributes to a goal every 95 minutes. With Hazard, it is 114 and the number goes up to a huge 200 minutes per goal contribution for Ozil, which is slightly misleading given his other contributions to that Arsenal side.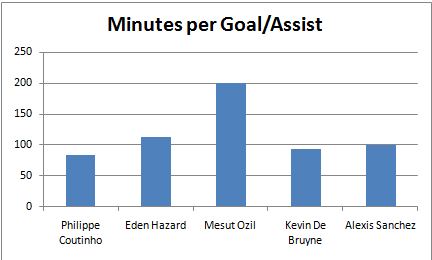 For me, what generally stands out with world-class players is their ability to do exactly what the opposition expects out of them, but ensure that the other team cannot stop that. Hazard's mazy runs, Sanchez's sheer pace and tenacity, De Bruyne and Ozil's craft and vision to unlock a defense, are cases in point.
In that sense, Coutinho has made cutting in from the left-side and unleashing a curler into the right corner of the goal his trademark. When he gets the ball in certain positions, you know that the curler is exactly what is coming, but there is no chance of stopping those shots.
That is such a pleasant difference to the Coutinho when he joined Liverpool. In his first two seasons at the club, he took numerous shots like these and it would be so frustrating to watch those scuff along the ground either into the hands of the goalie or more often than not, wide of the target.
If you look at even other numbers like key passes, chances created, etc. Coutinho is near the top of those stats, in the per 90 minute metric. But one thing that stands out for is the number of tackles he wins per game, as compared to the other players mentioned above.
Maybe, that is just him playing to Klopp's style, but I would like to think it goes beyond just the manager. For me, that epitomizes the kind of player that Coutinho is. He always wants the ball. Of course, he wants the ball to make things happen in an attacking sense, but when he is defending, you can see the hunger and desire with which he does track back.
Per 90 minutes, Coutinho wins 1.4 tackles. The next best out of the players in the comparison is Snachez at 0.99 tackles won per 90.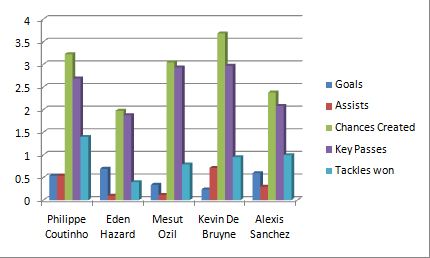 In many ways, Coutinho starting on the left flank has helped James Milner. I would say there are two huge factors why Milner has benefited from Coutinho being ahead of him on the flank. One, obviously Coutinho's work-rate. He ensures that the opposition full-back does not bomb forward too easily and that has made life for Milner, where he has had only the winger to concentrate on.
Second, in many games, Coutinho's presence ensures even the opposition winger is doing defensive duty by helping his full-back, double-teaming on Coutinho.
That is what happened in 2014-15 when teams played Chelsea. Hazard's frightening form that year ensured that teams had to concentrate on stopping him, which meant that Cesar Azpilicueta easily bed in to his new left-back role that season.
De Bruyne and the two Arsenal players came into the season as part of largely settled teams with huge ambitions this season. And if you look at the squads in the Premier League, Arsenal and City would probably be the top two in terms of overall quality.
What makes Coutinho's season so far doubly impressive is that he has done it in a side that was uncertain at the start of the season. At least, the fans, the experts, the pundits doubted Liverpool's ability to achieve anything significant this season.
But thanks to Jurgen Klopp and his methods, the team has found another gear and reached another level. And those same fans, those same experts, those same pundits are now beginning to second-guess themselves about their earlier predictions. Central to changing those minds has been our little Brazilian magician, Philippe Coutinho – a fair call to be called the best playmaker in the Premier League right now.
Note: All statistics used in this piece have been sourced from Squawka