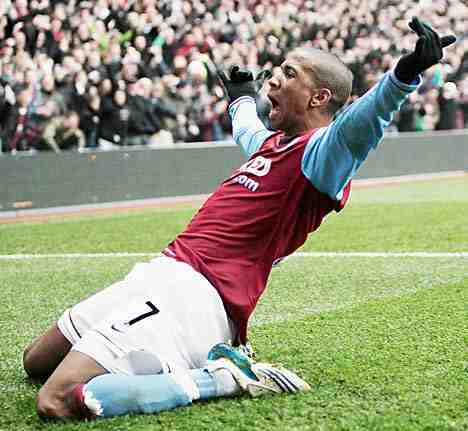 Liverpool FC Transfers: Premier League Winger Scouting Stats
Transfers are the main focus of every summer break when the Premier League season has ended. Liverpool FC and Kenny Dalglish appear to be lining up a whole hoard of transfers and will be focusing their priorities on wingers this summer. This article will be looking at how Premier League wingers have performed  in the 2010/11 Barclays Premier League season and whether or not we believe they are what Liverpool need (some of these wingers are not available for transfer or would not be sold to a rival but it's an interesting comparison). Note: We do not have access to stats for foreign based wingers else we would have included Arda Turan, Eden Hazard & Juan Mata in the comparison.
As there are twelve wingers or wide players covered we've had to split them up into groups of four. The first four wingers are Ashley Young (heavily linked to Liverpool and reported to be signing for Manchester United), Gareth Bale, Florent Malouda & Nani. Their stats are shown below:
The most surprising statistic for me was Ashley Young's average successful dribbles per game. Only 1 successful dribble every two games from Young which we expected to be much higher. We don't have the total attempted dribbles at hand as Opta only provide us with the total successful dribbles completed for each player and Ashley only managed 18 this season. Quite low for a wide player but this could be down to the fact that he's been deployed a lot more centrally this year. Nani and Gareth Bale performed the best, out of the four displayed above, with regards to average successful dribbles. Nani completing a total of 81 which is impressive.
However Young and Malouda were much more successful with the crossing accuracy as both had a 31% success rate in comparison to Bale's 24% and Nani's 25%. Malouda had the highest shooting accuracy and chance conversion out of the four whilst also averaging a goal every 216 minutes which is a much higher rate than the others being compared in this table. Nani averaged a shot every 26 mins he spends on the football pitch however his accuracy of shooting is only at 38% which is the lowest of the four. Malouda averages a shot every 41 minutes and 55% of them are on target whilst 19% of his attempts result in a goal. In comparison Nani only converts 9% of his shots into goals which is marginally worse than Ashely Young but a little behind Bale.
Nani has the highest number of assists with 14 whilst Ashley Young also has an impressive 10. Florent Malouda and Gareth Bale don't have as impressive stats with Malouda only managing four assists and Bale only having the single assist all season (Best player in the world? Bah!). Malouda did however create the most chances with 117 and created a chance every 24 minutes he spent on the pitch, a very impressive statistic. Nani & Young also have impressive stats creating chances whilst Bale's chance per minute stat is more than twice of Malouda's (Best in the world? Bah!).
So the second table consists of a current Liverpool FC player, Dirk Kuyt (plays predominantly as a wide midfielder), and three players that have been linked to Liverpool FC in the past and present: David Silva, Matt Jarvis & Stuart Downing.
The stats for this group are not as impressive as the previous four apart from Dirk Kuyt's exploits infront of goal which are very similar to those of Malouda. Dirk also has two more assists than Malouda which is an impressive accomplishment. However we've only placed Dirk in this comparison to see how a Liverpool FC wide player compares to the rest of the Premier League's elite. Also Kuyt's stats include occasions where he's played upfront which he did a few times towards the end of the season so it's not an entirely accurate comparison but as we've mentioned, it's only been shown to see how a Liverpool FC player got on against the rest of the league.
Let's look at David Silva first, who was heavily linked with Liverpool in the Benitez era, and see how he's done in his first full season in the Premier League. He's had plenty of playing time and has four goals and seven assists to show for his time. It's not as good as his rivals in the league but a decent start to his career in England. His pass completion is the joint highest in this comparison so far with Florent Malouda and his pass frequency (minutes per pass) is the lowest so far meaning he's involved in the game a lot or gets a lot of touches on the ball for his side. David Silva's chance creation is also impressive with a chance created every 35 minutes for Manchester City. Silva's shooting accuracy is at 41% and chance conversion only 10% so there are areas where David can improve next year.
Looking at the other players in the table above; Matt Jarvis was heavily linked with Liverpool earlier this year. Especially when Wolverhampton Wanderers purchased Adam Hammill, a former Liverpool FC youth team player, who is a similar player to Jarvis and it seemed as though they were bringing in a replacement of sorts. Whilst looking at Jarvis's stats we have to take into account that he was playing for a side that spent most of it's time in the bottom three and just about managed to stay in the Premier League. Jarvis managed four goals and six assists for Wolves but his pass completion was at 61% although his crossing accuracy was at a joint highest, with Ashley Young & Florent Malouda, at 31%. Jarvis managed to create 66 chances and this averaged out at a chance every 46 minutes. His pass frequency was also the worst out of the players compared so far as he only managed to pass the ball every two and a half minutes. This is understandable because Wolverhampton Wanderers would not have very high possession statistics so you'd not expect them to have the majority of the ball in every match.
Stuart Downing has been a name cropping up since the season ended last week but we have our reservations about signing him. Although he's scored seven and assisted seven goals, which is not a bad return, we feel he's not the winger that we need to sign. A few examples to back this up; in comparison to Dirk Kuyt, Stuart Downing has an inferior average successful dribbles per game with Dirk achieving 0.9 whilst Downing is on 0.7. Dirk has assisted the same amount of goals but scored a lot more, and Dirk's pass completion is superior by 2%. This is not all, Dirk Kuyt's shooting accuracy is at 62% (highest of the players compared so far) and his chance conversion is at 26% which again is the highest of all the players compared so far. In fact Dirk Kuyt has the highest percentage value in shooting accuracy & chance conversion which shows his value to Liverpool FC. The only area where Downing excels in comparison to Kuyt is the crossing accuracy and the amount of crosses he puts in. Dirk Kuyt on managed 82 crosses this season whilst Downing managed 324 with 24% of these being accurate (still not as high as others mentioned in this article). Taking all of these stats into account we wouldn't recommend Stuart Downing if the signings were based on statistics. We would have to say the same for Matt Jarvis who should remain at Wolverhampton Wanderers and try to improve further before leaving for another club. David Silva is never going to be up for sale but again he isn't the winger / wide player that Liverpool FC are looking for.
The final four to be compared are: Adam Johnson, Antonio Valencia, Charles N'Zogbia and Aaron Lennon.
There are some impressive statistics on show from the four players compared above. The first one that sticks out like a sore thumb for us is the amount of successful dribbles by Charles N'Zogbia. The total amount being 109 successful dribbles which blows away the next best of 81 by Nani. Charles N'Zogbia is therefore averaging around 3.3 successful dribbles per game. Ideally Liverpool FC will require a winger or wide player that is going to run at the full backs and defenders so could that player be Charles N'Zogbia? Other stats for Charles include a shot accuracy of 55% with chance conversion of 18%. His crossing accuracy is low at 20% and pass completion is an improvement on Kuyt's 71%. He doesn't seem to pass the ball much though with his minutes per pass at 2.6 minutes. Could this be because he tends to dribble the ball and try to do it all alone? We'll try to to produce some stats on touches of the ball and which player is most involved in the game at the end of this article.
Antonio Valencia's shooting and chance conversion are very high but looking at the numbers you'll see that he's only had three shots this season. Even though he's not played much this season the other percentages are also respectable: 30% crossing accuracy and 77% pass completion, these are calculated by the minute basis and therefore the results should show a fair reflection of how each player has performed this season so it shouldn't depend on the playing time they've been given by their respective managers or injuries.
Aaron Lennon's goals and assists are on the low side compared to other players in the list (he only has three goals and two assists this season) however his pass completion, crossing accuracy and average dribbles are better than most. Adam Johnson's stats aren't as impressive as some of the bigger names on the list. His crossing accuracy is only 19% and pass completion is better than Kuyt's or N'Zogbia's at 73%. However he has four goals and five assists to his name and hasn't had a full season just yet. With stats of 59 mins per shot and 44 mins per chance creation he may be worth a shot if he is available. He also matches Lennon's 2.1 average successful dribbles per game. David Silva managed the same amount of successful dribbles as Adam Johnson but played one thousand minutes more.
The table above shows the total average touches per 90 minutes that each of the winger has achieved this season. Florent Malouda is at the top of the list with 83 touches per game, David Silva second with 77.8, Valencia third with 76.2 touches and Nani fourth with 75.9 touches. The rest of the players discussed are all averaging below 70 touches per game. It's no coincidence that the four players with most touches are playing in the Top 3 Premier League sides which keep the ball better than most in the league. Jarvis was obviously the winger with the least touches per game but that's expected with a relegation threatened team. Same as Charles N'Zogbia, he's done really well with the stats above whilst being in a team that was pretty much in the bottom three all season.
Whilst Charles N'Zogbia was averaging a pass every 2.5 minutes, the table above shows that he's averaging a touch every 1.5 minutes and therefore proves that he's on the ball regularly but just not passing it as much! That's where those 109 successful dribbles come into play.
Looking at the stats above there's no full package winger available at the minute in the Premier League. Players like Malouda, Silva, Nani or Valencia are never going to be sold to Liverpool FC. We feel Gareth Bale is a little over rated. Aaron Lennon is not the full package as his goals and assists show, Young is most likely off to United and according to the stats he hasn't really dribbled the ball much and has given the ball away a lot this season. Matt Jarvis is still learning his trade at Wolves and may be one for the future. Downing is impressive in comparison to others in that he has goals and assists this season however there is something about him that just doesn't fit right – lack of pace maybe?
That leaves Adam Johnson (there have been rumours of him being unsettled at City) and Charles N'Zogbia. These two players are not the full package either however there is something about these players that we like. The fact that they can take on a player, have pace, can score goals and create goals is a major factor. N'Zogbia has scored 33% of his goals from free kicks so he is a real threat from outside the area with free kicks etc. The crossing accuracy from either player isn't as good as the other players compared in this article but they offer so much more. Their shooting accuracy and shot conversion isn't bad at all, and maybe at Liverpool FC they'll be able to show what they can really do, especially in the case of Charles N'Zogbia.
We believe the best bet for a winger would be a foreign based player however if Liverpool FC cannot successfully sign a foreign based winger, for whatever reason, we'd recommend Adam Johnson and Charles N'Zogbia as the players to try to buy. We believe they'd add a lot to the current first team by improving pace on the flanks, ability to go past players and also to score and assist goals.