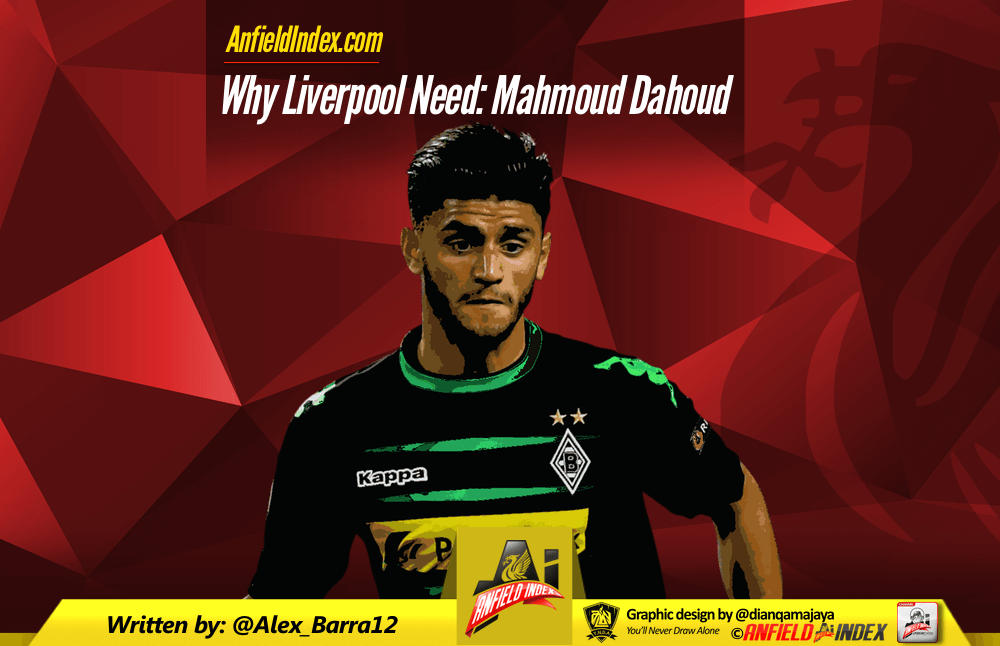 Why Liverpool Need: Mahmoud Dahoud
In times before the great Liverpool ascendancy of season 2016/17; before Jürgen's rampant Reds stormed into the Premier League landscape and claimed it as their stomping ground, there was a 20 year-old starlet coming through the ranks in Borussia Mönchengladbach. It was hardly a well-kept secret that Klopp, in his first summer transfer window at the club, courted the young Syrian-born German under-21 international.
And he should do it again come January.
To retain their status as Premier League title contenders; Klopp will have to continually maintain what makes his side impressive; their press, their attacking intent, and the fluidity with which they move the ball through the park. Liverpool under Klopp has made a habit out of getting a huge number of very mobile players into the box, and into goal-scoring opportunities. Currently taking a whopping 19.1 shots per game, and averaging 7.8 shots on target per game, Liverpool currently have a wealth of attacking talent; some of which has seeped into the midfield.

Adam Lallana and Gini Wijnaldum have been prominent in the side's recent success, both have seen their transition to the central midfield position occur recently; done so by a manager who requires the speed of thought and speed of feet in midfield to accompany the strength and intensity of Jordan Henderson and Emre Can. Both have done extremely well too, given they're more naturally forward-thinking players; but should cracks develop in Liverpool's midfield, or a series of injuries hamper the progress being made, Lallana and Wijnaldum could be exposed in the centre of the park. That's where Dahoud comes in.
Before that, however, this writer would like to expand on a greater idea, a reality that Liverpool have to face; one of buying young, unpolished players with the tools to succeed. They need to buy accordingly: that means buying raw talent that needs to be moulded. That means buying young players who are ready to learn, and not experienced stars always expecting something. It means buying players with desire, with a fire but not necessarily with the finished package to their name. It means not competing with Manchester City on the money frontier but competing with Borussia Dortmund and Atletico Madrid instead; unearthing exciting young talent, buying them for prices akin to their potential, and watching them grow and develop, like so many Liverpool players have done previously.
https://youtu.be/qm82Jc2bvxE?t=15s
Currently 20 years of age, Mahmoud Dahoud broke into the setup at Champions League side Borussia Monchengladbach under former boss Lucien Favre; famed for his high-intensity, rigidly administered setup where each player needed to perform a rigorous regime. It was a machine of high intensity and high running; not dissimilar to Klopp's Dortmund – and Liverpool – though Klopp affords his forwards a lot more room to manoeuvre. Dahoud knows that style well.
In fact, Dahoud made his Bundesliga debut under Favre in a 3-1 win over Klopp's Dortmund side at the end of the 2014/15 season.
Following the sacking of Lucien Favre early on in the 2015/16, Dahoud began finding his feet in the Bundesliga under new manager Andre Schubert. Interestingly; there are rumblings that Andre Schubert is in danger of losing his job; with Gladbach having not scored in five games. Part of that is down to a lackadaisical midfield; Dahoud's only played five times this season; with a further two starts in the Champions League, and has found the midfield energy lacking without Granit Xhaka alongside him; Christoph Kramer is a fantastic talent but doesn't possess the same passing ability as Xhaka, or the same drive which allowed Dahoud to find space.
The diminutive 20 year-old is a boundless bundle of energy and intensity when he's on form, with a good output record as well. He scored five goals and managed eight assists in his breakout season in 2015/16, though he has only assisted once in his five appearances this season. He doesn't need to be the flashiest player on the park, because he'll happily feed he ball to those who are. His speciality, however, is his ability to deliver the ball to a teammate outside his own box, receive it in the centre of the park, and drive his entire side up with him as he surges forward; constantly on the move.
His drive and desire to win the ball back would make him an ideal fit into Klopp's football side; while his potency for a ranged shot – not unlike a young Phillipe Coutinho – is an unpolished weapon, but one with potential to be devastating. In fact, that sentiment can be widely associated with a lot of Dahoud's game: unpolished, but potentially devastating.
With all that being said, there are two specific key facets to his game that make him perfect for this Liverpool side.
The first relates to the aforementioned energy he possesses, the ability to break through a midfield; especially a defensive midfielder, with intricate and decisive passes done at a high tempo. Every team plays at its own pace; but there are striking similarities between the pace Klopp's Liverpool has played this season and the pace Dahoud seemingly wants to play all the time. Terms such as "heavy metal" and "full throttle" get bounded about a lot when describing Klopp's footballing philosophy, but it's embodied in certain players; Dahoud is one of them.
He's able to break through a high press and has the dogged, resilient style of a defensive midfielder with the nous on the ball of a box-to-box midfielder.
The other key facet to his game is the ability he possesses on the ball; and the intelligence with which he delivers passes. As mentioned before; he likes to link-up with players who will dish it back; he often plays balls into the box and then makes a late-run, making himself available for the shot whenever possible. In a side with so many attacking threats (13 different goalscorers already this season) and Dahoud's potency for quick one-two passing, the fleet-footed midfielder could be a perfect foil for Liverpool's front three when things get tricky.
What's more impressive though; is his ability to drive from deep, and then play a quick pass along the floor or in the air to find a player in space. His knack for that quick pass; the intelligence to see the pitch unfold before his eyes, and the ability to move the ball from the middle third to the final third seemingly with ease, would only be accentuated with the likes of Firmino, Coutinho, Mane, Sturridge and Origi moving in front of him.
And then there's the fact that he's still only 20 years of age.
His weaknesses come in the form of that age: inexperience and a lack of polish to his game mean he's going to make mistakes, he's going to have form swings and he's going to need time to develop. But with plenty of midfielders to support him and a system in which he'll thrive, that ability he possesses is well worth the rumoured fee of £25 million.
If the substantial rumours are to be believed, Dahoud's contracts contains a clause that kicks in at the end of the 2016/17 season, which would see his release clause set at around €10 million. What is known is that Dahoud rejected a contract offer from Gladbach, after Liverpool's initial approaches were rejected. The feeling around Gladbach is one of inevitability; Dahoud looks certain to be at a new club by the summer; with Dortmund the ones rivalling Liverpool for his signature.
Make no mistake, someone will snap up Dahoud and turn him into a world-beater; that's a well-educated assumption based on what he's shown so far in his career. Liverpool have a good thing going right now, but if they want to stay at the top of the mountain, they need to supplement this side with world-class potential. Klopp has obviously been made very well aware of Dahoud's ability – he pursued him heavily in the summer for a very good reason; and it's that same reason – irrespective of circumstances – that he should do it again in January.
*All statistics courtesy of Opta.