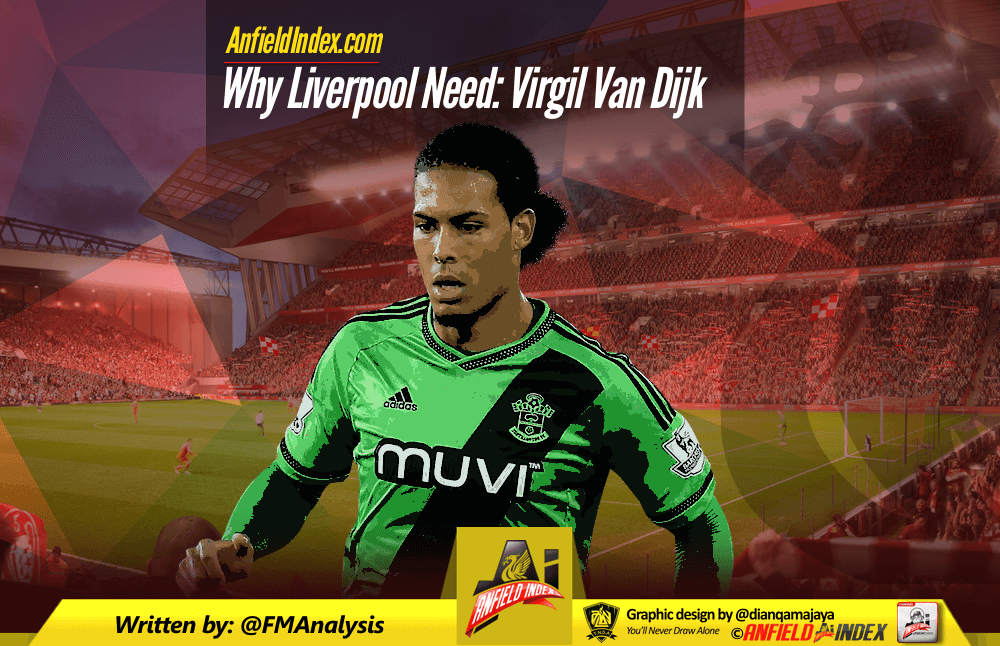 Why Liverpool Need: Virgil Van Dijk
There are few clubs in the game at the moment with a better track record for developing players than Southampton. If they had been able to prevent their former young prodigies from leaving the club then they would currently be able to boast the likes of Gareth Bale, Theo Walcott, Adam Lallana, Alex Oxlade-Chamberlain and Luke Shaw to name just a few. The latest name that is attracting scouts to the South coast of England is Virgil Van Dijk.
The Dutch centre-back has taken a somewhat circuitous route to get to this stage of his career having moved initially from his first club Groningen in the Netherlands to Celtic of Scotland he amassed well over 100 professional appearances before making his way to England and signing with Southampton.

Van Dijk is still only 25 now and is about to enter the prime of his career. His spells in Holland and Scotland exposed him first to professional football and with Celtic to European competition. These experiences have served to round the rough edges off of the Dutchman's game and leave a player that appears to have the perfect profile to play in the modern game.
Equally capable of playing as the left sided centre-back in a back four or as part of a back three, Van Dijk is quick and physically powerful with the composure and passing ability to contribute effectively in the attacking phase.
Earlier in his career Van Dijk was accused of almost being too casual in possession of the ball and taking too many risks. These issues have been largely eradicated as he has gained more experience in first team football. There was a point in which Van Dijk's temperament and attitude were questioned, his application in training was initially a cause for concern whilst he was at Groningen. Once again though these concerns stopped as the player got older and became more experienced.
There is little doubt that Van Dijk will be the next big money sale from the St Mary's stadium but what exactly can the buying club expect?
One on one defending
Defenders in top level European football have to be capable of defending in space. Whether their team is possession or transition based the spaces between the defensive lines and the goal have never been greater.
Opposition sides are now more technically and tactically advanced and better able to isolate defensive players in one on one battles with very quick and skilful attacking players. Defenders therefore have to be comfortable and capable of defending in space one on one against the attacking players.
As mentioned above Van Dijk is quick and powerful which gives him the capacity to cover large areas of space as well as the speed to recover should he be beaten initially by the attacking player or a vertical pass.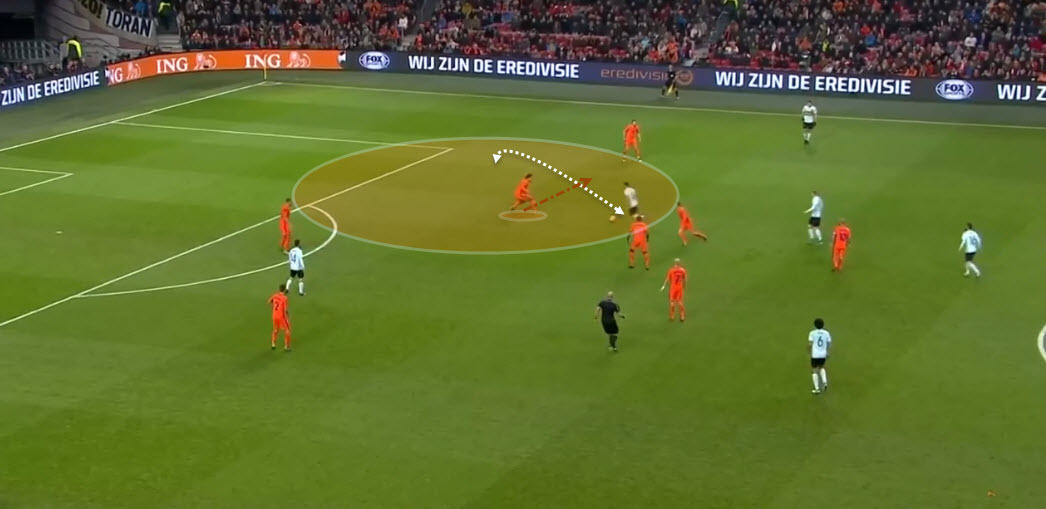 Playing for the Netherlands against Belgium we have highlighted Van Dijk defending as the left sided centre-back of a back four. As the man in possession is able to turn and face goal Van Dijk is isolated with little support or cover from either his fellow centre back or from the left back.
As the player in possession looks to drive past Van Dijk on his stronger left side he is able to time the challenge well to win the ball cleanly.
The defensive structure in this example from Netherlands leaves a lot to be desired, had the right centre-back and right-back moved across and tucked in then they would have been able to cover the space behind Van Dijk without leaving him exposed.
As the left sided centre-back in a system like that used by Liverpool, Van Dijk would be far more supported than we saw here.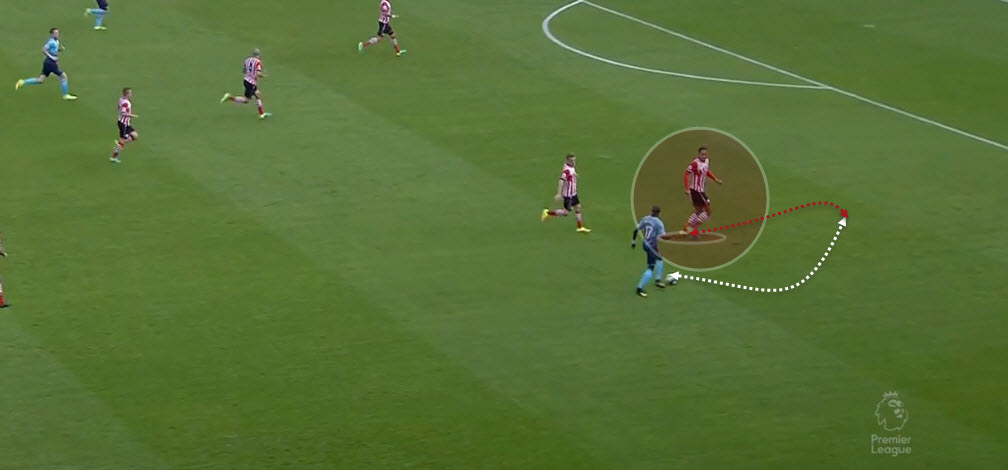 This time playing for Southampton Van Dijk again displays the capacity to challenge the ball carrier safely and win back possession.
This time he does have cover on his right hand side and he adopts the correct body position to encourage the man in possession to attempt to drive past his stronger left side. His position relevant to the man and the ball discourages a pass centrally and forces the man to move wider.
Once again Van Dijk is capable of winning the ball back efficiently.
Defensive cover
With teams like Liverpool relying more and more on playing with a high defensive line a player like Virgil Van Dijk would offer a perfect partner for Joel Matip in the centre of defence. With Matip preferring a more proactive defensive style and stepping out to meet the ball then having a player with the ability to play behind and around the defensive line is preferable.
As part of a back four Van Dijk is comfortable defending in advanced, deep and wide areas and on either his right or left side.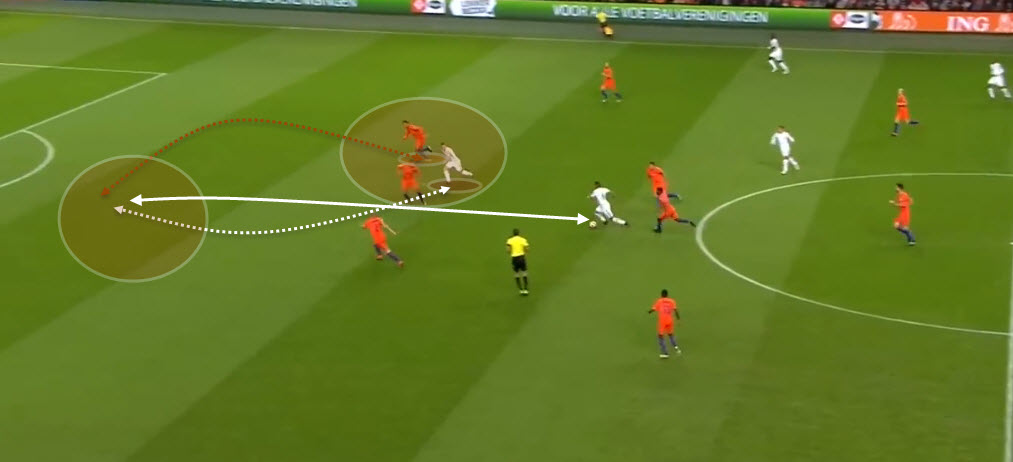 As Belgium attack down the centre of the pitch the defensive line for the Netherlands has become disjointed.
As the ball is played through the gap between the right back and right sided centre-back it is Van Dijk who has the pace and awareness to cover back and around his defensive colleagues in order to neutralise the immediate danger.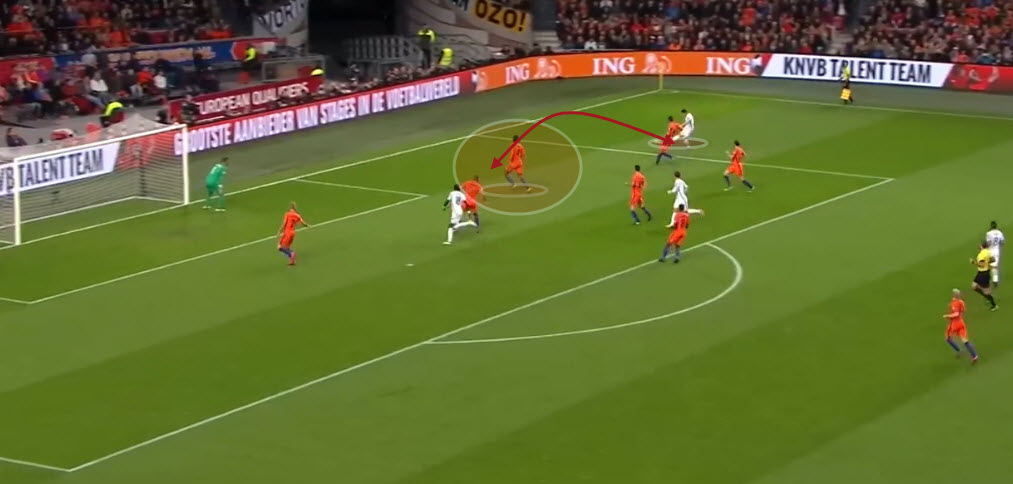 Here Belgium have managed to get behind the defensive line in the wide area. As the near sided centre-back and without a direct opponent to track, Van Dijk identifies the key defensive area and drops in to it. His positioning and the angle of his body means that he is perfectly positioned to cut out the cross before it can reach the danger area.
Van Dijk is comfortable covering space either left or right of his favoured position and displays well above average awareness in identifying dangerous situations.
Composure on the ball
As with many Dutch players Van Dijk is extremely comfortable in possession and with the ball at his feet. Unlike many defensive players though he is as capable of breaking the defensive lines of the opposition whilst running with the ball as he is by passing forward.
The composure and ability to take players on and move forward in to the middle third of the pitch can throw the defensive structure in to disarray and create spaces in advanced areas for his team mates to exploit.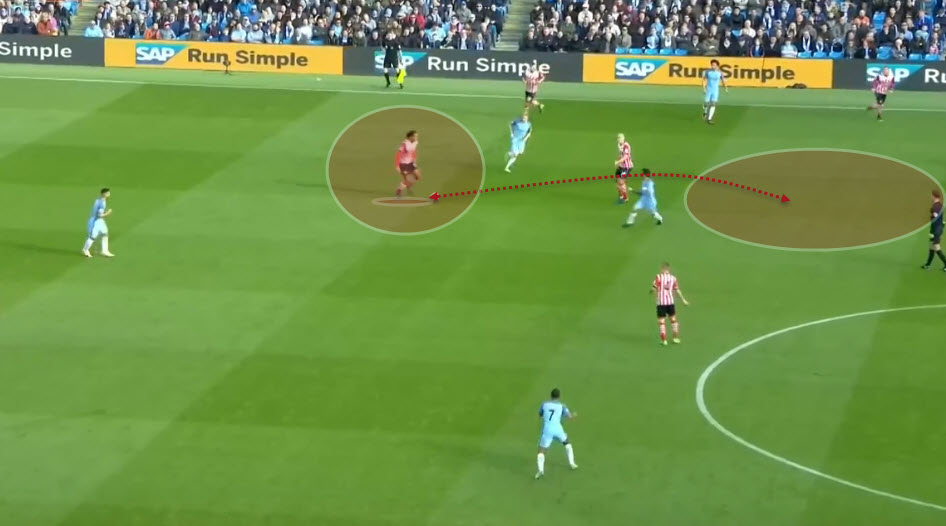 Here against Manchester City Van Dijk takes control of the ball in his own half. Instead of looking for the easy pass or indeed recycling the ball back to the goalkeeper he instead identifies the opportunity to drive through the initial press.
He drives through the gap between two pressing players with the ball at his feet before playing a vertical pass in to a dangerous area from the middle third of the field.
Centre backs with this ability are few and far between in top level football. Gerard Pique and John Stones have this ability but they have far higher profiles than Van Dijk.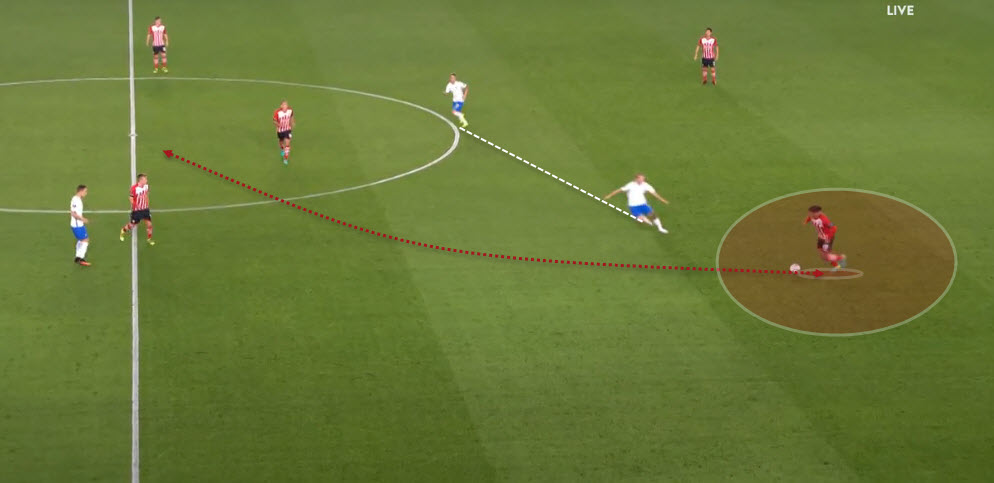 With a front two in the initial pressing line here the opposition have one player positioned close enough to put immediate pressure on Van Dijk in possession.
Instead of moving the ball forwards to the closest midfielder or across to his defensive partner Van Dijk instead uses his pace to drive past the initial press. He then moves in to a central position in the middle third where he is able to inflict maximum damage with his passing ability.
Vision and passing
What makes Van Dijk such a dangerous player with the ball at his feet is his versatility. If he is pressed then he can move past the press and play in to advanced areas. If the opposition stand off him though then Van Dijk has the ability to play dangerous passes over a range of distances that can through defensive structures off guard.
We have already seen this season how dangerous Joel Matip is for Liverpool with his ability to move forwards and play the ball through the defensive lines, having two centre-backs with that ability would make it extremely difficult to effectively defend against them in possession.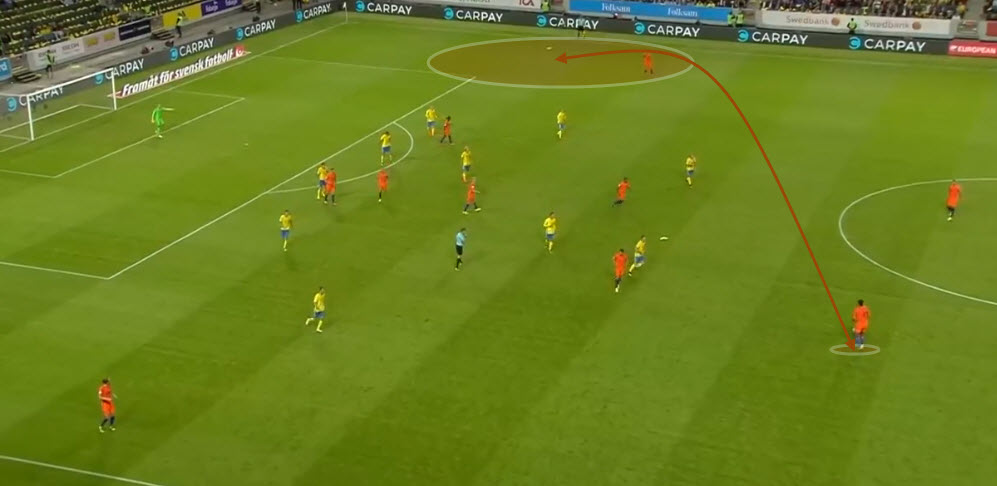 The Swedish side have dropped in to an extremely low defensive block with every player in the team positioned behind the ball.
As Van Dijk takes possession of the ball he quickly identifies the weakness in the defensive structure and more importantly he has the ability to capitalise on that weakness with a direct and accurate pass diagonally across the width of the pitch.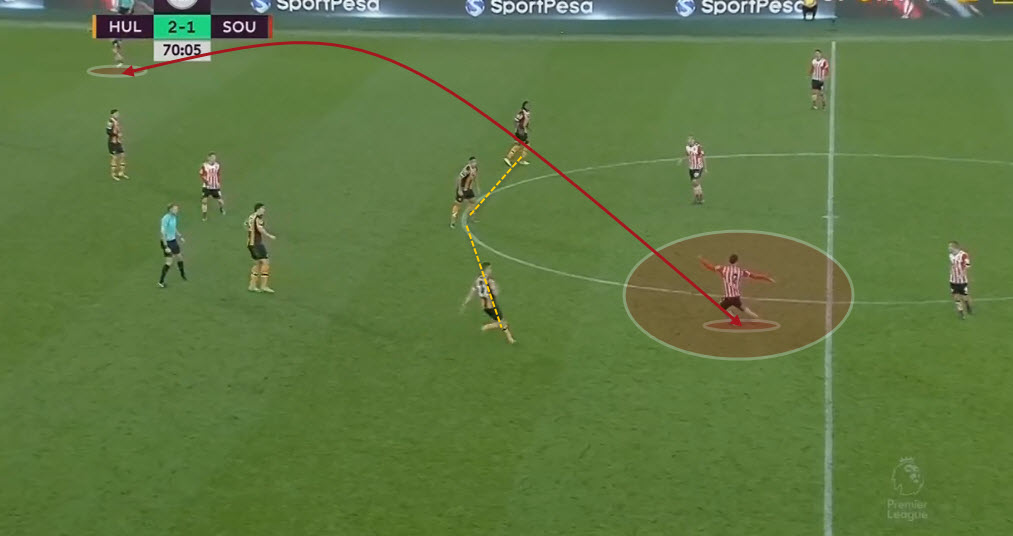 As Hull City stand off Van Dijk in possession of the ball he shows again just how dangerous he is with the ball at his feet.
Again he identifies the structure in front of him and once again the weakness lies in the wide areas. He drops the accurate pass diagonally over the opposition midfield and allows his team mate to take possession in an advanced area.
Conclusion
Virgil Van Dijk will not be on the south coast for much longer. We can expect to see some of European football's biggest sides moving for him sooner rather than later.
He possesses a rare skill set that fit the modern game perfectly. There are still raw edges to his play in certain situations and he can be caught in possession from time to time. Those issues are more than counter balanced by the ability to play through defensive structures in possession and his defensive ability and versatility.
We know from past experience that Southampton will not sell cheaply, that should not however be enough to deter the likes of Liverpool from moving for the Dutch defender.