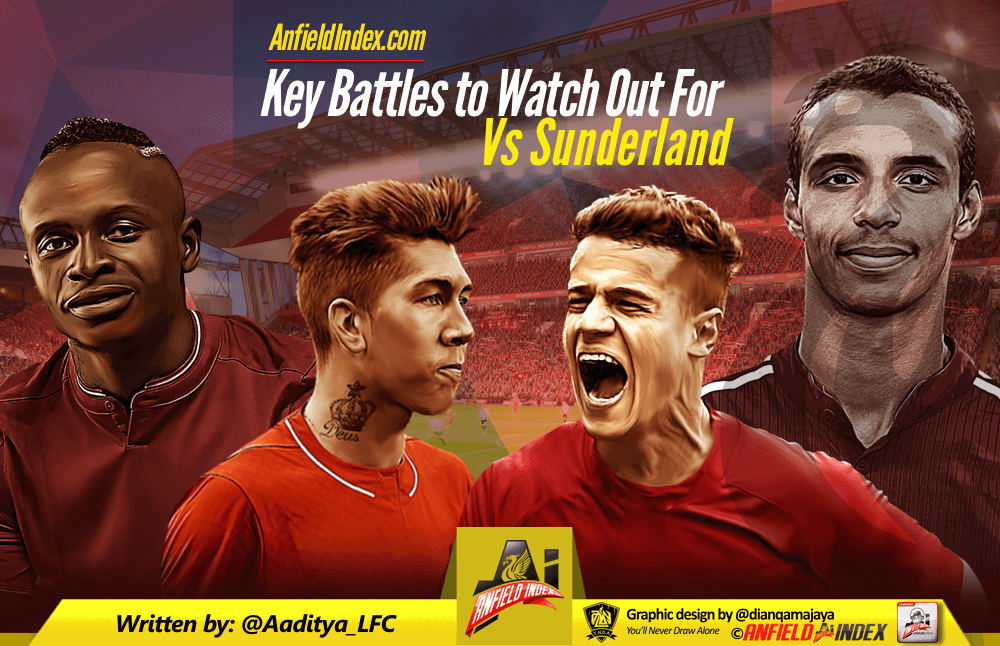 Liverpool v Sunderland - Key Battles
After a frustrating Saturday afternoon at St. Mary's where Liverpool did everything but find the back of the net, it is back to Anfield for the Reds, as they welcome cellar dwellers Sunderland. David Moyes's men are confident after a rousing 3-0 win over Hull City, but they will definitely face a completely different proposition in Merseyside on Saturday as the Reds look to get back to winning ways.
Jurgen Klopp has stressed on the fact that the performance against Southampton left him with nothing to panic about, and it is up to the players to show him that the finishing on that afternoon was just a one off.
Here are the individual battles that I think will decide the outcome of the game.

Sadio Mane v Patrick Van Aanholt
Against his former club, Mane had a quiet game. But even there, he should have given us a first-half lead, when he went through on goal only to be thwarted by Virgil Van Dijk. This time, it is up to another Dutchman, Van Aanholt, to keep a close watch on the Senegalese and ensure he doesn't wreak havoc.
Once again, Mane will be important for Liverpool because Sunderland will sit back, pack Liverpool's attacking half with numbers and ensure they cut out the space for Liverpool's attackers. In those situations, Mane's pace and trickery will be extremely crucial for us to get in behind the Sunderland defense. Van Aanholt has been crucial for Sunderland for a while now. Last season, he was extremely crucial as he popped up with important goals to ensure that the Black Cats avoided the drop. In this game, Moyes will be happy for him to shun those offensive responsibilities and stick to his primary role.
It is imperative for Van Aanholt to keep his concentration through the ninety minutes as it is not just Mane that he will have to deal with. Nathaniel Clyne will get forward at every opportunity and Roberto Firmino will keep moving across the pitch to try and get on the ball and make an impact.
For Mane, there will be no dearth of support. The likes of Emre Can, Gini Wijnaldum and Philippe Coutinho will get up in support in and around the penalty area, and more than anything, this game could be about Mane's decision-making and ensuring that he picks the right moment to run at the Sunderland defense, or play it into a teammate in a better position.
Liverpool's attackers v Jordan Pickford
The young Englishman has made a huge impact at Sunderland, even though they have let a fair number of goals in. Gareth Southgate did not ignore that when he called Pickford up for the most recent England games.
At Anfield on Saturday, Pickford can rest assured that he will not have an easy afternoon. Liverpool will test him, and it will be very interesting to see how he copes up with the threat. The likes of Firmino, Coutinho and Mane left their shooting boots outside St. Mary's and will be eager to set the record straight. To be fair, the game was the first after an international break where they had a reasonable amount of travel and the tiredness could have played a factor in their profligacy in front of goal.
However, for Liverpool, there will be no such excuses on Saturday. Given that the game is at home and given Sunderland's lowly position, Liverpool have got to win – there is no reason to expect anything else.
The sheer relentlessness that Jurgen Klopp has built into this team means that they will be raring to go, but when they do hit their shots, it is important that they test Pickford as often as possible. Even though he has given a very good account of himself so far, he is still young and pressure can do unimaginable things to any footballer, however experienced.
Joel Matip v Jermain Defoe
Without Defoe, Sunderland would not be in the Premier League now, it is as simple as that. Without Matip, there wouldn't be the confidence that there is surrounding Liverpool's defense right now. At Southampton, there wasn't much for Matip or any of the Liverpool defenders to do. But when they were called into action, the response was convincing, particularly from Matip and Dejan Lovren.
The challenge that Defoe poses is simple to see, but stopping it is a completely different proposition. He is a very uncomplicated striker. He hovers in and around the box and if given space, he will more often than not make the opposition pay. Therefore, Matip has got to stay focused.
Focus is the key because I expect Liverpool to have a large amount of possession and when Sunderland do get the ball, they will try to find Defoe at every opportunity. He might have lost a little bit of the pace that he used to possess but he is still one of the best in the business. There is no apparent weakness in his game.
So, for Matip and Lovren, it is about putting him under as much pressure as possible and nullifying his impact. IN recent games, Defoe has been helped by Victor Anichebe, who despite a broken rib, has taken a bit of the goal-scoring responsibilities off Defoe's shoulders.
Philippe Coutinho v Billy Jones
Jurgen Klopp's Liverpool is a team in the true sense of the word. But Coutinho is the man who makes the team tick. He looked jaded at St. Mary's after his exploits with Brazil in South America over the international break, but one can be assured that he has had enough rest and is raring to go again.
Specifically in these kinds of games, where the opposition is expected to sit back and soak up the pressure, Coutinho's speed of thought and his inventiveness will be crucial. This is akin to the West Brom game, where we were finding it hard to break them down, until a moment of inspiration from the little magician opened the game up for Mane to score our opener.
That is what Coutinho can do, and Jones needs to be at the top of his powers, and even that might not help. Coutinho is heading into the class of players where the opposition knows what he is going to do, but stopping him is a completely different proposition.
In a game where Sunderland would happily take a point, Coutinho will be Liverpool's most important option to ensure that they take none and that three points are taken at the fortress once again.