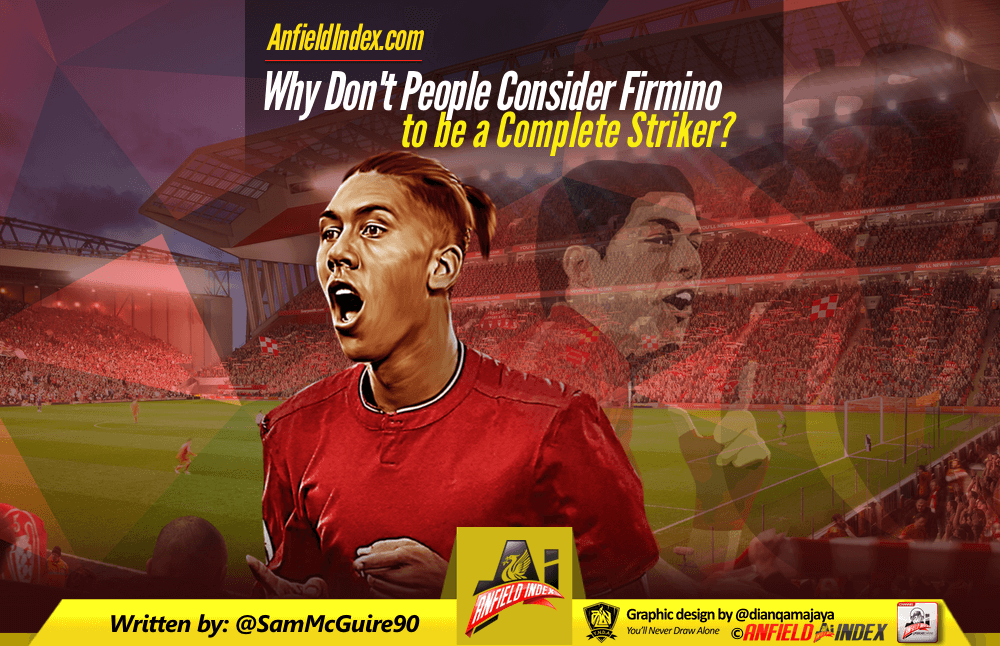 Why Don't People Consider Firmino to be a Complete Striker?

Originally, a False 9 was a lone striker who, instead of staying high up the pitch like a traditional striker, would drop into midfield and look to drag the centre-back pairing into areas they weren't comfortable in to enable teammates to exploit the space they had created. Cesc Fabregas played it for Spain. Pep Guardiola used Lionel Messi in that role. Francesco Totti excelled in it for Roma. Even Manchester United used a variation of it with when they had Wayne Rooney, Carlos Tevez and Cristiano Ronaldo interchanging throughout.
Since then though football has evolved and strikers have adapted. Traditional number 9's, the good ones anyway, have looked at what False 9's do and it's now kind of been rolled into a package deal. So they've simply added that aspect to their game. For quite some time now some of the best strikers in Europe will run the channels, drop deep to link play and look to harass the oppositions defence to help their team out defensively. Luis Suarez, Sergio Aguero, Robert Lewandowski, Alvaro Morata, and, depending on how highly you rate him, Harry Kane are all these modern day strikers. They've added the above traits to their game to go alongside their aerial ability, playing on the shoulder of the last man and getting into the area to finish off chances.
They're all considered top class strikers, so why isn't Roberto Firmino? Why do fans, media and pundits continuously call him a False 9? There's nothing false about the 15 goals he's scored and 10 assists he has to his name in the league since Klopp was appointed as Liverpool manager is there?
Firmino may not score 20/30 per season like the aforementioned bunch and he may not be as prolific but his output, work rate, defensive contribution and the fact he fits in perfectly with the style Klopp wants to use makes him priceless. He is Klopp's ideal forward. Not his ideal faux/fake/false/fraudulent forward.
Firmino the Forward and Suarez the Striker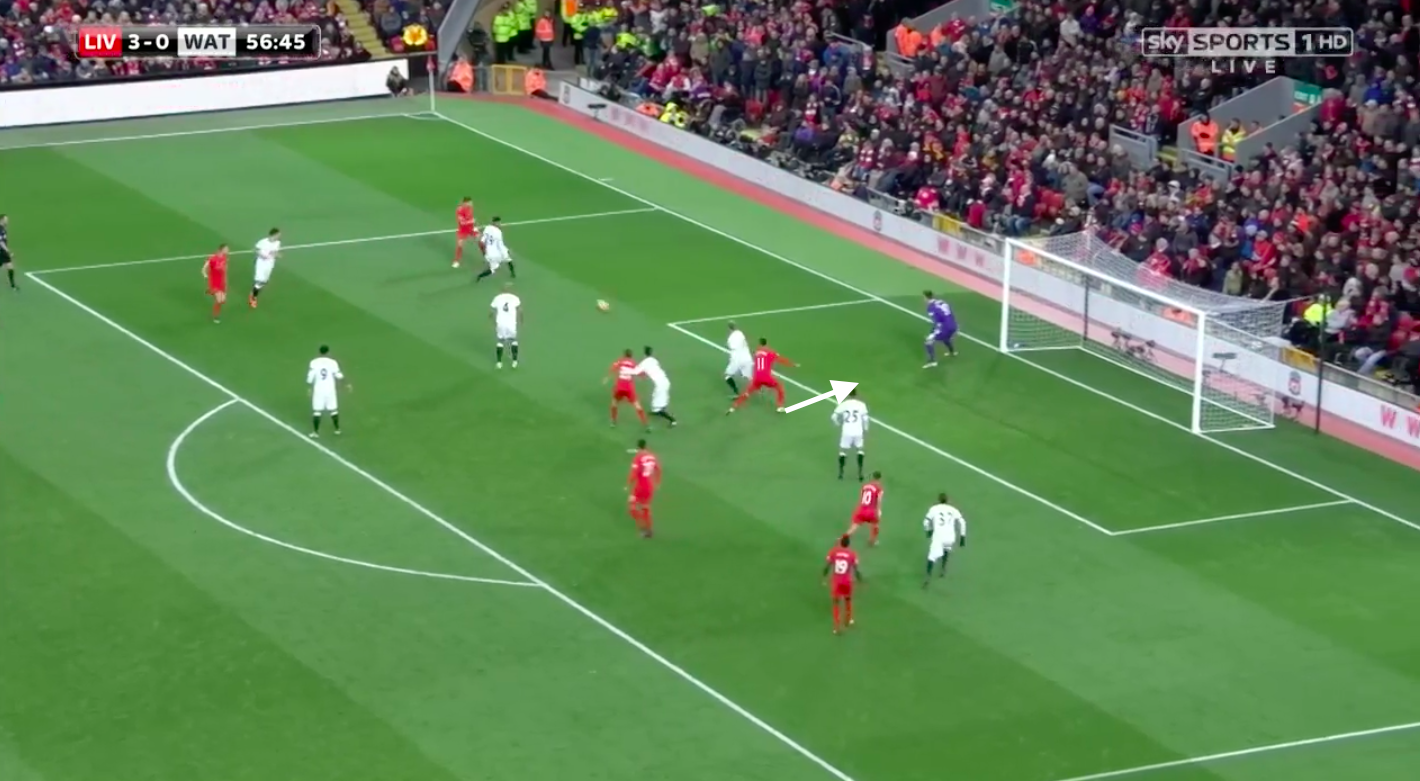 In the above picture, taken just before Firmino passes the ball home against Watford, you can see his movement and desire to get onto the end of the Adam Lallana cross. As good as Lallana's cross is that goal only happens because of Firmino's hunger to get onto the end of it. He showed a strikers instinct. It's easy to say it's a tap-in but a) he's in the box and b) he times his run to perfection.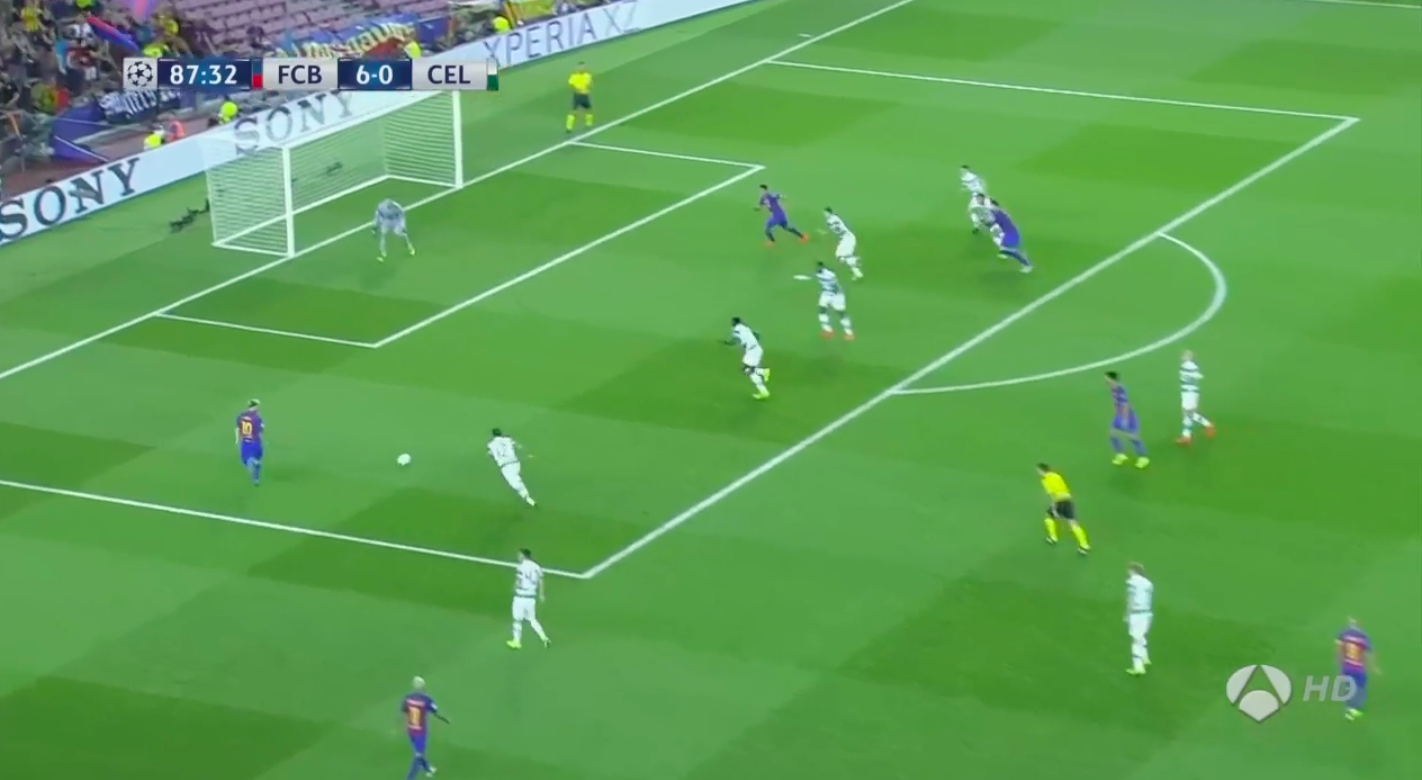 ..and it's not too dissimilar to Suarez's goal against Celtic in the picture above. Ends up being a tap in for the former Red and the build up play prior is superb but without Suarez's movement that's not a guaranteed goal.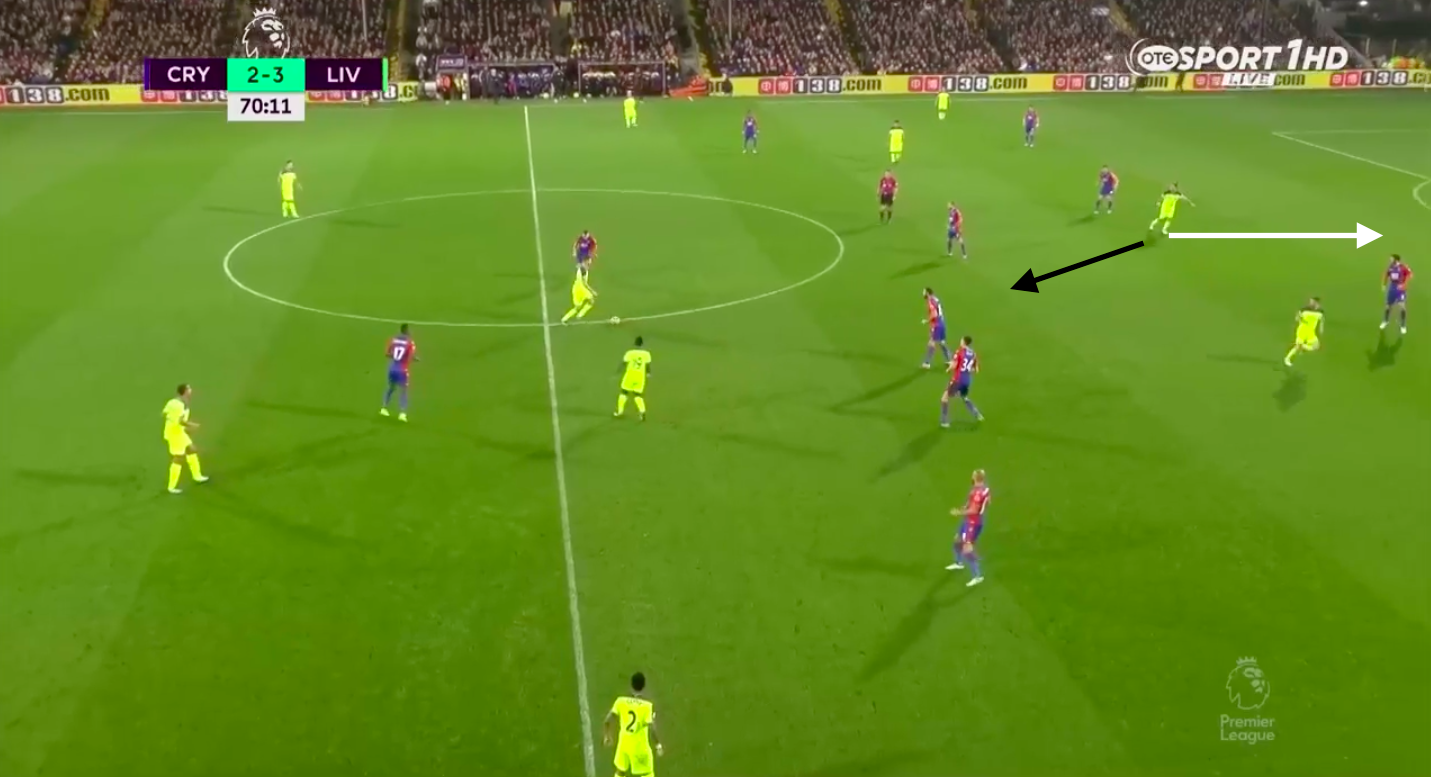 This time the picture above is from the build-up to Firmino's goal against Palace to seal the win for Liverpool. Once again the goal looks easy after Lallana's run drags Tomkins out and creates space for Firmino and the Henderson pass is weighted to perfection. All Firmino has to do is finish. But again he shows his goal scoring instincts to make that run (shown by the white arrow) instead of perhaps dropping into the space ahead of him and receiving the ball to feet (shown by the black arrow) like many who are unfamiliar with the striking role may do.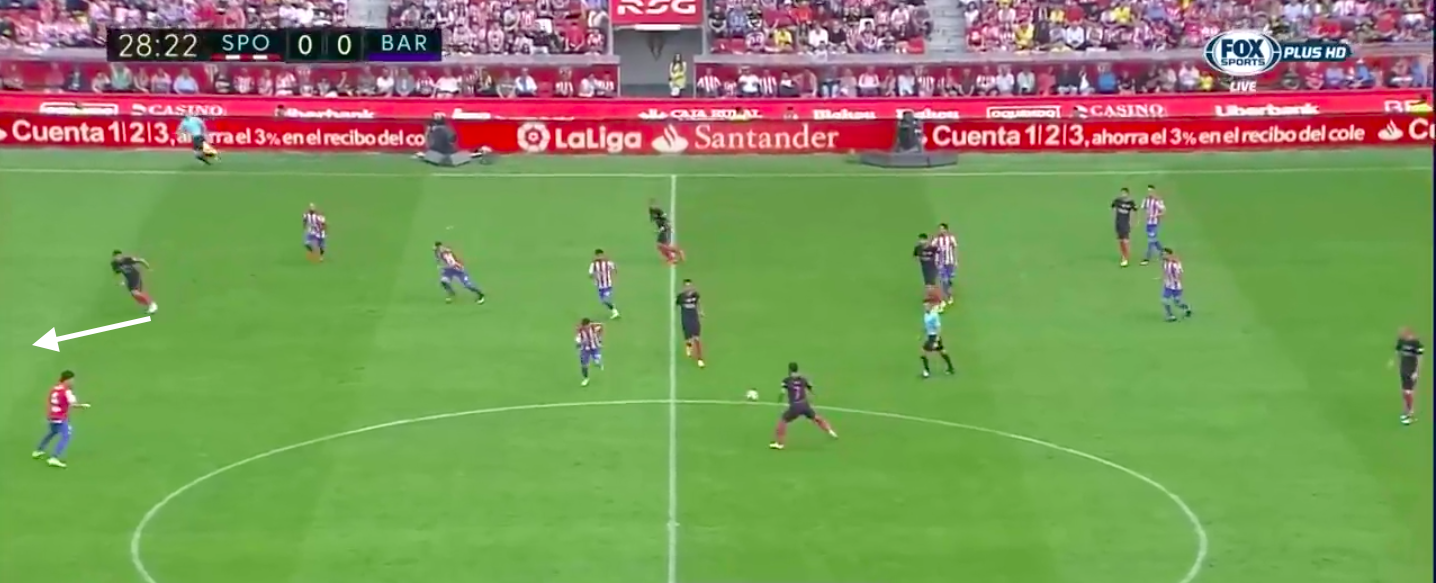 Could Firmino's goal against Palace be compared to the one Suarez scored against Sporting shown in the picture above? He times his run so he's onside and exploits the space just like Liverpool's number 11 did.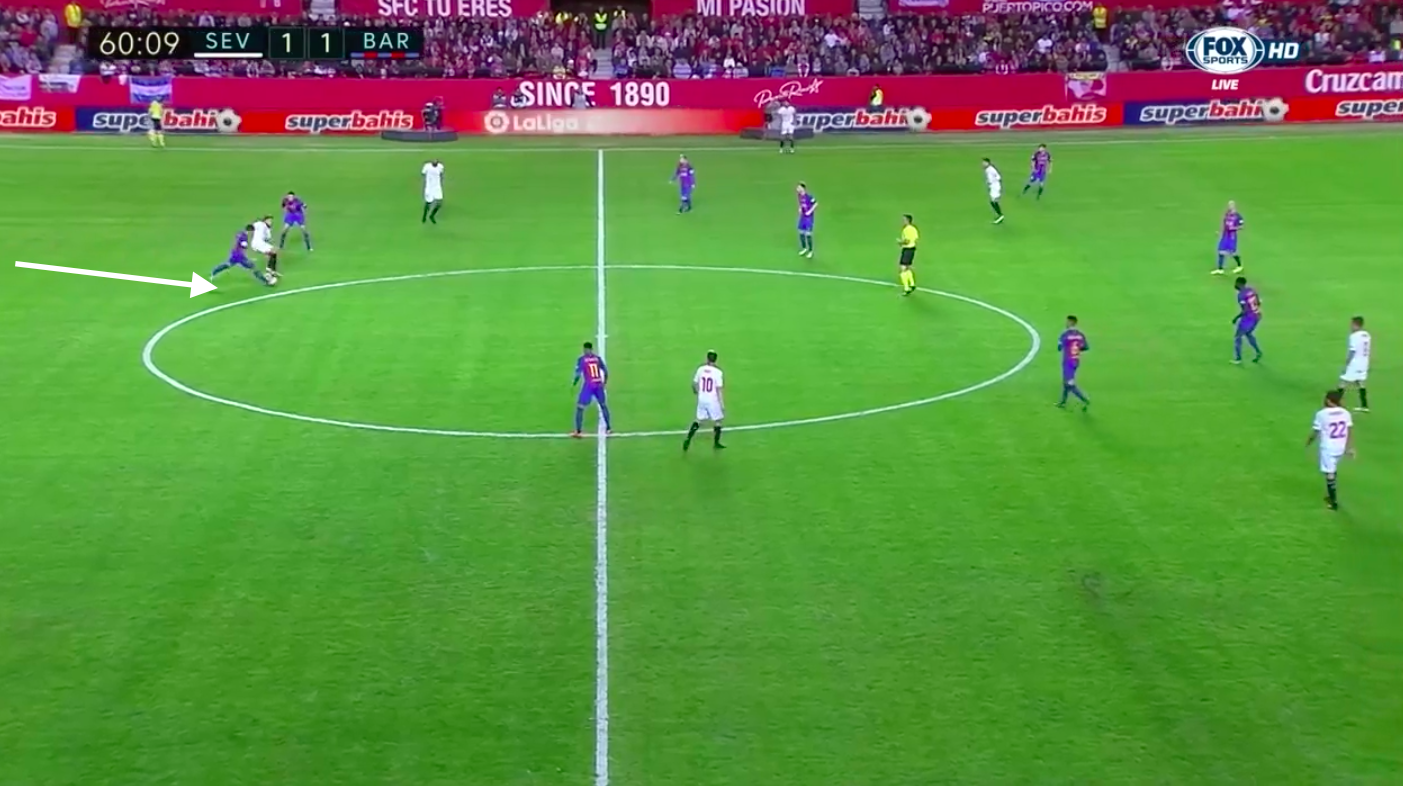 The picture above is taken from the build-up to Barcelona's winning goal against Sevilla. Suarez has tracked back, highlighted by the white arrow, and tackles the Sevilla man. The ball is worked to Messi and Barcelona look to spring a counter. Suarez drives into space, Messi picks him out and the Uruguayan finishes to give Barca the win. Firmino does just that for Liverpool. 
I'm not for a moment suggesting Firmino is in Suarez's class but how can one be considered one of the best number 9's in world football and one is still being classed as a false 9 when they play similar roles?
Firmino is becoming a bit of a handful in the air too these days. He's not the tallest player but he wins his fair share of headers – 1.6 aerial duels per 90 minutes – and he's already scored headers against Swansea and Burton. It seems his aerial contribution against Watford went unnoticed too for the Emre Can goal. Karius opted to go long and Firmino won the aerial battle and flicked it on to Lallana who worked the space and put a cross in for Can to head home. It's almost like Liverpool went route one for once despite not having a big man up top much to the disdain of many pundits.
The media have just tagged any player that isn't a recognised forward from birth as a False 9, regardless of whether they do exactly the same job as a £50 million striker. Liverpool aren't playing a strikerless system. It's just people are finding it hard to get past the fact Firmino hasn't always been a striker. When Steven Gerrard transitioned from an attacking midfielder to a deeper one did people call him a false midfielder? Is James Milner a false left-back? Why is one accepted whereas the other isn't?
Liverpool don't just one have of Europe's best strikers, they've got two. It just so happens Sturridge and Firmino are completely different stylistically.