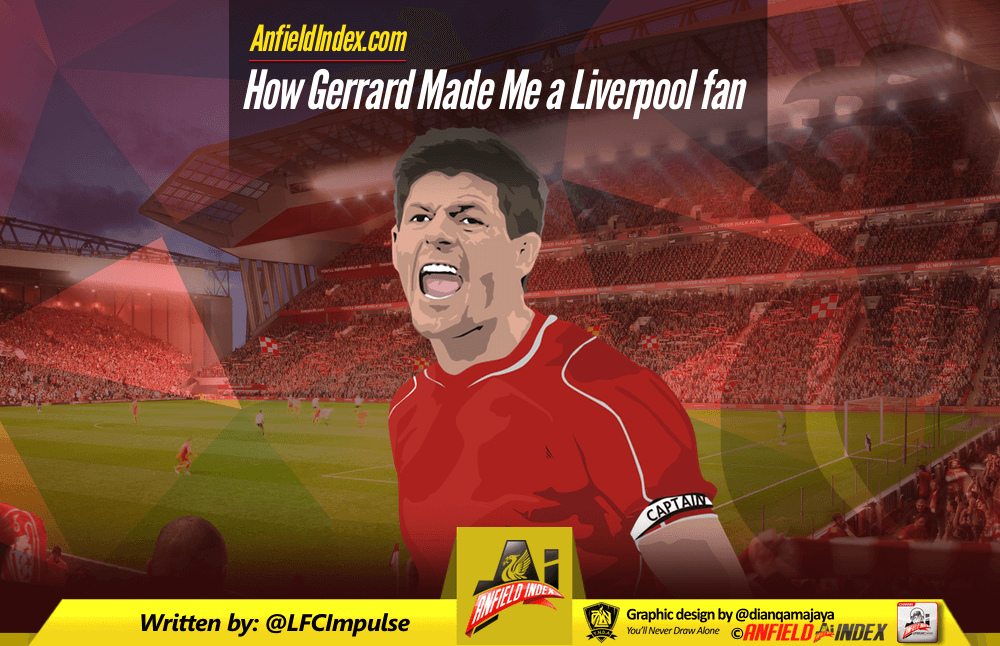 How Gerrard Made Me a Liverpool Fan
This article is going to be a lot different than what I normally write up or tweet. It's not going to be an analysis, it's not going to be a tactical discussion, it's not going to be a player profile, and it's not going to be an opinionated piece that gets people to churn their thoughts.
In light of Steven Gerrard's retirement from football as a professional player, I felt it was only right to honour the incredible journey of Steven Gerrard in my own words and how he has impacted me. So if you're not interested in how a player can impact a humble fan like myself, then this article isn't going to be for you, but nevertheless, this is my guilty pleasure – my way of getting things off my chest.
---
I grew up playing football at a very casual level. I was as far from being a "pro" as one can imagine, given that my playing time was limited to a bunch of kids who just showed up to a nearby football field every evening. This field had no proper goal posts with proper netting, it didn't have proper lines being drawn up, the pitch was uneven with several holes here and there – it was rough, but that's what made it all the better. The goal was literally a tree stump or a traffic cone, whereby kicking the ball to hit the stump or cone would result in a goal.

There were no proper goalkeepers – just a man standing within somewhat close to the "goal". There were no fixed positions – everyone was a striker, midfielder, defender, and wide player all at the same time. There were no referees, where fouls would be called by the player, much like in pick-up basketball. Offside rule? No one had time for that.
In short, it was football stripped down to be as casual and nonchalant as it can get, but that was my childhood experience of playing it and it stopped when I was 11-years old, with the older kids I played with all going to secondary school and no longer having time to meet up in the evenings anymore. That was the last taste of football for me.
That was also the year 2005, when Liverpool would go on to win the Champions League. The morning after, my father storied to me about how his team had just won the biggest accolade one could win in club football in Europe, and in the stunning fashion which needs no repeating. He mentioned Jerzy Dudek's unorthodox penalty-saving dance moves and also the never-give-up attitude of the captain whose name I didn't hear for the first time, and it wouldn't have been my last. Steven Gerrard – the man with long-shot ability, the engine of the Liverpool midfield, and the one with the Scouse accent which made it difficult for Easterners to understand – those were some of the descriptions I've heard over the years from my Dad.
Fast forward to the year 2007, where I still hadn't watched football as much as many others would. Again, my Dad had just storied to me about how England bowed out in the qualifiers for EURO 2008 and how frustrated he was by that simply because Gerrard was part of that England national team at that time and how he, among many England players, have disappointed the nation. That story was the most important of them all.
For some reason or another, that made me decide to watch my first full game of football on the same day, as a 13-year old son with my Dad. The game that night? Liverpool versus Newcastle United, playing in St. James' Park. Liverpool got a free-kick awarded to them, John Arne Riise rolled the ball with the sole of his boot as the whistle sounded, and Steven Gerrard – the man I've heard tales about – fired an unstoppable crackerjack of a shot into the top corner of the goal.
[Video Link: https://youtu.be/yBIinsyAnF4]
Then my dad turned to me and said, "Boy, this is what I've been telling you about". My eyes lit up as Gerrard ran across the pitch to celebrate his goal, and the rest – as they say – is history. My mind was made – I'm supporting Liverpool because that man is playing for this club. Since then, watching football was all I did on the weekends and researching about both past and present players took over my free time on weekdays.
Over the years, I've watched almost every Liverpool game which was shown on television – even the Champions League games which aired at 3:00am on a weekday, and I still got mesmerized by each and every goal scored by Steven Gerrard. The volley against Marseille? My favourite Stevie G goal of all time. The grounder which went past Júlio César against Inter Milan? I can still hear the sound of the post being hit by the strongly-struck ball until today. I've enjoyed each and every goal scored by him up until his last one against Stoke.
As luck would have it, however, I've not been fortunate enough to meet Steven Gerrard in person. In 2009, I travelled to Singapore for the sole purpose of watching the Reds as they made their way to Asia on a pre-season tour. At the same time, Gerrard was facing allegations of assault in a nightclub brawl in Newcastle. In 2011, I bought tickets to watch them in Stadium Nasional Bukit Jalil right here in Malaysia before Gerrard was stricken with injury and stayed back to rehabilitate from it. It was not until 2015 when Liverpool came back to Malaysia, but by then, Gerrard had already parted ways with the club.
While I've missed out on the chance to watch Stevie G play in a Liverpool kit with my own two eyes, it's needless to say that it would've been difficult to say if I would be a Liverpool supporter today if it weren't for the tales being told by my father about Steven Gerrard, or if I had watched any game other than that particular one on that Saturday in 2007.  But if there was only one way of being a Liverpool supporter in my era of watching the sport, I wouldn't trade mine for any other way in the world.
What I enjoy about football today – tactics, coaching styles and philosophies, watching players from different clubs and nations, and of course, watching Liverpool games week in and out – it all stemmed from one person. Without Steven Gerrard, I wouldn't have been as big a football fan as I am today and I would've missed out on collecting the plentiful of great memories from watching football and Liverpool, especially, if it weren't for him.
With that said, a note of congratulations, good luck wishes, and thanks are in order; to an illustrious career filled with achievements and accolades all around, to success beyond his playing career, and to all of the brilliant, unforgettable moments respectively. There will never be another "Steven Gerrard" for me, simply because there will never be a player I'll watch on the four corners of my television in my humble home which will influence me like he did.
And that is my story of becoming a football fan and a Liverpool supporter: the one which began with a marvelous goal from Steven Gerrard, the commentator's celebration of the goal, and the words which my Dad said to me after the fact, on the 24th of November, in the year 2007, on a Saturday night like any other.
Or so I thought.