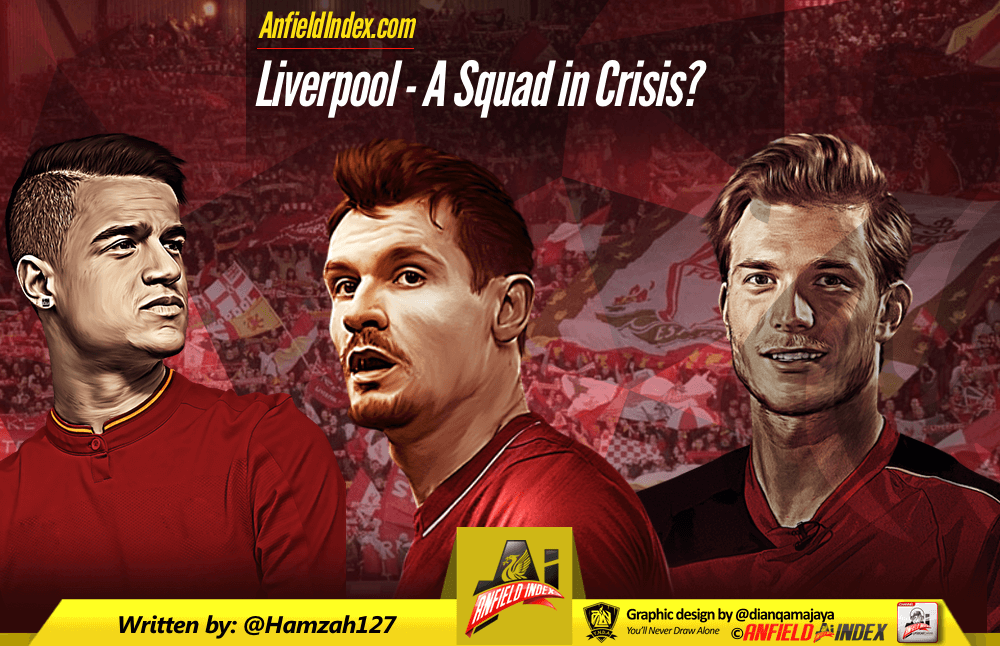 Liverpool - A Squad in Crisis?
A mere few weeks ago Liverpool were well and truly flying, yet a flurry of injuries, including one to Phillipe Coutinho, suddenly dampened the mood around Anfield, and the recent humiliating defeat to Bournemouth only sought to worsen the atmosphere surrounding Liverpool FC. But with the January transfer window approaching, and with Mané soon to depart for the African Cup of Nations, Liverpool, for a club that appeared blessed with attacking talent, suddenly seem desperately short. Yet, a League Cup appearance and début goal for Ben Woodburn, alongside Klopp's record for offering chances to the youth team, leads to the question of whether Klopp should and will look to the youth team in January, or, if Klopp should look to seek reinforcements from the transfer market.
In the past two months, Liverpool looked as if they had too many attacking talents, with Daniel Sturridge and Divock Origi both unable to make the starting XI, whilst Emre Can and Wijnaldum both had to experience spells on the bench; but with a potential fixture pileup likely in January and February, is it time for Liverpool to look for reinforcements.
When considering whether Liverpool should seek more players from the market, it is important to not be too hasty and eager to sign new players. As noted above, Liverpool arguably had too many attacking players for Klopp's system, and the recent defeat to Bournemouth has led to an exaggeration of the plight Liverpool has found itself in.

Indeed, after the loss to Bournemouth, cries rang out across social media for Karius' head, and for Mignolet to come in to replace him in the starting XI. Surely, from an objective viewpoint, these demands are premature? Admittedly, Karius did not have a good game, and was directly at fault for the fourth Bournemouth goal, yet unlike any other player on the field, when a goalkeeper is having a poor game, the manager cannot simply substitute them off, and when left as exposed as he was, by his defence, a keeper can hardly be confident. Karius is still young and developing, and we, as fans, should have enough faith in Klopp and his team, renowned across the world for their ability to spot and nurture talent, to have made the right decision here to select him, and to keep selecting him. As for whether Liverpool should look for a new goalkeeper in January, we must first note that Karius has barely had half a season to prove himself, having been injured, whilst Mignolet, this season, has been of a good enough standard to merit earning a call-up should Klopp choose to move Karius to the bench. We must also consider the effect of such a move in terms of Mignolet and Karius' own morale and confidence; Klopp stated that Karius was his first choice, and Mignolet has been of the understanding that if he trains well, he will earn a position in the starting XI – if Klopp were to ignore this, it would be at a huge detriment to their confidence and trust in the manager, which no doubt would have long-term repercussions. Additionally, we must consider what other options are there in the transfer market? Admittedly, the footballing world is blessed with a variety of outstanding goalkeepers at this moment, but which player would make a genuine improvement to the team and would be available/able to leave – considering that most of these goalkeepers are at top-level European teams, of which they are a crucial fixture to. For instance, the chance of attaining a genuine world-class goalkeeper that would make a clear improvement on Karius or Mignolet, such as Spurs' Lloris, or De Gea, Courtois, Cech and Bravo is minute. Whilst on the continent, Ter Stegen, Neuer, Oblak, Navas etc. are all at top clubs, who will not sell a key asset; so the only option would be to look for very young promising players, or older more experienced ones, such as Casillas and Buffon, both of whom are extremely unlikely to leave, and are also likely to retire soon anyway. When looking at young promising goalkeepers though, there are a few, such as AC Milan's Donnurumma, Köln's Timo Horn, or Leverkusen's Leno; yet all these players are still developing, and when looking at the competition at Liverpool – with Karius and Mignolet there – they would find themselves wondering if moving to Liverpool would deprive them of key development time on the pitch, and with a challenge that, at this point in their careers, they do not need.
Perhaps, if Klopp is really looking for another goalkeeping option, which I very much doubt anyway, he may look to Danny Ward, who was sent out on loan, and impressed whilst on loan last season. This would pose an intriguing proposition, with Ward having little to lose, and the chance to establish himself, but that being said, again, the confidence of Karius, who is meant to be Liverpool's keeper for the future would be damaged, and this is a very unlikely prospect anyhow.
The 4-3 loss to Bournemouth though didn't just draw attention to Karius though – Liverpool's defensive deficiencies were in full sight again, with Lucas employed at centre-back as cover for Matip, ahead of Klavan, and alongside Lovren. Klopp's decision to employ Lucas at centre-back ahead of Klavan is damning – clearly, Klopp feels that he has not brought the quality or competition to the squad that he anticipated that he would, whilst Lovren's performance, in the absence of Matip left much to be desired.
Southampton's Van Dijk has been touted as a quick fix, and admittedly, he does possess the qualities and experience to do well at Liverpool, but new reports have recently emerged regarding Matip, suggesting that he will return to the Cameroon national side for the African Cup of Nations, presenting Liverpool with a fresh defensive crisis for January. Clearly, as Klopp has little faith in Klavan, Lovren struggling without Matip alongside him, and as Lucas not a natural centre-back, it would make sense to enter the transfer market and buy a strong, composed centre back, such as Van Dijk, or Jonathan Tah from Germany for instance, however, buying two, to cope with Matip's absence in January seems excessive, and it may be best if Klopp, instead of looking to the transfer market, rewards his youth team, or younger players, such as Joe Gomez, who has been on the periphery, due to his recovery from his injury, which would likely incentivise his youth players, and pave a clear path for future progression too.
Liverpool's midfield depth is probably the strongest area, boasting Henderson, Can, Wijnaldum and Lallana, whilst Milner, Lucas and Grujic all wish to play there too – but out wide, on the wing, is where Liverpool lack real bite, as Mané has been ineffective in recent weeks, Firmino does not provide real width and pace, and there are no real alternatives that pose a pacey threat to opposition teams. However, if Klopp were to buy a winger, such as Christian Pulisic for example, an issue with the squad would arise – as noted earlier, Liverpool already have a wealth of attacking options, with Sturridge and Origi struggling to earn a starting spot in the first few months of the season. If another winger was added to the team, of starting quality, Liverpool's squad would be too congested, with unhappy players, stuck on the bench, unable to develop. In this instance, considering that by the end of the AFCON, in February, we expect the currently injured Liverpool forwards to be fit, it would be best for Klopp to entrust the role of providing width and pace to either Sheyi Ojo or Ovie Ejaria, especially as there's two young wingers that could be rotated, should one not deliver the desired performances. This, again, would send a promising message to Liverpool's younger players, but would also be a fantastic opportunity for two players with very real potential.
It seems in defence, the best option would be to pursue purchasing a new centre-back, with Lovren still looking shaky without Matip, who may depart for the AFCON soon, alongside him – something that is simply unsustainable, whilst Klavan and Lucas do not provide adequate competition or cover. However, instead of replacing Lovren and Klavan with new recruitments, the best approach may be to sign one new centre back, and promote either a player from the youth teams, or to give Joe Gomez some more game time; although the issue at left back still needs to be addressed – however, having only seen a small sample of Moreno this season, I cannot make an educated judgement on the best move forward in that position. The only other real issue for Liverpool is that of forwards – Liverpool do not need another striker, despite Daniel Sturidge's injury record, as Firmino has the capacity to play as a false nine, and Liverpool are fortunate to have goalscorers in multiple positions across the pitch, however the issue is that of width, and instead of recruiting from the transfer market in this instance, as Mané will return by February, it is probably best to promote from within the ranks, and with Ojo and Ejaria both having previous experience under Klopp, it would be pleasing to see them push into the starting XI, and provide a challenge for Mané once he returns from the AFCON, with much less discontent amongst the players, were a new signing to be made.