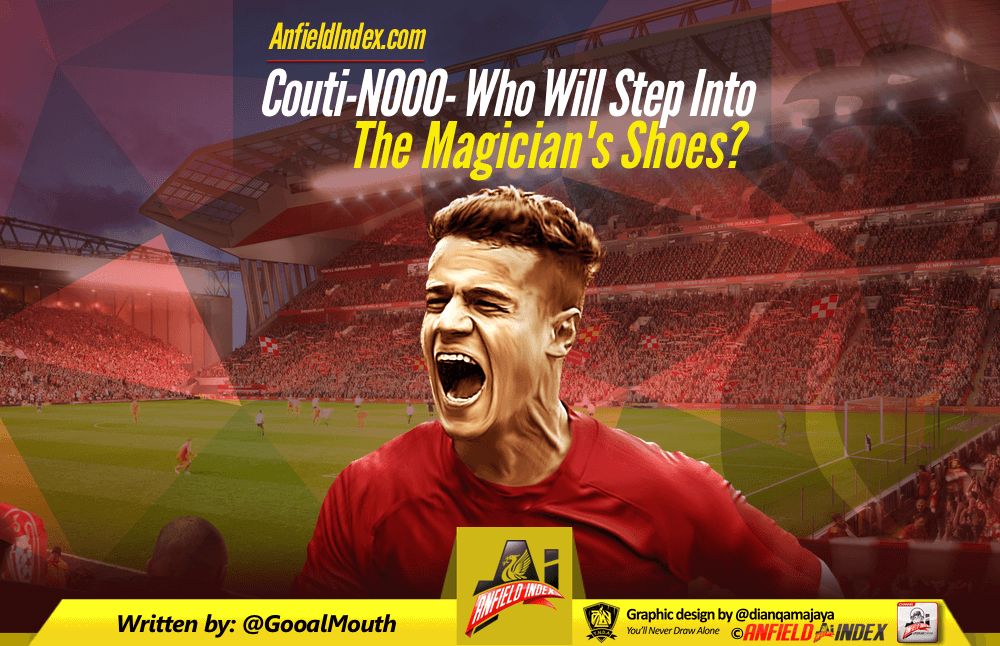 Couti-NOOO- Who Will Step Into The Magician's Shoes?
"If we win the next game then I'll believe we can challenge for the title"- Me after every game.
If you haven't made this statement yet you're;
A. wildly optimistic
B. need to smile once in a while.
Liverpool's impressive start to their Premier League campaign continued this weekend as the Redmen disposed of another one of the 'teams we should beat' crowd with a 2-0 victory against Sunderland at Anfield. The win meant that the Reds are now unbeaten in 11 games, with this victory being their 10th League win of the season.

But as Liverpool overcame one problem, another problem presented itself as Liverpool's golden boy Phillipe Coutinho was taken off on a stretcher after twisting his ankle while in possession. If you're a glass half full type of person then today's news that he will be out for between 5-6 weeks will seem like great news considering he left the stadium on crutches. If your glass is half empty, then this injury could be a bitter blow to Liverpool's title challenge as the Reds will be without their best player for a crucial run of 6 games going into Christmas. However full your glass is, everyone agrees that losing Coutinho just as things were looking rosy is typical Liverpool luck.
Phil is a really good football player, and if we can't use him for the next few days or weeks, every team in the world would feel that- Jurgen Klopp
So what happens next?
Since the beginning of the season, a key battle ground for debate amongst fans has centred around the quality of depth available should our core players pick up a long term injury. There are certain positions Liverpool could do without injuries to, for example, Clyne, Can and Henderson are three players that the Reds do not have sufficient cover for, and it would affect the harmony of the first 11 in a big way if one of them were to get injured. The one area of the pitch that Liverpool does not have to worry about as much is the forward four positions.
Before you bring out the pitchforks, Coutinho is a world-class talent who is irreplaceable at the moment, but the options Liverpool can turn to in his absence make for positive reading.
Big Bad Divock
Divock Origi would be a first team regular in most teams in Europe. His abilities at such a young age are remarkable, proving time and again that despite his youth, he is willing to step up with the big boys when the opportunity presents itself. Football fans seem to forget just how big an impact Divock made towards the end of last season before Funes (insert swear word here) Mori brought his fantastic run to an abrupt end with a disgraceful challenge. Since his injury, Origi has failed to force himself back into the side on a regular basis and has had to play third fiddle to Sturridge and Firmino, something which deep down must frustrate the young Belgian. But instead of throwing his toys out the pram, Origi has been patient, a trait which should be celebrated in a football world full of young primadonnas.
Klopp has limited Origi's chances of playing to Carling Cup appearances against lower league minnows or Premier League B teams, and yet he has performed in these matches like he's playing in a Champions League game. Origi's recent 90-minute outing against Spurs before his appearance against Sunderland had all the hallmarks of what we come to expect from the man. Quick, direct, powerful runs, with high work rate both on and off the ball and of course, a goal to match the performance. So it was little surprise that when he got some decent minutes against Sunderland that we saw these qualities again. It seemed the stars aligned for the Belgian on Saturday with Sturridge once again pulling up with an injury and Coutinho going off after 20 minutes, but just like before he took his moment by the scruff of the neck with a fantastic goal to save Liverpool from dropping two points.
Having already scored 13 goals and provided 3 assists in less than 1500 minutes for the Reds, Origi is starting to prove he is more than a bit part player. With Sturridge once again failing to be there when Liverpool need him the most, now is the perfect opportunity for Origi to cement his place as the 2nd choice striker.
Wijnaldum Or Lallana to go wide?
There's no question that Roberto Firmino is Jurgen Klopp's first choice striker, so it will be interesting to see whether he wants to move Firmino on to the left side of the pitch to accommodate Origi or keep Firmino as the central striker and replace Coutinho with either Adam Lallana or Gini Wijnaldum. This can work one of two ways. Either Gini moves left, and Lallana occupies the middle or vice versa. For many Liverpool fans, the idea of syphoning Lallana out wide is a cause for concern, with many feeling that when he played out wide, he wasn't as effective as he has been in a more central position. On the other hand, Gini built his reputation as a left sided attacking force for Newcastle last season with 11 goals and 5 assists and when he arrived at the club fans thought we brought him to play in that position in the first place, so shifting him out wide could make sense.
Another option that could present itself to Klopp is to tweak the formation should he want to fit Origi and Firmino up front and play a 4-2-2-2 formation with Gini (or Lallana) on the left, Mane on the right and Firmino behind Origi with Can and Hendo playing in the middle. Klopp is fortunate to have players who are tactically flexible at his disposal, so the options are endless, but if it's not broke don't fix it. Gini and Lallana can still do a job on the left; just dont expect the same magic as Coutinho.
A chance for young blood?
Ojo, Grujic, Woodburn? These three names are on the lips of every Liverpool fan at the moment with each player proving that they have the potential to be future stars for the club. It's a long shot to suggest that Klopp would opt for fresh young blood when he has more experienced players at his disposal. With Origi, Wijnaldum and Lallana available to him, he would need to see something special to put one of the three ahead of them, but with injuries to Ings and Sturridge along with Coutinho, an opportunity for one of these young lads could be edging closer as we get into the hectic Christmas period. Out of the three players mentioned, Ojo is the stand out candidate for a chance to impress much like he did at the end of last season grabbing 3 assists in 8 Premier League starts against Swansea, Watford and Stoke. Klopp seems to like the wide young man as he featured prominently in his pre-season plans before a back injury disrupted his meteoric rise. Grujic will get another opportunity to impress when Liverpool take on Leeds in the EFL having already put on an excellent display against Spurs last time out where he picked up an assist. A physically dominant man with good feet could work wonders for Liverpool through the middle should Lallana spiral into an injury crisis or if Gini is moved out wide with Firmino keeping his place upfront. Woodburn, who made his Premier League debut for the Reds on Sunday seems to have caught the eye of the boss, with his natural finishing ability and all round complete forward play gaining more attention as the season progresses.
It seems an injury to our star player has created a selection headache that should be welcomed by Klopp. In times gone by, these circumstances would create a crisis amongst the fan base but with Liverpool possessing an embarrassment of riches in forward positions (and I didn't even mention Sturridge; sorry but he's injured, AGAIN) Coutinho's injury has opened Pandora's Box.
The road to selecting replacement could unearth a gem; it could also lead us in the middle of a rock and a hard place.