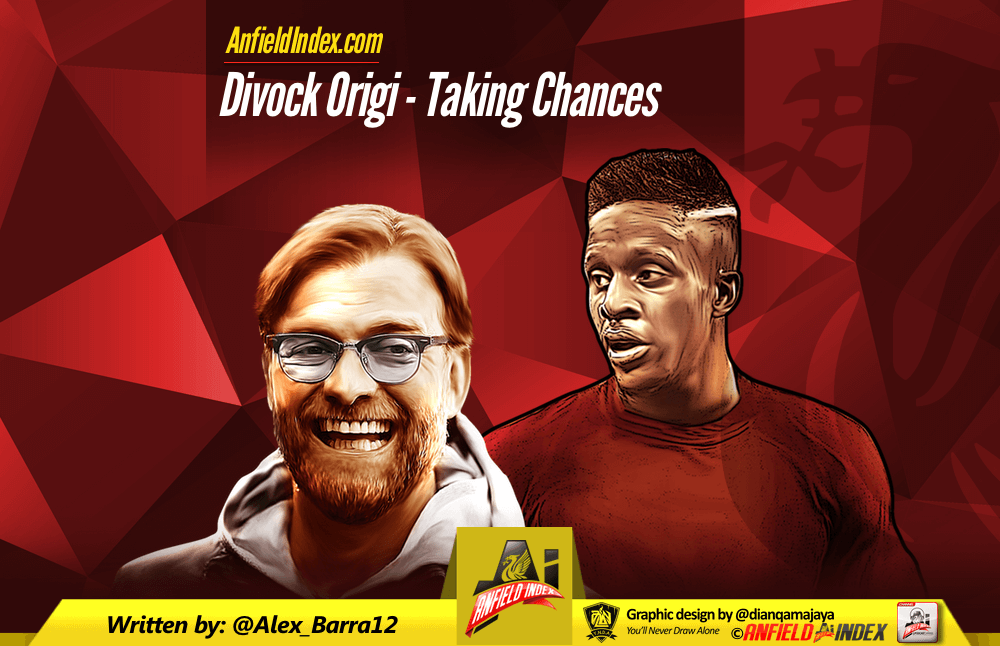 Divock Origi - Taking Chances

From groans of displeasure to the Kop's thunderous chorus.
"Divock Origi" they chanted, moments after the 21-year old Belgian dashed towards the waiting Liverpool collective, all holding their hands out as if to embrace the man who'd finally undone the frustration. He slid; elegant and impassioned, majestic and manic, as Anfield lit up in celebration.
Minutes prior, the noise levels around Anfield were reverberating very differently. There was a discouraged mumbling; a fragility that Liverpool have seen so often in recent times. Another team parks their bus and steals two points from Anfield. Not only that, but Phil Coutinho, the star of Liverpool's show thus far, went down with what many suspected to be a serious injury. It just wasn't Liverpool's day. And yet there was Klopp, on the sideline, beckoning the Kop, the Main Stand, and eventually all of Anfield, to reanimate, to rise from their despondent seats and gives their roar of support to the crowd. He wanted to summon the twelfth man.
Jürgen's call to the stands didn't go unheeded.
Anfield roared, getting behind their team, and low and behold; the curling effort bypassed Jordan Pickford. Sunderland's wall came down. Divock Origi slid towards the sea of red, Emre Can followed. Klopp had his goal.
More importantly; Divock Origi had his goal.
The question of Daniel Sturridge's viability in this Liverpool setup has been pondered all over social media and among all forms of Liverpool supporter base. Really, the fact is he's an elite goalscorer who should be kept for what he adds to the team; despite the fact he shouldn't be a starter. But with Phil Coutinho's injury, should Sturridge be instantly promoted to the team? Or did Origi's goal remind the fanbase of why Origi's so highly rated; of what he can bring to the team, and especially, of why this could be Origi's chance to shine once again.
This has happened before; during the 2015/16 Europa League run; one that ended painstakingly close to success, Divock Origi was often the man on everybody's lips. At Dortmund, he took his chance one on one and finished sublimely into the bottom corner, giving Liverpool the away goal they needed going into the return leg at Anfield. Then, during that tie – Klopp's most famous game at the helm of Liverpool football club thus far – Origi's goal was the one that sparked life into the contest. Mkhitaryan and Reus struck early, and Origi brought Liverpool back from the brink.
He scored ten goals for the Reds during the last campaign, too; his goal prowess is without question. Especially when you consider that leading into last season's second Merseyside derby in April he was Klopp's first choice striker. Unfortunately, an appalling challenge from Ramiro Funes Mori saw Origi miss the rest of Liverpool's campaign, stunting his progress.
Origi is a striker who thrives on confidence in front of goal – as many others do – but it's his potential to be Jurgen Klopp's striker that's the most tantalising prospect.
"Whenever the manager needs me, I'll be ready." Origi said, following the 2-0 win over Sunderland. Patience, hard work, and the willingness to listen are all facets being brought up in the last few days in regards to Origi; but the most important of them will be tested in the coming weeks: the ability to take a chance when it presents itself.
Whenever called upon, Origi has taken his chance.
Against Dortmund, he bore down on the keeper, and slotted with precision. Against Southampton, when called into a diamond formation alongside Daniel Sturridge, he made his chances count and got himself a hattrick. Even this season; his brief minutes have seen him resigned to substitute appearances, with injuries hampering his progress; yet in the three games where he's played more than 45 minutes: against Spurs, Derby and Sunderland, he's scored twice.
He runs the channels effectively; he's a better tactical fit than Daniel Sturridge but doesn't yet possess his finesse or tricky link-up play. Together, the pair provides two superb options for Liverpool to use when called upon.
As has just been illustrated; Origi also knows how to put the ball in the back of the net. He's been finishing chances his entire Liverpool career: now it's time to see if he'll take the chance he's about to receive. With Phil Coutinho due for a stint on the sidelines, it could well be Origi's chance to shine.