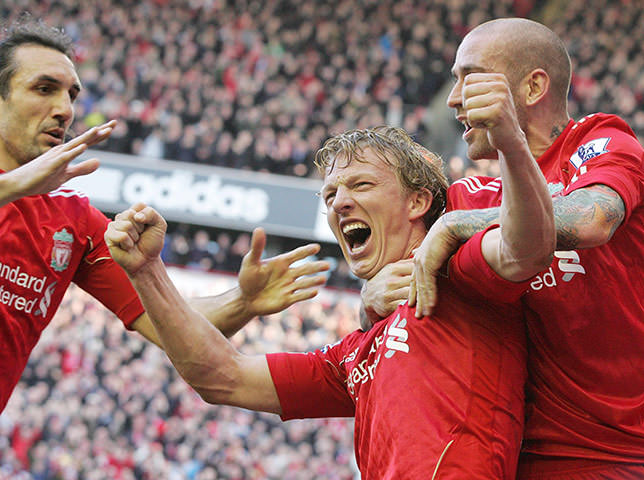 Dirk Kuyt - The Overview
Dirk Kuyt has been quite an important player for Liverpool Football Club. Ever since he signed in the summer of 2006, he has played an integral part in each season.
In his first season at the club, the Dutchman hit the back of the net 12 times in the league – a fairly decent amount for his first season in a completely new league. Dirk scored the winning penalty in a tense semi-final shootout against Chelsea in the Champions League to send Liverpool to Athens. He then went on to score in the defeat to AC Milan in the final.

After the success of his first season, fans thought Kuyt's second season would bring even more goals, especially with a partnership up-front with new signing, Fernando Torres. Unfortunately, it was not to be as Dirk only scored three times in the league – two of which were penalties at Goodison Park. He hit a drop in form from the previous season and was being left out of the team. Rafael Benitez decided to employ Kuyt on the right-wing where the Dutchman excelled. He didn't score any more league goals but his all-round game was enough to keep him in the starting XI.
From the wing, he created 57 chances to score for his teammates – a huge number when you look at the amount of games he played – 32 (24 starts). So when that is put into perspective, it is nearly 2 chances created every match. Where Dirk was lacking in the goalscoring department, he was making up for with his supply to his teammates. His best performances came in Europe, however, as he scored big goals against Internazionale in the Last 16 and Arsenal at the Emirates Stadium in the Quarter Finals of the Champions League.
The 2008/2009 season saw a huge improvement in Kuyt's performances. The Dutchman played in all 38 league games, scoring 12 times in the process. 2008/09 saw Liverpool's best ever Premier League season, winning 86 points but were pipped to the finish line by Manchester United. Kuyt was one of the club's standout players that season and showed his critics a thing or two. Playing on the right of midfield once again, Dirk managed to create a mammoth 71 chances in the league (8 assists) – a fantastic stat to hold. His passing was excellent throughout the whole season, as well. A total of 1143 passes went to a teammate, with a pass completion rate of 71%. Liverpool's success in 08/09 was down to the front players performing well and Kuyt was brilliant. His pass success rate shows how important he was in the final third of the field.
Not only was Kuyt great going forward, he was also helping out his defenders. He managed to make 64 successful tackles and 56 interceptions from the right-wing. Another thing that set him apart from the rest of the team was his work ethic. The Dutchman worked tirelessly in every match. His fitness is second-to-none, also, as he managed to play a total of 3,181 minutes – and was still chasing every ball. It is fair to say that 2008/09 was Dirk Kuyt's best season (to date) since signing in 2006.
With such a successful season just gone, Liverpool were expecting to challenge for Premier League title. Unfortunately it was not to be as Liverpool finished 7th in the league with most of the team failing to perform to the high standards set the season before.
Dirk Kuyt, however, managed to keep up his impressive performances. As a result of injuries, Kuyt often found himself playing as a striker instead of a winger where he had been playing for the past two seasons. He ended up scoring 9 goals in what was a tough season for the club, both on and off the pitch. Many of Kuyt's statistics stayed the same – showing his consistency. His pass success rate stayed at 71%, he made 1178 successful passes and created 59 scoring opportunities.
Even though Dirk was now playing more as a striker, his defensive attributes were still evident in his game. He made a total of 28 defensive clearances, 48 tackles and 48 interceptions. In the last game of that season – away to Hull City – Kuyt played in his 200th competitive game for Reds in only four years which just goes to show the consistency he has shown.
So going into the most recent season of 2010/11, it is clear to see how much Dirk Kuyt has improved over the years. He came to Liverpool as a striker to score goals, and is now a utility player able to play on either the left or right wing and up-top as a striker. He has added a defensive side to his game which helps his defense and midfield greatly.
In 2010/11, Kuyt started slowly under the management of Roy Hodgson but once Kenny Dalglish had taken the reigns, the Dutchman hit the best form of his Liverpool career. He scored in eight consecutive games for the reds and hit 13 league goals – his best tally for Liverpool. He also played an important role in Europe, scoring the decisive winner against Sparta Prague at Anfield. His greatest moment, though, was the hat-trick he scored against fierce rivals, Manchester United. His composure was also excellent, scoring five penalties – one of which in the 102nd minute against Arsenal.
Again, his all-round game was at the usual level of consistency; contributing 7 assists, a pass completion of 71% and a total of 75 tackles.
After looking at Dirk Kuyt's statistics from the past five seasons it is clear to see how important his role in the team is. He links up with his teammates well, scores a decent amount of goals every season, creates chances for his colleagues, runs himself into the ground every week and helps his defenders out. Furthermore, he is also very durable and can play in a number of positions. His place in the team may become less effective in the coming years but for the past five he has been excellent and one of Liverpool's standout players.