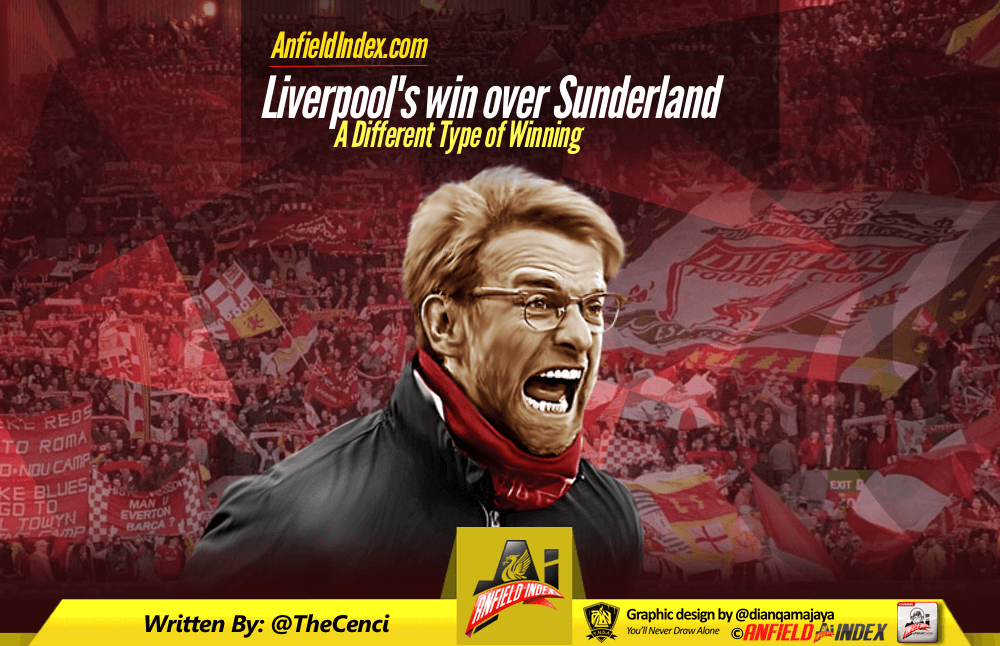 Liverpool's win over Sunderland - different types of winning
Generally speaking, wins come in different categories.
So far this season, we've had the rollercoaster (Arsenal, Crystal Palace), the batterings (Leicester, Hull and Watford), the bossed win (Chelsea) and the routine (Derby and Burton Albion). Saturday saw us find a new stream. The eked out win. The hard yards.
Of course, it wasn't supposed to be that way. Before the game, there was talk of a double digit victory and of David Moyes walking onto the pitch after half an hour pleading for mercy and apologising for wasting our time. As is often the case with supposed hammerings, reality wasn't keen on that outcome and spoiled the day.

Or did it?
When the final whistle went it was somehow as satisfying as a 7-0 walk in the park. Those drubbings, as welcome as they are, don't always feel particularly deserved. This one, however, was different. Liverpool earned every point. Every Red –both on and off the pitch- put a stint in. Every post-match pint was merited.
The game itself showed just how mature and patient the Reds have become. When a side sets itself in a 6-3-1 formation it's easy to become frustrated and just blam shot shots in from anywhere and everywhere. Dejan Lovren, who should have scored from a first half header, was especially guilty of this, but, all in all, Liverpool found a way through – a new way to win.
What they didn't do was give up and sulk when things weren't going our way as we've done so often in the past. The 2008-09 season was marked by teams coming to Anfield for a point and parking a whole fleet of vehicles, never mind a bus, in front of their goal. There's no shame in that. Chelsea did it to us in 2014 and we've done it in our glory years. How do you think we reached so many European Cup finals? Sometimes you have to play to your strengths even if the only weapon you have is building a boundary as high as a prison wall.
Referee's favourite Jose Mourinho was criticised for similar tactics when he came for his point. No one can blame Moyes for those tactics.
They did quite well, too, considering. Anichebe and Defoe are decent out-balls and their six defenders were disciplined enough to last out till the 75th minute before Big Divvy saw them off. However, the Black Cat who caught the eye the most was their young goalkeeper Jordan Pickford.
Once again a keeper of decent repute turned up at L4 and became Gordon Banks overnight. Okay, he wasn't pulling off wonder saves, but he was assured in a relatively hostile environment and his distribution was excellent. He was arguably their best midfielder/passer as he set Anichebe away more than once.
Our own keeper was pretty decent too. I loved his cross chip to Milner late on, or, at least I enjoyed it when my heart returned to the sanctity of my ribcage. That pass speaks of confidence. He's finding himself at home now.
But you can't talk about Karius without mentioning that moment. That one. His reverse Iago Aspas corner.
I've never seen anything like that in my life. I wasn't even angry at the time, just perplexed. Fogged. Stymied. What exactly led him to knock a goal kick out for a corner across his own box? The only comparison was Mignolet at Turf Moor a couple of years ago when he allowed a back pass to cross the by-line before clearing it. Simon had half an hour to sort himself out, but elected for some sort of jazz football – quantum football even – by coming up with the one thing no one expected. Karius' passed to the cameramen behind the goal was equally baffling. If he tried that a thousand times in training he'd never do it again. That was special. It was the equivalent of Phil Jones tackling with his face.
Of course, the big worry of the day is Coutinho. At the time of writing the club is assessing the ligament damage and hearts are in mouth that it's a strain rather than a tear. What we do without him is a huge question. In terms of his position, Sturridge, being left-footed, seems the natural fit, but without Philippe's genius we'll just have to find another way through. We did on Saturday and Origi was a revelation, but it's concerning all the same.
A lengthy lay-off may mean the club goes into the transfer market in January. They would probably have to anyway as the injury to Danny Ings already leaves us light up front. Whether Klopp will spend or look once more at his squad for options is open to debate given that this is a genuine title challenge and a small squad ultimately did for us in 2013-14.
What was most pleasing on Saturday was the patience shown by the Reds. Sadio Mane was frustrated by the lack of space and only had the opportunity to run into space once – and once was enough. Elsewhere, Firmino ran himself silly, Can picked up in the second half and Henderson ran the tempo of the game like a parent constantly picking up cutlery from a naughty toddler, telling them to try again. One of those days, maybe, but we tried everything and got our reward. What's more we got it without the creative input of Lallana, Coutinho and Sturridge.
The second goal seemed inevitable once Sunderland had to come at us. Did anyone think Milner would miss? He's as assured as an old mountain goat. They might as well have not bothered with the pen and just kicked off again – new Gordon Banks or no.
So the 7-0 drubbing became Liverpool facing a new kind of challenge. The low block that once worked so well for teams visiting Anfield has to be something different now. It has to be met with a mental and physical toughness like never before. Swansea did well, but ran out of legs. United managed it at the cost of no forward play at all and Sunderland lasted as long as their luck held. I imagine all those sides slept well on those nights.
And this is how it should be. If Liverpool are to lose it has to be a side who have expended every possible calorie to achieve it. Danny Rose and Pierre-Emile Hojbjerg have said that Liverpool are the most difficult side they've played. Good! It means Liverpool are relentless. Liverpool should always be relentless.
I'm just off to watch that Karius goal kick again and wonder just how the laws of physics had an hour off in a cold November city.
Pool!