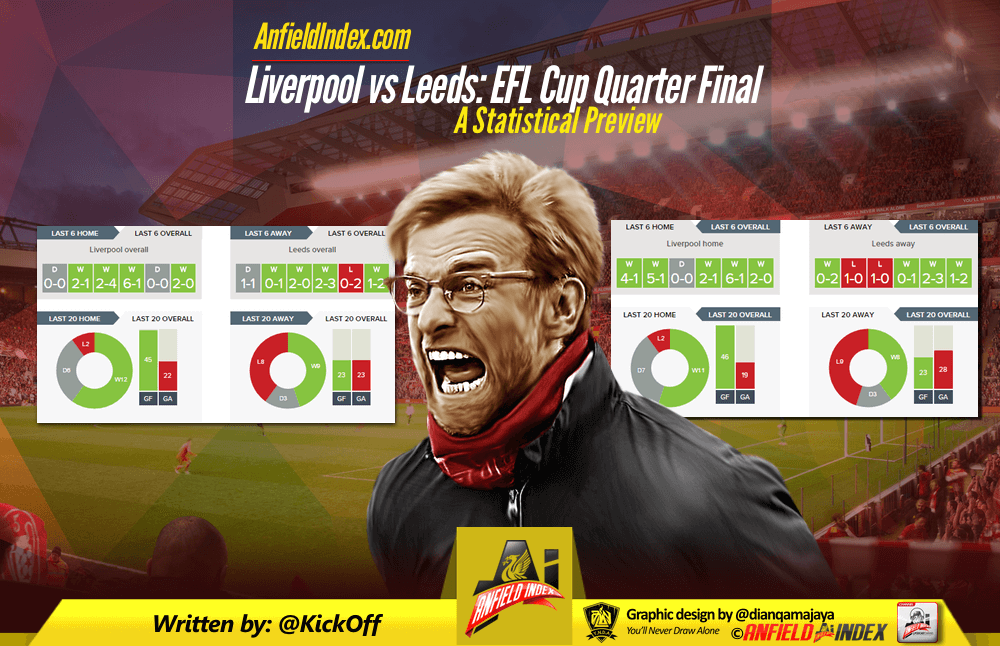 Liverpool v Leeds – A Statistical Preview
The Liverpool team to face Leeds United at Anfield in the quarter-finals of the EFL Cup is bound to have an unfamiliar look to it, with Jürgen Klopp likely to make up to nine changes from the weekend.
Although there are a few experienced heads for the youngsters to lean on, the average age of this line-up is just 24 years and three months old.
Liverpool are undoubted favourites for this game based on recent form, but with a much altered side to the one currently excelling in the Premier League, and the unique conditions of a cup quarter-final encounter, it could be far more competitive than the form guide suggests.
So what exactly can we take from both sides' recent performances?
FORM GUIDE – OVERALL
Liverpool have been in fantastic form of late, with four wins and six and an unbeaten streak heading back into August and their loss to Burnley.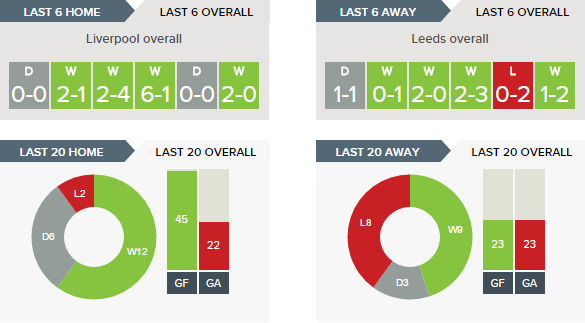 While Leeds' form has been patchier in the Championship this season they have managed to pull a decent run of games to together in recent weeks, hauling 13 points from a possible 18 as they head up to 5th place in the Championship table.
Leeds will have to hope their defence holds strong, as Liverpool have scored nearly twice as many goals across the last 20 games and conceded one fewer.
FORM GUIDE – HOME VS AWAY
Liverpool have been phenomenal at Anfield this season, and have scored a remarkable 19 goals in their last six Premier League games at home.
On the other hand, Leeds have had mixed fortunes away from home – with narrow losses at Bristol City and Derby County.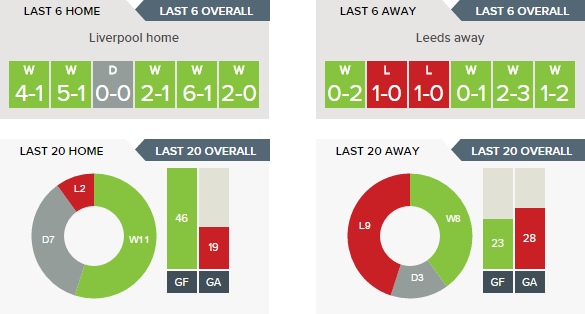 ALL COMPETITIONS
A look at comparative form over the last ten games shows Leeds to be in slightly better defensive form than Liverpool, an attribute they will need to avoid defeat.
Across the same sequence Liverpool have scored twice as many goals and not lost once. And despite criticism of Liverpool's defence this season, they have conceded just seven goals and kept four clean sheets.
The really question mark this evening is whether Klopp's replacements in the side can replicate the fine form that the first team is currently exhibiting. If they can, it should be Liverpool fans celebrating the win this evening.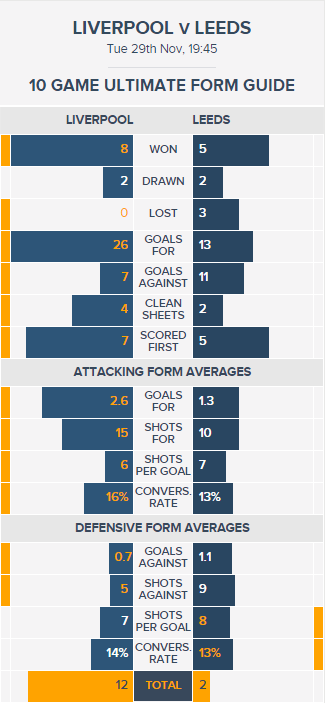 Match preview and predictions provided by KickOff