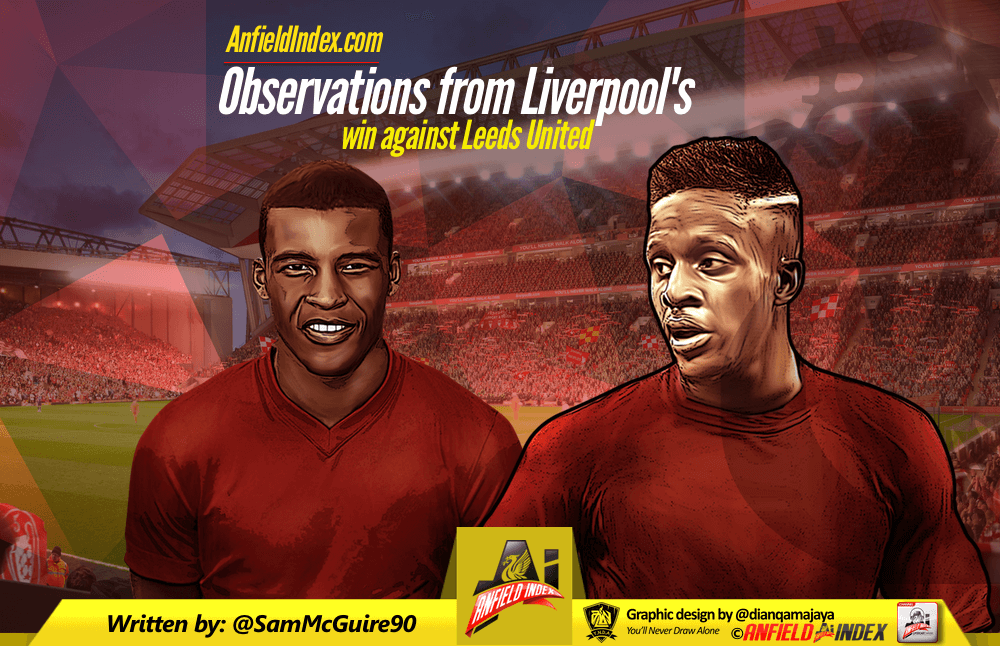 Observations from Liverpool's win against Leeds United
Well, it wasn't pretty but after making eight changes, giving players a go in different positions and blooding a few youngsters it wasn't going to be, was it?
It was an intriguing watch but not if you're a fan of entertainment. It was once again up to Liverpool to be patient in possession and work hard to create chances against a well disciplined and defensively organised Leeds United.
Just like against Sunderland, Liverpool did eventually put away one of the chances they carved out. Divock Origi popped up with yet another big goal and Ben Woodburn acted out a dream by thundering home an effort under the floodlights at Anfield in front of the Kop.

The Reds are now just the one victory away from a second successive League Cup final under Jurgen Klopp and they've got to fancy their chances against those remaining in the competition.
Plenty of positives to be taken. Here are a few –
The Youth Taking their Chance
Trent Alexander-Arnold won the man of the match award, Ovie Ejaria did his reputation no harm whatsoever with an impressive performance and 17-year-old Ben Woodburn came off the bench and not only did he grab the second he also looked bright and pretty sharp. It's good to see that the academy lads weren't overawed by the occasion – a League Cup quarter-final against a competitive side with added pressure because it was at home.
Confidence breeds success and Jurgen Klopp's man-management of these kids is nothing but a positive.
I would throw Kevin Stewart into the mix here but he's about 34 so can't be counted as a youth, no matter how inexperienced he may be.
Big Div
For the second game running Divock Origi has opened the scoring for the Reds at Anfield in games which had been a tight affair until the deadlock was broken. He's showing that game winning potential because at the end of the day the ability to score goals when chances aren't in abundance is a game winning potential. He's stepped up in the absence of Roberto Firmino, Adam Lallana, Philippe Coutinho and Daniel Sturridge and that can only be encouraging as we head into the Christmas period where the games come thick and fast.
Liverpool sometimes need that ability in their frontline. The ability to score goals out of nothing. We score a lot of pretty goals but scrappy ones have been missing. I'm by no means suggesting either of his goals haven't been good but they're not the stereotypical goals we've been used to seeing this season.
Gini Wijnaldum's Positional Change
Did Jurgen Klopp give us all a glimpse into the future tonight? In the absence of the injured Philippe Coutinho will Gini Wijnaldum be tasked with filling that void on the left? He played there against Leeds and there were glimpses but he seemed better when Woodburn came on and he was shifted back into the role we're now used to seeing him in. But using a single game to judge a player is pointless. After seeing what Klopp's done with the other midfielders we should all watch on with intrigue to see whether he unleashes a free-scoring Wijnaldum from the left-hand side.