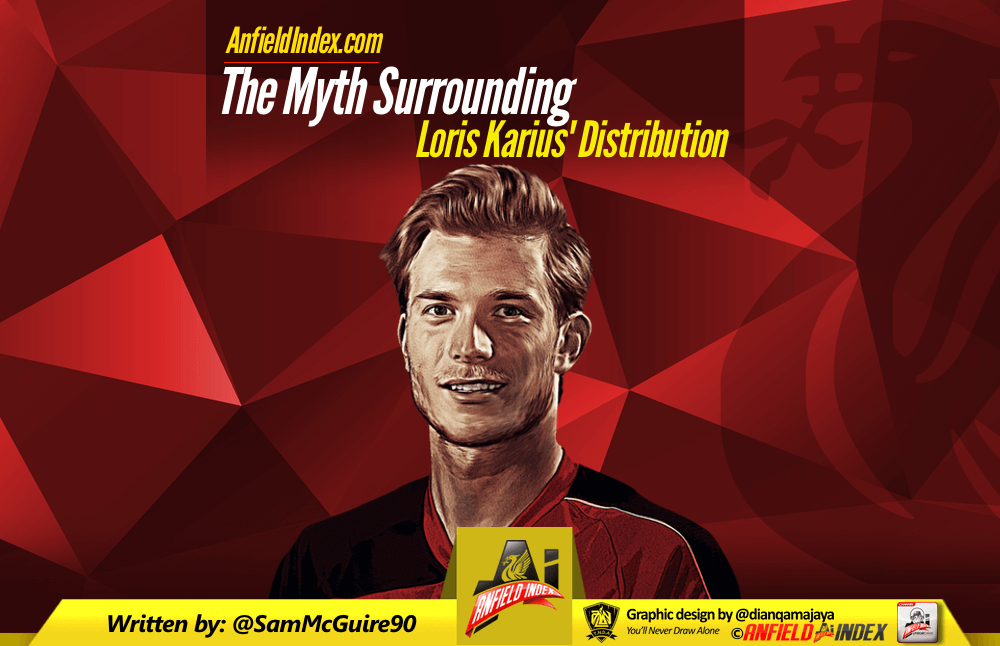 The Myth Surrounding Loris Karius' Distribution
In the victory over Sunderland there was a moment in the match which saw Liverpool 'keeper Loris Karius kick the ball out of play for a corner as he was trying to play the ball out to Joel Matip.
I'm almost certain it's a pass we've all made in our life. We've gone to play a pass with the inside of our foot and it's hit the wrong part and skewed off somewhere. It just so happens when Kairus made the mistake it went out for a corner. This isn't comparable to Simon Mignolet's error against Burnley when he let the ball roll out of play instead of clearing it but It was easy clickbait for websites to run with and it dredged up the people who aren't entirely convinced with the young German between the sticks. Some still prefer Simon Mignolet and this gave them ammunition to back their point up.
"He's not much better than Mignolet with his feet and he's just as flappy. Why didn't we buy a better 'keeper."
They then start to reel off a list of 'keeper they would've preferred who would've cost tens of millions and who don't appear to be comfortable with the ball at their feet. To some reputation trumps suitability. People still have trouble coming to terms with the fact, like outfield players, 'keepers have strengths and weaknesses and these can be either be shown off or masked by the system they're playing in.

When Klopp chose Karius it's safe to assume a large part of his mind was made up by the distribution of the 23-year-old. He almost acted as a sweeper for Mainz in the Bundesliga and there are already clear signs he's started to adopt the role for Liverpool. It may be going unnoticed because he's not Manuel Neuer camped on the half-way line but his presence is allowing Liverpool to squeeze the opposition.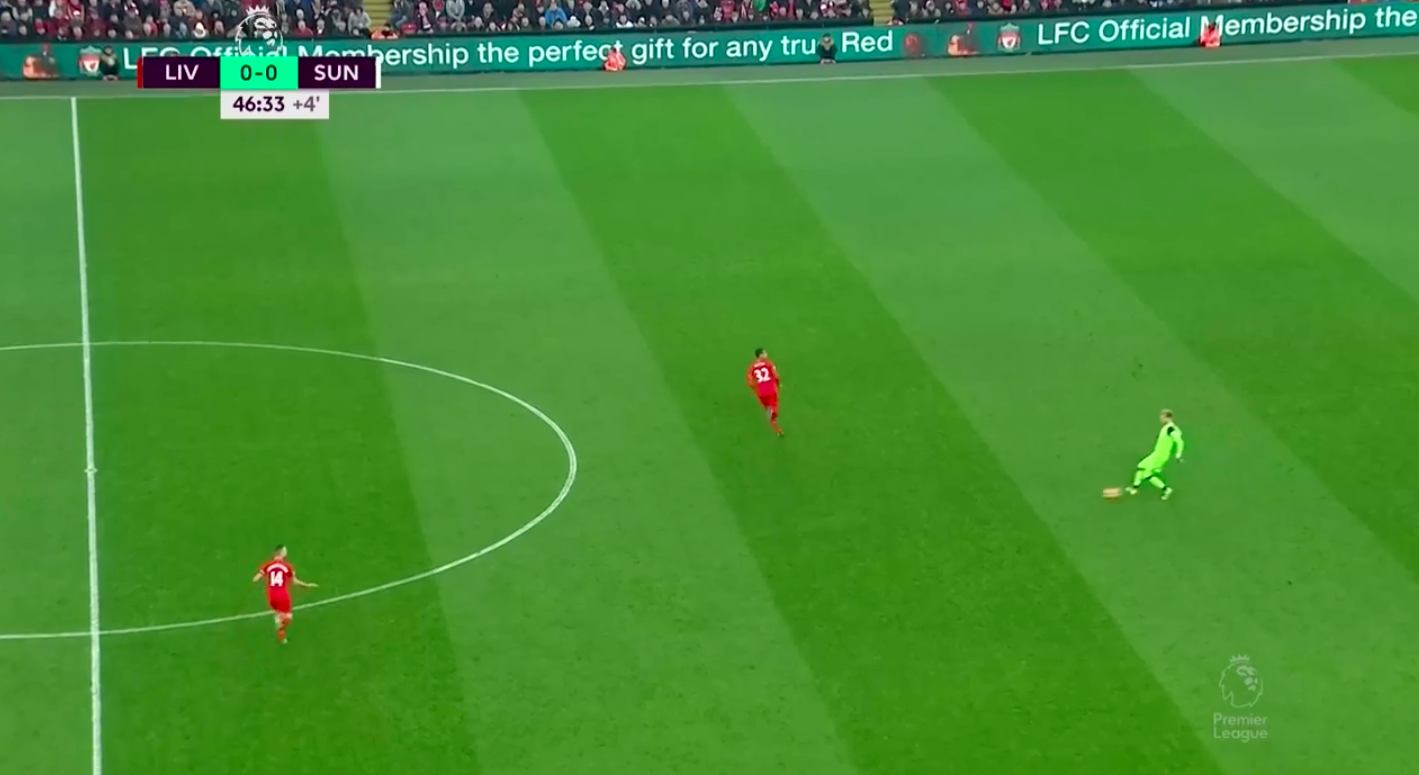 I know what you're thinking, the above picture may look like nothing special. It's just Karius playing a pass to Henderson. It's a pass Matip could've made if Karius wasn't so far advanced. But it speeds things up for Liverpool. Instead of waiting for Matip to catch up with the ball, turn on it and pass to Henderson – who at that stage would've dropped deeper – Liverpool are able to get things moving and keep Sunderland hemmed in (not like they showed much adventure anyway). It enables Liverpool to get all ten outfield players into the Sunderland half and doesn't allow Sunderland time to get set because the attack is just continuous.
Karius takes up this position a lot and plays a simple pass to get Liverpool on the move again but because it's so simple it's almost taken for granted.
Karius' Composure.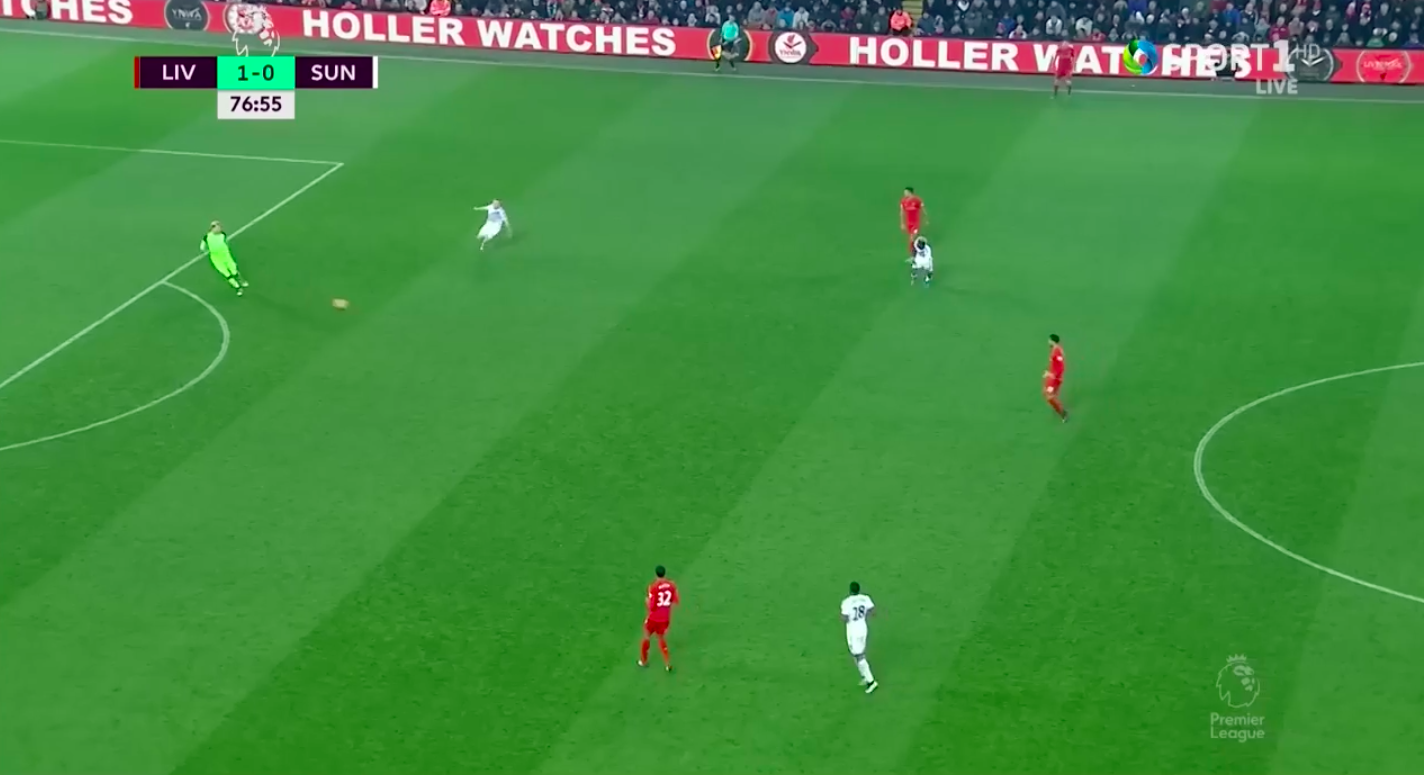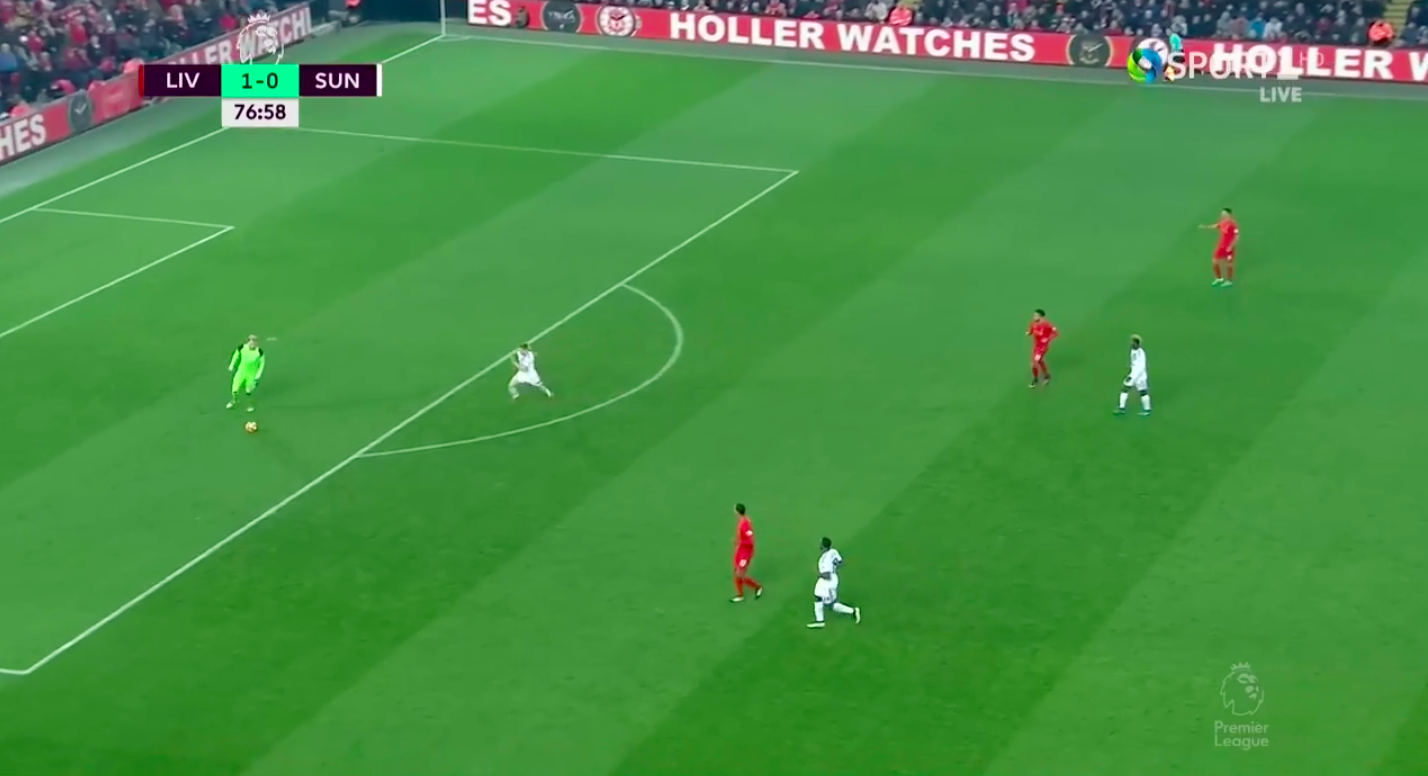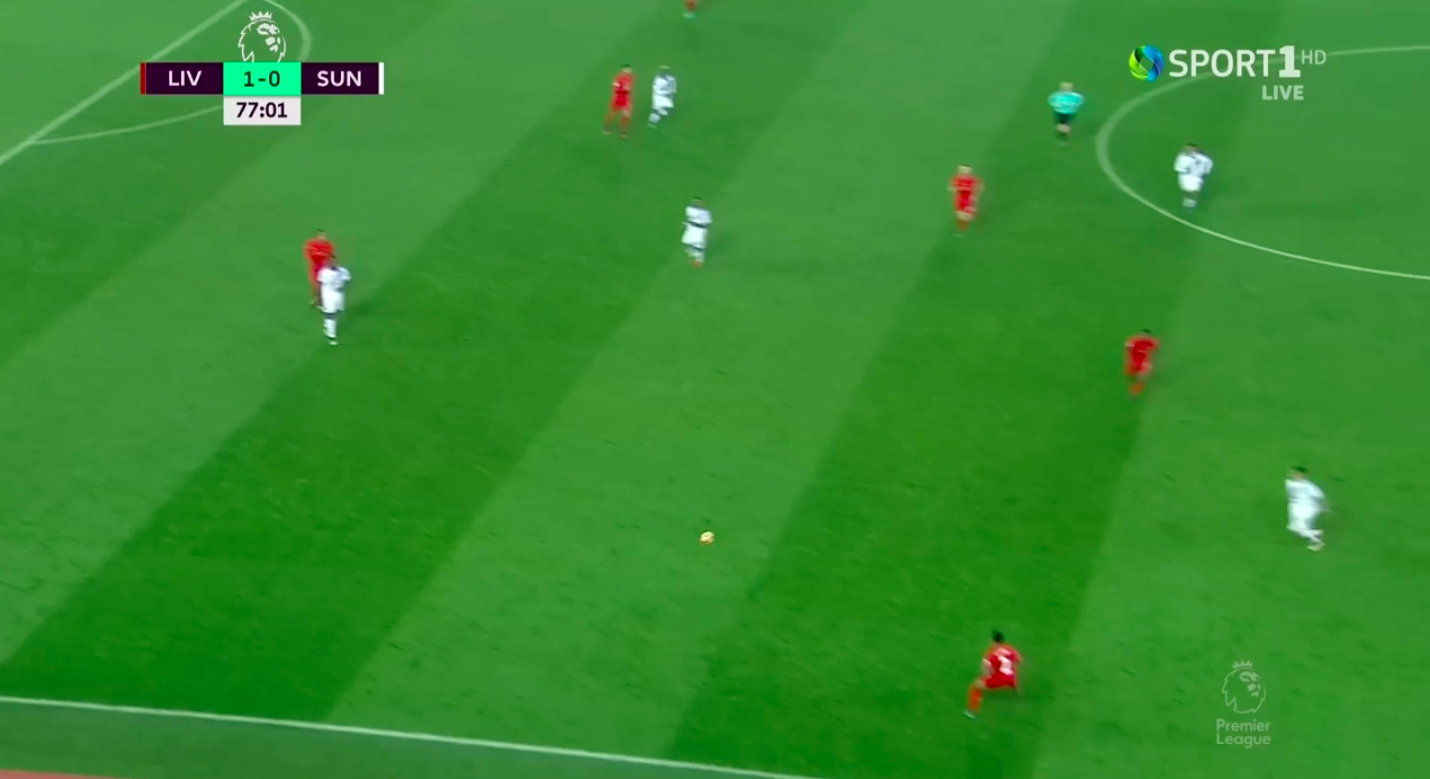 In the above three pictures we see Karius' composure and his teammates trust in the 'keeper in all of it's glory. Sunderland have just gone behind and are looking to get back into the game immediately. They're pressing high in an attempt to prevent Liverpool from building from the back and having them pinned in their own half. After all, they need a goal.
In the first picture Karius plays the ball out to Emre Can. Didier Ndong breaks from midfield to put pressure on Can and the German plays it back to his compatriot even though he's under pressure. It's quite a high press from Sunderland and in this situation most 'keepers would opt to clear their lines. However, Karius takes his time on the ball and plays a pass out wide to Clyne, shown in the third picture, and Liverpool are able to build an attack. Karius' pass takes out four Sunderland players who looked to press the defence and Liverpool are able to play in the space created by this.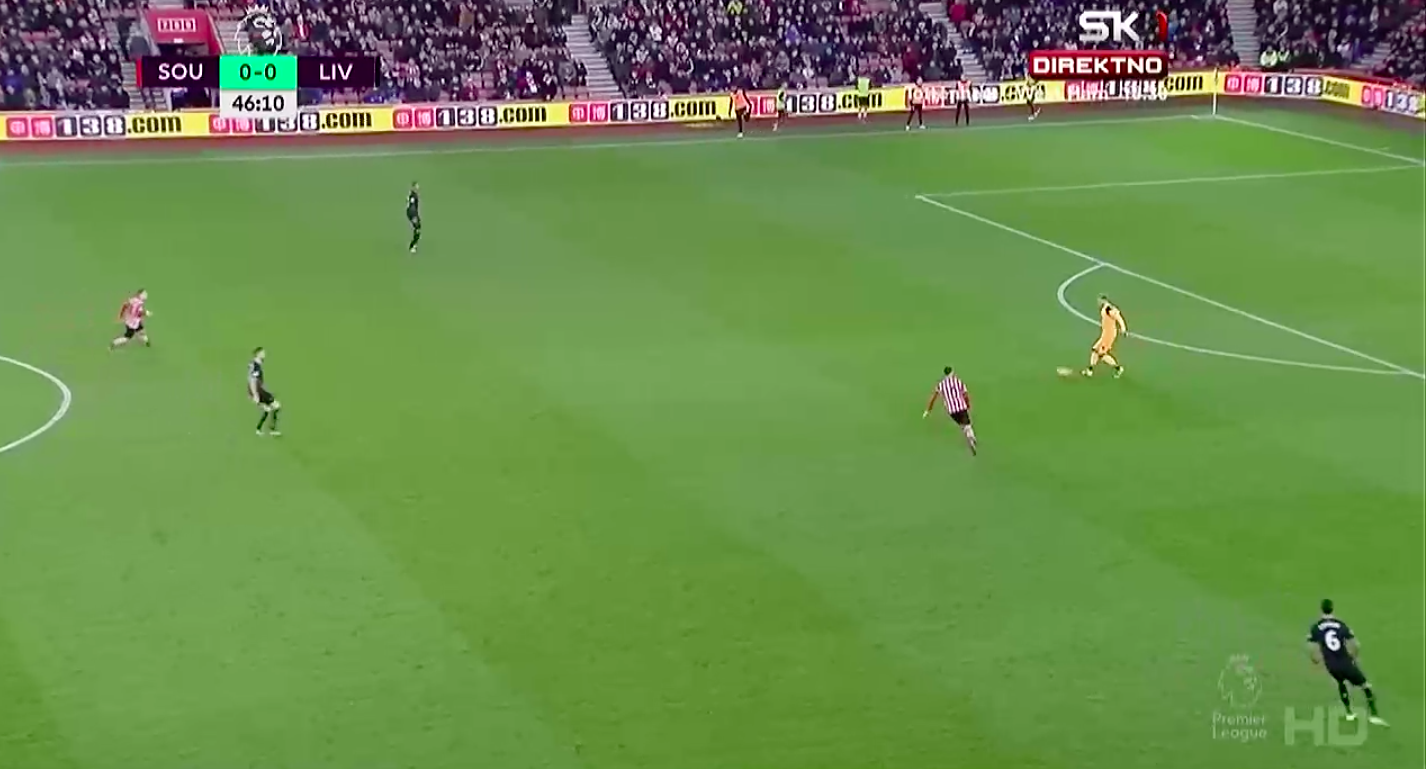 Same thing against Southampton. Karius opts to play the ball to Henderson even though Southampton are attempting a press. He could've played it to either centre-back but then Southampton can cut off passing lanes and force them to go long whereas the pass to Henderson means he draws players to him centrally and it frees up space on either flank and gives Liverpool a better chance of playing out and building an attack.
Let's not forgot he also played a half-volley from inside his own area straight to Firmino's feet and played a reverse pass to Lovren against Sunderland. Some of his highlights from the Sunderland match can be found in the video below.
.@LorisKarius still getting stick, from @LivEchoLFC of all people – No mention of that half volley to Firmino or the quick playing out #LFC pic.twitter.com/gDQFwohq3M

— Chris Williams (@Chris78Williams) 27 November 2016
He's not this error-prone goalkeeper with no confidence like some of the media would have you believe. He's having an impact on the team, and a positive one at that, if you choose to see it. Give him a few more months and he'll surpass the Karius that many raved about during his time at Mainz. He just needed time to find his feet.