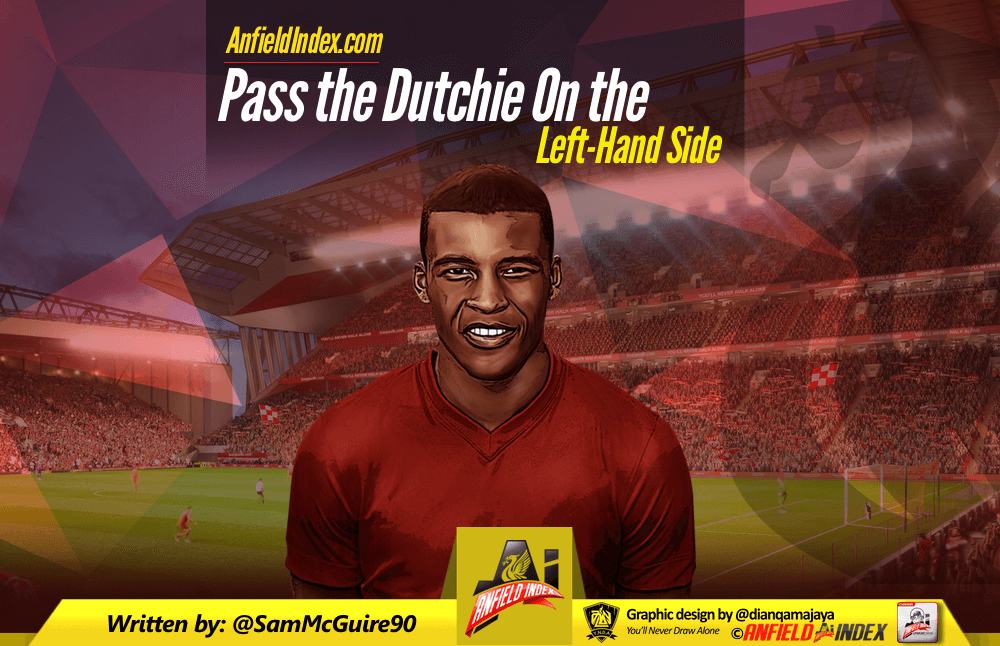 Pass the Dutchie On the Left-Hand Side
First off, credit to @CalvLyfeson for the inspired title of this piece.
There was a lot of talk surrounding who Jurgen Klopp would opt to go with to replace the injured Philippe Coutinho on the Liverpool left. If history was anything to go off it looked as though the German would give the responsibility to Coutinho's compatriot, Roberto Firmino. The Liverpool number 11 had filled in for the Coutinho previously in matches against Burton, Leicester City and Manchester United. Against Burton and Leicester Firmino looked good in a slightly tweaked starting position but against United the Reds seem to miss his energy centrally.
When the team was announced prior to kick-off against Leeds some thought it was going to be a diamond with Sadio Mane alongside Divock Origi and others thought Ovie Ejaria was going to play on the left of the front three. But Klopp moved Wijnaldum away from his centre-midfield role and into a more attacking role.

Of course, nothing is set in stone, it was only an EFL Cup match and Klopp may still choose to field Firmino in that role, but against Leeds United Wijnaldum was able to call the left side of the attack his home.
It's a role the Dutchman has played for his previous clubs, and excelled at during his sole season at Newcastle, as well as playing there for the national side on occasion. It meant upon kick-off there was a sense of intrigue surrounding the number 5. Would he be the one to fill the Coutinho-shaped hole in the team for league matches too or was this decision purely for the cup match? We won't know for sure until Sunday but off the basis of his performance against Leeds it'd be brave to bet against him starting there.
Perks of Wijnaldum on the left
It keeps Firmino central. The end. 
While it's not just that simple, a big part of Klopp's thinking these days must be to keep Firmino central whenever possible. The Reds have had a lot of joy with Firmino as the 9 this season. It's even more important when Liverpool are playing against such an open and expansive side, which Bournemouth are. They like to play out from the back but their players aren't the best in possession so Firmino being Firmino (a nuisance) could lead to chances for both him and the team. Similar to what happened to Bournemouth when they faced Arsenal and they gifted Sanchez a goal with an under hit pass back to the 'keeper. Firmino is definitely going to be lurking.
He's defensively switched on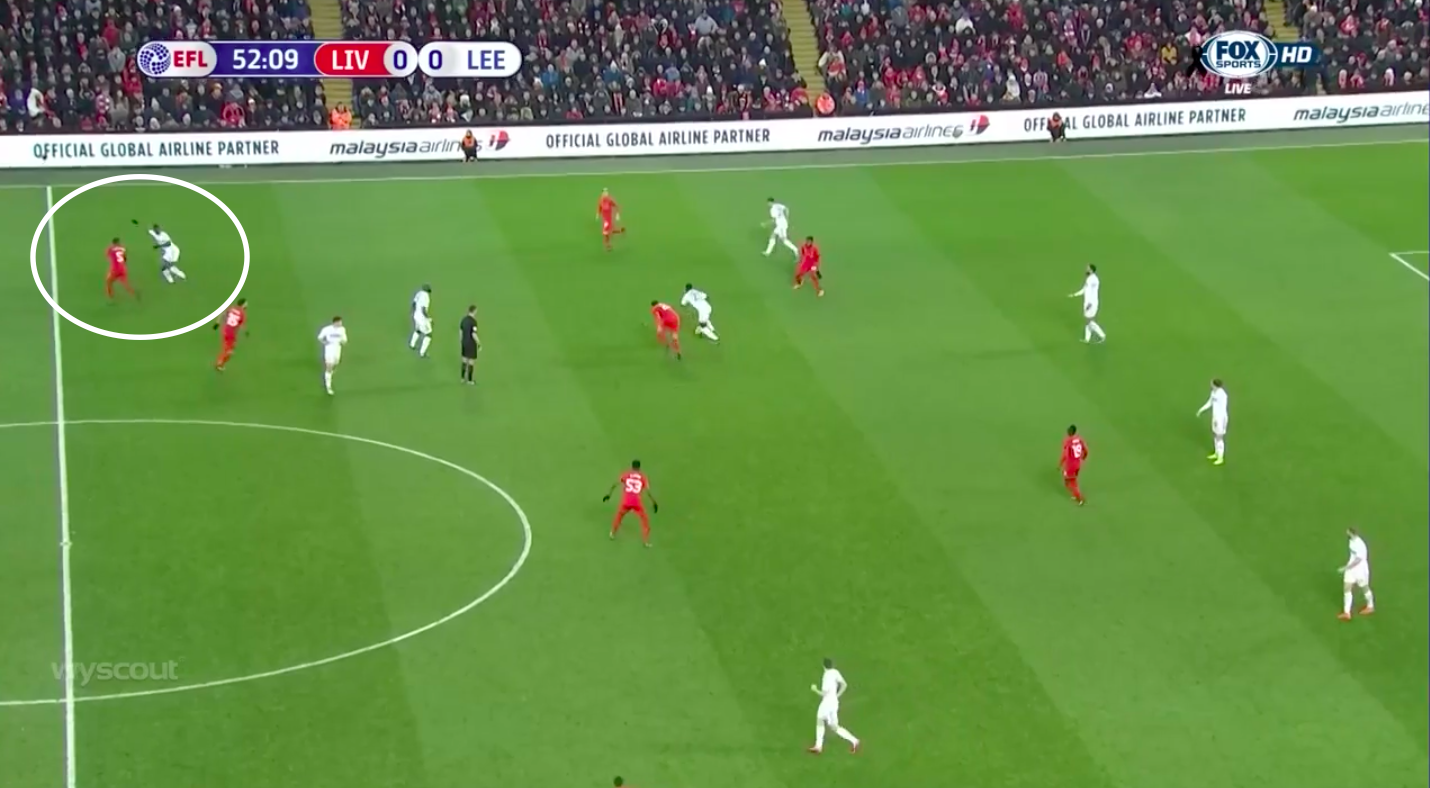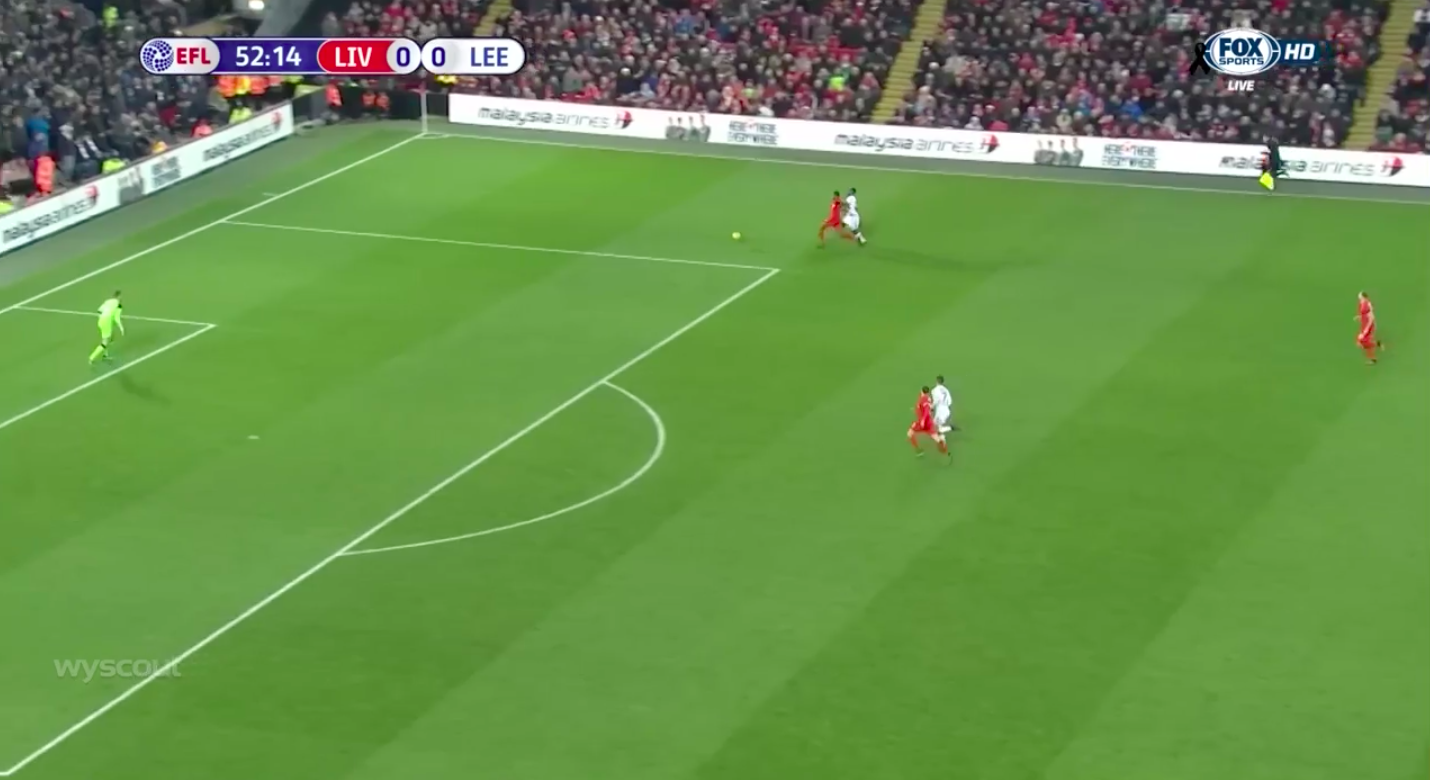 Wijnaldum is disciplined meaning he will cover and he will protect James Milner. It's vital he does this because with the majority of the width coming from the Liverpool full-backs there is the possibility they can be caught out from time to time. Jordan Henderson usually patrols centrally and fills in either side when he can but it's good to know Wijnaldum will track back the whole way to help out and doesn't just let the man run off of him.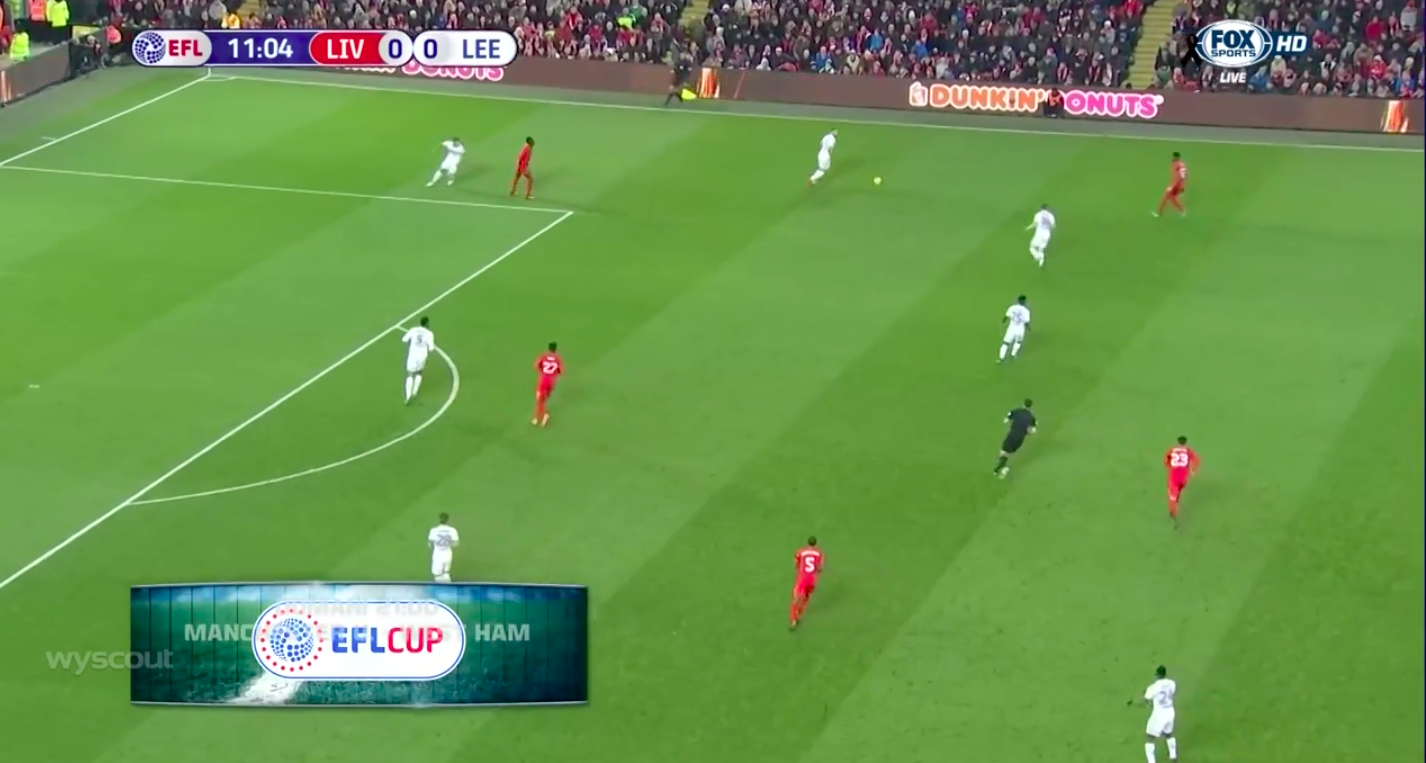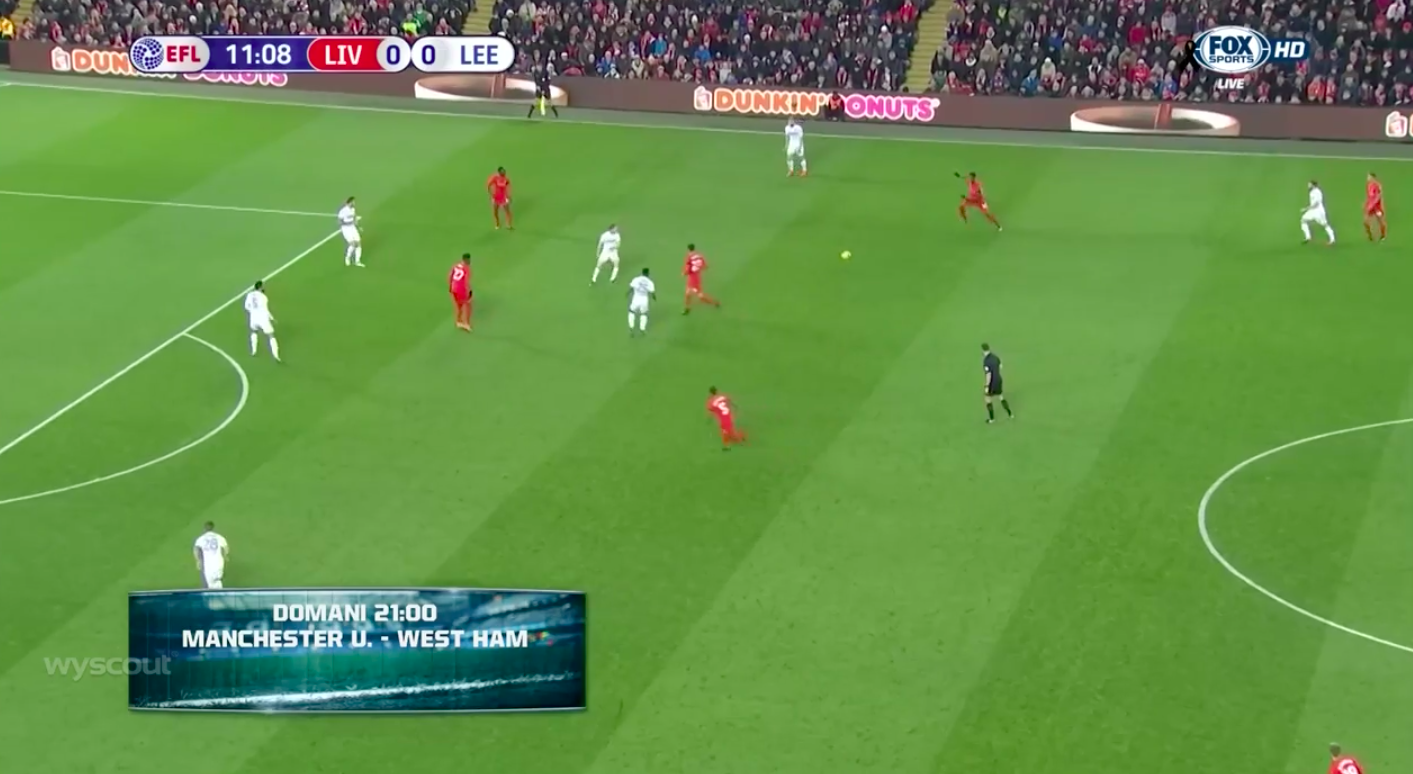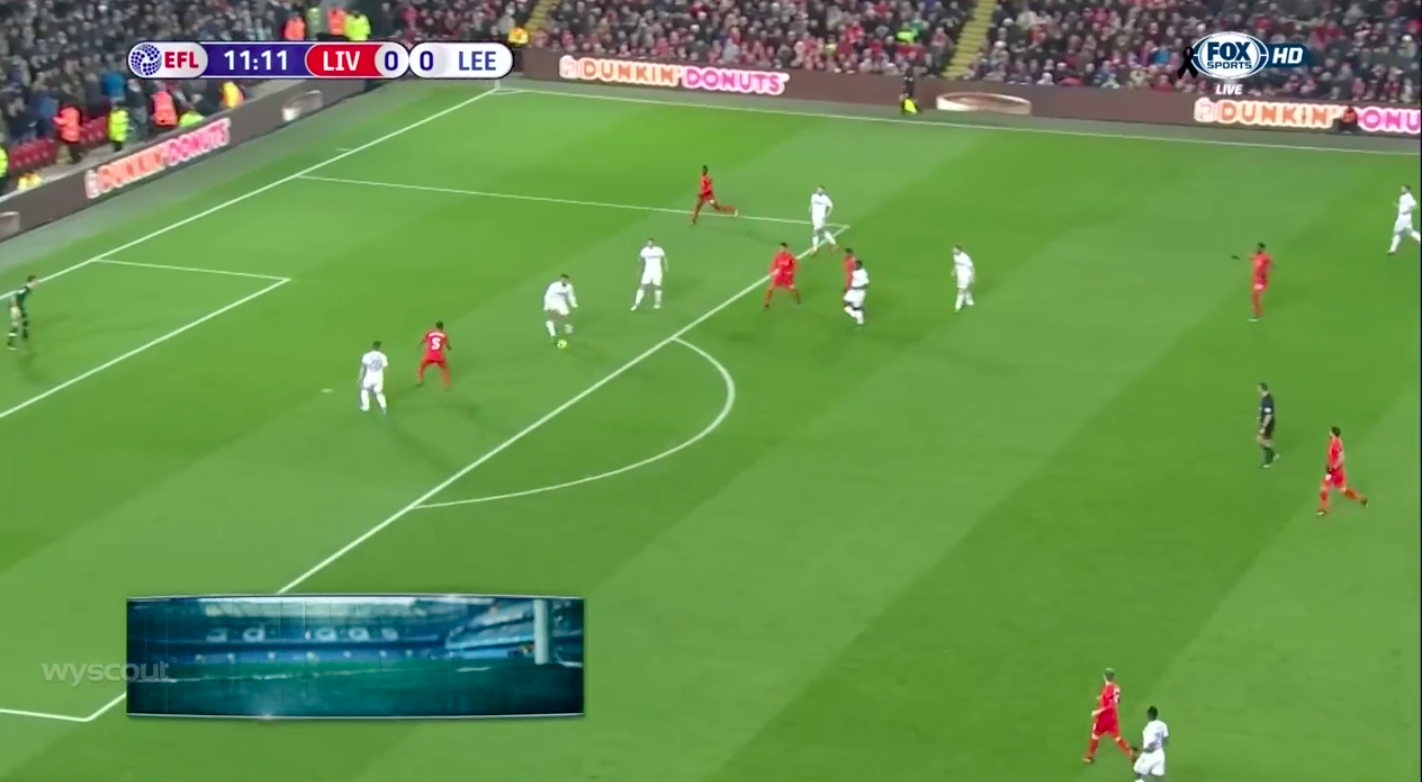 In the three pictures above we see Wijnaldum's big chance from the game. In the first screenshot he's come narrow and he's making sure the pass to the Leeds right-back isn't on. As soon as Liverpool reclaim the ball Wijnaldum is looking to get into the box and fill the space vacated by Origi who has drifted to the Liverpool right. Wijnaldum is unmarked in the area after positioning himself between full-back and centre-back and he's able to get the shot away but the Leeds 'keeper claws it away. It's natural movement for Wijnaldum after being asked to do similar from a deeper role in previous matches. Liverpool wouldn't be missing bodies in the box because Wijnaldum would do just that. Is he as prolific as Coutinho? That's yet to be seen.
He creates space for others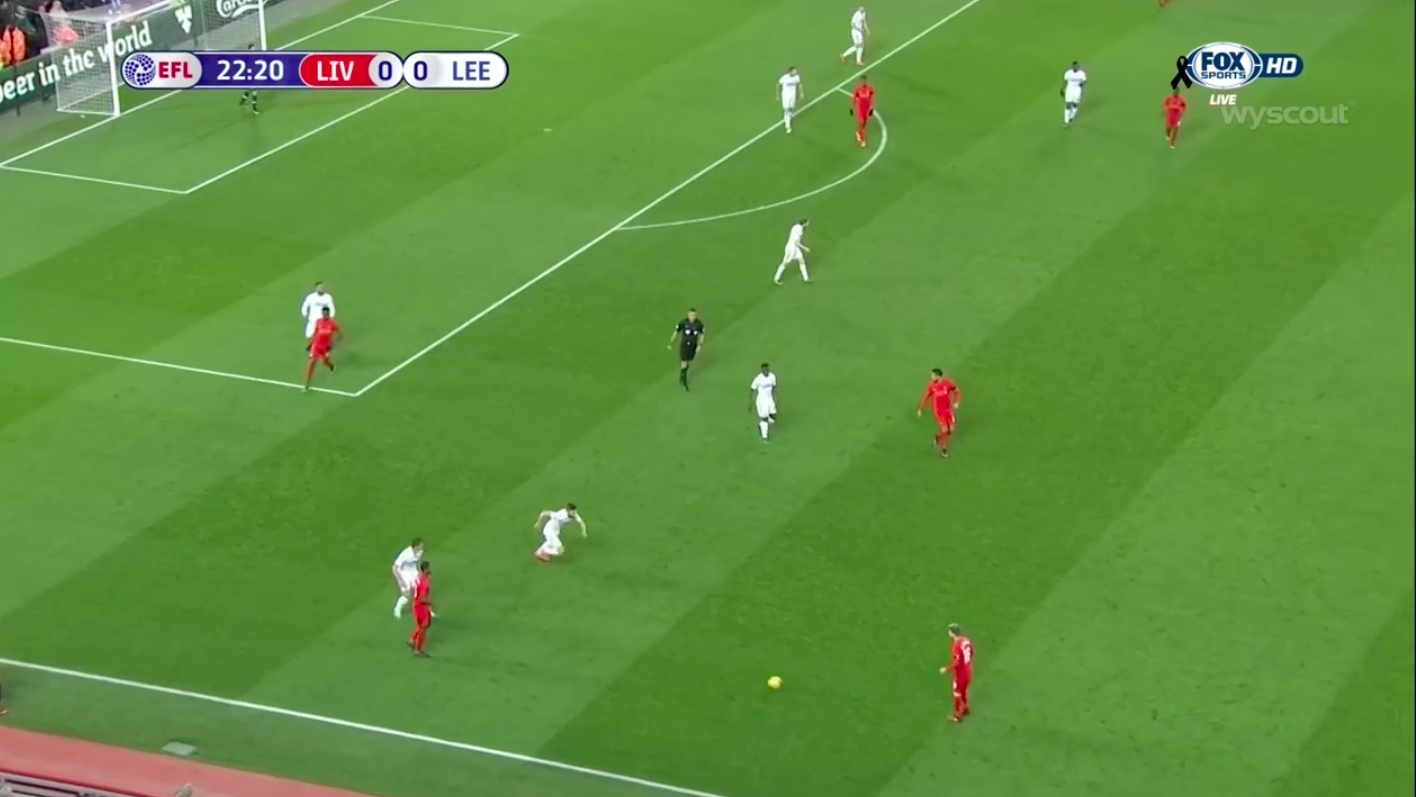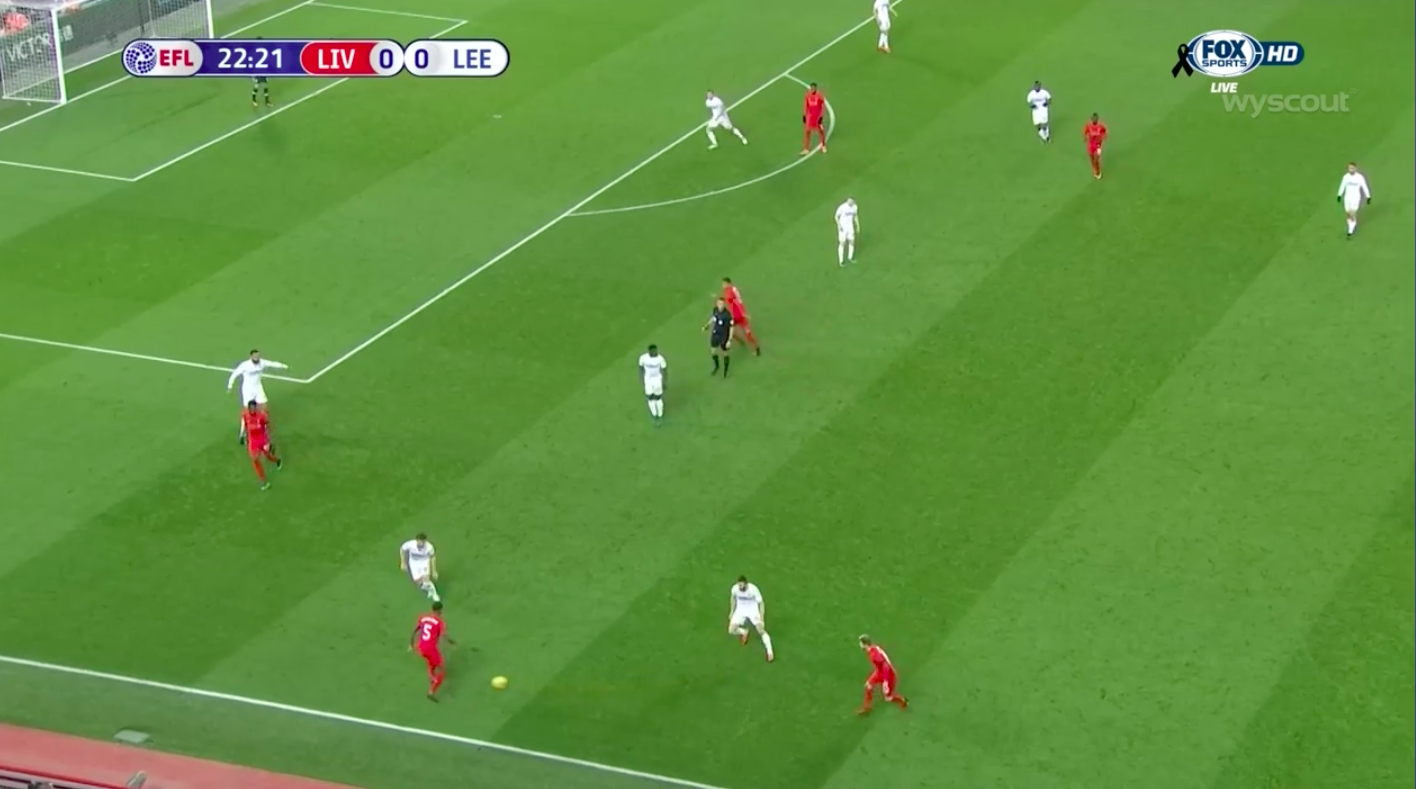 Wijnaldum doesn't create the space himself but he's part of the team . He shows in these two pictures that he doesn't mind keeping the width. The Leeds United right-back gets close and Ovie Ejaria makes the run to drag the Leeds right centre-back over. This creates the space between the centre-backs which you can see Emre Can looking to fill in the second picture. If Wijnaldum had played a first-time pass there to the German it may have been interesting. However, the point is he's not always looking to come inside making him one-dimensional. He's happy to let both Emre Can (the left of the midfield) and Alberto Moreno underlap him almost.
He seems to be better suited on the left in open matches
A lot of his good moments came when Liverpool were in transition and he had movement ahead and around him. If Wijnaldum is able to make a one/two touch pass then it's when he's at his best. A few times against Leeds he made an interception and had Liverpool players close by so was able to get the Reds on the move in an instant. He looked pedestrian and a little too safe when he had time on the ball and plenty of passes to pick. Against a football playing side like Bournemouth, who you would expect to come out and play against Liverpool. he should be able to play on the half-turn a lot more and this would get the best out of him.
He's by no means a long-term replacement for Coutinho in that role but in specific matches during the Brazilian's absence he may be called upon to fill that role and if he is there shouldn't be too much of a problem. Against teams looking to sit deep though his inclusion on the left may play right into their hands, that is unless he's able to move the ball a lot quicker.