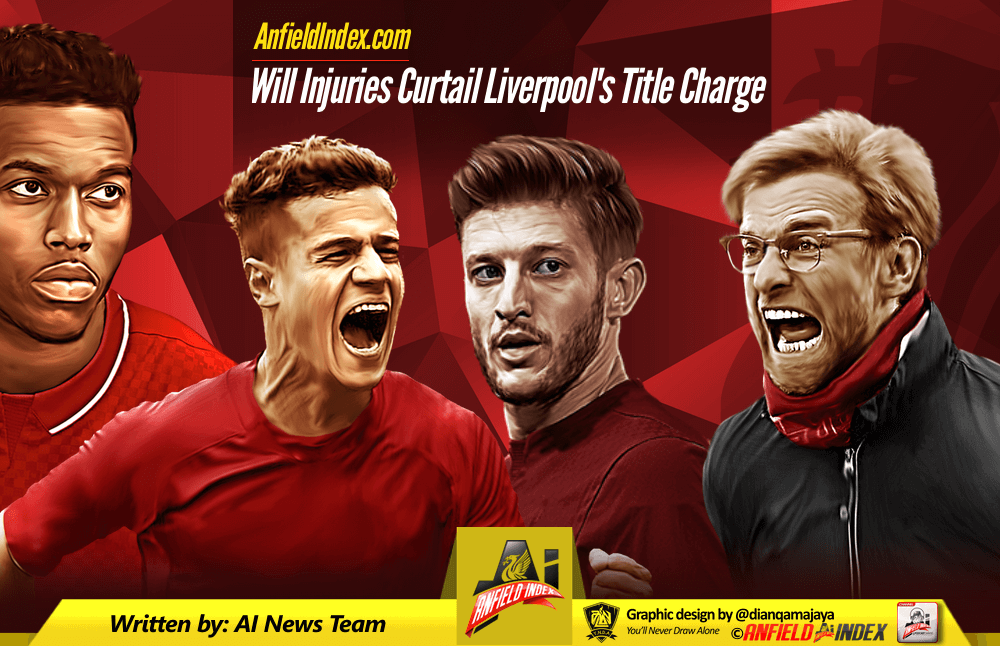 Will Injuries Curtail Liverpool's Title's Charge?
Liverpool's ability to deal with injuries could define title challenge
Liverpool's start to the 2016-17 Premier League season has led to fledgling hopes in the Kop that the Merseyside club have the required pedigree to become English champions for the first time since 1990.
Jurgen Klopp's charismatic demeanour and expansive footballing ideologies are starting to sink in at Anfield, with improved performances leading to positive results.

The team's devastating form in the final third has gained most plaudits, with the attacking trident of Philippe Coutinho, Roberto Firmino and Sadio Mane ripping most opposition to shreds.
There have also been signs that Liverpool's defence is starting to improve, while Klopp's three-man midfield has helped the side dominate possession.
However, the Reds' strength in depth looks set to be put to the test in forthcoming months as player unavailability has reared its ugly head.
The supporters' collective nightmare played itself out in the 2-0 win over Sunderland, with star man Coutinho injuring an ankle and now seemingly set for a prolonged period on the sidelines.
The Brazil international has been in inspired form so far this season, with Liverpool playing to the rhythm of his Samba beat.
Without Coutinho, Klopp's side will need to rely on other creative forces to unlock opposition rearguards – and without Adam Lallana also.
Mane's pending unavailability to compete in the African Cup of Nations has been on the radar for some time, which will leave another void on the Reds' teamsheet.
However, there is real reason to believe that Liverpool potentially being without Coutinho and Mane simultaneously does not mean that a title challenge will be derailed.
Fringe attackers such as Divock Origi and Daniel Sturridge are both chomping at the bit to be given a concerted chance by the former Borussia Dortmund coach – and have the quality to continue the Anfield outfit's current momentum.
It may well be that Klopp's usual 4-3-3 formation may have to be altered to possibly facilitate the fielding of two strikers.
If this is the case, the team's fluidity in adjusting to a new system will also be critical.
Any team would miss a player of the quality of Coutinho or Mane, but Klopp has international-calibre players at his disposal to deputise.
Our friends at Betway have been debating Liverpool's potential ability to cope without key men and the strength in depth that the Merseyside outfit possess.
Coutinho is the Reds' attacking talisman and will be sorely missed but there is reason to believe that the South American's return in the New Year could be as good as a new signing.
Have your say on whether Liverpool's title challenge will continue despite injury concerns on Facebook or Youtube to stand a chance of winning a free £10 bet.