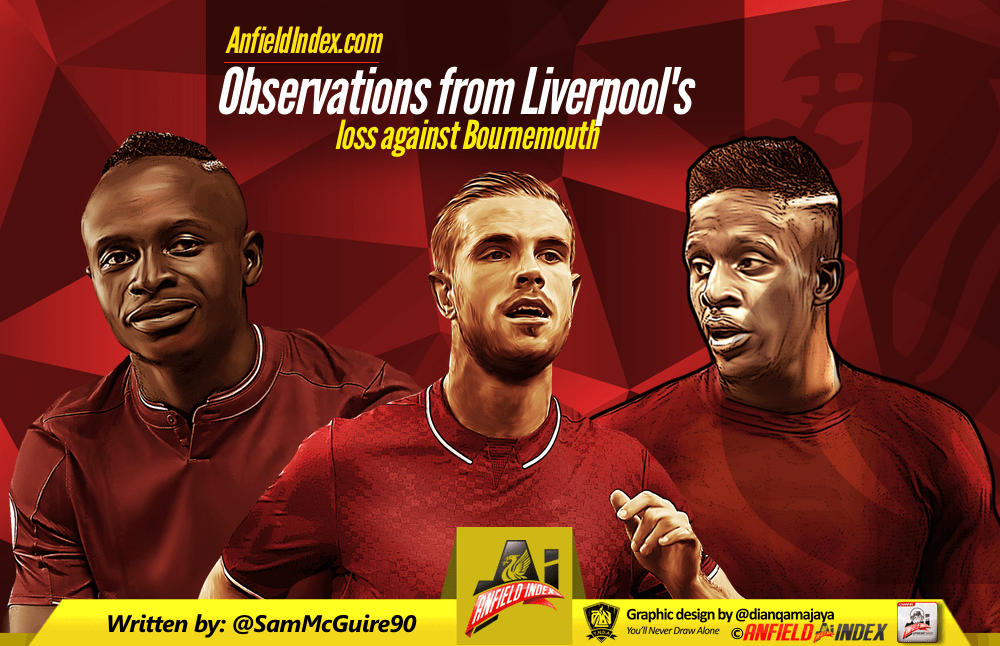 Observations from Liverpool's Capitulation against Bournemouth
Talk about deja-vu. Liverpool dominate the first-half and take a 2-0 lead into half-time but capitulate in the second-half to undo all of their good work.
It was a 45 minutes so far removed from what Liverpool fans are used to under Jurgen Klopp this season that it felt like groundhog day and dredged up memories of matches against Sunderland, Newcastle and Southampton during the 2015/16 season. To say this result and second-half performance was unacceptable would be an understatement.
There were of course positives but the second-half implosion blurs everything now. The control we showed in the first-half was almost perfect. We dominated both possession and space. We smothered them and we picked them off with relative ease. The second-half wasn't going to be a stroll in the park but there was no reason for Liverpool to have been so open like they were. Poor in-game management from both the players and the manager. At 3-1 should Liverpool be throwing men forward and leaving the defenders exposed?

No Matip – No defence?
You don't really know what you've got till it's gone. Matip missed out through injury and the impenetrable defence as of late, along with Dejan Lovren, disappeared with him. It's as though Matip had been the solid foundation and without him it was a fine balancing act that was always going to crumble when put under any stress.
Bournemouth were direct in their play second-half and Liverpool couldn't cope. There's been talk that Lovren and Matip was a long-term solution at centre-back and a solid relationship was forming – does this defeat rubbish those claims as there is now a feeling Lovren has been using Matip as a crutch.
No Leadership. No fight. Experienced players lost their heads
At 3-2 Liverpool needed to regroup and kill the game. They didn't need to throw men forward and start to play risky passes. There was no in-game management from the senior players – Milner, Henderson or Lucas. Then, when it was 3-3 the team looked like they had jelly legs. Blindly trying to throw haymakers and leaving themselves exposed as they tried to steady themselves. Compare that to Chelsea against Manchester City. City had chances to put the game to bed but Chelsea didn't break. They didn't lose their heads and eventually got the comfortable win.
Liverpool were the complete opposite of Chelsea. One had structure and one had nothing but chaos.
Why was Steve Cook allowed so much time and space to fire in the shot which Karius spilled and Ake tapped in for the winner?
Why was Cook, a centre-back, afforded the time and space to bring the ball down and fire it home unmarked for their equaliser?
Why weren't players trying to get out to save a point after blowing the original three they had in the bag?
It seemed they got caught up in the moment and heads fell off. It can't really be a regular occurrence if you want to challenge for the title.
How the Reds respond to this the next time something like this happens will be intriguing. Will they be able to learn from these mistakes?