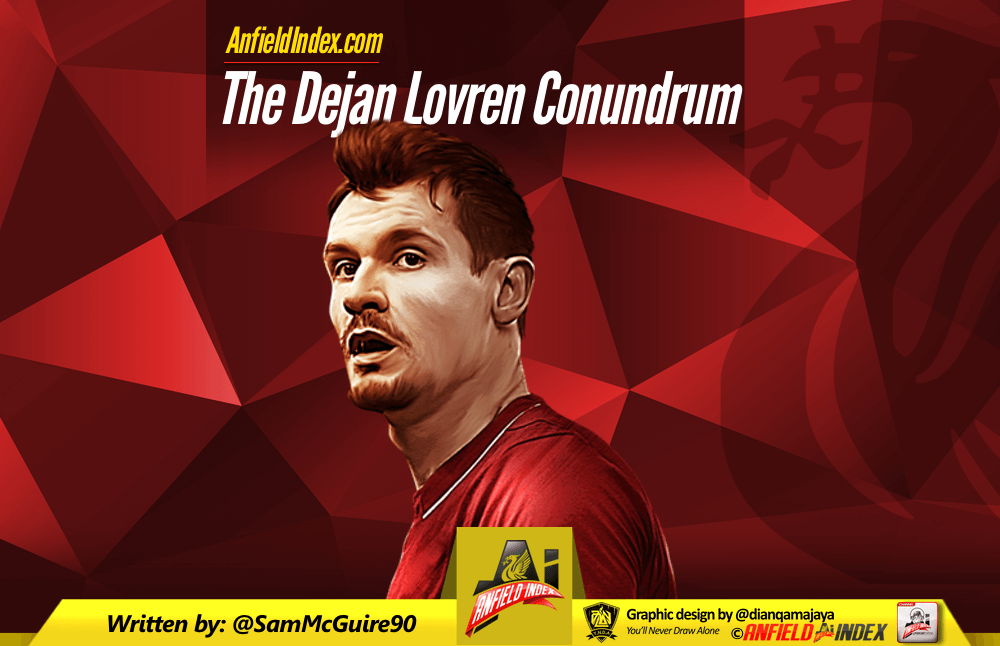 The Dejan Lovren Conundrum

Whenever a club signs Dejan Lovren a free instruction manual should be provided on what to do and what not to do to get the best out of him. Similar, in many ways, to the guidelines set out if you were to have a Gremlin, I suppose.
Instead of the "don't feed them after midnight" spiel it's been replaced by a few simple rules:
– Don't partner him beside the reckless, poorly disciplined Alberto Moreno because he shouldn't have to sweep up after him.
– Ensure he has protection ahead of him. If teams are able to get players running at him whatever happens next isn't his fault and you've been warned.
– Put a leader/dominant defender next to him because looks can be deceiving. He may bang his chest whilst looking into the Kop and be pretty vocal on the pitch but passion doesn't always translate to being a leader. His best spells have come beside defenders who all took control – Jose Fonte, Mamadou Sakho and Joel Matip.
Follow those specific guidelines and you'll see Lovren perform as a 6/7 out of 10 every week, with a few minor hiccups here and there, but nothing to lose your mind over. I know many have described Lovren as brilliant beside Matip as of late and there were signs of a solid partnership there. There's the whole argument about whether or not Liverpool had been tested defensively in recent matches and if not could you really judge the pair? Then to counter that there are those saying we've not been defensively tested because of how good the defenders have been and it spirals out of control and we just end up going round in circles. It's the whole Schrodinger's cat theory.
It pretty much comes down to your personal opinion of Lovren. If you like him you're more likely to look for the positives and 'big up' his performances. If you weren't a fan then obviously he'll need to do more to win you over. A lot of Liverpool players will always divide opinion like that. It's shit but it's true. But unlike many divisive players Liverpool have in their squad, Lovren is still yet to deliver a 9/10 performance in a Red shirt that people can hang their hat on.
Mamadou Sakho was a topic of much debate, not anymore though, for practically his entire Liverpool career. The Frenchman put in a 9/10 performance against Manchester United at Old Trafford in the Europa League and practically kept Liverpool ahead until the Coutinho goal. Go back and watch it. United went at us and Sakho repelled practically everything. He was lauded for it. For a spell when Klopp was appointed, Sakho was putting in memorable defensive performances, alongside Martin Skrtel and Alberto Moreno, on a weekly basis.
Emre Can is another player who falls into this category. One week he's overrated and the next he's underrated. It doesn't matter whether you rate him or not, his performance against Villarreal in the Europa League semi-final 2nd leg seemed to get unanimously praised.
I fully understand the fact people will say I have an agenda towards Lovren and I've never liked him but has Lovren had that one match that unites 99.9% of the fanbase to say 'yeah, nice one Degsy'? Not that I can recall. He may perform as part of a unit, and obviously some players excel in certain units and systems, but he appears to be a pretty specialist defender.
As soon as the goalposts are moved ever so slightly for Lovren and the playing conditions aren't perfect the horror begins to unfold for Liverpool supporters watching on. What's the worst that could happen sort of vibe. Against Palace the Croatian had a bit of a mare (he saved face with the goal) and many blamed the inclusion of Moreno, because it's easier to do that. Against Bournemouth he had a Lovren moment and people looked to say it wouldn't have happened had Matip been playing despite the fact Matip would have had no impact on the mistakes Lovren made, not in isolation anyway. There was also talk that the Liverpool midfield went walkabout and offered him no protection which could be true but you don't expect a defender of his calibre to be so brittle.
The Bournemouth Opener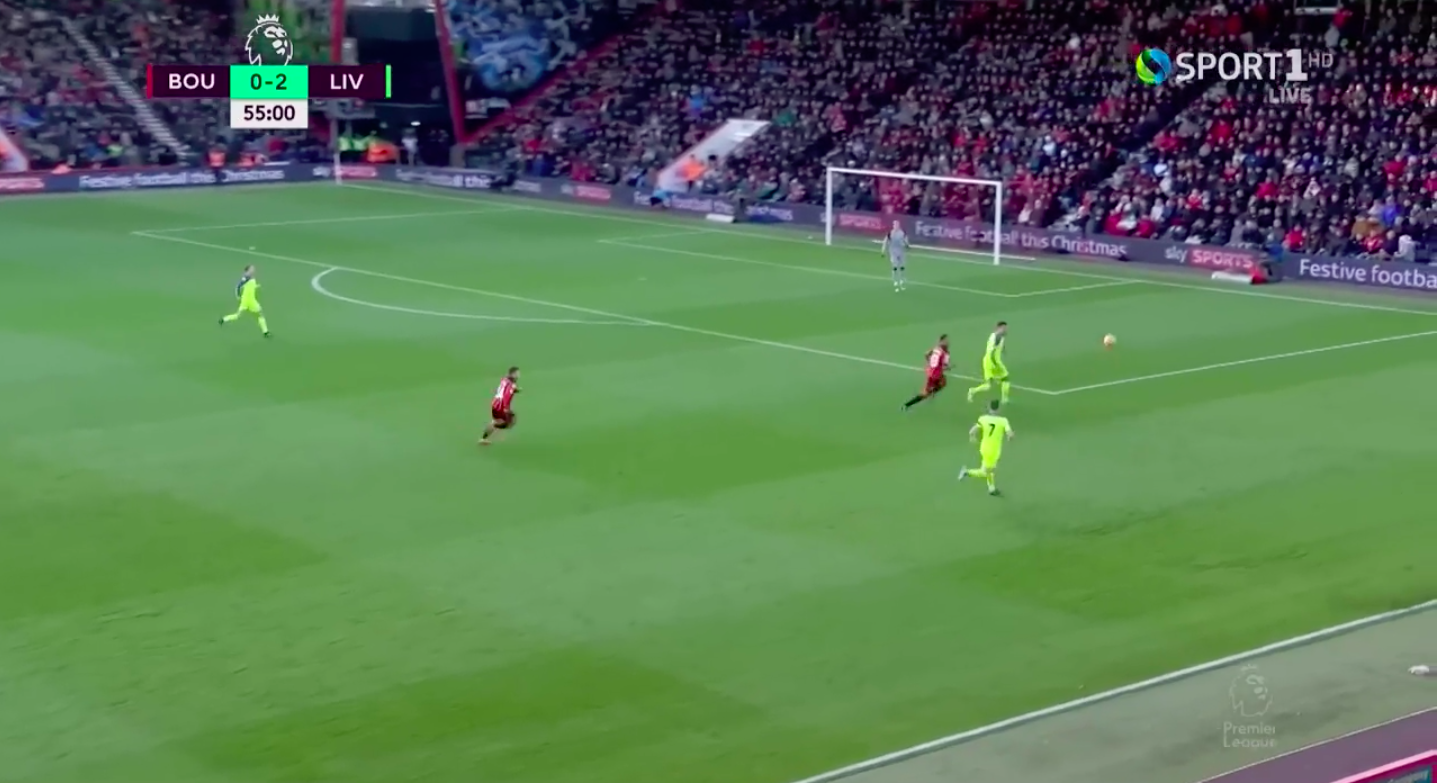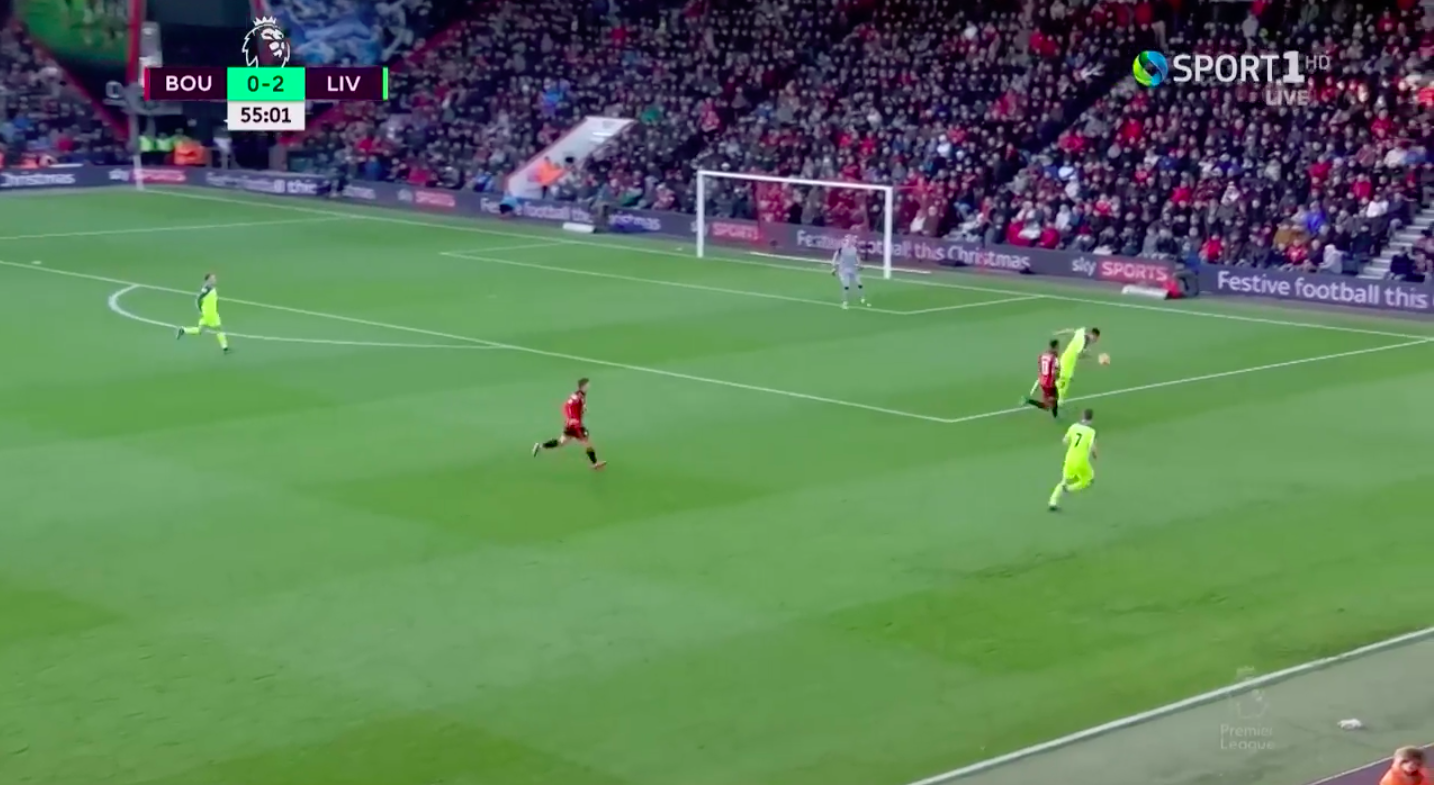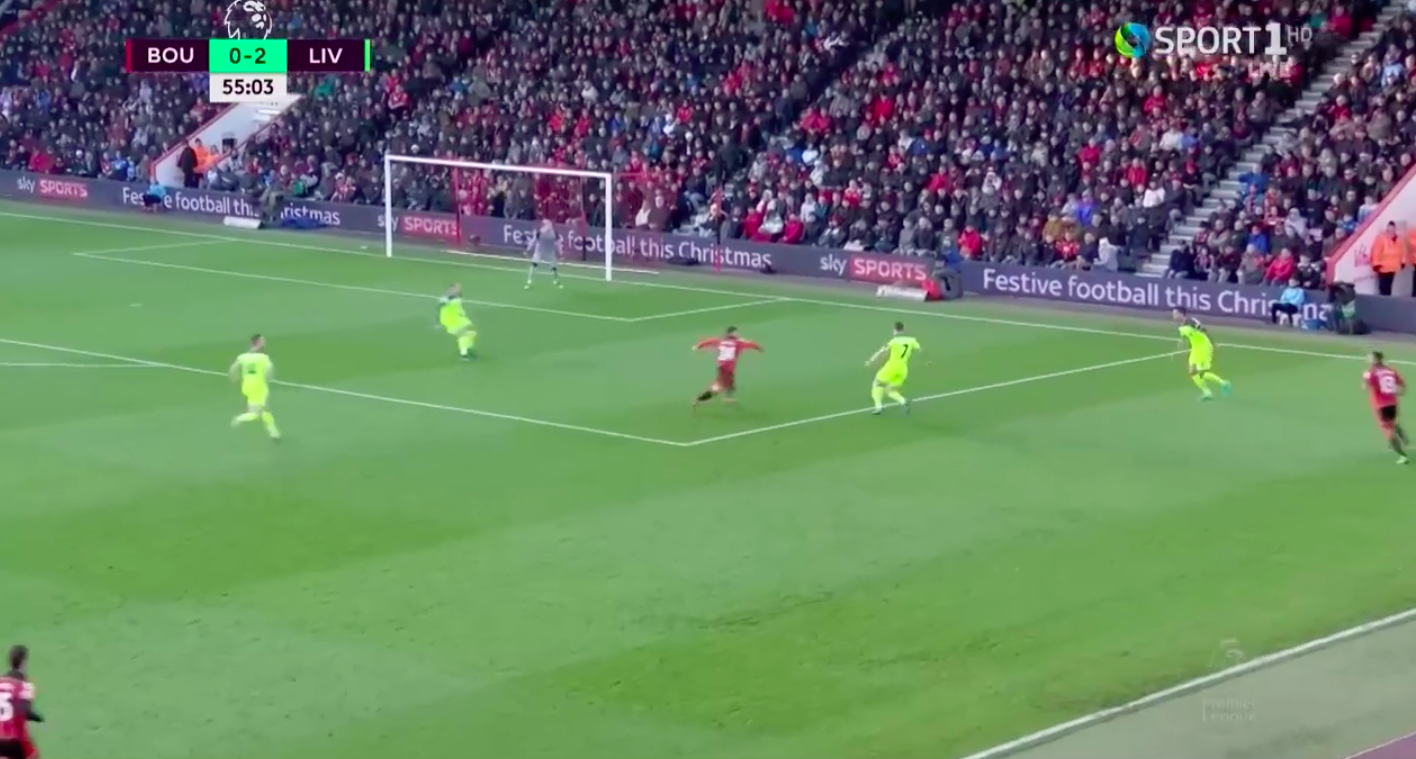 Above are three images taken in the build-up to Bournemouth winning their penalty. In the first picture Lovren has an abundance of options he could decide to go with to deal with the bouncing ball. He could put it into row z for a throw in but that's not really the Liverpool way. He could potentially hold Wilson off and see the ball out of play. He could play the ball back to Karius or even switch it to Lucas. He could run towards the ball, chest it and then use his left foot to hike it up field. Instead he opts to awkwardly head the ball and generates next to no power on it because he's not timed it properly before he slips over. This then means Milner has to cover and ends up giving away the penalty despite the fact Fraser is going nowhere and doesn't have support.
Is this the first time he's done something like this? Will it be the last? Are the links to Virgil Van Dijk that silly now?
The Bournemouth Second Goal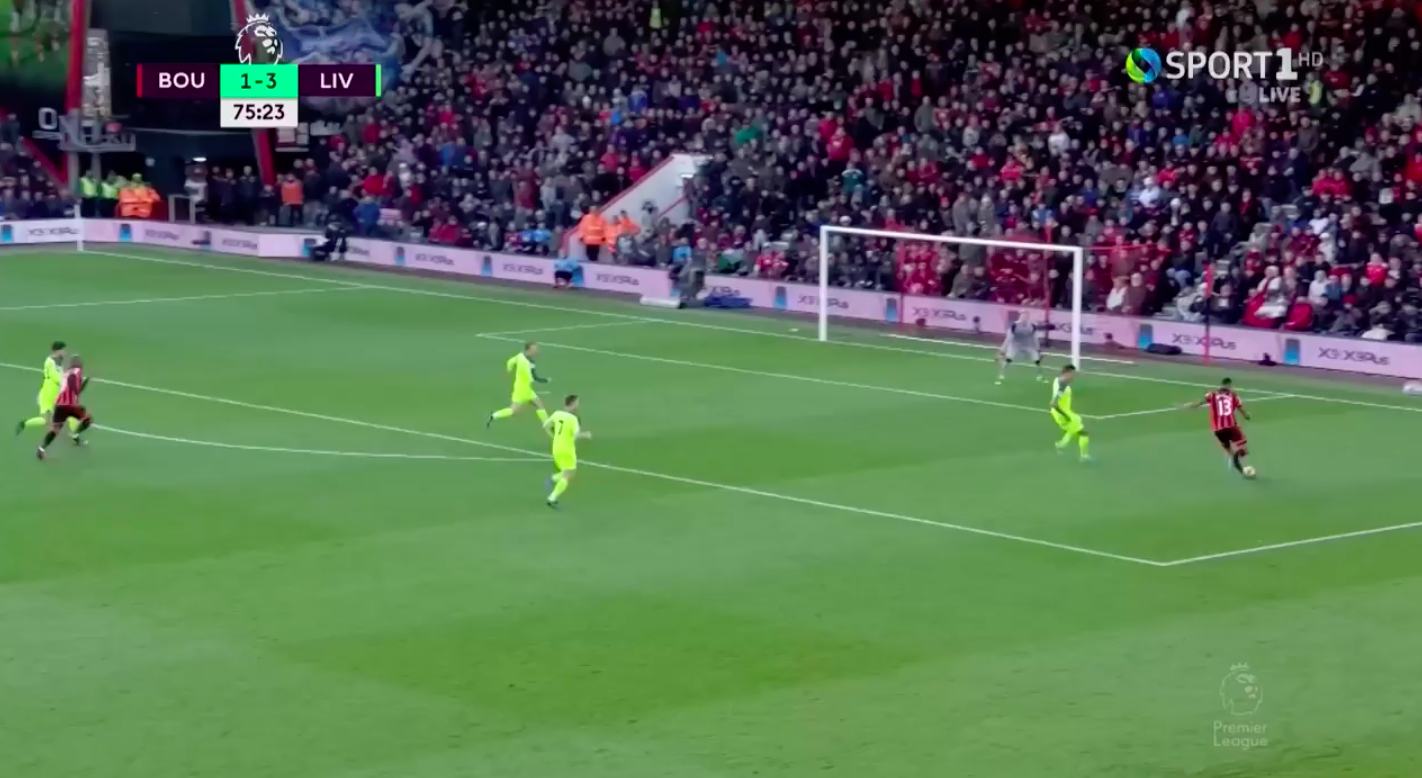 This one may be harsh but against Palace there appeared to be question marks surrounding Alberto Moreno for the Palace second. Apparently he wasn't close enough to Zaha who was able to put the cross in and McArthur nodded home. In the picture above, taken just before Wilson pulls it back, we see Lovren in a bit of an awkward position. He's tracked Wilson but he's in no position to do anything here. Wilson could fire a shot in at goal or he could pull the ball back – Lovren wouldn't be able to prevent either. The Bournemouth man pulls it back, Liverpool can't get the ball away, and Fraser fires home. Karius should make the save and because of this Lovren's positioning has largely gone unnoticed.
Should Lovren be closer? Maybe. Should he be showing Wilson the outside? Probably. Should the pass inside be blocked off by the Liverpool number 6? You'd imagine so. Am I being too critical on Lovren? Perhaps.
Is he too specialist for such a fluid Jurgen Klopp system? We'll have to see.