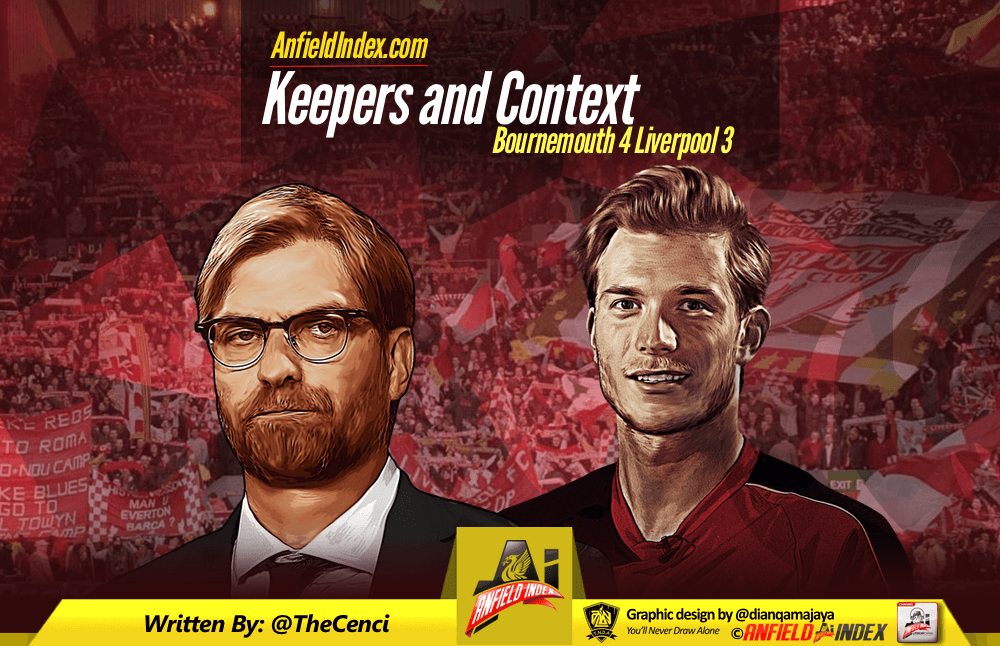 Keepers and Context | Bournemouth 4 Liverpool 3

Many years ago a fanzine editor gave me a piece of advice that I will take to my grave. Whereas he had to write copy for a newspaper shortly after the final-whistle while the blood was up, I had a few days grace to compose myself and write with the luxury of time. He said to me – 'Never write angry. Always sleep on it. Let it sink in.'
Hence, I'm going to be asking you to calm down about the second-half shambles on the South Coast, rather than shrieking at passers-by or announcing your willingness to stand outside Loris Karius' front door with a barrel of rotten fruit and a good throwing arm – let's try to be rational.
It all started so well. The opening 45 minutes were among the best of the season with Sadio Mane and Divock Origi taunting the Bournemouth defence with their pace and movement. Behind them, Gini Wijnaldum was the personification of perfect midfield play. I swear that man has half-an-hour on the ball even with three men around him. He's fast becoming my favourite player. I'm this close to getting a tattoo bearing his glorious smile.
Sadio finally got through thanks to some quick thinking and a nice bit of control before Divock scored a frankly obscene goal. Had any of you tried that it would have been a goal kick. Had I tried it would be a throw-in.
0-2 then and all is well.
Enter reality.
Coming back onto the pitch for the second-half, Liverpool looked a different side. The warning of Bournemouth's first-half penalty appeal wasn't heeded (and we really got away with that one) and we were a Lovren/Milner error from an opening goal. That's okay though because we can simply score another. But did we learn our lesson when Emre stuck away that magnificent but now forgotten strike? We did not. Instead we allowed a Bournemouth flood to submerge our weak sandbags.
Twitter went insane and, to be honest, I was part of that rage. We may have been missing Sturridge, Coutinho and, for the main part, Lallana as well as Matip, but this Liverpool eleven should be able to hold a two goal lead when asked to, particularly when we had two bites at the Cherries (ho ho).
Many barbs were thrown at the creakiest of back fours and the keeper, but a large portion of the blame must go to the senior players and captain. When the opposition is in the ascendancy and you've got 15 minutes to protect a lead, you take stock, keep the ball and frustrate them to the point where their fans give up at the inevitability of the coming result. What you don't do is lash tackles in left, right and centre and allow people to take pot-shots at our chocolate-wristed goalkeeper. That's a time for cool heads and an almost sneering 'Alright, lads. You've had your fun. We'll take it from here.'
We've been good at that too. We saw off Arsenal and Chelsea – far superior teams than Bournemouth – with this newfound serenity, but yesterday we looked panicked in the face of Jack Wilshere and Jordan Ibe.
Jack Wilshere and Jordan f*cking Ibe.
I'm getting angry again. Sorry.
There's no disguising the fact that the keeper was terrible. Klopp was keen to point out that no matter what anyone says about Karius, he won't change his mind on making him first-choice. This is laudable in some respects, but we've been here before. It took Brendan Rodgers ages to drop a struggling Simon Mignolet for the deplorable Brad Jones (try diving AT the ball next time, Brad) and we went from bad to worse.
Klopp clearly rates the 23 year old German, but at what cost? I'm all for giving youth a chance, for the likes of Ben Woodburn midweek, but you don't mess about with your goalkeepers. If I were in charge of transfers I wouldn't have one younger than 28 in the first-team squad. Let them make their mistakes – as they will happen – at other clubs rather than practicing in our goal. Personally, I'd like to have seen us break the bank for Cech or Lloris or keepers of that ilk rather that a 'he's got potential' glove-man.
Liverpool haven't signed a reliable goalkeeper in ten years.
Ten
Years.
Keepers make mistakes. I'd just prefer us to lessen the possibility of them.
Last week on the Nina Kauser Show, I was asked which of our keepers I would play. Simple. Neither. They're both unimpressive and the real question seems to be 'which one will hurt us less?'
We won't buy a keeper in January and that worries me. We may be great going forward but if both of our lads brood on their poor performances it will come to nought. Do we think Andy Carroll will be kind next week? I doubt it.
What doesn't worry me is yesterday's result. Or at least now that I've slept on it, gone for a long walk and come home to kick a few skirting boards in quiet contemplation.
The very nature of unbeaten runs is that they ultimately must come to an end. They must also be judged in context. For example, when Chelsea turned up at Anfield in October 2005 and battered us 4-1 it was our worst home defeat in something like forty years. Fansites (no Twitter then, mercifully) went into a deep depression at that until it was pointed out that if our next 4-1 reverse is another forty years away we could all live with the day. Similarly, if we win our next four games no one will be talking about Big Dejan Lovren looking like he's never seen a ball before or Karius spilling a ball in injury-time.
This is a strong Liverpool side and though we don't know if it's a great one yet (let's win something first, eh?), there's not too much wrong elsewhere. It's important that that poor performance doesn't run into the next game. Let's make sure that we've lost three points at that ground and not six because we're still living with it. It's time to make West Ham suffer for what happened, not Liverpool.