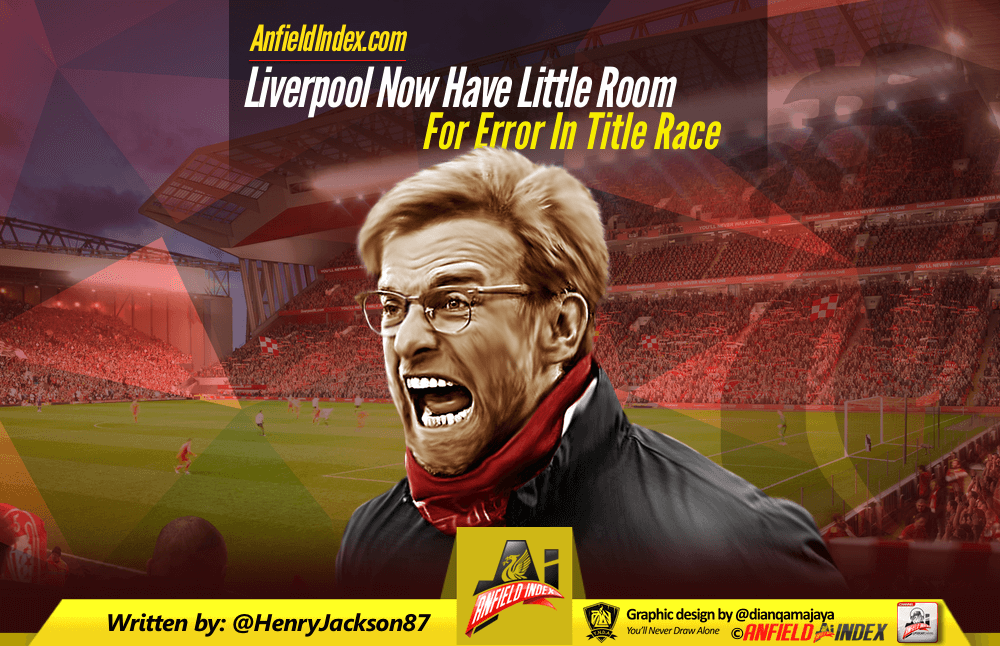 Liverpool Now Have Little Room For Error In Title Race
Jurgen Klopp has made a point of stressing that Premier League titles are not won or lost in December.
So much of what the German says hits the nail on the head more than most managers in world football, but he is only half right here.
The 49-year-old is spot on about the league being impossible to clinch around the Christmas period, barring some kind of freak season, in which a team pulls 20 points clear. That has never happened in the Premier League era, though.

Where Klopp is incorrect, however, is in claiming a team cannot play their way out of the race in December.
We as Liverpool fans know all too well what it is like to fall to pieces in the winter months, with far too many examples of pre-New Year capitulations in the past.
How many times have the Reds been effectively too far behind Manchester United, Chelsea or Arsenal over the last 20-odd years, whether it be in December, November or even October?
Sloppy defeats have been far too common, needless pressure has been heaped onto their shoulders, and before you know it, fourth-place is the best you can hope for.
Despite Liverpool's nightmare at Bournemouth, they remain in a very healthy position this season, contrary to what some would have you believe.
The first three-and-a-bit months of 2016/17 have been a very pleasant surprise, but we are not used to matches being this important at this stage of the campaign. It's almost as though we can't cope with the stress of it all, with every game feeling like the biggest in history. One loss is, therefore, treated like the end of the world.
The Reds sit four points behind leaders Chelsea, three behind second-place Arsenal and level with City, who are fourth. If we had been told that back in August, the worldwide Reds fanbase would have simultaneously grinned with glee.
While Liverpool's first 14 league games have brought some wonderful results and a strong league position, it does feel as though we are in a pivotal period of the season – a period in which Klopp's men cannot afford to let that gap at the top grow much wider.
Chelsea have a kind run of fixtures on the horizon, and like Liverpool, their lack of European football is only going to benefit them between now and May. It is far too early to start calling them champions – any team with David Luiz in it has the potential to fall to pieces – but they certainly look ominous.
Losing to Bournemouth has given the Reds little room for manoevre, and the next month or so is really going to be a test of their mettle. With injuries to key players and slight signs of fatigue setting in, their squad depth and mental fortitude need to come to the fore.
The visit of West Ham on Sunday should be a straightforward victory, without tempting fate, but then a tricky little run of games take place before the New Year.
Liverpool make the trip to Middlesbrough on 14th December – a fixture that has not been kind to them over the years – on what is sure to be a freezing cold night under the lights of the Riverside Stadium. The Reds haven't won there since March 2002.
Then comes the Merseyside derby with Everton at Goodison Park the following Monday. We can all sit back and laugh at their current struggles under Ronald Koeman, but that is likely to be an extremely tough 90 minutes for Liverpool. Their bitter rivals would love nothing more than to dent their title hopes.
The fact that the Reds' rivals will have played and likely won by that point will only crank up the pressure a further notch.
After what we hope is a routine win at home to Stoke City on 27th December, Man City head to Anfield for an enormous New Year's Eve showdown. It's still outrageous that Liverpool are having to play at 5:30pm on New Year's Eve, by the way. Haven't the Premier League thought about how it may ruin the most overrated night out of the year?
Given Chelsea's frustrating current brilliance, Liverpool's clash with City could be hugely damaging for one of them in the title race.
It is quite possible that the Blues could be around least seven or eight points clear of both by that point – Antonio Conte's side's next five opponents are West Brom, Sunderland, Crystal Palace, Bournemouth and Stoke – so a defeat at the hands of Pep Guardiola's side does not bear thinking about.
The Reds host Chelsea on 31st January, following league clashes with Sunderland, United, Swansea City and Southampton earlier in the month, and Klopp's team need to still be in touch with their old adversaries at that point.
There are likely to be twists and turns in the approaching months, but if our beloved Reds endure more bad results between now and the Chelsea showdown, their Premier League dreams may die for another season.