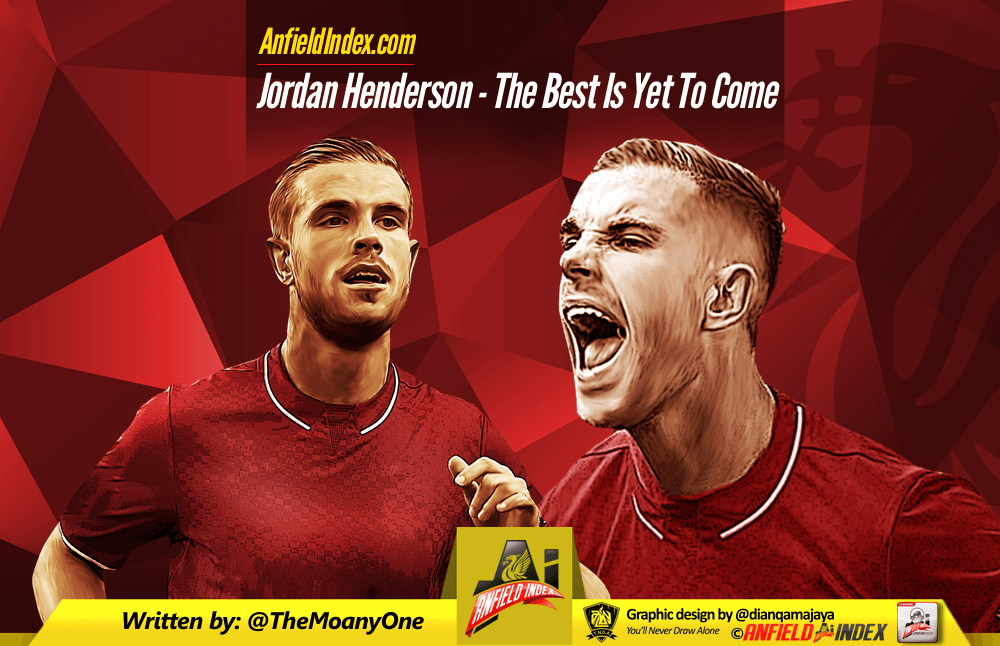 Jordan Henderson - The Best Is Yet To Come
There's a saying that springs to mind when I think of Liverpool captain Jordan Henderson – that is fool me once, shame on you, fool me twice, shame on me. For a lot of fans my use of this analogy when I talk about Henderson may be a small bit confusing. Well let me explain.
When Henderson came to Liverpool in the summer of 2011, I like many other Liverpool fans were of the opinion, that Henderson simply wasn't good enough to play in a Liverpool midfield which once had players like Xabi Alonso, Javier Mascherano and Momo Sissoko playing in it.
Such was the lack of faith in Henderson that ex manager Brendan Rodgers tried to include Henderson in a deal which would see Fulham midfielder Clint Dempsey move to Anfield and Henderson move in the opposite direction. The fact that Rodgers at the time did not fancy Henderson did not seem to upset too many fans. Henderson though in fairness to his fought for his place successfully in the Liverpool midfield.

Playing along side Steven Gerrard in his early years at Anfield seemed, at times to over awe Henderson. At times Henderson's performances were poor, he misplaced passes, over hit other ones and at times because of failure to do the simple things right was often the reason that promising Liverpool attacks broke down.
Then there was the price tag, depending on who you believe, the price tag was anywhere from £16 million to £20 million. Henderson had a lot to live up to, he was a young player, an upcoming star in the English game and was being talked about as a future England captain. Because of all of these things, Henderson looked like he would not be able to settle in the Liverpool team which invariably put his time at Anfield in jeopardy.
Many speculated that his time on Merseyside would be short-lived and he would be labelled another expensive Liverpool flop, a young player who came to the club with high expectations but who left the club achieving nothing but a tarnished reputation. A player destined to go on the Liverpool scrap heap and soon to be forgotten by Liverpool fans. Sort of like Alberto Aquilani – remember him.
Then 2013/2014 happened. Brendan Rodgers named him Liverpool vice captain, imagine the audacity of Rodgers naming a young English player as Liverpool vice captain after he had achieved nothing with the team, a player who was subjected to nothing but grief and abuse from Liverpool fans. Does it remind you of another Liverpool player?
Henderson, thrived in his role as Liverpool vice captain, he was finally able to step out of Gerard's shadow and showed fans the player he was, the player who had captained every club he had played for and a player who had represented England at every under age level and also captained them.
His pace and engine in the Liverpool midfield that season was a sign that maybe just maybe, those fans who moaned and groaned about him had maybe gotten it wrong about and Liverpool had finally got a bargain when they signed Henderson for £20 plus million.
Henderson's influence that season was so important that when he was suspended for the Manchester City game towards the end of the season, Liverpool fans knew the title dream was over. There was no other player in the Liverpool midfield that had Henderson's desire to run and chase the ball and break up attacks. In essence, Henderson was the glue that kept the Liverpool team together.
Henderson's 2014/2015 and 2015/2016 seasons were blighted by injury. It was announced that Henderson was suffering from Plantar Fasciitis, a condition that affects the ligament on the sole of your foot. He spent most of those seasons travelling over and back to America for a series of pain killing specialist injections to try to cure his problem.
As there is no known cure for this injury – apart from letting the ligament rupture and heal itself, I was of the opinion maybe now was the time for Liverpool to offload Henderson and try to recoup some of the money that was forked out for him in 2011, shame on me.
This season Henderson is back to his best, if you compare him to his Liverpool team mates, only Philippe Coutinho has a better stat record over all than Henderson. He has anchored the Liverpool midfield, something similar to what he did in the 2013/2014 season.
He is the first Premier League midfield player to make over 1000 passes this season (1132 to be exact at the time of writing this) – to put that in to perspective, Henderson has so far played 14 Premier League games this season for Liverpool, at the same time Mezut Ozil has made 703 passes, David Silva 666, Victor Wanyama 713, Nemanja Matic 792, Paul Pogba 861 and N'golo Kante 864.
While Henderson has only scored the one goal so far this season, he has created 24 chances and has 4 assists to his name, his pass accuracy is a massive 88% and 74% were forward passes. He has won 42% of his duels and he passes the ball on average 19 metres.
Alongside Georginio Wijnaldum and Emre Can, Henderson has finally lived up to his price tag and has shown a maturity greater than his age suggests.
If you compare Henderson to N'Golo Kante, he has also scored the one goal, has no assists and has created only nine chances. Kante has a pass succession rate of 89% and 69% of those have been forward. Kante has only won 39% of his duels and he passes the ball on average 17 metres.
Then there's Paul Pogba, compared to Henderson, Pogba has less passes this season, less assists (2), created the same amount of chances (24), his pass succession percentage rate is also less than Hendersons (86%). Pogba has won more of his duels but as a forward minded midfielder this is to be expected.
While some might argue that Henderson only winning 42% of his average duels is poor, let's look at the teams Liverpool have already played and beaten. Chelsea, Arsenal and Leicester City have already been disposed of. Manchester United and Tottenham Hotspur escaped with a point against Liverpool.
Neither Pogba or Kante have played as many of the top clubs that Henderson has and as the season progresses I expect Henderson to surpass last seasons 48%, when it comes to average duels won.
With a busy Christmas period coming up I'm hopeful that Henderson can use his experience gained at Liverpool to still have the team in the Champions League places and results like the defeat at Bournemouth recently are only blips.