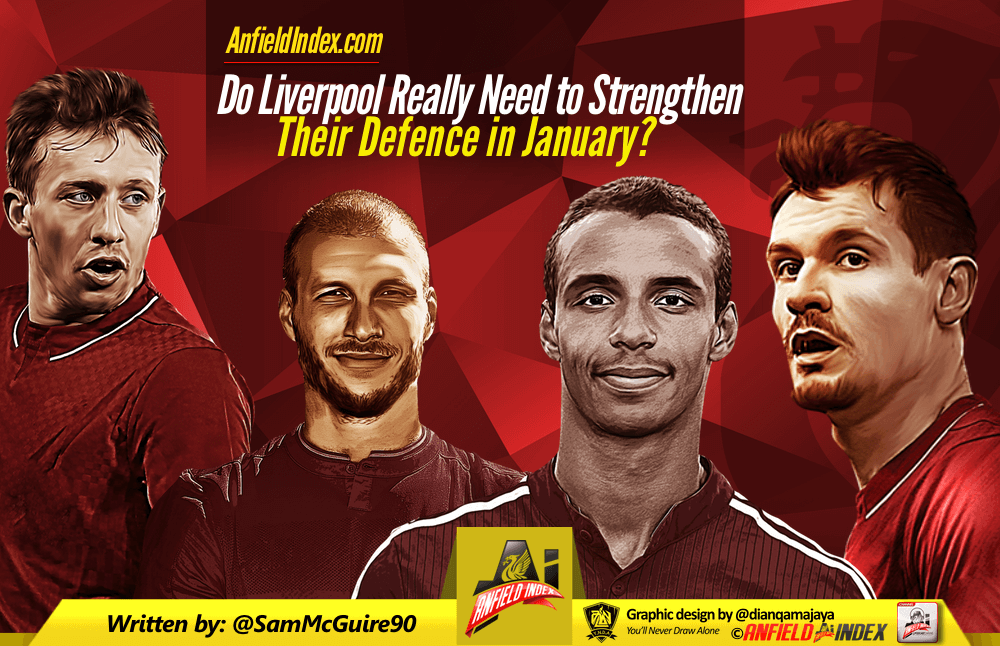 Do Liverpool Really Need to Strengthen Their Defence in January?
After the capitulation at Bournemouth, questions marks once again hang over the Liverpool defence. Will that area of the team once again be the reason the Reds can't sustain a title challenge? Is it a personnel problem or just a systematic issue that needs time to be ironed out? Was it simply just one of those games of football and you just have to accept it sometimes happens?
There are a lot of questions and very few answers for now. Many seem to be dependent on the long-term and it's this that football fans appear to have trouble with. There's a demand for instant results, instant answers, and instant gratification. Sometimes it's just not possible though.
However, one thing that can be answered now centres around the heading of this piece. Do Liverpool really need to strengthen their defence in January?

There's no right or wrong answer here but you'd have to assume if Liverpool really want to compete for not just a Champions League place but put in a valiant title challenge then yes, a new centre-back is needed in January. Now many may assume this is a knee-jerk response to Sunday and, I suppose, in many ways it is. But the need for a new centre-back, at least in my eyes, doesn't come from the fact people still have concerns over Dejan Lovren as a starter for Liverpool. Putting my personal feelings about the Croatian aside I think the result against Bournemouth was a bit of an eye opener in terms of the drop in quality between the starting centre-backs and the reserve centre-backs.
When Ragnar Klavan signed in the summer Jurgen Klopp said he's more than just a fourth choice centre-back, yet so far this season that's exactly what he's been. Lucas has jumped ahead of him as the substitute centre-back with Klopp utilising his ability on the ball and his aerial presence. The Estonian, who joined the Reds in a deal worth £4 million, initially impressed when he signed but he's had some hairy moments in possession in various matches and it seems this has put him behind Lucas in the pecking order. Lucas has impressed many with how he's adapted to life in his new role but in his last three outings as a centre-back he's given away a goal against Leicester, gave away a penalty against Spurs and Liverpool conceded four against Bournemouth. It's not exactly the best track record.
That's not a knock on either of the players. They're not bad but at the same time they are not Liverpool starting quality are they? Not if they're covering for Joel Matip anyway.
It would be silly to spend £30 million on a back-up centre-back but at the same time it's negligent to go through an entire season with a centre-midfielder as your third choice centre-back and Ragnar Klavan as the fourth choice. If Matip and Lovren were bulletproof it would be fine but it only takes a knock to one of them to bring Lucas into the starting XI.
Dejan Lovren appears to pick up the odd knock every now and then which forces him to miss the occasional match. He's already missed three Premier League matches and throughout his entire Premier League career – the one season at Southampton and the two full seasons at Liverpool – he starts, on average, just the 25 league games per season. Are Liverpool really in a position to be fielding Lucas as a centre-back in 13 Premier League matches if they real title aspirations?
According to ESPN, Matip is back training with the squad in Barcelona but can you imagine if he was out for months? Liverpool's back four would consist of Nathaniel Clyne, Lucas, Dejan Lovren and James Milner. In a Klopp system individuals mean nothing and it's their influence on the team which counts but, in all honesty, who would be confident with that back four with games against West Ham, Everton and Manchester City coming up?
Most Premier League sides aren't blessed with an abundance of high quality centre-backs but they do have three strong centre-backs on their books. Manchester City, Chelsea, Spurs and Manchester United all have better depth in that area and could cope with the odd injury. Liverpool aren't afforded such luxuries, yet.
Many on social media appear to be investing a lot of hope in Joe Gomez. In an ideal world he'll come in, impress and become the versatile defender so many teams have on their bench. But being realistic he's not played many games at centre-back, usually playing full-back for Charlton as well as the few games he played for Liverpool, and he's coming back from a severe injury. There's no saying he'll be the same Big Joey Gomez that impressed us all in pre-season under Brendan Rodgers.
Klopp has shown you don't have to spend big to improve players and a squad so perhaps he repeats the trick with the centre-backs. The recruitment team identify a player who fits the profile and the drop-off in quality between starter and back-up isn't as alarming as it currently is.