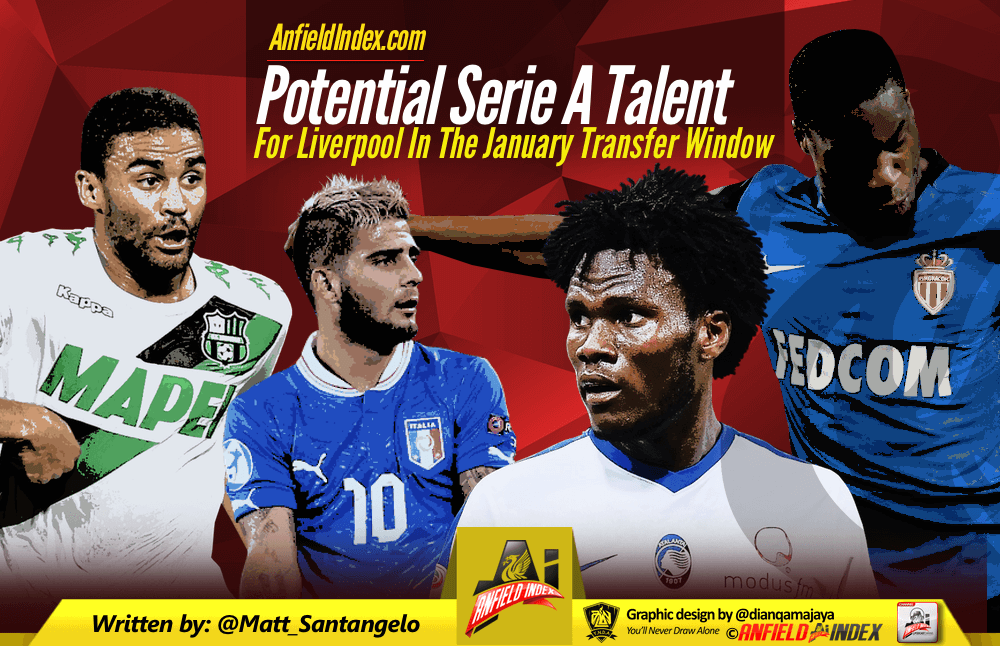 Potential Serie A Talent For Liverpool In The January Window
Since Jürgen Klopp took the seat at Anfield as manager last October, Liverpool could not have asked for a better situation to be sitting in as we creep closer to year's end.
As it stands, Klopp's resurgent Reds are sitting pretty in the league table (3rd), three points behind Arsenal for second and six from Chelsea in first. On the contrary, Liverpool are coming off a 2-2 draw with West Ham at Anfield, Philippe Coutinho is out indefinitely and the absence of Sadio Mané — when he serves Africa Cup of Nations duty for Senegal next month — signals that management need to be aggressive during the January Transfer Window.
Liverpool, like their league contemporaries, will be looking to next month's window in order to shore up their squad. Murmurs about potential moves have long surfaced, and it's now time to identify which players could fill a need — or two — for Liverpool as they look to continue on as contenders for the league title and secure Champions League football for next season.

Here are four rumoured talents from Italy's top-flight, Serie A, that could round out the Reds roster for the stretch run:
Lorenzo Insigne (winger, Napoli)
The Naples born spark-plug enjoyed his best season as a professional in 15-16, netting 12 goals and 10 assists, aiding Napoli in achieving Champions League football with a second place finish.
After the sale of Gonzalo Higuain to Juventus and the major injury first-striker Arkadiusz Milik endured whilst serving international duty for Poland, Insigne's exploits couldn't be more valuable. The Italian did not get off to the hottest of starts for the club but has since turned it on.
Last month, rumours began to surface that a move away from his parent club could be in the works as both sides continued to butt heads over contract demands.
Klopp has not utilized a true striker at all this entire season until recently with Divock Origi. While Coutinho continues to work his way back and Mané is away for AFCON, Insigne's qualities would fit tremendously at Anfield. An energetic little player with a blend of speed, trickery and the ability to play in advanced positions makes the former Pescara standout a fit for any. But, as he hopes for a new contract, the chances of him moving before summer are slim, especially since he has such strong ties to his home.
Gregoire Defrel (forward, Sassuolo)
Like Insigne, Sassuolo's versatile attacker Gregoire Defrel fits the current scheme and style of play under Klopp.
The 25-year old can be deployed out on the wings, play in behind Robert Firmino or front the attack and link play. Eusebio Di Francesco has relied so heavily on Defrel through the first 15 rounds of Serie A play, with star youngster Domenico Berardi having spent the majority on the shelf.
Last season, the Neroverdi beat out AC Milan for the final European spot, but failed to escape the Group Stages this term. The added Europa League fixtures seem to have taken its toll on the young side and they now sit deep in 15th. That being said, Defrel would likely become available for any club should Sassuolo's demands be met. Six goals in 14 matches could be of use outside Italy for a contending club.
The club's director, Giovanni Carnevali, claimed that both Premier League and La Liga clubs have enquired about the Frenchman. But it remains to be seen whether or not they've cooled off on him and prefer to direct their attention towards Borussia Dortmund's teenage American, Christian Pulisic.
Franck Kessié (midfielder, Atalanta)
The 'new Yaya Toure,' branded by papers and sections of the Italian media, has enjoyed his first season in the Italian top-flight with Atalanta.
Franck Kessié, an Ivorian like the Manchester City star, has quickly become one of European football's most sought-after commodities in 2016. The 19-year old has been Gian Piero Gasperini's main man in the young starting XI, dictating play in front of the defence and scoring goals which have decided the outcome of matches on several occasions.
Despite being so young and still unfinished, Kessié shares some of the same qualities with his idol Toure. His strength and power makes him a handful for opposing players. Typically, defensive midfielders aren't asked to be potent offensive forces, but Kessié has the speed and knack for moving into advanced positions, evident in his goal tally over 13 matches (5 goals).
While Liverpool would love to add a youngster like Kessié to their midfield ranks — already submitted a sizeable €22m bid (via Corriere dello Sport) — they face stiff competition from several of their closest rivals; the same source out of Italy claims that Tottenham has tabled a 23 million euro offer plus a five-year, €2.5m a year deal.
Make no mistake about it. Kessié is a wanted man around Europe. Juventus have long admired the teenager and last weekend got a glimpse of his trade firsthand at J Stadium. Arsenal and Manchester United, who he dreams to play for in the future, still remain in the race as well.
Due to heavy foreign interest, a move out of Italy seems more likely should Atalanta opt to sell him in the midst of their own run at Europe.
Geoffrey Kondogbia (midfielder, Inter)
After a major £25m (€35m) move from Monaco to Inter last summer, Geoffrey Kondogbia has struggled to stake his claim in Italy.
The 23-year old French international was one of the most coveted players around Europe last summer, with several Premier League clubs interested in his services. City rivals Milan, who were very close to finalising a deal for the midfielder, reportedly offered €40m before the deal fell through. Now 18 months on, Kondogbia has yet to live up to the large tag over his head, furthering rumours that Inter may be ready to offload him.
Kondogbia boasts some very good qualities, which is one of the many reasons clubs were willing to break the bank for him last summer. Playing in front of the defence, he is very good with the ball at his feet and can execute the simple pass or one of the long variety to move play forward. Physically, he is not afraid to pick his battles should the match call for it, which bodes well for him if England becomes his next destination.
Despite failing to make an impact at the San Siro, Kondogbia isn't the only one that should be held accountable for the lacklustre performances of the club. The Nerazzurri, who qualified for the Europa League last season, finished dead last in their group behind the likes of Sparta Prague, Hapoel Beer Sheva and Premier League outfit Southampton. Along with that, they currently sit mid-table and may be sellers in January as Stefano Pioli looks to add players who fit the billing.
Liverpool, according to Gazzetta dello Sport, are the favourites to land Kondogbia in January on loan. Being as he is still so young, and has already played for three managers since his move to Italy (Mancini, De Boer, Pioli), a loan away could help Kondogbia regain his form.
Inter are reeling and an escape to new pastures could be just the cure for Kondogbia's football blues.
Jürgen Klopp certainly has leverage here when it comes to making moves. If he identifies a player who fits the profile and could be had on favourable terms, chances are management will meet his demands as they hope to stay in the race for a league title.