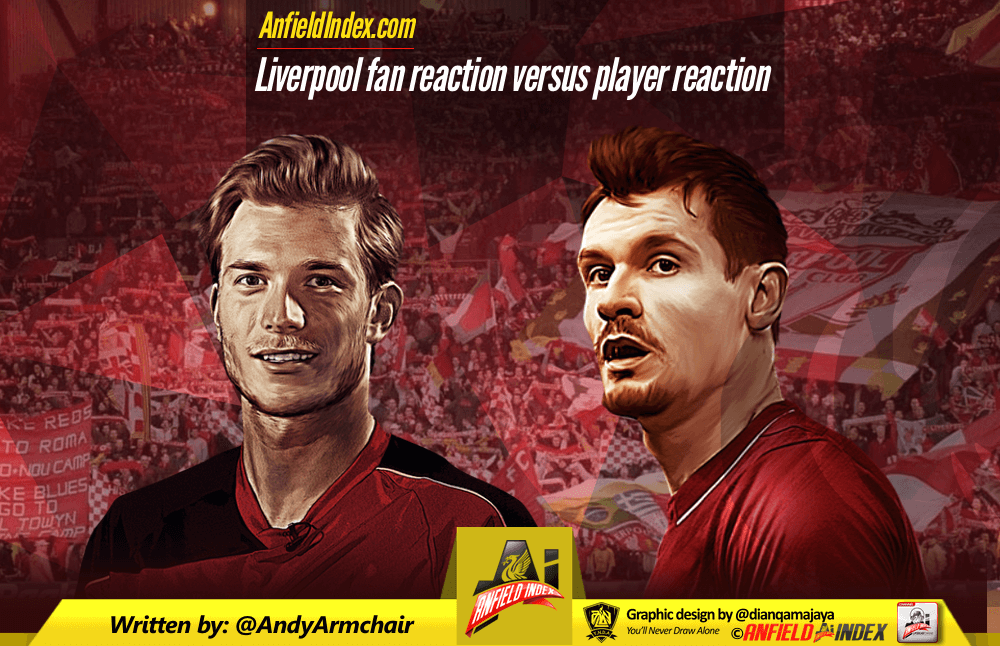 Liverpool fan reaction versus player reaction
Whilst I understand fans being upset at the nature of Liverpool's capitulation to Bournemouth last weekend (trust me, I was pissed off too), I feel the level of fume by some was somewhat disproportionate. Some people were losing their minds. Yes, it was bad, hence my use of the word capitulation and yes, fans have every right to be upset by the defeat and the nature of it.
My issue is how carried away some people got and how quickly they seemed to forget the three months preceding it. I also have an issue with said people's sense of perspective.
To be 2-0 and 3-1 up to Bournemouth and fail to see out the game and seal the points was bad; to lose it in the nature they did was worse. It was a bad at the office where a collection of individual errors (mostly from the most experienced members of the team) proved very costly. I don't doubt that Jürgen Klopp will look at himself and think perhaps he could have done something differently with substitutions to altar the course of the game.

Without the calming influence of Joel Matip, the defence quickly shredded and Dejan Lovren looked more like the nervous wreck he was for the first 18 months of his Liverpool career in a 20 minute team performance that was eerily reminiscent of the latter stages of the Brendan Rodgers era. Proof, if required, that this Liverpool team is far from the finished article and very much what I have been saying for some time: Liverpool are a work in progress.
It should be stressed that progress is a key word here because much progress has been made under Jürgen Klopp with the mentality of the squad, as well as how retrieve possession and attack teams. Are there still further improvements to be made? Absolutely, you can always improve and we still have plenty of work to do with that in regards to our defending.
It was disappointing that Loris Karius somehow became the scapegoat for the defeat. Was he at fault for Bournemouth's winning goal? Yes, Nathaniel Clyne should've gone out to close down the original shot, but the spill from Karius was a costly one, so yes he was at fault for that goal. Does that really mean he was at fault for losing the full game? Was it his fault he didn't save the penalty that initially gave Bournemouth a glimpse of hope? Was it down to Karius that Lovren inexplicably cushioned the ball for the attacker instead of clearing it, before slipping over and then James Milner making an ill-judged tackle to concede the penalty?
What about Bournemouth's second goal? Where Lovren allowed his man to get away from him and then neither Lucas Leiva nor Jordan Henderson could clear the loose ball, was that the fault of Karius too? Perhaps it was the equaliser then? Where the entire defence was caught flat-footed by a simple cross and they then allowed Cook all the time and space he desired to take the ball down, turn and shoot. Was that the fault of Karius?
Of course it wasn't because the only goal Karius was culpable for was the one that everyone remembers. Was that a bad mistake? Yes. Should he have done better? Absolutely. Does that make him at fault for the defeat? Absolutely not.
The defeat was a result of the midfield shutting down and the defence falling to pieces during the last 20 minutes of the game. Bournemouth especially targeted the left side of Liverpool's defence during the second half and it worked perfectly for them. Liverpool failed as a team when it really mattered this past Sunday; they failed to keep possession effectively in midfield and in attacking areas and then failed to defend Bournemouth attacking their left hand side. Poking the finger of blame at one man, when others were more culpable than him is not right and not helpful.
You can analyse that to death and send your blood pressure sky-high over it, but the sad fact is that in football you sometimes have days like these. If it becomes a regular occurrence, as it did towards the end of Brendan Rodgers reign, then you know you have a serious problem and fans getting severely bent out of shape will be warranted.
Much like the beautiful goal from Emre Can, it seemed forgotten by some that this was the first defeat in 15 games. That's right, 15 games since that god-awful display against Burnley.
So, from this defeat there must be lessons learnt, but what really matters most about losing to Bournemouth is what happens next. More important than the reaction of any fume-filled fan is the reaction of the players that take to the field against West Ham. They are the only ones who can put it right and turn a disappointing defeat into an opportunity to go on another long unbeaten run.
That's the kind of reaction I want to see.