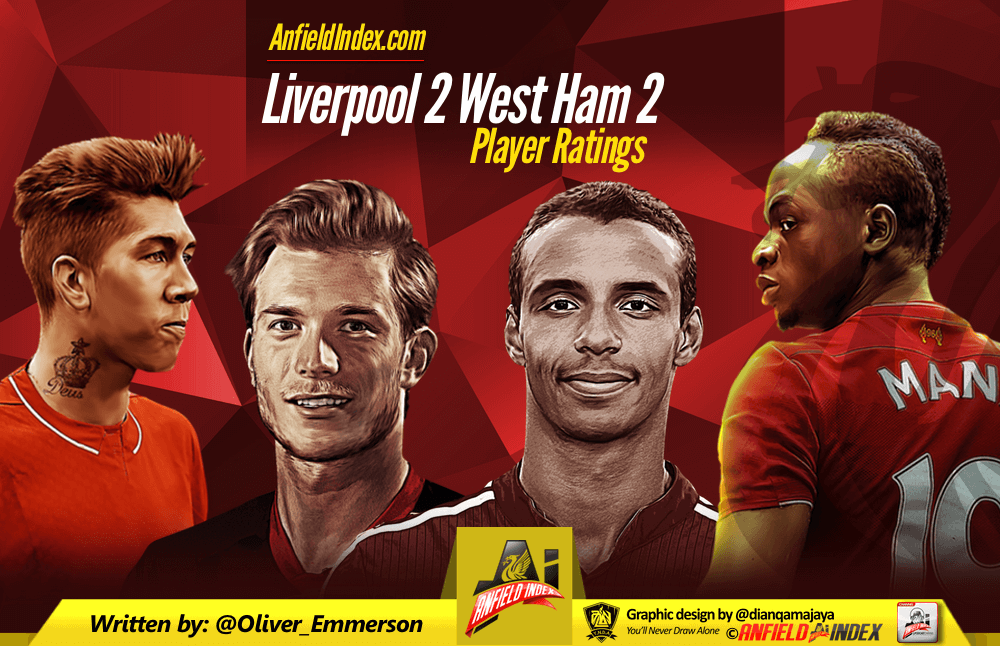 Liverpool 2 West Ham 2 - Player Ratings
Liverpool drop points on back to back weekends as defensive issues cost the home side the spoils! Here are my ratings for today's game.
Loris Karius (6): Early punch away from a corner and then solid save from Antonio, but he's got to do better with Payet's free-kick, despite it curling away from him. Fantastic punch away just as Carroll was going in for a header during the dying minutes, which pushed him from a five to a six. Can do nothing for the second goal, whatever the lads on Sky Sports say.
Nathaniel Clyne (6): Solid if not spectacular, the usual rhetoric for Clyne. No problems at the back although he wasn't too much use going forward, hammering one over after Lallana presented him with a chance late on.
Dejan Lovren (5): Didn't cover himself in glory at all before going off at the break with what appeared to be a hamstring problem. Lost Antonio like a rabbit in headlights early on, and although not directly at fault for either goal, didn't provide much of an improvement on Bournemouth last week.
Joel Matip (5):  Further endeared himself to the home crowd with a nice interception between three players early on, but made his first costly error in a Liverpool shirt by missing the ball for the second goal, leaving Antonio one-vs-one. Was solid enough for the rest of the game and dealt with any threat that Andy Carroll posed with due composure.
James Milner (6): Honestly didn't do much. Was there, but was he really? A few inexplicable headers, but when you're playing next to Dejan Lovren who can blame you? Looks less involved without Coutinho on the same flank. Ridiculous decision to cross on his left with the last chance of the game.
Jordan Henderson (6): Another who didn't do much, for the first hour at least before he looked to get into things abit more. A poor ball to an in-space Origi was made up for by a curling effort from distance that almost found the net only for Randolph to save, but that can't save Henderson from the standard 6/10.
Georginio Wijnaldum (6): Somewhat creative in first half as he looked to link things together despite playing through a cramped midfield, and was a goal threat in the second half thanks to some nicely timed runs into the area. Decision making could have been better.
Adam Lallana (6): A very mixed day for Lallana. His finish for the goal is lovely but then he ruins that with a lazy, not needed tackle to present Payet with a chance from a free-kick, which he scores from. Little contribution other than that, although should have arguably won a penalty after being held in the area by Payet.
Saido Mane (8): Liverpool's finest player, although that wasn't too difficult. Good ball to Lallana for the first goal and forces the Randolph mistake with a powerful ball in for Origi's equaliser. Better than he has been in recent weeks, and also showed some good passing quality rather than his usual quick dribbling.
Roberto Firmino (6): Not a left winger. Can play there, but nowhere near to the level he can through the middle. Maybe worth trying in the Lallana role? Nice hockey assist for Mane for the opener and showed his ability to pluck the ball out of the air with a fantastic touch on more than one occasion, but nothing major from Bobby.
Divock Origi (7): Snatched at his chances a little in the first half but grew into the game and was in the right place at the right time to score the equaliser. Used his body well against a strong West Ham defence and looked like he was pressing fairly effectively. Four goals in four for the Belgian.
Ragnar Klavan – Sub Lovren 45′ – (6): Can't remember any actual proper defending but mugged Payet off with some skill so that's something. Blocked a powerful Ayew shot without falling to the ground and managed Carroll just as Matip did.