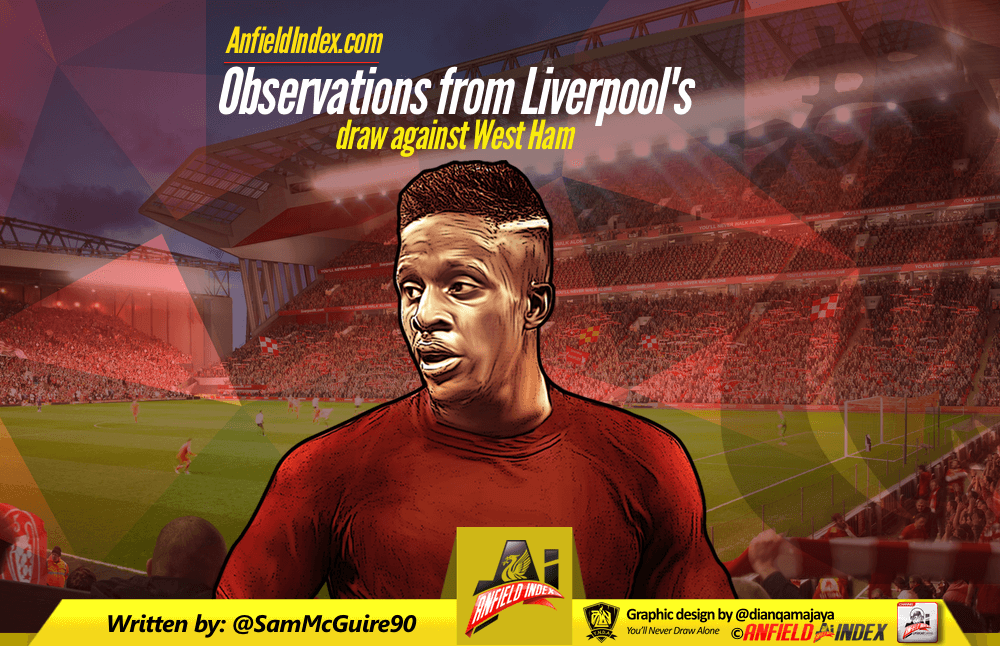 Observations from Liverpool's draw against West Ham United
A chance to open up a three-point lead over Manchester City, who sit in fourth place, was what was on offer as 18th place West Ham came to Anfield. A three-point lead in December doesn't mean much but it would have given us some breathing space going into the festive fixtures knowing a date with Manchester City on New Year's Eve awaits. However, Klopp's men didn't capitalise on their Manchester rivals slipping up against Leicester on Saturday evening. A 2-2 draw against the Hammers, which Liverpool practically dominated, meant Liverpool fans were left with that familiar feeling of a missed opportunity. They're now six points behind Conte's Chelsea who sit atop the Premier League.
It was a bit of an anti-climax as West Ham managed to repel countless Liverpool attacks but there were of course positives to be taken from the match.
The Resilient Reds
After the nightmare at Bournemouth last week it felt like deja-vu for Liverpool as West Ham scored twice in five minutes to go into the break 2-1 up. It lead to two question at half-time – could Liverpool really throw away a good start for a second consecutive week? Not only that, would the foundations once again be rocked after two quick fire goals? This time around Liverpool managed to get a foothold in the game. Divock Origi's early second half goal changed the entire complexion of the match and put an end to any West ham momentum. The match well and truly swung back in the favour of Klopp's men. Did Matip play a part in this or was it all down to Origi's early goal? It's definitely two points dropped but at least this time it wasn't three.

Divock Origi's run of form
Big Div has now scored 4 goals in 4 games. His goals have earned Liverpool 4 points in the process – with the opener against Sunderland and then the equaliser today. Origi came into the side when there was a lot of uncertainty surrounding him. In the matches he'd started/came on it, many fans had been unimpressed and it seemed both Firmino and Sturridge were ahead of him in the pecking order. With Liverpool looking so settled it looked like a tough task for him to get minutes to play himself into form. But since stepping up in the absence of both Coutinho and Sturridge he's impressed and it's not just because he's scoring. The responsibility of firing Liverpool doesn't seem to be a burden to the young Belgian.
The Squad Depth
Earlier on in the season there was a lot of talk about this being the best squad Liverpool have had since the inception of the Premier League. There's credibility to the claim. Even without the injured Daniel Sturridge, Philippe Coutinho, Emre Can, Dejan Lovren and the banished Mamadou Sakho, Liverpool are picking up points and their style of play isn't suffering. When was the last time you could say that about a Liverpool side? That they were without arguably four first-team players yet they were manage to come from behind to take points in what could have been a tricky second half?