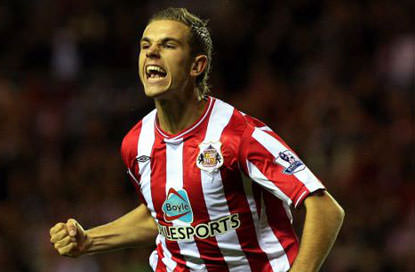 Liverpool FC Player Profile: Jordan Henderson
So no doubt everyone has heard about Liverpool Football Club's newest addition; Jordan Henderson. It was announced on Wednesday 8 June 2011 that a fee has been agreed between Sunderland and Liverpool. This is speculated to be £13m + David Ngog who is valued at £7m. For anyone still doubting Damien Comolli or our new owners should allay their fears because not only did this signing come out of the blue, but we also shifted an underperforming player at a profit bearing testament to the Liverpool Way of old. But this is a profile on Henderson so let's look at the bio and stats the newest member of the LFC family.
Jordan Henderson is a 20 year old midfielder who came through the ranks of the Sunderland academy. In 2009 Jordan went on a 6-month long loan spell at Coventry City where he made 10 appearances and scored a single goal, which was his first ever senior level goal, against Norwich City. His loan ended prematurely when he fractured a metatarsal bone in his foot.
In the 09/10 season Jordan broke into the Sunderland first team making 33 appearances in total. His first Sunderland goal came against Birmingham in the 3rd round of the Carling Cup. He continued to make strides and scored his first goal against Manchester City on the 19th of December 2009. He went on to win Sunderland Young Player of the Year for that season, totalling 2 goals and 6 assists in all competitions.

Jordan's 2010/11 season was very impressive, as seen above, for a 20 year old player and he got 3 goals and 4 assists in the Premier League with one goal against West Ham and two against Wigan Athletic. He also earned a spot on FIFA's list of 13 young players to watch and won the Sunderland Young player of the year once again. He made an impressive 37 starts for Sunderland and wasn't a substitute even once. While his shots on goal aren't that many but the amount of passes he made is simply amazing. With 1403 passes, including crosses and throw-ins, attempted and 1334 of them accurate he achieved a pass completion percentage of 74%. As a reward for all of his hard work, Jordan got called up to the English senior squad for the friendly against France on 17 November 2010 and played alongside Steven Gerrard in the midfield. He is also called up for the U21 England squad for the U21 Euro Championship taking place in Denmark.
The chalkboard above represents the passes Henderson made during our match against Sunderland in March. This gives us a taste of what we can expect from him in the future. He attempted a total 55 passes with only 8 of them not reaching their intended target and the vast majority of them being in the opposition's half. You can also see that even though Henderson started to the right of midfield he got around the pitch pretty well. It is also apparent that he is a pretty good crosser of the ball and can provide good service into the box for Carrol, but is also able to give pinpoint passes for Suarez.
In Sunderland's 3-0 victory over West Ham in May, Henderson got his 4th assist in extra time, laying the ball off for Riveros the finish. As seen below, Henderson attempted another 67 passes with 11 of them not reaching their target and one being the assist. He also made a number of long passes, showing his knack for crossing and giving through balls.
As we can see from both the analyses above, Henderson's performances in both a win and a loss are pretty consistent, though there were matches where his input was less due to the rest of his team performing better. This is no bad thing as it only means that the team relied less on his performance to get them through. In both situations, it has to be said; he handled himself and the pressure pretty well.
Even though all of his stats are already impressive, I only expect them to get better under King Kenny and co, as he was unfairly asked to carry Sunderland on many occasions. After all, the lad is only 20 and has a lot of growing and maturing still to do. I hope we, as the fans, give him a fair chance to prove himself to us and I'm sure he will become a Kop hero very soon. In the meantime we have to be content with watching him perform in the U21 Euro Champs. I'm sure everybody is anxious for more signings and also for the start of next season
Please feel free to send me your thoughts on Henderson or my piece via twitter or the comment section below.
YNWA