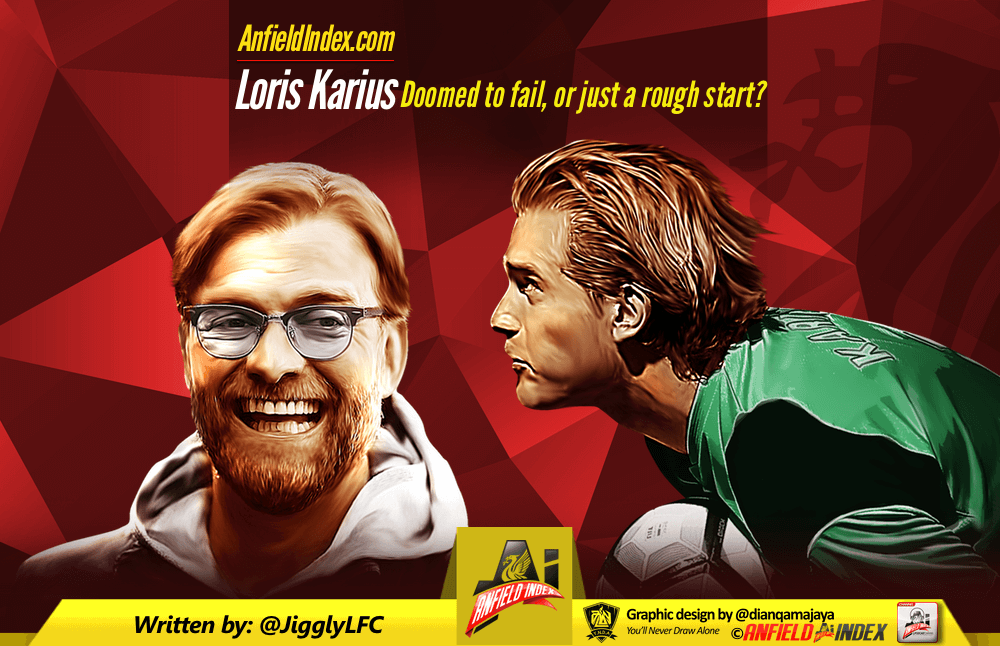 Loris Karius: Doomed to fail, or just a rough start?
It's not talked about enough, but changing football clubs is hard. Moving to a club like Liverpool as a 23 year old and immediately taking a place in the spotlight as the starting goalkeeper is a lot more intimidating than most like to acknowledge. The most common retort to statements like this usually is along the lines of, "Well he's a professional, so he should get on with his job." This does hold some truth, but if you ask me, pointing out that someone is a professional doesn't magically make them unaffected by any stress or pressure. While this isn't necessarily related directly to the points I want to express in this article, I think it's still an important thing to keep in mind as fans of our club.
Anyways, unless you've been living outside of the LFC bubble for the last couple weeks, you'll know that Loris Karius has had a fairly torrid start to his Liverpool career. The 23 year old German arrived at Anfield this summer with a price tag of around 5.2 million pounds and an award for the second best GK in the Bundesliga that previous season, but Liverpool fans and pundits alike have been less than impressed with him thus far. After he made a nightmare error to give Bournemouth their 4th goal and consequent 3 points Liverpool fans grew uncertain, but after his most recent performance against West Ham, Karius has sent many Liverpool fans into a full blown meltdown of "Mignolet-esque" proportions. This has lead to some finger pointing from the fans, pundits, and former players, with many of the blame being attributed to LFC senior goalkeeper coach John Achterberg. Achterberg was hired by the club in 2009 and was promoted to the first team goalkeeping coach 2 years later in 2011. At the time of his promotion the current Liverpool no. 1 was Pepe Reina. Subsequently Reina seemed to struggle at the club, and following a poor 2012/13 season Reina was loaned out and eventually sold. His replacement was Simon Mignolet, and after a terrific start to his career in the 13/14 season, Mignolet's performances began to drop as he became more and more inconsistent in the net.
The argument being made is that with this period of poor goalkeeping (including Brad Jones and Adam Bogdan), the underlying constant has been John Achterberg, and that Achterberg is the one responsible for the seeming regression of our goalkeepers. Unfortunately goalkeeping probably has the worst measurable statistics in football and consequently can't provide much evidence for or against this claim, but Reina, Mignolet, Jones, Bogdan, and now Karius have all received widespread criticism under Achterberg's coaching. Both LFC legend Jamie Carragher and Gary Neville from MNF have been very criticial of Karius's recent performances, and former Liverpool goalkeeper Bruce Grobbelaar has even come out in the media saying that he believes Achterberg could be the one responsible for Karius's poor performances as well. As fans it's hard for us to really know what's going on from a coaching perspective, but Klopp has openly praised Achterberg, as have players that he's coached, and those are the only things we really know about him as a coach.

The other main argument or viewpoint is that Karius is just going through a rough patch, and will need time to settle in. This is the most sensible viewpoint for transferred field players, but Karius being a goalkeeper makes this argument a bit hard to reconcile as well. Just due to the nature of the position, a goalkeeper is obviously the last line of defense, and having a player struggling for form and confidence in a position like that can be very dangerous as Liverpool have found out over their last two fixtures. With no measure of when or even if Karius will improve, it can turn into a bit of a lottery leaving him in the net. While most LFC fans don't adore Simon Mignolet, many were happy to see Simon restored to the starting XI for the Middlesborough match. Mignolet ended up having a very solid match between the sticks against Boro, but it still says a lot about Karius's performances if Liverpool fans are beginning to ask for someone as error prone and vilified as Mignolet to be returned to the squad. 
Using the magical powers of Twitter I threw up a poll for a couple hours to canvas opinion about the situation. The results were pretty even in the end. After 2 hours 53% of responses indicated that they believe Achterberg was to blame, and the remainder (except for one vote who thinks that Karius is actually just a bad keeper ) believed that this has just been a rough start and a poor run of form. Personally, I'm still a bit on the fence. The Achterberg theory seems far fetched to me, but it's not impossible. As far as Karius's mistakes have gone though, they're not exactly out of character for him. His biggest issues at Mainz were really his handling and his ability to deal with high ball crosses, both of which have been very apparent in some of his early performances at the club. Considering that, it might seem harsh to blame Achterberg for issues that were pre-existing, but on the other hand it's also his job to try and train these issues out of his players. Because of that as well, I'd be more inclined to chalk up his struggles as growing pains. I don't think Karius will always have these issues, but again there's really no way to tell for certain. However, a good argument could be made when you consider that moving to the Premier League would only magnify his high ball issues due to the added physicality in this league. I think that those issues combined with undoubtedly the personal life issues that come with changing teams could really be playing a big part in his performances right now. For goalkeepers, the mental side of the game is exceedingly important, and anything affecting him mentally could very easily have a ripple effect throughout all aspects of performances.
All of this speculation and conjecture is fun and all, but what exactly should we do about him? As harsh as it may sound, I think the right choice for now is to drop him. We know Mignolet can be a time bomb in terms of just waiting for a game costing mistake, but I think dropping Karius could benefit the situation twofold. For one, I firmly believe positional competition is crucial to success in football, and by dropping Karius Jurgen Klopp is making a statement to Mignolet and the rest of the squad that positions are up for grabs if the regular starters can't do what Klopp is asking of them. In the long run this can only be good as it breeds a very competitive squad mentality were every second on the training pitch and in matches can be important for starters and squad players alike. Secondly, I think a drop from the team will be really beneficial for Loris personally. The spotlight and pressure on him right now is immense, and it should hopefully do him some good to be pulled out of the firing line to try and steady himself away from the pressure and consequences of mistakes that he's facing now. Really there's no easy answer though, as by dropping him you risk further damaging his confidence. All we can do though now that Karius has been dropped is hope that Mignolet can rediscover his form from early in his Liverpool career. With a goalkeeper like him though, it's a tough call for the manager to be sure. Similarly to how I feel about the Achterberg situation however, we simply just don't know enough right now to reliably make these calls. That's why we're fans and don't work at the club. Yet again though, for better or worse I'll defer to Jurgen Klopp and trust that dropping Karius, however temporary or permanent it may be, is the right call for his career and for Liverpool Football Club.