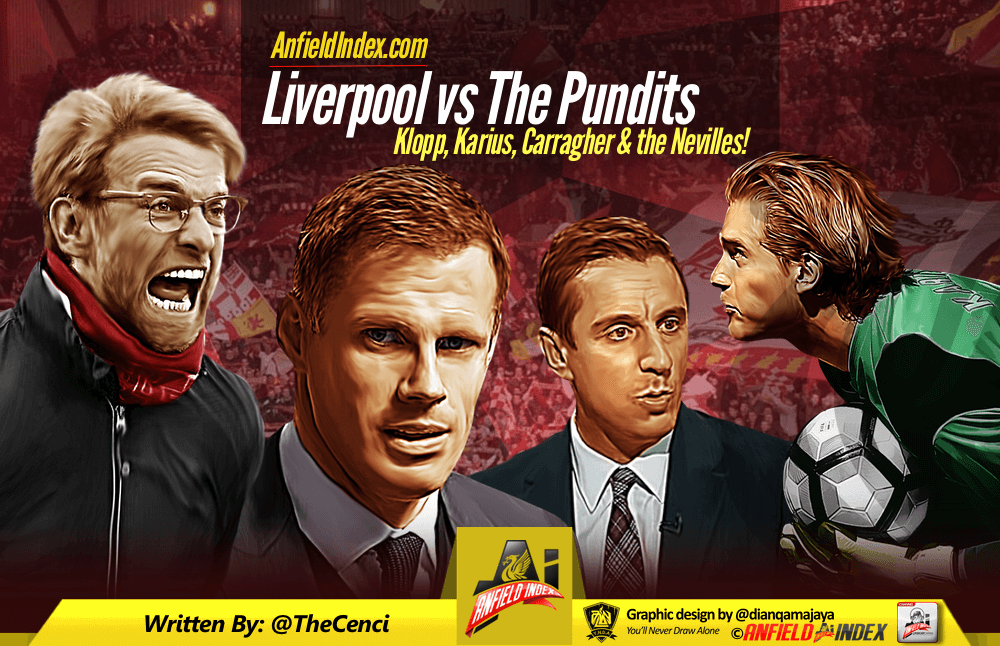 Liverpool vs The Pundits: Klopp, Karius, Carragher & the Nevilles!
During the 2012 European Championships, ITV ran a panel which included Jamie Carragher, Roy Keane and, I think, Gareth Southgate. Hosted by Adrian Chiles, the topic under discussion was just how difficult it is to play as a single defensive midfielder in a diamond formation as opposed to a more standard one of a pair in a 4-2-3-1. Carragher warmed to his topic and said something like:
'You've got to deal with your centre-backs as they'll push without you at times. Then you've got to look after their number 10 and deny him space. On top of that you've got their wider players cutting in so you've got to look out for that and …'
He stopped dead and looked at the man he was addressing – Chiles. You could see what was going through his head. Why am I explaining this to you? He was talking way above the presenter's level as the amiable Brummie had been more interested in feel-good stories about circus performers in the town square rather than an in-depth tactical discussion. You could tell that Carra was wondering if any of this was getting through to him. He gave up and turned to Keane, who was staring blankly ahead as though bored of the whole thing.

'Well, YOU know what it's like.'
Keane didn't make eye contact. He just nodded.
'It's a nightmare.'
A couple of years later on the BBC, Rio Ferdinand was a guest before the England-Italy match. He was asked how, if he were playing, he would handle the threat of Mario Balotelli – if you can imagine such a concept. Ferdinand nodded to himself.
'Dead easy. You get in his face. You tell him he's having a shocker, you leave a stud on him and laugh every time and misses. He'll lose his head and do something stupid. He won't hurt you.'
He was asked if he would ever do the opposite and, if so, to whom.
'Emile Heskey. On his day he could destroy you, but be nice to him and put him in a good mood and he was half the player. If you give him a kick or got under his skin he'd give you hell all day, so you tell him he was having a great game even if he wasn't.'
I cite these two examples of punditry as they represent episodes and views that only the speaker is privy to. While we, as fans, can argue what system and formation suits and doesn't suit a team, it's the voice of men who have been in the middle of it which makes it the more interesting.
Carragher has played defensive midfield and Keane is one of the best of his generation in that position, while Ferdinand can comment on the psychological advantages which players have used. That's the advantage of having players there. They've walked those yards. We haven't.
It's just a shame that there isn't more of that insight. It's just men telling you what you can already see now.
Let's look at other sports.
Around the same time, Sky TV's cricket panel invited Shane Warne to teach leg spin to a bunch of young players. For twenty minutes the Australian gave them a master class in leg-break bowling. He talked them through hand-grip, wrist use and which area to pitch the ball on different surfaces and how to frustrate a batsman.
Shane Warne is probably the greatest bowler in the history of the game.
Just think about that – a man who has taken 708 Test wickets sharing his remarkable gift with a TV audience. Even if your interest in cricket is limited or you don't like the man, you'd listen to what he has to say because if there's one thing he knows more than any of us it's bowling. It was a pleasure to watch.
The following week Paul Merson returned to Gillette Soccer Saturday.
Well, quite.
You can't move for former players on television studio sofas and yet I can only think of two examples where they give us the benefit of their – not our – experience. We all have eyes in our head so don't really need to know that a player has pace, or, as Andy Townsend would call it, 'genuine pace' – there somehow being a difference between the two. We know Costa is aggressive, that Coutinho is a genius, that Aguero can finish. Tell us how you'd deal with them. Tell us why they're a nightmare to play against. Tell us something we don't know.
They're the experts, not us.
Though, in some instances the viewer has more knowledge than the pundit. At the weekend, Alan Shearer stated that Joel Matip has been a disappointment this season. What games has he been watching? The answer is simple – not enough.
The doyen of the inane is Sky's Paul Merson. It's hard to believe that this is a man who has won titles and cups, has won at Anfield against one of best sides and has an international career behind him. He has tons of experience to share yet seems content to display his own adequacies. The laughter at his own mispronunciations of overseas players – proving just how little preparation he does – or indulging in tedious badinage with the rest of the be-suited cabal. As he frowns at the screen like a child trying to extract meaning from a James Joyce novel, we can only look at the missed opportunity for insight. The man won the lot as a player. You'd never know it.
Shearer can be guilty of this too. In the last World Cup he asked Lineker who Russia's next group game was against. How can he not know that? He's going to be sitting in a studio, watching the game for ninety minutes and the subject is going to come up. He's there to tell us, not join in with the questions. Do some research, man!
Of course, punditry is the hot topic at the moment given the Karius situation. Carra and Neville have come under the spotlight about their comments about the keeper and, though it will be unpopular to state such a view, I have some sympathies with them.
I'll be honest; Carra telling Karius to 'shut up and do your job' had me applauding. Jamie's job is to talk – something he does both passionately and expertly – while Loris's is to set up his wall and make sure he can get across to any shot that's stoppable. One of those men did their job. But it wasn't that which had me agreeing. It was that he said it as a fan and without the objective of his pundit title. That could have been any of us. How many times have we been told to be patient and get behind the player when the team are slipping down the league? Carra's tone was one of sheer frustration.
Today, Klopp had a dig at the Nevilles, citing their affiliation with United and therefore an unspoken enmity. Gary Neville hates Scousers, according to the song. I can live with that. I'm not a massive fan of his either, but I think this is too broad an accusation. Like Carragher, Neville is more critical of his choice than most and praises us from time to time – something which doesn't always make him popular with his own fans.
The difference is that it's his job to give a critique. It's not Karius's. It's not really Jurgen's either.
At the same time, I agree with Ian Ladyman – the journalist who interviewed Karius – who praised the keeper for attending the interview after the Bournemouth game when a lesser man would have cancelled. The German turned up when his head must have been in bits. That's praiseworthy. Ladyman was also keen to point out that the Neville's 'expert' line came as a thirty second segment in a fifty minute interview. More of a throwaway line than a considered invective, so maybe this isn't quite the war of words it's been billed.
I'm surprised the club have responded to all this, though, I suppose, the question was asked. Ordinarily, a reply of 'Gary Neville is a fine pundit doing his job' would suffice as that's just a shrug of the shoulders to all this, but Klopp has engaged to protect his man. A shrewd piece of management, maybe, as Karius's name is now concerned with this affair rather than the real one about diving over a ball.
Ultimately, pundits are going to talk. Bloggers/writers (hello) are going to write. Controversy and stories have to be written. What would be more beneficial would be pundits explaining how and why things happen on the pitch rather than what's just occurred. That's all I ask. You lads have lived this so tell me what it's like.
As for Karius, he has bigger challenges to face than a disgruntled commentator.
So do Liverpool.